Fun Factory Astrovibes Aquarius - Traditional vibrator from Fun Factory

Product Details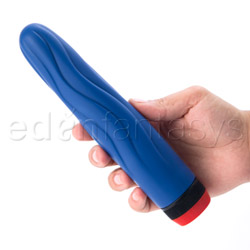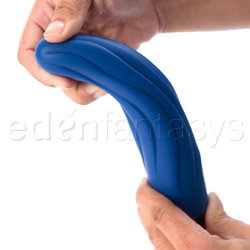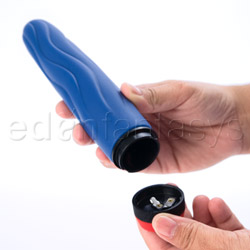 Summary:
The Aquarius is a nice, basic vibrator. It's a good pick for those who want something simple and quiet and low-maintenance, and aren't picky about the controls or lack of waterproofing. While it isn't one of Fun Factory's new, top-of-the-line, super-advanced toys, it's a good start to a collection. However, if they want this fun design to really shine, they should consider going back and rebuilding them with more modern electro-guts.
Pros:
Simple, easy to care for, rumbly motor.
Cons:
Not waterproof, controls and power aren't as up to their current standards.
Best use:
The Astrovibes Aquarius is a seriously old-school FunFactory vibrator. It's not waterproof, there are no patterns of vibration, no buttons, no frills. It does, however, have the renowned ultra-rumbly FunFactory motor, which counts for quite a lot.

The Astrovibes series is an array of basic straight silicone vibrators with gentle, slightly abstract astrological designs. The Aquarius, as such, was done in blue with a wave-like design carved into its surface. It's a girthy toy, with the motor set about 2 inches up from the base. It isn't designed for clitoral use (the vibrations are much weaker once they reach the tip), but it works very well internally. It's straight and simple, with strong, deep vibrations, making it good for beginners and still fun for the more experienced.
Material / Texture:

This vibrator is made of pure silicone, with a plastic base. The silicone is an older formulation than they use for their newer toys. It is slightly less matte and plush, though it is still nice and softly dense.

The texture is very mild, while still being enough to be noticed. Shallowly sloped grooves run the length of the toy in a wave-like pattern. Because of the way the material slopes down into the grooves, they help guide lube in, but don't hide gunk during cleaning. Also, the texture is mild enough to please even the most delicate of vaginas, and feels wonderful when twisted. There were a few small bubble-like nubs on the surface of mine, which seem to have been caused by the molding process. They weren't enough to interfere during use, but they were a little hard to keep clean.

Material:

Silicone

Material safety

Texture:

Ribbed / Smooth

Safety features:

Food-grade material / Hypo-allergenic / Latex free / Non-porous / Phthalates free

Design / Shape / Size:

Aside from the wavy texture, the design of the Aquarius is very simple. It takes your super-basic slimline vibrator, adds a bit of girth, then casts in in silicone instead of plastic. It's a nice, non-threatening design for simple penetration, though it won't be much help in finding your g-spot. Those who have very little experience with penetration may find it to be a bit on the large side, however. Because of its shape and size, it will be easy to hide. However, it is not discreet; it definitely looks like a vibrator. It's fine for travel, though. Just take out the batteries, and it won't give you away.

Color:

Blue

Length:

8"

Insertable length:

7"

Circumference:

5"

Diameter:

1 5/8"

Weight:

11.5 oz

Functions / Performance / Controls:

For such a simple toy, the Aquarius performed well. The deep, rumbly vibrations we've come to expect from FunFactory were there, though not quite as strong as in the company's later vibrators. The motor is set about 2 inches up from the base; due to some aspect of the design, the vibrations seem to resonate at a point about 1.5 inches down from the tip, almost as if there is another motor there. (some judicious bending and squeezing has proved that it's just silicone up there, however) This gives it a bit of a 2-motor effect, which is fun.

The controls were the surprise to me. After trying a few of the toys they've made in the last few years, I guess I was expecting more. The end of the base, in red, is both the cap and controller. Spinning the dial slowly brings you through a gradient of increasingly powerful steady vibrations, then spinning the other way reduces them, then turns them off. A firm twist opens the battery compartment. There is no O-ring, and this toy is not waterproof or water resistant, so be very careful when using and cleaning this toy.

Functions:

Vibrating

Special Features:

Control type:

Dial-base

Powered By:

Aa-2

Care and Maintenance:

As long as you are careful not to get water in the battery compartment, the Aquarius is easy to care for. The grooves are shallow enough that they are easy to clean out. Because it is made of silicone, this vibrator can be washed just about any way you like. Because it isn't waterproof, if you need to sterilize it you should probably stick to wiping it down with a 10% bleach solution. Once clean, it can be stored anywhere you have space, as silicone is inert. Water based lubes should be used with the Aquarius; if you really want to use a silicone based lube, do a spot test in an inconspicuous part of the toy to make sure it doesn't meld with the toy.

Personal comments:

This is in many ways a great toy. I do wish one thing, though: that Fun Factory would come back and re-do them with current technology. They would go from nice to awesome if they were made like the SmartVibes or Click'N'Charge lines.