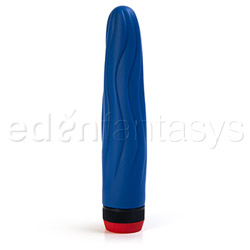 Astrovibes Aquarius
Traditional vibrator
by Fun Factory
Astro-oohh: Astrovibes Aquarius
The delicious waves of this toy will add something a little extra to your play. It did what I expected it to do for me, and I found that the motor was quieter than I thought it would be. May be heard through a closed door, but it seems quieter than some of my other toys.
Published:
Pros:
silicone, pretty, soft, flexible
Cons:
picks up lint, not discreet, not waterproof
I was anticipating this toy as it was my first student assignment. Now, before we really get into it, I want to say that I am not an Aquarius, however, that doesn't mean that I can't indulge in the zodiac goodness of my fellow zodiac signs, right? I mean, I am a Gemini, we have a rather fluid personality.

The toy comes in a slim box that displays the toy openly, however, it does not feature any nude models, but the packaging isn't discreet. I liked that the box had little magnet-close flaps on the back that opened up to display other product details in a few different languages. When taking the toy out of the packaging, it is also apparent that since the toy is a more basic design, it would probably be obvious to others what it is, so I don't recommend leaving this toy out in the open. Also, it comes with a sample of Fun Factory's Toy Fluid, a nice little lube. If you are sensitive to glycerin, then I'd recommend avoiding trying this sample.

The color of this toy is a rich, navy blue, and the texture has some wavy curves going vertically through the toy to the tip. They really do bring the flow of water to mind when you look at them. It's almost like gentle waves on a calm day at the beach.

Every time I get a toy from the internet, I'm usually always surprised at the size of it when I do finally get it, and that is no different with this one. It was bigger, mainly longer, than I thought it was going to be, but don't let that scare you away. The toy itself is 8" long in total and has an insertable length of 7" though I could really only take about 5-6" myself, but I'm a bit on the small side when it comes to the glory box. The circumference is 5" and the diameter measures 1 5/8". This toy has a nice girth to it without being too much and without being too slim. It was perfect for me, though a beginner may find it a bit too much.

The toy runs on 2-AA batteries and you can adjust the intensity via a dial at the base of the toy. And the features I like about this toy is the fact that it is flexible, yet firm and it is made out of 100% silicone. The toy is not waterproof. Also, since it is silicone, as always, remember only use water-based lubricants with this toy as other lubes will destroy the material.

This is a simple vibrator. It doesn't have any vibration patterns or anything fancy on it. It's much quieter than I expected a toy of this size to be, and honestly, if I had my door closed and the covers over me, it would not be apparent to anyone outside the bedroom. The dial control varies from very faint to a pretty powerful vibration. It's not going to break your bed from the intensity of the vibration or orgasm, but it is pretty nice.

I enjoy vibration more on my clit than I do for penetration and this toy cranked up almost all the way or all the way did the job very nicely. I actually found myself finding the highest setting almost too much for my clit. The vibrations don't carry well to the tip of the toy, but on a higher setting, it was good stimulation for clitoral, though it could be different for you. As for penetration, it was nice and easy. The slimmer tip made it easy to slip in slowly and insert to my desired fulfillment. The vibrations felt very nice, but as I said before, penetrative vibrations aren't totally my style, so this could feel great for you. Twisting it around while inside me is where the wavy curves really come into play. They are very pleasing to the eye, but they also have the potential to provide some delicious tidbits in your play.

As for cleaning this toy, you'll want to keep it stored away from anything that gives off a lot of lint. It will attract lint and pet hair, so do remember to clean this toy before and after use and store it away from other toys as well. Silicone toys don't always play well with other toys and it'd be rather depressing to find that your favorite toys have become one unusable toy. I sprayed mine with an antibacterial toy cleaner, let it set for about 30 seconds, then wiped it clean with a damp cloth, then set it to air dry. Also, the toy is not waterproof so avoid boiling the toy or putting it in the dishwasher for sterilization.
Follow-up commentary
10 months after original review
What more can I say about this astrological device? It is simply amazing. I do prefer to pull this out when I feel like being more "full." It is larger in size and is much better for those times when all I want is to be stuffed. I love it and think that anyone would love to have this toy in their collection.
This product was provided free of charge to the reviewer. This review is in compliance with the FTC guidelines.
Thank you for viewing
Astrovibes Aquarius
– traditional vibrator review page!