Summary:
The Elation by Vibe Therapy is a higher quality, affordable option for those in college who need to be discreet while playing. It may not be the quietest vibrator, but it doesn't rattle, so covering the little bit of noise is possible. This vibrator is also made with some very plushy and flexible silicone, making it easier to care for. Just be wary of submerging it in water even though it claims it is waterproof.
Best use:
The Elation, by Vibe Therapy, is a traditional style vibrator designed specifically for women in mind, as it's meant for internal vaginal stimulation. It can also be used to stimulate the clitoris by rubbing it over the outer genital area. It is not suggested to use this anally, as this vibrator isn't very long, and there is no flared base to keep it from getting lost; men who enjoy anal stimulation will want to find something different for that.
The Elation is great for beginners, because it is on the smaller side in length and diameter, and it also is made from a very forgiving material. It will most likely not be a great vibrator for those who need a lot of power, G-spot stimulation, or larger dimensions. It claims, however, that it is waterproof which makes it easy to clean and use in the bath or shower and you can even soak it in warm water to give the material a warmer temperature before using it.
Being a bit flexible in the shaft makes this vibrator great to use with a partner during foreplay, during sex, or just by yourself for a fun solo session. You don't have to worry about internal injury either, because the material is squishy and forgiving, and the overall insertable length is shorter than average.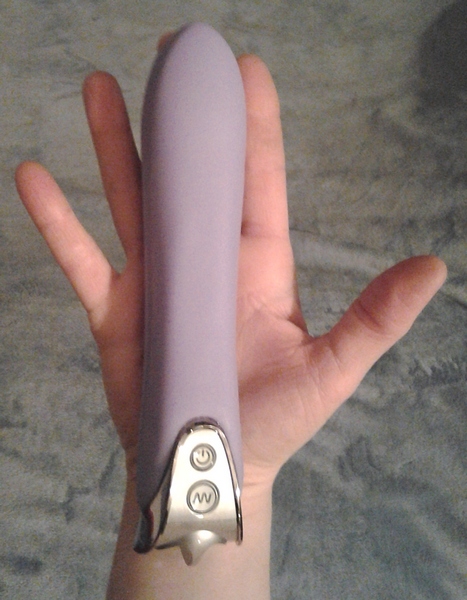 Material / Texture:

The Elation is made from 100% medical grade, light purple silicone for the insertable portion, and the battery compartment/handle part is made from silvery plastic. The silicone is quite plushy and flexible, while being matte and smooth to the touch. There is no smell to it at all, and the only textures to the material are the "scooped out" sides, that add to its shape but cannot really be felt during use.



The silicone does grab on skin a little, so using some water-based lubricant will probably be necessary. Do NOT use silicone or oil based lubricant with silicone toys, as it could degrade the material and end up ruining the toy.

The plastic handle and battery compartment are somewhat shiny, and silver in color. These parts are also very rigid, as is typical of plastic, but they're not the insertable end, so it's not a concern. There isn't an odor to the plastic, and cleaning lubricant or bodily fluids off the plastic is simple.

Material:

Silicone

Material safety

Texture:

Smooth

Safety features:

Food-grade material / Hypo-allergenic / Latex free / Non-porous / Phthalates free

Design / Shape / Size:

The Elation is a traditional style vibrator measuring just over six inches in overall length, with about four and a half inches of that being insertable. The diameter is on the small side at around one and a half inches, making this great for beginners.

The shaft of the Elation has a "scooped out" looking indentation on each side that gives it its somewhat pointed shape down at the tip. There is also a very slight curve to the somewhat pointed tip, but it's not enough to make it great for G-spotting. The flexibility of the shaft and the forgiving material also make it hard to G-spot with this vibrator, but those attributes are great for beginners.



The battery compartment, or handle end of the vibrator, is about an inch and a half long on the front where the power/pattern buttons are located, and it shortens while wrapping around the back half of the shaft of the toy. There is a tab that sticks out of the bottom of the toy that is used to grab and turn the cap of the battery compartment for battery insertion. On this cap is pictured a crossed out garbage can, meaning don't throw the vibrator away: dispose of it properly. On the other side of the tab is CE.



The only seam in the toy is the one around the battery compartment where the silicone meets it, but the manufacturer has done a great job at sealing it, so fluids don't get trapped there.

Color:

Violet

Length:

6 3/4"

Insertable length:

4 1/2"

Circumference:

4 1/2"

Diameter:

1 1/2"

Weight:

1.4 oz

Functions / Performance / Controls:

There are two buttons on the Elation: the top one turns the toy on/off, and the bottom button cycles through the functions of the toy. These buttons aren't set into the material, but they are easy-to-press touch buttons. They are so easily pressed that battery removal before traveling or packing away this vibrator is mandatory, since there is no locking feature to avoid the toy turning itself on at the most inopportune times.



After inserting the two AAA batteries, push the power button and the toy turns on without vibrations but the buttons light up red. Next press the function button. The Elation boasts seven different functions, and here they are described:

1. Low, steady vibrations
2. Medium, steady vibrations
3. High, steady vibrations
4. Medium, pulsing escalation
5. High, fast pulsing
6. High, faster pulsing
7. 3 high pulses, 1 long pulse

While in use, the Elation isn't very loud, but it is more on the buzzy side vibration-wise. Its highest setting will probably leave a lot to be desired, but it will work fine for folks who don't need a lot of power, or for beginners to toys. The sound of this vibrator would not be heard through a closed door, and barely through blankets if there is other background noise like music/TV, so dorm use is definitely a possibility.

Functions:

Escalating / Pulsating / Vibrating

Special Features:

Ergonomically shaped
Multifunction
Powerful
Quiet
Waterproof

Control type:

Built in control pad

Powered By:

Aaa-2

Care and Maintenance:

Cleaning the Elation is simple: just wash with warm water and antibacterial soap or toy cleaner, and dry off with a lint free cloth before storing. This can also be sterilized by using a 10% bleach solution on it, but be sure to rinse it off thoroughly to avoid getting harsh chemicals in delicate body areas.

Always store this vibrator without the batteries to avoid it turning on by itself, or to avoid the batteries exploding inside the toy and ruining the functionality. Also, keep this vibrator in the box it came in, or find a nice storage bag for it to keep other toys from touching it. Silicone is quite grabby and will attract all kinds of hairs and lint, but other toys may also melt or transfer colors onto the silicone if they touch while in storage.

Care and cleaning:

Soap and water

Packaging:

Vibe Therapy sends the Elation in a nice looking white and pink box that has a front flap for viewing the toy inside. The front of the box also features an attractive rainbow colored wisp of smokiness, along with a small photo of the toy itself down near the bottom. The back of the box lists the toy's key features in six different languages, and gives you the website for Vibe Therapy.

On the inside of the front flap, there is a viewing window where the toy is shown in the box, but there is also some information about the toy repeated there. When the flap is closed, it is held that way with a magnetic piece inside the tab so it doesn't just come open.

When you open the box, there is a pink plastic molded tray that the toy is sitting in, and there are two L-shaped spacers around the clear plastic that covers the toy. All these plastic pieces are very flimsy and hard to put back into the box.



Inside the box, underneath the toy itself, are some instruction manuals. One is the Battery and Care Instructions, and the other is Customer Information. These manuals will tell you all about using and caring for your Elation, and what kinds of lubricants and batteries to use with it.



The box would make terrible long term storage, but it will work in the short term. You may want to purchase or make a storage bag for the Elation, so that it won't pick up hairs or lint, or be touching other toys while it's stored away in your toy box or drawer. Wrapping before gifting this to someone would probably be necessary, because the box isn't very discreet at all.

Experience:

This vibrator was a nice change from the usual plastic traditional style vibes, but I really just couldn't enjoy it much. The power was lacking and too buzzy for me and, to be honest, it wasn't exactly waterproof like they claim. I had only taken this in the shower, and water got into the battery compartment. It was still working during and after the shower, but I can only imagine how much would get in there if it was completely submerged during a bath.

Overall this toy would be great for beginners, because it's not intimidating in any way, it's flexible and plushy, and it's easy to use. More importantly, this vibrator is an affordable option for those college ladies looking for something on the quieter side to enjoy.