Elated to Have Such a Nice Vibrator
This vibrator is a nice, high-quality toy, and it feels great. I like stronger, rumbly vibrations, but I still think there is a lot to like about this vibe, and will definitely use it again and again.
Published:
Pros:
High-quality feel and appearance
Variety of vibe patterns & intensities
Cons:
I'd like the vibrations to be stronger
When I ordered the Vibe Therapy Elation, I wasn't sure what to expect. It was difficult to tell its size from the information on the website. Although measurements were available, the item was so new it didn't have Eden's "Actual Product Size" page (which is a very helpful feature!). I had trouble judging its size and thought it would be a small finger-sized vibe. Happily, I was wrong! This toy is no giant, but it's nicely-sized for both beginners and advanced users. Its entire length is about 7", of which almost 5" are insertable. The circumference at the thickest part, where it widens near the tip, is 4-1/4".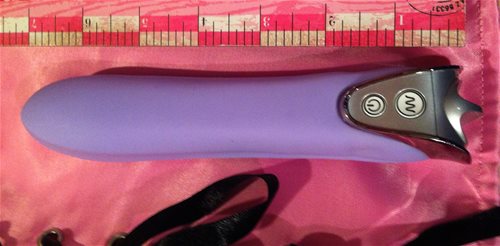 The Elation is made of food-grade silicone, and the control area at the base is plastic. The vibrator has a high-quality look, with its streamlined design and attractive silver-colored control panel. It's also heavy for its size because the insertable portion is nearly solid silicone (except for the motor inside), which I think gives it a good, quality feel. The silicone does have quite a bit of drag so you'll want to use a good lubricant (always use a silicone-free lubricant with silicone toys). It does attract some lint, but not as badly as some other silicone toys I have. This toy should be stored away from other toys--in its box or in a separate bag. It is easy to clean with antibacterial toy cleaner, toy wipes, or soap and water. It can't be boiled or put in the dishwasher because it has a motor, but it can be disinfected with bleach solution. It is waterproof, and I had no problems after using it in the tub.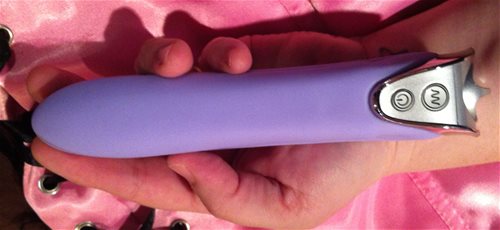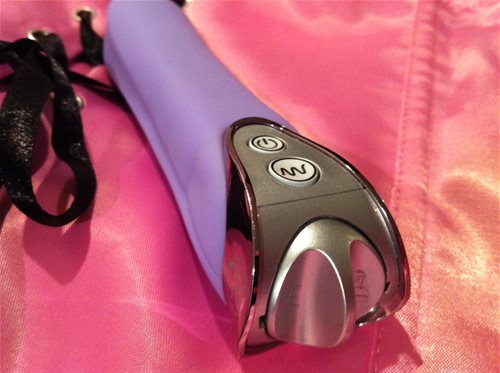 The Vibe Therapy Elation has an interesting shape. It is narrower at the bottom near the controls, and gradually widens into a slightly larger bulb on the end. It has pronounced ridges traveling up both sides, and they meet at the end to form an X-shaped design. The silicone shaft is rigid yet somewhat soft on the wider, bulb portion. The shaft is quite flexible on the lower half and can be bent almost into a U-shape if enough pressure is applied. If you hate any texture, this probably isn't the toy for you due to its ridges. The silicone has quite a bit of give when squeezed, which makes the texture of the ridges a nice addition in my opinion.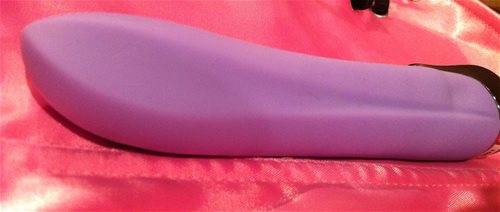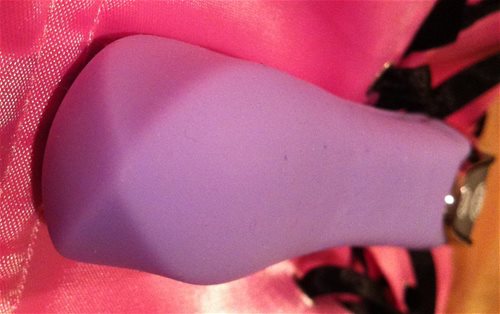 The vibrator is controlled by two buttons near the base of the toy that light up in red when the vibrator is on. The top one, farthest from the bottom, turns the toy on, and the other one controls the functions. Power is provided by two AAA batteries in a compartment with a standard twist-off cover and a silicone seal inside to make the toy waterproof.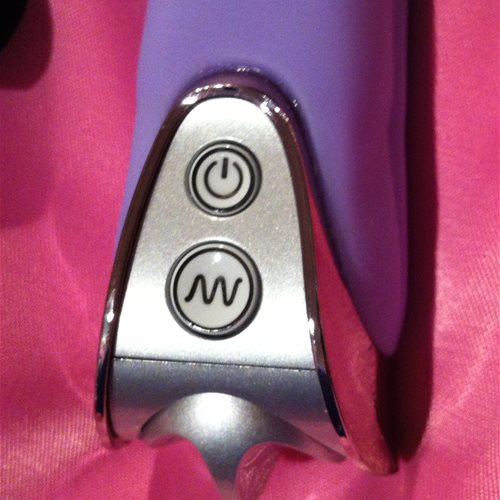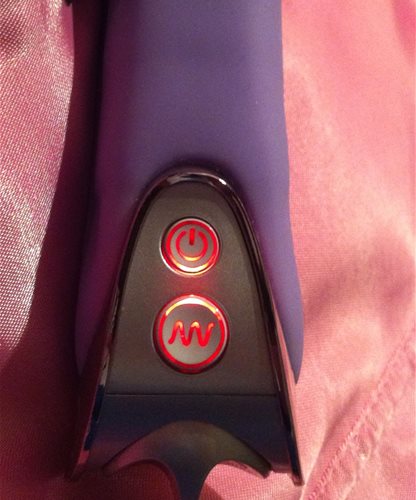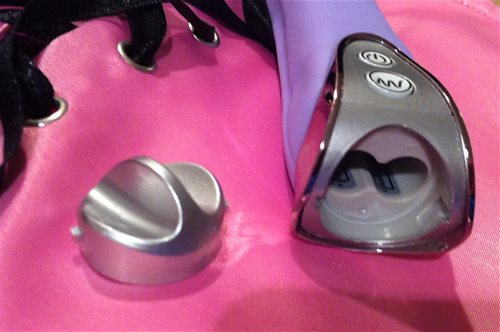 The Elation has seven vibration patterns and intensities:
1. Low-intensity vibrations
2. Medium-intensity vibrations
3. High-intensity vibrations
4. Escalating burst vibrations
5. Slower pulse vibrations
6. Faster pulse vibrations
7. Three short pulses, then one long pulse
Its vibrations are medium in strength and buzzy in quality, are fairly quiet, and are easy to target to a desired spot because they are concentrated in the bulb end of the vibrator . This vibe works for targeted clit stimulation, although it requires you to hold the bulb end instead of the handle/control area when you want direct pressure because the whole shaft isn't rigid. When inserted, the vibrations are easily felt inside the vagina, and might reach the G-spot area for some users, although the toy's flexibility prevents you from applying any sort of direct pressure on the G-spot. This toy is not safe for anal insertion because there is no flared base.
The packaging for the Elation is very nice. It's in an attractive, sturdy cardboard box, with a front that opens to reveal a display window with the toy inside. One interesting thing I found is that, based on check-boxes on the side of the box, this toy appears to be available in seven different colors: blue, pink, purple, dark blue, beige, white, and black! It's not very often that you see so many choices, and I think it would be difficult for one retailer to stock all of them. Inside the box there are two pieces of paper: one is an instruction sheet for several different vibrator models and gives a little general advice about batteries and cleaning in a LOT of different languages, and the other is a funny, small sheet that shows what appears to be every possible type of battery compartment in existence! They are definitely covering all their battery-compartment bases with this one. The product description on EdenFantasys says a velvet bag is included but mine didn't come with one.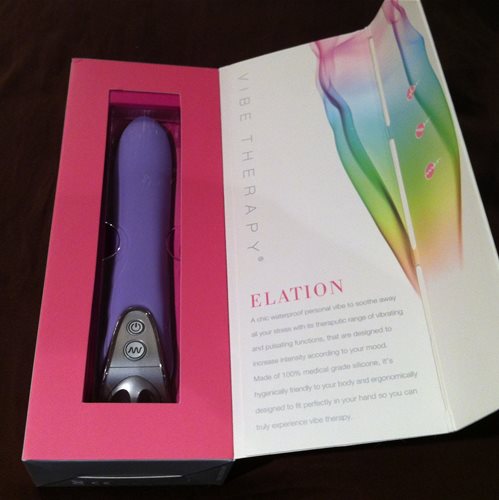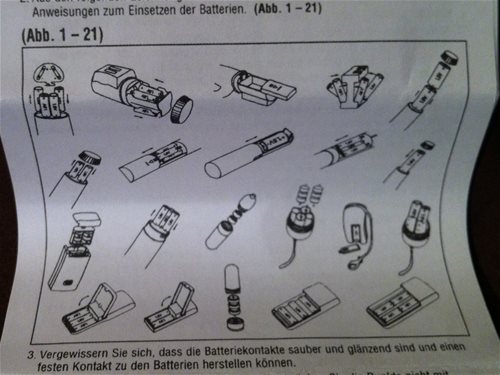 Follow-up commentary
25 days after original review
I usually like larger toys with strong rumbly vibrations and a clit stimulator, but there is a certain mood that I get in when I really love this toy. Its modest girth, soft and slightly squishy texture, and medium intensity vibrations sometimes just hit the spot for me, when I'm in the mood to be teased instead of going for that fast payoff. It's a keeper for me.
This product was provided free of charge to the reviewer. This review is in compliance with the FTC guidelines.

Thank you for viewing
Elation
– traditional vibrator review page!