Best use:
The Key Vela, from Jopen's newest line, is full of power and packs a big punch. The Vela is just one of the new toys from Jopen. The Key Vela comes in the colors blue, raspberry, and lavender. If you search Jopen Key, it should pull up all of the available toys from the new line that Eden carries.
This toy is very large and provides some strong, rumbly vibrations. The Vela is best used vaginally. This wouldn't be great for anal play, since it has no flared base. If you are very experienced in anal play, you could try it and see how it works for you.
Must I say it again? It's a very LARGE toy, and if you are inexperienced vaginally with larger toys, this may be too big. My guy is rather girthy, and this toy was too big for me. Size queens should really like this toy. It provides textured waves along the shaft, and it really stretches and fills up the vagina. Because of this, it really stimulates the g-spot and deep into the vaginal walls. This toy didn't work as well for clitoral stimulation. I pressed the top against my clitoris, and there was a broad feeling of vibrations on the first level, which is a steady vibration. I also tried the shaft of the toy out on my clitoris, and it really didn't provide any sensation. There wasn't enough pinpoint stimulation to make me orgasm from it on the clitoris, but it did provide an internal orgasm while I had it inside, just by a gentle rocking motion.
The textured areas were felt a little deeper when I twisted the toy in a circular motion while inside of my vagina. I was able to feel the grooves. The bulges that are in the shaft really made a difference in this toy because it's so large. Between the vibrations, the bulges, and the size, it gave me a powerful g-spot orgasm in a short amount of time. I was very glad that it is totally waterproof, because it did have fluid on it, and it never had any issues with turning off.
Another great use for this toy would be to use as muscle massager. Before I used this toy out in a sexual manner, I used it on my shoulders and my neck. It provided some strong vibrations and relaxed me a bit. It did get into my muscles, but not as deep as my Hitachi massager. The Vela is nowhere near as strong as the Hitachi.
This is a great toy for nipple stimulation. I put some warming oil on my nipples and lightly ran the shaft of the toy over both nipples. I like the strong sensation that it provided. The vibrations are mainly in the top of the toy. I can slightly feel them down the shaft, but primarily they are in the tip.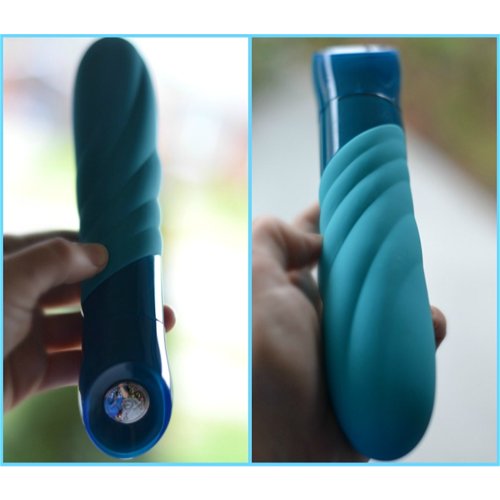 Material / Texture:

The Vela massager is made of 100% silicone, plastic, and stainless alloy. The Vela is nonporous, latex free, and phthalates free. Silicone is body safe and non porous.

The insertable area of the massager is a pretty blue silicone that tapers down to a darker blue plastic handle, where the single control push button is located.

The part of the toy that will be inside of the vagina is pure silicone; silicone has a 10 rating on the safety material scale, and it is the food-safe silicone. The handle is plastic, and the button on the handle is stainless alloy.

When the product first arrived, there was a slight smell of a powder substance, but nothing that was bothersome. It was more like a new product smell.

I cleaned the Vela with a 10% bleach solution once I took it out of the package and then read the instruction manual. I always do this with my pure silicone toys to be on the safe side. The bleach solution is to use a 1:10 household bleach solution. Mix 1/5 cup of household bleach with 2 cups of water. Let soak for 10 minutes. Throw out the bleach and water mix after use. Silicone sex toys without motors inside can also be boiled and are top rack dishwasher safe. Rinse thoroughly afterwards to make sure that there is no bleach left on the surface of the toy, which can cause irritation to the skin or mucous membranes.

The Vela had no taste to it after I cleaned it with my toy cleaner and rinsed it well.

If you know about silicone toys, you know that silicone toys are soft and smooth. The Vela gives off a velvety feel. The silicone is non porous, so it won't harbor any bacteria.

The shaft of the toy isn't very flexible; it has a little give to it, but you can't bend it in half because of the vibration components and battery casing inside. There are no sharp surfaces or rough seams on the toy. I made sure to thoroughly clean the seams where the toy comes apart and also where the silicone meets the plastic.

The Vela also offers textured bulges along the shaft of the toy. These provide extra stimulation, especially while thrusting and twisting. If you like texture, this would be a great choice. It can also work for beginners because the texture is not overwhelming, and it's not as raised as some glass toys. It provides just enough texture to feel good. I didn't experience any discomfort with the textured shaft; I liked the way it felt. I have found out that I do like texture more since I've used the Vela. This toy could work for anyone who is experienced with toys that are over 5" in circumference. If you are wanting to try something that is on the larger side, this would be a good choice.

Do not use a silicone based lubricant with the Vela. You shouldn't use silicone lubricants with silicone toys that are not high quality silicone. This can break down the material. If you would like to use silicone lube and are not sure about the material of your toy, try a test. Place a small drop of silicone lube on the toy in an inconspicuous area, like on the back or base of the product. After 10 minutes or so, wipe the area and see if there is a mark left by the lube (such as a bubble or dimple). If so, it is not recommended to use silicone lube with your product.

Material:

Silicone

Material safety

Texture:

Ribbed

Safety features:

Anti-bacterial property / Food-grade material / Hypo-allergenic / Latex free / Non-porous / Phthalates free

Design / Shape / Size:

I like the design of the Vela because it's a textured, silicone toy that is extremely powerful. It doesn't have the usual design like other traditional vibrators. The shape is a new style to me, and I really like the texture.

Although it is a great shaped toy, the size for me was a bit much. I used a lot of lube to get it inserted, and it was still a pain to get it to go in. I felt the stretching and stinging when I finally got it inside. It definitely can fill up a vagina if you aren't used to toys as big as this guy.

The vrooms on the Vela are about a 4 to low 5 on the scale, and the Bees are about a 3-4; it isn't as quiet as the packaging states it is while it is on the outside of the body. Once inserted, it is quiet. If you are using the Vela for foreplay or for a muscle massage on the outside of the body, this can be heard through a door from the hallway if you are standing next to the door. If there is a television or other white noise on, this toy is less likely to be heard.

I couldn't thrust with the Vela like I wanted to because of the size, but I was able to sort of pull it back and forth lightly about an inch each way, in more of a rocking manner. The widest part of the Vela is near the top, which is about 5 1/4", and then it tapers down to about 5", and then 4 3/4" under that. I'm assuming that the top is bulbous so it can penetrate deeper for those that may have deeper g-spots. Like I said above, the size may be a bit big for some. If you love larger and girthier toys, this should hit the right spots for you. If your g-spot isn't deep, you should be able to orgasm pretty quickly, because the vibrations are felt deep into the vagina. It does have the power to provide a squirting orgasm. Size wise, I would have loved for it to be a bit smaller. I'm more petite at 5'2", and this was one of those that I had trouble with inserting. I've used a lot of sex toys since being on Eden, and it was too big for me, so I guess it depends on what you can handle. My partner told me that this is the toy that we needed to stretch me out; although he would probably be right, I'm not sure about that one.

I don't think that it would be great to use for travel because of the size and weight. It also doesn't have a locking mechanism to keep it from turning on while in a public place. If this was found in a bag, someone would know right away what it was. The TSA would know exactly what it was. This toy is not discreet in any way.

This toy did make my hands go numb a bit while holding it because of the strong vibrations. I didn't notice it getting hot, but I didn't have to use it very long. I used it for about 10 minutes, and that's all that it took to produce a nice internal orgasm with little effort on my part.

Length:

8 1/4"

Insertable length:

4 3/4"

Circumference:

5"

Diameter:

1 5/8"

Functions / Performance / Controls:

The Vela offers the functions of vibrating, escalating and pulsating. There are 7 intense and strong patterns, including powerful oscillating vibrations bundled in this toy.

The one push button control is located on the bottom handle of the toy. It's a silver steel alloy button that is 3/4" in size. The button is in a circle shape, and it has the word KEY engraved into the button. The button pushes easily, and sometimes too easily.

I've turned it on just by moving it, so be careful when moving it around, and especially if you are keeping it in a toy box. I picked up my Devine play chest one day, and the Vela turned on because another toy rolled onto it. It freaked me out a bit, but I started laughing when I opened up the box to see which toy had turned on. The button does not light up. I do like that there is only one button, but I hate cycling through each of them, and I don't like that you can't go back.

To turn off the Vela at any point, just hold down the push button for approximately 3 seconds and it shuts off completely. Might I add that it does shut off faster than some of my Lelo toys.

The seven different functions are:

1. Steady High Vibration- BZZZZZZZZZZZZZZZZZZZZZZZZZZZZZZZZ

2. High back & Forth Vibration- BZ-BZ-BZ-BZ-BZ-BZ-BZ-BZ-BZ-BZ-BZ-BZ-BZ

3. Wave- bzzzZZbzzzZZbzzzZZbzzzZZbzzzZZ

4. Pulse- BZBZBZBZBZBZBZBZBZBZBZBZBZBZBZ

5. Throb- BZBZ.....BZBZ.....BZBZ....BZBZ...

6. Flutter-....BZZ.....BZZ....BZZ....BZZ

7. Tease- low.... high...low...high....low....high

Most of the vibrations are located in the upper portion of the toy. About half way down, they are lightly felt.

The Vela gets between a 2-3 on the Bee level.

The Vela takes 4 AAA batteries. I've used it quite a bit from massaging my shoulders and nipples, and also internally, and the batteries seem to have the same amount of power as when I first put them in. I'm not expecting them to last much longer because of how powerful the toy is. I would love to see it made rechargeable, because I'm sure I would be feeding a lot of batteries to this guy if he was smaller. I would definitely be getting a lot of use out of the Vela.

As far as the waterproof feature goes, it just passed with flying colors. I took it into the shower with me and used it on my back and neck; I also squirted the first time that I used it. The shower water was running all over the toy, and I had no problems with it shutting down on me. It worked fine. As far as submerging it, I did that tonight in the bath tub since that was the deepest body of water that I have available, and it worked fine after I took it out and dried it off. It started right up. The Vela is indeed waterproof. I'm always a bit nervous to do that to toys that have motors inside because I don't want to ruin a new toy, no matter what the packaging says about it being waterproof, but I have done this to my two newest toys. There is an O-ring seal inside of the cap around the plastic battery compartment. The seal can be removed if ever damaged. I'm assuming you could get a similar one at a local hardware store if this one does break and it's no longer under warranty.

To take off the handle, I just held the Vela in both hands, with the handle in my right and the shaft of the toy in my left. I took my right hand and turned it backwards to open up the battery compartment cover. Inside of the cap/handle, there are 4 raised terminals that can be pushed in slightly; these fit onto the terminals on the slide out battery compartment.

On the actual shaft of the toy, there is a battery holder inside of the shaft that slides out. You will see an imprint that says to Pull, and it has an arrow showing you where to pull. I just used my fingernail, and the battery housing just slid right out for me. The housing holds 4 AAA batteries. The housing is 4" long and 3/4" wide. There are 2 batteries on each end of the battery housing. Once you've placed your batteries in the casing, just gently slide it back into the toy. There is a curved end at the bottom to let you know how the casing fits into the toy the correct way. Once the casing is in all the way, it makes a small thump noise, and that let me know that it made contact inside. Just take the cap and screw it back on and you are ready to go use this powerful Vela. This has to be one of the easiest toys to use in the Jopen line. The control is basic but the vibrations sure aren't!




Functions:

Escalating / Pulsating / Vibrating

Special Features:

Multifunction
Multispeed
Powerful
Premium
Quiet
Waterproof

Control type:

Built in control pad

Powered By:

Aaa-4

Care and Maintenance:

Please don't place the Vela in boiling water or a dishwasher, because it can damage the toy. There is a motor and battery pack inside, and it can cause the batteries to explode and ruin the toy, and possibly cause injury when opening up after being in the boiling water. You can use a hot wash cloth with soapy antibacterial soap, toy cleaner or sex toy wipes to keep it clean. I mentioned above about the 10% bleach solution. This is good when you want to give your toy a thorough cleansing. It's not good to keep the Vela in bright sunlight or high heat. Absolutely do not keep in direct sunlight or any temperature over 100 degrees.

Do not store in a high humidity or high heat environment, as this can cause defects in the battery if you keep batteries inside your toy. I take my batteries out just to be cautious. I don't want any battery acid leaking out into my toy and possibly damaging it. Make sure to keep the Vela stored in a cool, dry place.

Also, don't use silicone lubricants with the Vela, and don't store it with other silicone toys. The silicone on each of the toys can break down the material on the the other and ruin your other toys. I've read where some people did this and some of their toys melted. I have never had this happen, but I'm not taking any chances. I'm rather OCD when it comes to storing my toys.

The Vela does pick up lint, hair and some dust. Try to dry with a soft cloth that is lint free after washing. I hate cleaning a toy then drying with a towel, because it will have to be washed again due to the lint that is now all over the toy. I store mine in the satin pouch that came with it. I also keep it in my play chest, which is dark and out of any light sources. With the Vela being silicone, it's not a high maintenance toy. It's easy to maintain and easy to clean.


Care and cleaning:

Dishwasher safe / Soap and water

Packaging:

The Key Vela arrived in a black colored box, with a blue and black slide off over a photo on the front of the Vela, and the cover reads, Let's take it to the next level...

The back of the slide off cover reads:

Vela Massager
Surrender yourself to the luxurious KEY Vela massager. Draped in body safe silicone, Vela envelops you in wave after wave of 7 powerful oscillating patterns.

The KEY is in your hands

Key welcome you to a world of greater pleasure toys that feel more effortless, natural and arousing than ever before. Created by women and couples, our innovative range of high quality toys are meticulously crafted to excite and delight you in every way. This means every moment with Key is an inviting & stimulating experience.

In other words:

A mind- blowing, make-you-want-to-wake-up-the-neighbors good time.

The features are also listed.

On the actual box, it opens up, and the product is on the inside. It has a see through window where you can see the product, the bag of information, and the pouch.

The box is pretty basic, with some writing on the front. The back repeats what is on the slide off cover.

The bottom of the box reads:

Copyright 2012 2012 KEY pleasure toys.
Seattle, WA USA
All rights reserved
The shape and appearance of this packaging is a trademark and trade dress of KEY Pleasure Toys. Sold as a novelty only.
Distributed by Jopen LLC,
PO Box 767
Chino, CA 91708-0767 USA
This product is intended for use as a novelty product only.
For external use only.
Any product use for medical purpose or for a use that has an adverse effect on any function of the body is prohibited.

Included in the bag inside the box is a satin storage pouch for the toy. The pouch is 10" long and 4" wide. The Vela fits in there perfectly. Also included is the Vela instruction manual, which is a black fold out sheet folded into a trifold shape.

The last piece included is the Warranty booklet, which is also a trifold shape. The warranty covers the Vela for product replacement for one year from the date of the original purchase. If there is a defect within the time period allowed, they will, at their own discretion; provide you with a replacement Vela. To check on other warranty information, visit the Vibetronics website under Jopen.

The slide off cover on the box is not very discreet, but the actual box is because it doesn't have any photos on it anywhere.

This box would be all right for storage, because it opens up like a door and the product is ready to be taken out. This packaging is really easy to open. You don't have to go through the hassle of cutting anything to get the product out. The box is 9 3/4" in length and almost 3 1/2" in width.

Personal comments:

My overall opinion of the Vela is that it will be a wonderful toy for the right person. It works great for couples and solo play, because your partner can use it for thrusting into the vagina, and it can be used in the bath, shower or pool. Just don't use it in a hot tub because that can probably get too hot and damage the toy.

I think if the Vela was just a little smaller in circumference and had a g-spot curve, this toy would be at the top of my favorites. It seems very powerful to me. This is my first Jopen toy, so I've yet to experience any of the great toys from the other lines. This one really piqued my interest and I'm very curious about the other products from the KEY line.

Experience:

I'm rating the key Vela 5 stars, because even though the size was an issue for me, it may not be an issue for anyone else. I'm rating it on its performance and ease of use. There was nothing confusing about this toy. If I had no instructions with this, I would still know how to use the controls.

There weren't numerous controls to fumble around with, which is a plus in my book. When a toy can get confusing while I'm trying to use it, it begins to be a put-off. This one was the total opposite. I also liked that while I was holding the toy, the control wasn't on the round part of the handle. This feature worked well for me because I change up the toy position quite a bit, and sometimes I hit the buttons and change modes. With the button being on the slanted handle, I didn't have this problem. My fingers didn't touch this part whatsoever.