California Exotic L'Amour premium silicone massager Tryst 3 - Traditional vibrator from California Exotic

L'Amour premium silicone massager Tryst 3 videos
Product Details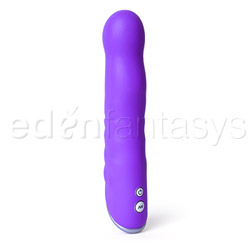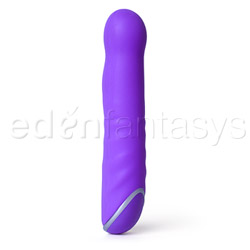 Summary:
This isn't a typical g-spot toy in shape, but it makes up for that in flexibility and quality. While the vibrations are weaker than I would have liked, I really enjoy this toy for g-spot stimulation, especially when used along with a clit vibrator. A good option for anyone who's found that the "G-curve" build into most toys doesn't reach the right spot.
Pros:
Well made, flexible, easy to use, lots of variety, waterproof.
Best use:
Although it doesn't really specify, I think this soft, squishy, super velvety toy is designed for g-spot stimulation. While it doesn't have the classic g-spot curve that you find on many toys in that category, this is how it worked best for me. It could also be used as a clit stimulator, but I think that it's really lacking the vibrating power that most people need/want in that area.

It's great for everyone from beginners to advanced users. The feel is inviting, the whole thing is really bendy/squishy (without being limp) and it's quite a pretty toy. On the other hand, there is enough variation in the vibration cycles and speeds that even advanced users will find something that they like.
Material / Texture:

This is silicone at its finest (I actually had to look it up to make sure it even was silicone -- it feels that nice). It doesn't have a scent at all that I noticed, and the texture makes me want to play with it lots and lots. The control end has more of a plasticky feel, but it's not the cheap plastic -- it's very soft. This is like someone combined your favorite pillow with a vibrator -- in fact I want a pillow like this!

Material:

Silicone

Material safety

Texture:

Ribbed / Smooth

Safety features:

Food-grade material / Hypo-allergenic / Latex free / Non-porous / Phthalates free

Design / Shape / Size:

I really think that although this has kind of a straight shape, it's best designed for g-spot stimulation. The majority of the vibrations seem to be in the tip, and it's so delightfully bendy that it seems to curve to follow your body. Sometimes toys with the traditional g-spot curve aren't curved in a way that seems to hit my g-spot; this one just bends as you do, almost guaranteeing that you're going to be properly stimulated.

It's small, light-weight and easily portable. Yet, it's long enough (a little over 5" of insertable length) that it gave me lots of insertion options. The handle area isn't slippery at all and the buttons, while not hard to reach, aren't in a place where you accidentally turn them off while you're enjoying yourself.

Color:

Purple

Length:

7"

Insertable length:

5 1/4"

Circumference:

4 3/4"

Diameter:

1 1/2"

Weight:

4 oz

Functions / Performance / Controls:

The controls are simple -- hit the Apple-looking power button to turn it on, then use the other button to cycle through the seven speeds. The first three are steady revs, while the others offer various pulsing/rhythmic revving options. As I mentioned, the buttons are easy to reach but they're not in a place where they're like to get pushed accidentally.

The toy takes two AAA batteries, which might get to the crux of my one serious complaint -- the vibrations aren't super strong. This was definitely not enough to bring me to orgasm if I used it alone (either as a clit or g-spot stimulator). But then again, I like hard, fast vibrations. These are very gentle, even along the tip of the toy where they're strongest. The bend-into-wherever-you-need-it-most shaft helped make that less of an issue, but I still would have been happier with this toy if it had a little more oomph behind it.

It's not very loud, but I would say that it's a little louder than it needs to be for how light the vibrations are. And it worked splendidly in water, despite some concerns I had based on the battery enclosure (it's slanted, and didn't seem to have an actual seal around it), but that doesn't seem to be an issue.

Functions:

Escalating / Pulsating / Vibrating

Special Features:

Light indicators
Multifunction
Powerful
Premium
Quiet
Waterproof

Control type:

Built in control pad

Powered By:

Aaa-2

Care and Maintenance:

Silicone isn't very porous, thankfully, so you can disinfect it by boiling it for a few minutes or by throwing it into your dishwasher (just make sure you have the end well-sealed so that water doesn't get into the battery compartment). It's really easy to care for, and even more easy to store, because it's fairly indestructible. And, delightfully, it doesn't have the kind of surface that picks up dust, dirt, or dog hair! Hurrah!