Summer Bliss with L'Amour Tryst
This is a great toy. Way to silicone it up, Cal Exotics! The shape is nice and slightly more interesting than the usual plain straightness, but still great for thrusting. This would be an awesome beginner toy because of the quality of material, slim size and variety of settings that would allow someone new to toys to try things out while still using a good-quality product.
Published:
Pros:
silicone, very quiet, can use power button at any time, doesn't collect lint/dust
Cons:
weak vibration, first pattern function starts way too soft
The L'Amour Tryst 3 is a lovely silicone g-spot vibrator with multiple functions, easy-to-use controls and a really nice shape. It's waterproof and fully submergeable. This one's a better choice for use internally; the vibrations are probably too weak to do much for most women clitorally, but it goes without saying that it'll be a total winner if you like teasing.
This has no flared base and so is not safe for insertion anally, although feel free to use it to stimulate the outside of the anus. Do make sure to cover the toy with a condom, however, or sterilize between uses if you do choose to use this in any anal capacity.
One of the shining qualities about this toy is that it's made of silicone. There's no smell or taste to be found at all, and of course the non-porous qualities are great for putting the mind at ease about safety and cleanliness. Without lube, there's a bit of drag but that problem is clearly easily solved. Remember: water-based lube is the way to go to ensure lube/material compatibility.
The silicone's got a bit of give to it, is quite plushy and nice. The toy is fairly flexible but is mostly pretty firm – you can bend it, but it's not going to bend too far and it's going to spring back to straightness as soon as you let go. One awesome thing I've noticed about this silicone: it doesn't collect lint! As basically every other silicone toy I have is a dust magnet, I really appreciate that this one is not.
SHAPE & DESIGN
The shape and design is really quite stylish and a nice break from the straight lines of many traditional vibrators. The slightly bulbous head feels lovely and provides for a slight popping sensation when thrust in and out of the entrance of the vagina. The toy is pretty slim at a circumference of 4 3/4" and shouldn't give too many women trouble. It's very beginner-friendly and inviting.
A subtle g-spot bump is located 2.5" down the shaft of the toy, which is really great placement. One of my biggest pet-peeves about g-spot toys is that their curve is placed at the head of the shaft, while women's g-spots are usually located only a couple inches into the vagina. As someone who wants full insertion AND g-spot stimulation at once, the Tryst gains big points with me for this. That said, the bump is fairly small and so this isn't going to be very intense stimulation. It's more of a nice add-on than a main attraction. Of course, you can get a bit more direct stimulation if you angle it a bit, but it's still a very pleasant sensation even when just thrusting straight.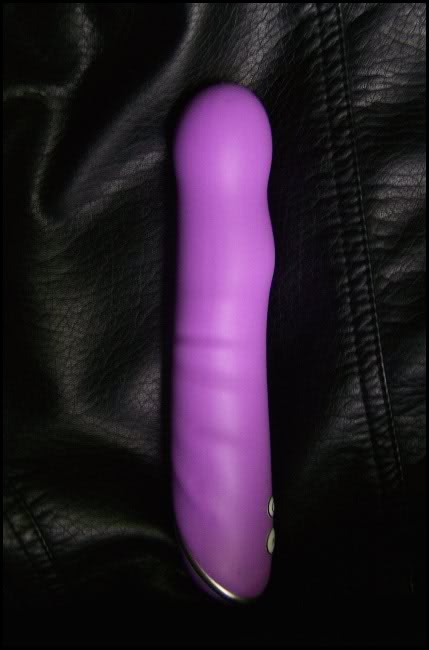 Though the Tryst does have some ribs on the sides, they can't really be felt much in use and they're mostly too low for insertion anyway. The Tryst does have a visible seam, but it too cannot be felt in use.
The battery compartment is plastic and pretty easy to remove – in fact, mine has taken to popping off almost too easily. Watch out for this while washing it or using it in the bath.
FUNCTIONS & CONTROLS
The controls are very easy to work out: one button is for power, the other for functions. Hitting the power button will cause the buttons to be illuminated by red lights so that you know it's on, but the vibration will not begin until you hit the functions button. (Though there's no travel lock, I suppose this makes it slightly safer to travel with because it takes two different buttons to turn the toy on. Still, taking the batteries out altogether is probably you're best bet there.) Being able to turn the toy off at any time without having to scroll through all the functions is a big plus in my books. The buttons are located near the base of the toy – both the battery compartment and the control buttons extend up only 1.5" from the base of the toy, leaving the majority (up to 5 1/4")of the Tryst's total 7" length for insertion.
The Tryst takes 2 AAA batteries and makes moderate use of translating them into vibrational power. The highest steady vibration setting is comparable to many other toys' medium vibration setting (for one example, the High Intensity Bullet's medium level is about as strong as the Tryst's highest). This is not going to be a toy that's going to scare anyone with power. I don't mind my internal vibrations to be a little less intense, but this is probably not going to be very useful as a clitoral stimulator unless you're pretty sensitive.
Cont'd below
Experience
There are seven different vibration settings in all. Three steady vibration settings of low, medium and high come first, and then four patterns:

1) Escalating, starting very soft and becoming more intense
2) Pulsation
3) Doubletime pulsation
4) Pulsation the same speed as 2), but with every 4th pulse lasting three beats

The biggest downfall of the functions, in my opinion, is that when you're switching from the steady vibrations to the patterns (going from the 3rd function to the 4th) there's a serious decline in power. The first pattern is an escalating program that starts very soft and gets progressively stronger. The issue is that when you're using the toy on the high steady vibration program and you press the button to go into patterns, it feels like you may as well have just turned the toy off because that first program starts so soft.

The Tryst is impressively quiet and would easily go undetected through a door. If you're in a silent room, you can hear it from under the covers, but if there's any other noise going on (music, etc) it's like a ghost. A sexy purple silicone ghost.

As for care and maintenance, just wash it up, fool. No really though, it's just that easy. Seeing as it's submergable waterproof, just soap it up and rinse or use your favourite toy cleaner. Silicone is of course non-porous and so there's no worry about bacteria being harboured – for extra thorough cleanliness, you can sterilize this by wiping it down with a 10% bleach solution.

PERSONAL COMMENTS
I was surprised at how much I liked this toy. While it's a little on the slim side for my usual tastes, it definitely got the job done and I thoroughly enjoyed the shape. While the g-spot bump is quite subtle, there was certainly more stimulation there than I'd get with a purely straight traditional vibrator. When I first was trying this one out, I didn't even really check out the shape before going to town with it. Only afterwards when I was thinking, "Hey wait a minute, that was actually kinda g-spotty" did I inspect the bumps and nod sagely at how it all added up.

To be honest, in my bedroom the pattern settings rarely get much use. Although I'm not a glutton for power, I do appreciate being able to feel a decent amount of vibration, and when it's only mid-range power to start with, the vibration feels more underwhelming the more it's broken up. When the vibrator is on high, I can feel it staying steady on high. Good. But though the pulses in the pattern settings are highest-power pulses, they FEEL like medium-level because of the breaks in between. It just doesn't hold its own, sadly.
Follow-up commentary
2 months after original review
This continues to be a solid, if a bit plain, standard in my toybox. My toy collection is too big to lug around to my boyfriend's place and back in its entirety, and so a few choice toys were chosen to permanently live at his apartment for use when I'm there. This toy was one of them. What that boils down to: it's not often a toy I get a serious urge for (and so I don't often miss it when I'm at home), but when I need a quick masturbation fix across town, it's a reliable choice and I enjoy using it.
This product was provided free of charge to the reviewer. This review is in compliance with the FTC guidelines.

Forum
| Discussion | Posts | Last Update |
| --- | --- | --- |
| Power? | 2 | |
Thank you for viewing
L'Amour premium silicone massager Tryst 3
– traditional vibrator review page!