Rocks Off Limited RO-160mm bullet - Traditional vibrator from Rocks Off Limited

Product Details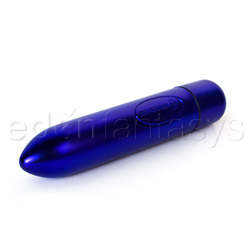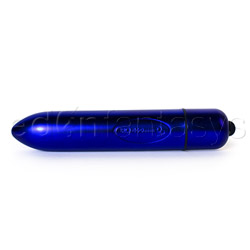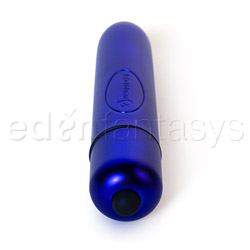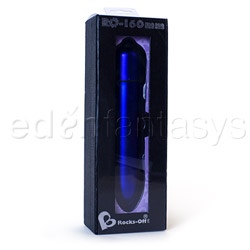 Summary:
This is not a bullet and should not be called one since it is over 6" long. This vibe was very strong and performed well in water. The vibrations are pretty loud. This toy is not perfect, but it does the job very well.
Pros:
Waterproof, 7 patterns, strong, comes with batteries.
Cons:
Buzzy vibrations that will numb your hand during use, loud.
Best use:
This vibrator is perfect for vaginal penetration and clitoral stimulation. This vibe is larger than I expected, but perfect for vaginal play.

This vibe has features for both the beginner and advanced user to love. This vibe has a one button, push button style for on/off and for clicking through the 7 vibration patterns. They are more buzzy than deep and rumbly. This toy would work for solo or partner play.

This vibe also feels great on sensitive spots like breasts, nipples, and neck. It is a great intro/teaser toy for heterosexual partner play. It is too big for some positions to stimulate the clitoris between lovers during sex. I did get it to work in various positions during sex when my clitoris was exposed.

The tip of this "bullet" is great for pin-point stimulation on the clitoris. This vibe is smooth and needs little lubrication for play. The plastic on this has very little drag. This vibe could be used for external anal stimulation. Just use caution since it does not have a flared base. This toy is waterproof making a bath or shower extra fun.
Material / Texture:

This toy is made of plastic with a blue metallic finish. It looks like a big metal bullet, but it is not. The feel of this vibe is smooth and sleek. The Rocks Off logo near the cap is the only thing that gives it texture, but I doubt you will feel it at all. It is seamless, except for the base where the cap comes off. There is a waterproof seal that protrudes slightly.

This toy had no smell or taste out of the box. Save for my slightly scented sex toy cleaner, it still has no smell or taste. Plastic is non-porous and hypo-allergenic. As long as you clean it before and after use, even the most sensitive users will be able to enjoy this toy for a long time.

Material:

Plastic

Material safety

Texture:

Smooth

Safety features:

Food-grade material / Hypo-allergenic / Latex free / Phthalates free

Design / Shape / Size:

The narrow tip will make insertion of this vibe very easy for even inexperienced users. A little bit of lubrication will last on this since it will not be absorbed into the material.

This vibe is 6.75" X 1.2". It has 5.25" insertable length. This toy is the typical phallic shape of vibrations/massagers. Every girl should have something like this in her collection, in my opinion.

This toy looks like a vibrator, so it is not very discreet. If you are taking it for travel, be sure to either unscrew the cap so the lines do not match up or remove the batteries. The push button is a bit sensitive, so it could be accidentally turned on in luggage or a bag.

Length:

6 3/4"

Insertable length:

5 1/4"

Circumference:

4"

Diameter:

1 1/8"

Weight:

0.75 lb

Functions / Performance / Controls:

I had a hard time distinguishing what end had the motor on this vibe. The vibrations are just all over the vibrator, so you will feel them in your hand during play. When I used this toy internally its buzz was clearly felt in my whole pelvic region. This vibe has 7 settings that function with an easy click button at the bottom. Just hold it down a few seconds to turn it on or off. The settings are:

1) Medium Steady Vibe
2) Medium/High Steady Vibe
3) High Steady Vibe
4) Fast Patterned Pulses
5) Fast Pulses
6) Escalating Vibe
7) Fast Patterned Pulses

That is not a typo. This vibe has two settings that are almost the same. I had to pay really close attention to distinguish, there is a slight difference. I liked the escalating vibe the best. For a buzzy vibe this was pretty strong. It worked for me for just clitoral stimulation.

This toy is not as quiet as I had hoped. It will be heard across the room, but probably not through a closed door if there is any kind of other back-round noise. It requires 2 AA batteries, which are included. It had a small paper disc that I needed to remove first. It performed very well in my water-proof test. The plastic is great for transmitting the vibrations, even under water. It stayed nice and dry inside. There is a line on both the cap and the base. If you make sure those are lined up, it will be water-tight.

Functions:

Escalating / Vibrating

Special Features:

Batteries included
Gifts
Multifunction
Multispeed
Powerful
Waterproof

Control type:

Push button

Powered By:

Aa-2

Care and Maintenance:

This toy is easy to care for, since it is waterproof. I washed it with a sex toy cleaner, but you can use soap and water or wipe it down with isopropyl alcohol as well. Plastic is compatible with most everything, so I store it next to my other toys without having to worry about it melting or anything. Alternately, you can use the box for storage. The box is a bit bigger than the vibe itself, so that will be determined by the space you have available.

Care and cleaning:

Soap and water

Packaging:

This toy came in a black box with a clear window on the front. You can see the vibe very clearly in the window, so it is not very discreet. It would make a good gift package though. The back of the box list the features of the toy. This toy comes with batteries, which is a major plus.

Personal comments:

I am so silly sometimes! I thought this was a bullet vibe when I ordered it for review. When I told my lover the name he laughed because 160mm is the size. So now I know!

This vibe does give a very strong vibe and the fact that it is waterproof is a big plus. It was pretty loud though. I was really torn on how to rate this product. I ended up giving it four stars. I am not loving the buzzy sound, but overall it was a quality vibe with some great features.