Sportsheets Sex in shower waterproof silicone vibrator - Traditional vibrator from Sportsheets

Sex in shower waterproof silicone vibrator videos
Product Details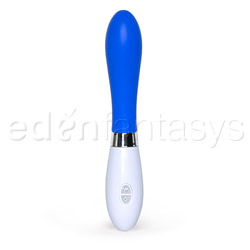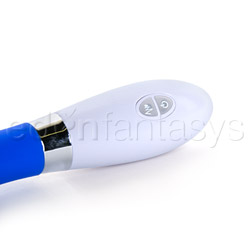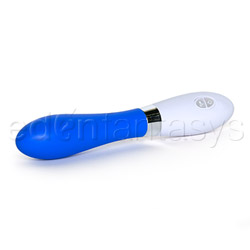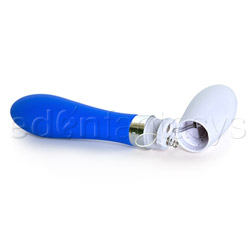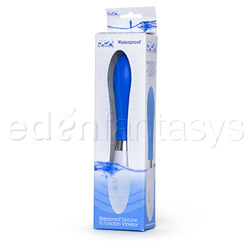 Summary:
The Sex in the Shower waterproof silicone vibrator would be a great choice for those not seeking super powerful vibrations or concerned with noise levels seeking a toy that can be used in the water without worry. It may be best suited as a warm-up toy for most couples and singles and is not best for those looking for a discreet sounding toy.
Pros:
Waterproof, 10 vibration patterns.
Cons:
Noisy, not remarkably powerful, very similar patterns.
Best use:
The Sportsheets Sex In The Shower Waterproof Silicone Vibrator is a standard style vibrator that is body-safe and completely waterproof. It would work well for any single or couple interested in being able to play in a water environment. It is neither too big or too small for any level of toy user and while it can be used as an internal or external sex toy, it can also easily be used as an all-over body massager in a shower or bath setting. The only toy users for whom this toy might not work well for are those seeking discretion in a non-water location as it is somewhat noisy.
Material / Texture:

The top portion of this vibrator is smooth royal blue silicone. It is remarkably body-safe and has no taste or smell, although it is not compatible with silicone lubricants. It is fairly firm since there is an interior shaft responsible for transmitting the vibrations. The silicone has a decent bit of drag to it so it works best when water based lube is applied. Although there is a visible seam down the sides of the silicone portion, it cannot be felt by more sensitive regions.

The bottom portion, divided by a silver colored plastic ring, is glossy white plastic. It also has no smell or taste and is body-safe. On the bottom portion is where the user will find two easy to use buttons: one to turn on and off and the other to switch between vibration modes.

The material is optimal for anyone since it is so safe, and the smooth texture works well for internal or external stimulation. The largest drawback of the material is that most water based lubricants dissipate in water situations, meaning it's hard to keep this toy lubricated when using it in a tub or shower.

Material:

Plastic

/

Silicone

Material safety

Texture:

Smooth

Safety features:

Food-grade material / Hypo-allergenic / Latex free / Non-porous / Phthalates free

Design / Shape / Size:

This toy is 8" long from top to bottom and has a very narrow rounded hourglass shape, with the bottom and top being wider than the center. Four inches of the toy are insertable and the silicone portion is 1.5" at its widest point. This makes it suitable for most toy users, but those that prefer a larger, girthier toy experience may want to pass on this one.

It works well as a standard insertable or clitoral vibe for most and can also be used to stimulate any other external erogenous zones or simply as a massager on sore muscles and joints. It may or may not work for g-spot stimulation depending on the body of the user since there is no curve to it. It is not meant as an anal toy since there is no flared base to ensure a safe experience.

The toy unscrews between the white plastic and silver plastic to insert the batteries. Once it is open, there is a wire connected to the top portion and a white thread looped through a flat piece of plastic that needs to be pulled out in order to insert the batteries underneath it. It also features a thick o-ring at the closure point to keep moisture out of the toy.

While the toy has no head or veins or anything notably phallic about it, it is still fairly obviously a vibrator. It's small enough to be tucked into a drawer or even a purse but the easy push button design could cause it to turn on in a purse or suitcase if the batteries are in it at the time.

Color:

Blue / White

Length:

8 1/2"

Insertable length:

4 1/2"

Circumference:

4 1/4"

Diameter:

1 1/4"

Weight:

6.5 oz

Functions / Performance / Controls:

This vibrator functions very simply and easily. On the white plastic lower portion, there is an on/off button and a button that cycles through the ten different functions, which are as follows:

1. high steady vibration
2. medium steady vibration
3. low steady vibration
4. low to medium escalation pulsation
5. moderate speed medium pulsation
6. fast low to high repeated
7. fast high pulsation
8. wide spectrum escalation (roller coaster like pattern)
9. long high vibration followed by a low pulse
10. fast low pulsation

While it does have a wide array of patterns, it is not a remarkably strong vibrator. It has a powerful motor which can be felt well at the base of the silicone portion, but the silicone portion does not transmit the vibrations as well as some other toys. This means it may be better suited for those that don't require an incredibly strong vibration.

The toy is also fairly loud when used in a dry situation, and adding pressure to the toy makes it even louder. When used in a shower, the water will drown out most of the vibrations but it can still be heard if someone else were in the bathroom in a shared shower or college dorm situation. This is definitely not a toy seeking sound discretion in a bedroom environment.

For those not concerned with sound or high levels of power however, the toy is completely waterproof as advertised. It has been submerged and shower tested many times without so much as a drop of water finding its way into the battery compartment.

Functions:

Escalating / Pulsating / Vibrating

Special Features:

Multifunction
Multispeed
Waterproof

Control type:

Built in control pad

Powered By:

Aaa-2

Care and Maintenance:

Although this toy truly is waterproof, care should still be taken to ensure that no water has gotten in after each use. It should be dried as soon as possible after cleaning and use and checked to see that no moisture has leaked inside. It can be cleaned with toy cleaner or soap and water, or the silicone portion can be wiped down with a 10% bleach solution to sanitize.

Again, the only real incompatibility issue with this toy is with silicone lubricant. Only water based lubes should be used to prevent damaging the toy. It can be stored in a drawer or toy pouch but should be kept away from other toys to prevent material damage or bacterial contamination.

Packaging:

This toy came in a classy, professional looking package. The vibrator itself came encased in molded plastic, inside a clear plastic box, inside a windowed cardboard box. It features the Sex in the Shower logo and some information on the toy but no nudity, or any people at all. While it is not particularly offensive packaging, it's not at all discreet either.

The package also includes a folded pamphlet of the other Sex in the Shower toys, and although very eye-appealing, the box really isn't necessary to keep for storage.

Personal comments:

While this toy was a great effort on part of the Sex in the Shower line, it failed to work well for me. It is entirely waterproof, it is silicone, and it does in fact vibrate as advertised, but it simply doesn't all mesh together well.

The vibrations simply weren't strong enough for me. They're much better suited to someone using this toy to warm up with rather than using it to orgasm, or for someone that simply doesn't care for a very high level of vibration. It was also far noisier than most toys that I have. Lastly, I simply can't get over the fact that although it's completely waterproof, I can't use it in the shower. It has too much drag to be used comfortably without lube and unfortunately water-based lubes don't hold up for long in the water.