Pipedream Metal Worx Luv plug - Butt plug from Pipedream

Metal Worx Luv plug videos
Product Details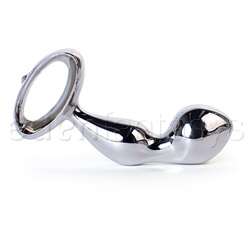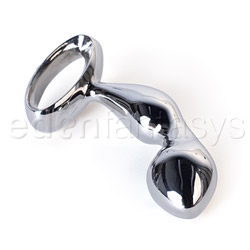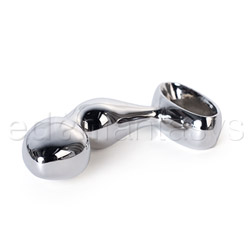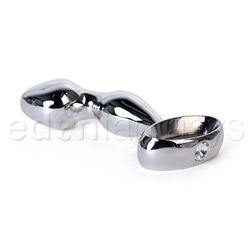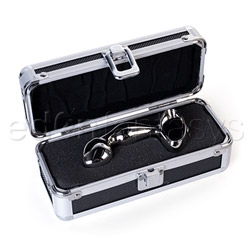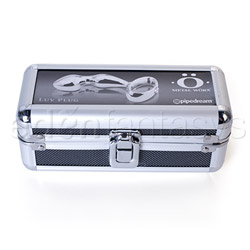 Summary:
The Luv Plug is a nice metal plug that is small enough for beginning anal players but still pleasurable for experienced users. It retains cold and warm temperatures very well and comes with a nice storage box. And if all that wasn't enough, the price is great too!
Pros:
Non-porous, retains temperatures well, stays put, cool storage box.
Material / Texture:

The Luv Plug is made of stainless steel which is nonporous, odorless and flavorless. It is hard and smooth to the touch with no give. When lube is added to the plug it becomes extremely slick since it cannot absorb any of the lube. The weight and firmness of the plug provide a little extra pressure during use, and the ability to retain temperatures adds a nice extra as well. After insertion, the metal becomes very warm, adjusting to the temperature of the body. The only 'texture' to speak of is the difference in size from the bulbed tip to the neck and then from the longer bulb to the small area above the base.

Material:

Polished steel

Material safety

Texture:

Smooth

Safety features:

Food-grade material / Latex free / Non-porous / Phthalates free

Design / Shape / Size:

The Luv Plug is designed to help ease entry on insertion. The very tip is smaller and then it flares out to allow the anal muscles to adjust and accommodate the swell. Once you get past the bulge, there's a nice break for you before a gentler, longer swelled bulge down to a neck just above the flared bottom which doubles as a handle. The handle is a loop of metal and has a pretty faux diamond on the end in the center. The shape is nice and mild, a nice warm up for bigger toys or for a cock. Even though it is small, it still can pose a challenge with the firmness. There is absolutely no give, so some warm up might be necessary. Oh, and lube. Lots of lube.

Color:

Steel

Length:

4 1/4"

Insertable length:

3 1/4"

Circumference:

3 1/2"

Diameter:

1 1/4"

Weight:

10 oz

Performance:

The Luv Plug performed amazingly. I added some water-based lube to the tip, then slicked it down the rest of the plug. I pressed the tip against my anus gently and then just relaxed as I pressed. My muscles relaxed and allowed for the plug to slide in. There was a little resistance, but the size was small enough that I didn't need a lot of warm up. Once inserted, the handle fit nicely between my cheeks and I was able to continue playing with other toys. During orgasm, this plug stayed put, and that is a huge plus to me. I don't know how many times I've had plugs push out with my muscle spasms from an orgasm, and it is frustrating and not very appealing.
I was also able to walk and sit with this comfortably, so it can be worn for a prolonged time. It does get very hot after being worn for a little while, which can feel odd at first.

Care and Maintenance:

To clean the Luv Plug, you can use warm water and anti-bacterial soap, a 10% bleach solution, a toy cleaner, or boiling. In between orifices or users it is important to boil the plug for sanitization but soap and water will work great for regular in between use.

Care and cleaning:

Soap and water

Packaging:

The packaging for this toy is really cool. It is a lightweight metal case that has foam inside with a shape of the plug cut out to nestle it in. The case closes with two metal flip clasps and can be discreetly tucked away.