Shh, Don't Tell Any One...
Don't tell, I like to put this thing where the sun doesn't shine. I love the way the metal feels in my bum. It's coolness adds a whole element. I would still consider myself a beginner, I don't know when I will be more advanced. But this works great for a beginner. It is easy to insert and wasn't painful or over whelming at all.
Published:
Pros:
Easy to care for
Cool Design
Temperature play
Cons:
Weight
The Luv Plug from Pipedream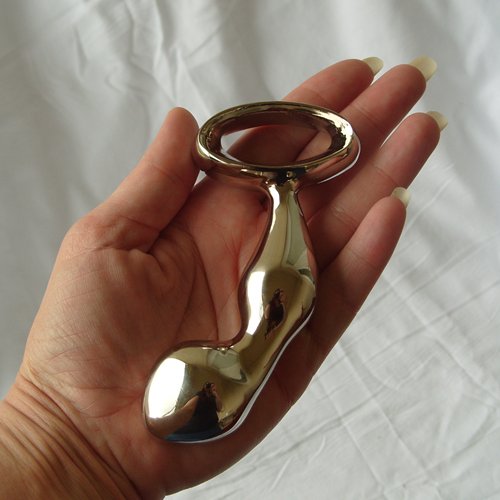 Use
This is a great metal anal plug. I like this one up my bum. This is good for males and females. I have used it for use with intercourse and it is quite comfortable. I was concerned with the pull ring with intercourse but he actually just turned it slightly. It does work for p spot and g spot stimulation. Due to the steel not being porous it is safe to use in all orifices if properly sterilized. It is safe for sharing if cleaned properly. This plug can be worn for long term wear but I found the handle to be a bit much when trying to sit with it in. I personally didn't care for it for vaginal use,but it could be used this way. I did like the coolness in my vagina though. It actually felt cooler than the pure wand.
Material/Texture
This is made from polished steel, It is not rated on the Eden scale but it is close to the stainless steel that is a 10. It is non porous, latex and phthalates free. This plug is also nickel free for those who have allergies. It is easy to care for and storage is not an issue. There is no smells or tastes to this toy. There are no textures to this toy, it is completely smooth, just the changes in the size. It is cool when it is at room temperature but warms to body temperature with use. According to the packaging it is actually weighted to increase pleasure.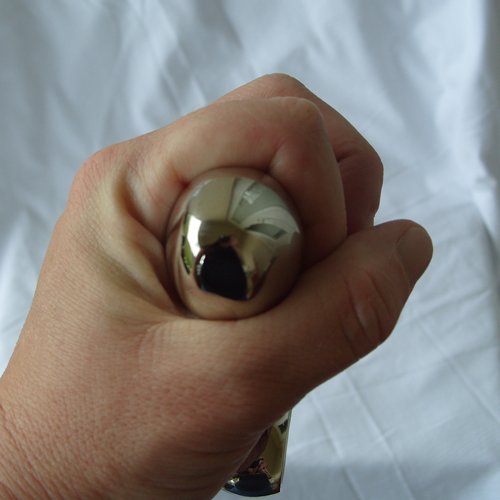 Shape/Size/Design
The plug is a total length of 4 ¼ inches, insertable length of 3 ¼ inches. It's largest diameter is 1 ¼ inch and the smallest is approximately ¾ inch at the neck. The plug has the large head for insertion and second longer bulb area. It weighs a whopping 10 ounces. For an anal plug this is heavy. The handle opening is approximately 2 inches wide. The handle itself is aprox ¾ inch across. I was surprised that it staid in when I stood up, I guess I need to give myself more credit. The shape lends to easy insertion with out an overwhelming or painful type of sensation. I am still fairly new to anal play so purchasing this plug is a big leap. I am not sorry that I did. It feels good. The handle also has this little clear gem placed in it. The gem seems to be pretty secure. My handle is smooth in the inside with no grooves or ledges.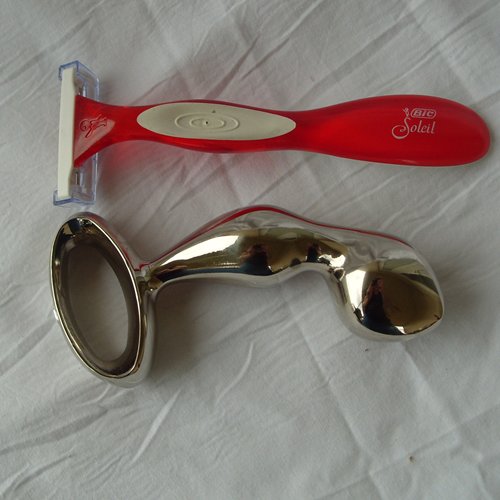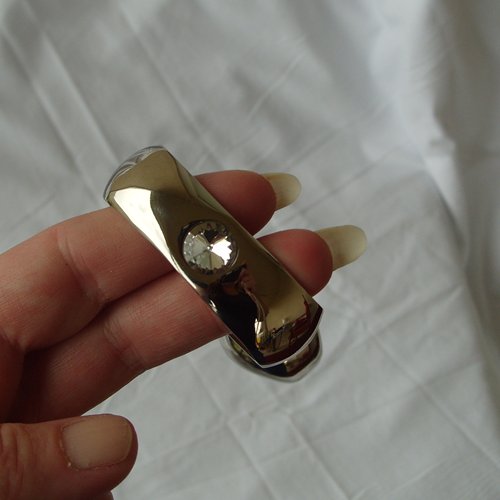 Packaging
I really like the packaging for pipedreams metal works. It comes in a neat looking box with the
Latch type closure. It is padded with foam and the box is pretty heavy duty. All product information is on stickers that are removable. The packaging proclaims "Equal Parts Art and Pleasure".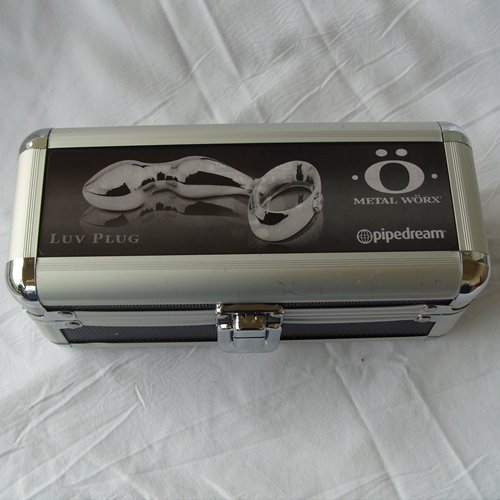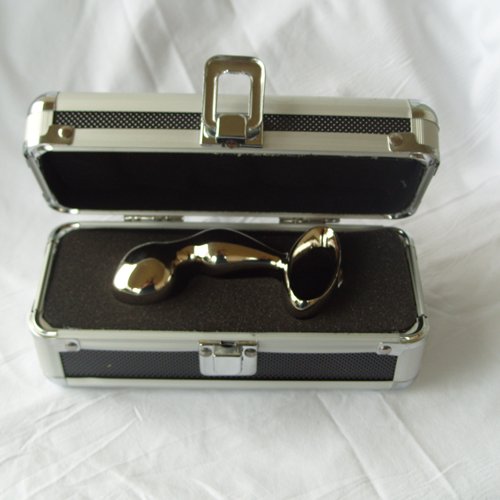 Experience
From what I understand from reading reviews is that this is very close to an Njoy plug. See I listened to myself and read the reviews. I also learned to squat to insert this and it worked beautifully, with some of my glass anal toys I had issues so I may need to try that technique with them. The coolness of this plug felt awesome and then it warmed up to me. I was able to move around with it in, but I was worried that it would drop out. It didn't. When used with intercourse we had to turn the handle slightly to the left for comfort because of it's size. The husband agrees that this is great for prostate massage and he thought that the coolness was a wild sensation in his bum too! It worked well for prostate massage. Be careful not to get too excited with this piece of metal not to hurt your partner if you are controlling it. I would take this traveling with me, I may even wear it. I am most happy with the decision to get this one. The little sparkly gem on the end is a nice feature and the box is great too!
Follow-up commentary
4 months after original review
This is really one of my favorites and sometimes it gets used several times a week. Both myself and my husband like to use it. It is quiet surprising when it take it out and it is literally hot from absorbing your body temperature. It is nice to use a little cooled form a glass of ice water. It also feels good at room temperatures. This one a wear frequently while having vaginal intercourse.
This content is the opinion of the submitting contributor and is not endorsed by EdenFantasys.com

Thank you for viewing
Metal Worx Luv plug
– butt plug review page!