SSA Glass Pink ripple - Butt plug from SSA Glass

Product Details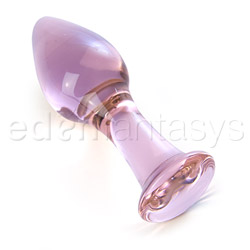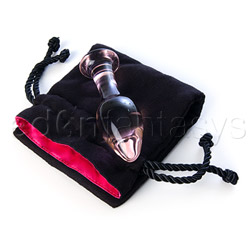 Summary:
I really wish the base was bigger. I would recommend this plug to all, but I cannot and still feel good about it. Still, I really enjoyed my first glass toy.
Pros:
Non-porous, easy to clean, good for temp play, and easy to insert
Cons:
Base not big enough.
Best use:
The Pink-ripple is a butt plug made by SSA Glass. You can use it to warm up for anal play or just to wear around the house for that full feeling.


Unfortunately the base is just not big enough for use. The base is smaller than the widest point and tapered pretty good so this can make it easier for your bum to suck it in. I found some things that can help with this problem (see Experience), but I don't think that people will want to modify their toys when they get them. So if you are not into the E.R. fishing in your bum for lost toys or modifying them, I highly recommend looking at something else.
Material / Texture:

This is made of Pyrex glass. This is same material used for oven-safe glass. There is no smell or taste. This also requires some extra care when handling, Pyrex is stronger than regular glass but can still chip and break. If it does chip DO NOT use. Really, I don't need to tell you that do I?

This is one good looking glass plug. The finish is perfectly smooth and inside the glass has some small bubbles and swirls that add to the beauty. With glass like this you cannot see through it clearly, so you won't be able to see inside but you can see some skin through it when it is inserted. Works real good for temp play and holds the temp pretty good.


Glass is hard and unyielding. This means it does not give like softer materials so be mindful of your inner tissue, this can bruise you if your not careful. Keep in mind if you can take a silicone toy that is 1 1/2" diameter it does not mean that you can take a glass toy the same size.

I would say that it is for intermediate to advanced users. For me it was my first plug and my entry to larger butt toys.

Material:

Borosilicate glass

Material safety

Texture:

Smooth

Safety features:

Food-grade material / Hypo-allergenic / Latex free / Non-porous / Phthalates free

Design / Shape / Size:

I just love the shape. The tip is rounded for easy insertion and the flare makes it easy to put in. The neck is comfy and the base (due to its small size) does not rub my cheeks raw. I really enjoyed the full feeling and can wear it for about two hours before it gets uncomfortable. This while doing things around the house, I found myself looking for things to do that would wiggle or move it.

The length measurements are a little off from the overview, mine came in at 4 1/2" total and I would say that insertable is 4 1/4". I could not find the company website, so I do not know if these are hand-made (explains the difference) or mass produced. The base is 1 1/4" diameter.

I will probably use is for a paper weight or something, but most will want to use some discretion when others might see it.

I do not see any reason you couldn't use it for vaginal play also.

Color:

Pink

Length:

4"

Insertable length:

3 3/4"

Circumference:

5"

Diameter:

1 1/2"

Neck diameter:

3/4"

Weight:

8 oz

Performance:

After some modification this toy performed great during use. Comfy, filling and looks really good in my bum. I was able to move it in and out with my bum muscles and even got some milking out of this. I even tried to find a way to make it uncomfortable but no success. Just great stimulation.

During sex I never felt that it would come out and the movements from sex just further the stimulation, incredible when thrusting fast.

Care and Maintenance:

Care could not be easier. Clean any way you like, 10% Bleach, anti-bacterial soap or top shelf in the dishwasher. You can even use any lube you want, but you will find you don't need much.

Pyrex is nonporous so as long as you sanitize in between you can share this plug with other bodily openings or partners. If you do not want to take the time you should use a condom.

For storage use something soft and padded. You can use the package that it comes in (see packaging) or use an old sock. For me it will be on display with my crystal collection.

Care and cleaning:

Bleachable / Boilable / Dishwasher safe

Packaging:

I opened the box from EF to find a black Faux Suede pouch with a draw-string closure. The inside is a dark pink satin. Very nice!

This pouch has no extra padding, just two layers of material. The pouch is 11" X 5" laying flat so it will work good for storage and has plenty of room for lube, condoms or another toy.

I found no instructions or anything else for that matter. Some lint?

Personal comments:

I was going to use this toy no matter what. So I broke out my leather and added a tail just in-case. My bum did not try to suck it in but it was nice to have the insurance.

You can see my mod here.

Experience:

I am now a big fan of glass. I find myself just holding it and it feels just as good in my bum. I will be getting more glass.

This is a hard toy to rate due to the base. I was not to concerned after my mod, but I think that most people should stay away, that is why I rated it so low.