Maligned...but re-designed!
The new design of the Pink Ripple provides a fantastic, safe intense feel at a very reasonable price. I recommend it without reservation to boys and girls with a bit of anal experience who want something that supplies a sense of fullness.
Published:
Pros:
Inexpensive, well made, well proportioned, and now safely designed!
Cons:
Circular base makes long-term wear difficult.
Since I have discovered the extraordinary pleasure and unbridled, naughty fun of anal toys, I've developed a growing collection. To my continuing surprise, every anal toy creates a different sensation, depending on material, shape, and size. Even more interesting, each one has a role it performs best. For example, some plugs are great for providing passive stimulation when doing chores at home or even "out and about." These plugs have characteristics conducive to being used for long periods of moving about or sitting. The next group in my taxonomy is the class of larger plugs that provide intense stimulation but may be "too much" for extended use. The third group, in my mind, is the sort that is actively manipulated by the user or a partner during play. Where any given toy may be in this set of groups is very much a personal judgement. A toy I find great for extended wear might be overwhelming to another person. Also, boys and girls are different, but you probably knew that.
The Pink Ripple, manufactured by SSA Glass, is an inexpensive option in butt plugs. Other reviewers have found fault with the safety of this toy. As pictured in the EF store, the plug has a narrow stem that gradually flares to a base that is not as wide as the upper bulb. Indeed, this is definitely not a design suited for keeping the base safely outside the anus while sitting or during vigorous activity. However, the Pink Ripple as I received it apparently got a re-design.
Pictured here is the SSA Glass Pink Ripple in the center, with the SSA Glass Royal Ripple to the left and the Xhale Glass Violet Moon Plug to the right.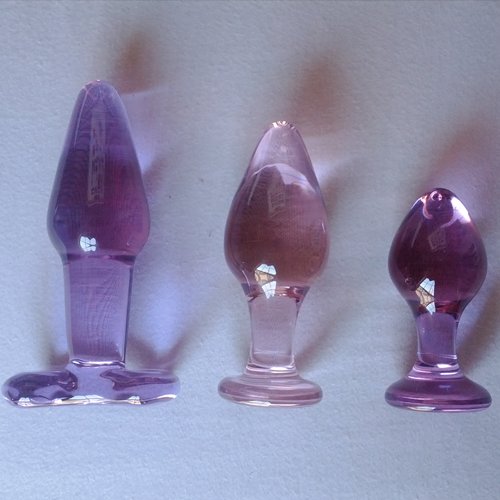 The Pink Ripple is, per my caliper, 4.15 inches long, 1.58 inches in diameter at the widest point of the upper bulb, and 1.54 inches in diameter at the flared base. In comparison with pictures of what must have been an earlier version, you can see that the base is wider and is also a more clearly defined feature, perpendicular to the stem. In short, at no point did we feel that this too showed any propensity to slip past the anus at all. The base of the Pink Ripple is very like that of the Violet Moon Plug. Both are excellent. I believe EF should update their photographs.
This plug is made of Pyrex glass, one of the borosilicate glasses. Pyrex is the standard for labware, thanks to its resistance to chemical attack and thermal shock. Therefore, you can sterilize this plug by boiling, wiping with any antiseptic, immersion in hydrochloric acid, a few months in the vacuum of space, and so on. As long as you don't drop it on a hard surface, you really can't hurt it. For these same reasons, any lube you care to use is compatible, but oil-based lubes aren't good for your anus and rectum, so do avoid these for anal play.
Since you can sterilize it, you can share this toy with someone you like.
Since we now have all the worrisome safety issues completely addressed, let's play.
Experience
Glass has a feel unlike any other material. With a viscous lube, like "Probe," it takes on a silkiness that makes entry an amazing pleasure. At the same time, firmness of the material can create intensely strong pressures.

In terms of size, the Pink Ripple is intermediate between thin plugs for beginners, or those wishing for lighter stimulation, and the larger plugs with diameters in the two-inch range. The plug is fairly short, which I prefer in plugs made of rigid material. Inserted, the overall feel of the plug is a short, roundish mass that creates a sense of fullness without the "poking" depth that longer toys can create. The thin stem is very comfortable, though the circular base is positive in keeping things where they belong. The edges of the base are smooth, but they do contact the inner folds of the "cheeks" and make wear for longer than perhaps half an hour less comfortable.

For me, proud bearer of a prostate, the Violet Ripple creates fantastic feelings of pressure against what many call the "P" spot. I can modulate these pressures by flexing the muscles around my anus. The feeling is extraordinary, but not quite enough for me to fully climax. I'm still working on this. At the same time, the lower portion of the bulb presses on the sensitive nerve endings on the inside of the anus while the base works in the same way on the outside. The combination of these effects is an intensification of feeling in these areas during use of the toy. With the Pink Ripple in place, I've experienced an enormous increase in the intensity of orgasms during both sex and masturbation. Curiously, since developing an enthusiasm for anal penetration, I have noted that every orgasm is much more intense, even without direct anal stimulation. I suspect I have become more body-aware, and that some of the muscles involved have grown stronger. This is a fantastic effect that I recommend with enthusiasm.
This content is the opinion of the submitting contributor and is not endorsed by EdenFantasys.com

Thank you for viewing
Pink ripple
– butt plug review page!