Doc Johnson Happy Hooters - Female intimate lotion from Doc Johnson

Product Details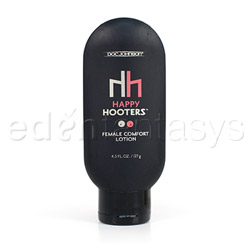 Summary:
I don't know how they did it, but Doc Johnson came up with a way to hydrate your skin while preventing your body from sweating. This is an amazing lotion that will leave you feeling smooth and hydrated, without making your skin feel oily or greasy. It's intended for breasts, but it can be used all over your body.
Pros:
Great smell, moisturizes breasts while preventing them from sweating.
Best use:
Happy Hooters from Doc Johnson is labeled as a female comfort lotion. It is intended to make your skin silky smooth while preventing sweat and moisture under and between the breasts. While this is labeled as a "hooter" lotion, it can be used all over the body. Any place on your body that sweats - and you wish didn't - this lotion can be applied to.

To use this product, simply apply a quarter sized amount to the palm of your hand and apply to the intended areas. Rub in thoroughly and allow a few moments for the lotion to be fully absorbed into skin. It can be applied after bathing, or as your body requires it.
Texture / Consistency / Thickness / Viscosity:

This lotion is much thinner than your average lotion, and is easily rubbed into skin. When wet, the lotion does have an oily texture to it. Even after rubbing it in, this product does keep some of its greasy qualities. After it completely dries and is absorbed into you skin, it doesn't leave an oily or greasy feeling behind. It does leave your skin feeling extremely smooth and almost velvety, even.

There is absolutely nothing gritty about this product. On your hands or on your bosom, this product is sheer. It does not have beads in it or anything similar. This white substance is completely smooth, from the time it leaves the bottle to the time it is totally rubbed in.

Ingredients:

Water (Aqua), Tapioca Starch Isopropyl Palmitate, Tocopheryl Acetate, Aloe Barbadensis Leaf Juice, Acrylates/C10-30 Alkyl Acrylate, Crosspolmer, Disodium EDTA, Fragrance (Parfum), Sodium Hydroxide, Colloidal Silver

Taste / Aroma:

The smell of this product is very subtle. It is distinctly feminine, but is not a floral or a sweet smell. The bottle that the lotion comes in does not label the smell, but it smells familiar to me. I would say it is slightly fruity with a touch of baby powder.

This product should never be tasted straight from the bottle. After it is rubbed into skin, there is very little taste to it. If anything, the smell influences your brain to taste the smell you are smelling.

Performance:

The product performs fabulously on a few different levels. First, I was very impressed with how well it prevented sweating. All women have a slight issue with the undersides of our breasts sweating. This is not only unsightly on a lady, it is also uncomfortable. The last thing any woman wants is chafing, from her bra rubbing against her sweaty breasts. When using this lotion, I noticed that not only were the undersides of my breasts unable to sweat, they didn't even get moist.

Second, I was astonished by how silky my skin felt. Even before my breasts had fully absorbed the lotion, I could feel my hands turning sleek and silky. My breasts stayed silky smooth all day and even overnight. It rubbed in easily and absorbed into skin quickly. A shower was all that was required to fully remove the lotion from my skin.

I was impressed with the lingering abilities of this lotion's smell, also. The smell was still noticeable the next day, when in a close proximity to the applied area. Since this lotion smelled very nice, I liked this quality.

Packaging:

The container your female comfort lotion comes in is the entirety of the packaging. You will find that this bottle does not come wrapped in a plastic bag. This is because, underneath the lid, there is a quality control seal sealing in all of the lotion. Before you will be able to use this lotion, you must unscrew the lid and remove this seal.

The bottle itself is not very discreet. It is clearly labeled as "Happy Hooters Female Comfort Lotion". The bottle it comes in is black, with white and red writing on the front and white print on the back. The back of this bottle states the directions, ingredients, and an expiration date. If you compare the ingredients list on the product page to the list on the back of the bottle, you will find that they are an exact match. The back of this bottle also gives some contact information for Doc Johnson and that this product was made in USA.

The bottle has a pop open lid that stays connected to the bottle. It is easy to open and pour without pouring too much. As of yet, I have had no leaks or issues with the bottle. The bottle this lotion comes in is plastic and can be recycled when you run out.

Volume:

4.5 fl.oz.

Weight:

0.4 lb

Other

Safety features:

No Phthalates / No Sulfates / No Triclosan / Parabens free