NMC Ltd Tenticle magic twisty - Vibrating probe from NMC Ltd

Tenticle magic twisty videos
Product Details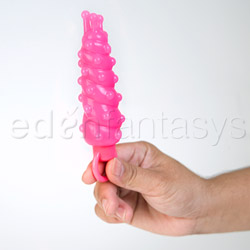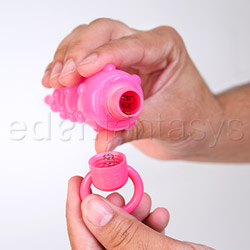 Summary:
The Twisty Tentacle is a great external tool, but don't plan on inserting this anally. The design isn't safe for that. What is great is the nubs being rubbed on the vulva and clit and inserted vaginally. The power is one speed and low but is great for those who are sensitive. If you love texture and unique looking toys, then you will fall in love with Twisty.
Pros:
Cute!, Nubs feel great being rubbed on vulva, anus, or used internally
Cons:
Not safe for anal, writing is 5pt font, material retains smells, low power, 1 speed, N battery
Best use:
"Where the Fun Begins!*" (But where does that asterisk lead to?)

The Tentacle Magic Twisty looks like a toy from another planet. It is advertised as a "Power Pink Butt Toy", but this does not mean a butt plug or probe, it is actually not safe for anal insertion at all. It is however a wonderfully textured fun shape that makes for great external rubbing or shallow vaginal insertion. The one speed vibrations are moderate and great for those who are sensitive, but probably not enough for those who love a lot of power. The three protruding antenna tease the clit, nipple, or external anus. Since it is made of 100% silicone this tentacle is safe for those who have allergies. Just, don't let the weird look deter you, extraterrestrials need lovin' too!
Material / Texture:

The pink tentacle is made of smooth and plush 100% silicone that feels more like TPR because of its slightly sticky and collects a lot of dust and lose partials. The silicone is non-porous, phthalate/latex free, hypo-allergenic, and food-grade. It has no smell or taste, but does retain smells of lubricants, bodily odors fluids, and cleaning materials. It is firm but where the inner bullet doesn't restrict, it does bend easily. The holding ring at the base is made of hard ABS plastic.

Material:

Silicone

Material safety

Texture:

Nubbed / Textured head / Twister

Safety features:

Food-grade material / Hypo-allergenic / Latex free / Non-porous / Phthalates free

Design / Shape / Size:

The tentacle is like a 4 1/2" long twisted cone. The ring at the end and the battery housing add an additional 1 1/2". It fits in the palm of a hand and the size is not intimidating and great for beginners. The girth ranges from 3 1/4" in circumference to 4 1/2". This is a gradual increase over the length of the tentacle. Spiraling all the way to the top are raised nubs for added texture. At the top are three cute little antenna of different lengths. At the end of the toy is a drop off before the ring.When a finger is slid through, it provides a better hold on the toy. Attached to this ring is a vibrating bullet of a few inches in length. It can be felt half way through the core of the toy allowing only the top half to bend and flex. The design of this toy is not safe for insertion anally.

This toy is not very discreet because of its pink color and peculiar shape. It clearly looks like a plug of some sort even though it shouldn't be used as such. It has a travel pouch, so this toy is good for travel.

Color:

Pink

Length:

5 1/2"

Insertable length:

4"

Circumference:

4"

Diameter:

1 1/2"

Weight:

4.8 oz

Functions / Performance / Controls:

To turn the toy on, it is activated by pressure. The pressure is created by twisted the ring, tightening the battery housing. The single speed has a moderate vibration level which is super quiet! The vibrations are strongest in the top half of the toy (excluding the antenna where it is weaker). This was unexpected since the bullet is in the bottom half of the toy. The material is much thicker in this area and may be why the vibrations feel stifled. To turn the toy off, turn the opposite way. There is small raised writing on the toy showing which way to turn it off and on but it can barely be seen and for sure cannot be seen during use.

This toy is semi-waterproof due to a water tight ring around the battery housing. It is only waterproof if the toy is kept on. As soon as the ring is twisted to turn it off, it creates a space and the toy is less waterproof. Never turn the toy off under running water. It is even more quiet and virtually silent when used underwater or during a shower. Per the instructions on the package, don't ever use this in a tub or pool.

Functions:

Vibrating

Special Features:

Batteries included
Waterproof

Control type:

Pressure activated

Powered By:

N-1

Care and Maintenance:

Since this toy is silicone, water based lubricant must be used. Be sure to use lubricant and soap that is fragrance free because the material will retain the smell. The silicone sleeve on this toy is fused to the plastic battery housing so it cannot be sterilized in boiling water. Sharing must be facilitated by use of a condom in between users. Never use this toy anally and then vaginally or vice versa without cleaning in between either.

Twisty Tentacle requires a single size N battery. Two of them are provided. Batteries that are included with a toy are often of lower quality and weaker than freshly bought ones. Using new batteries may increase the power but probably will increase the sound level also. The battery inserts when the bottom is completely unscrewed. When not in use, remove the batteries to avoid corrosion. When storing make sure the toy is completely dry before placing it in the provided travel pouch.

Packaging:

This comes in a plastic snap to close case, with a sample of the material to touch on the outside. There are no graphic pictures, only images of flowers and text. The back of the package does include safety and instructions but the writing either requires a magnifying glass to read or an interpreter. Also included is the long purple suede pouch.

Experience:

***WARNING!***Read this before purchasing! If you're looking for an anal probe or plug...look elsewhere. If you are looking for a textured tool to rub in all your private places...go ahead and place this in your shopping cart pronto!

Subjective experience:

After getting a head ache trying to read the back, I had my boyfriend with 20/20 vision read it (here is where we found the mysterious asterisk). Even he had trouble (the font is smaller than pt 5!). It makes no sense. There is a ton of blank space on the package. The warning portions are hard to find because of the different languages and micro point font. but we discovered that this says for external use only!

This toy is absolutely NOT a anal probe or plug. Don't put this in your butt under any circumstances. The design of the ring is not proper for safe play and is likely to get sucked inside the body if an accident occurs. The ring at the end even though tapered before it, isn't wide enough. If it gets sucked in it is possible that while trying to get this out of your body, the ring could untwist during the struggle and then cause the toy to go deeper in the body with no way to pull it out. Does not sound like a gamble I want to take or a hospital bill I want to pay for.

I did not insert this, but I used the antenna to stimulate the external anus. The vibrations are really not strong enough to produce orgasm for me. What was better was rubbing the nubs up and down. I applied pressure to the antenna against my anus to see if insertion was even possible. They are way too flimsy. This further supports my claim that this toy is not designed for internal use and just has warnings on the package to cover the companies ass if someone tries it and faces an ill aftermath. I did enjoy this toy inserted vaginally, but the vibrations were low. Again, rubbing the nubs against my vulva and clit was the best way to use this.

The packaging describes it as an anal "tool". Given the design of the toy I recommend this for external play only and for those who don't need strong vibrations, but love texture. Subjectively, I probably won't be using this much. The product is just too shady and unsafe for the function I would want it for. From the unclear super small directions and smell retaining material, to the unsafe internal design...it just isn't worth it to me to keep for external play because the vibrations are one speed and low. I love the look of this thing though! If they make one with a safer end, I'll be purchasing one for sure.