Doc Johnson Reflections joy - Traditional vibrator from Doc Johnson

Product Details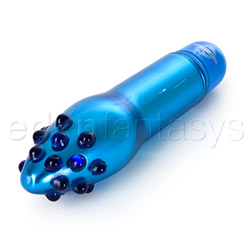 Summary:
This beautiful glass vibrator offers only gentle to moderate vibrations but has a lot of texture on its generously-sized head to make the overall experience more intense. Obviously it can be used as a clitoral or vaginal toy, but be sure not to overlook its potential as a massager for other areas too!
Pros:
Thick glass, well designed, fairly quiet.
Cons:
Only average vibrations.
Best use:
The Reflections Joy is a compact glass vibrator suitable for vaginal or external stimulation, sized and textured in a way that would be best appreciated by people who enjoy a lot of stimulation aside from vibrations. Tempting as it may be for some, this toy isn't considered safe for anal use though due to its lack of an enlarged base to keep it from going in too far.
Material / Texture:

It's made of thick tempered glass with a plastic base, both of which are easy to keep clean without much effort. The smooth surface creates zero friction against the skin, which means that it takes very little lube to make things nice and slippery. Undoubtedly, some users will find that their own natural lubricant is all that they need. Glass also has the benefit of being safe to share since it's non-porous and can be easily sanitized.

The pencil eraser-sized glass nubs create a texture that is very easily felt during use and may not be suitable for sensitive people. They are well-rounded, but prominent enough to be felt anywhere in or on the body.

Material:

Tempered glass

Material safety

Texture:

Nubbed / Smooth

Safety features:

Food-grade material / Hypo-allergenic / Latex free / Non-porous / Phthalates free

Design / Shape / Size:

One thing to keep in mind is that the harder a toy material is, the bigger it's going to feel. So the 1.5" wide head on the Reflections Joy will feel more substantial when trying to insert it than something like a jelly or TPR toy of the same size. This will be great for women who want a little more, but might not be easy for women who are already struggling with average-sized toys. The 5" insertable length, on the other hand, is short enough for anyone to handle and is best suited for short thrusting or massaging motions.

This toy has a nice weighty feel and every part of it is safely rounded, from the tapered tip to the blunt edge where the glass joins the base. The pretty metallic blue coloring on the shaft is under the glass so you needn't worry about it chipping or wearing off.

Color:

Blue

Length:

6"

Insertable length:

5"

Circumference:

4 3/4"

Diameter:

1 1/2"

Weight:

6.5 oz

Functions / Performance / Controls:

This toy runs on a single AA battery (not included), which you insert in the chamber revealed when you unscrew the base. On the bottom of the base is a raised push button that's easy to find in the dark and firm enough that it wouldn't likely be triggered by accident. There are three steady speeds of vibrations to choose from: low, medium and high, and the fourth click of the button will turn the toy off.

The vibrations are concentrated in the head of the toy and lean a bit toward the tingly/buzzy side. The highest speed is of a moderate strength that would be suitable for most users without becoming overwhelming. They are more like an enhancement for the stimulation that the glass nubs provide. It's reasonably quiet too, so while it can be heard humming through the covers, it can't be heard through a closed door.

Since it's waterproof, you can soak the Reflections Joy in either hot or cold water before use and it will retain the temperature for a minute or two at a time. Just be sure that the base is screwed on tightly before submerging it.

Functions:

Vibrating

Special Features:

Multispeed
Travel
Waterproof

Control type:

Push button

Powered By:

Aa-1

Care and Maintenance:

The Reflections Joy can be used with any kind of lubricant that you like and, in spite of its abundant nubs, is very easy to clean just by running your finger around them. You can use soap and water, a commercial toy cleaner, or a 10% bleach solution on the glass part. It would be best to avoid using bleach on the plastic part so that it doesn't become brittle over time.

The toy comes in a thin plastic box that would be suitable to store it in for a while, but it might be better to find something else since the box is a bit large and not all that discreet. A padded toy bag would be ideal, but the toy is small enough that you could wrap it in a thick washcloth or a hand towel and tuck it away somewhere safe.

Care and cleaning:

Soap and water

Experience:

Alan says:
Using this one with her made me a bit uncomfortable. I knew it wouldn't break, but we're used to playing with more forgiving toys so I was afraid I'd do something wrong and hurt her. I wound up playing with it on her clitoris, but turning it over to her for G-spot seeking. After that we tried it on various eternal parts of our bodies, and let me tell you this thing feels great on the bottoms of the feet and on the soft areas of the shoulders. She liked it with a circular motion and the vibrations on low, but I preferred a rolling motion sans vibration. It really works out those minor nagging sore spots well.

Michele says:
I want to start off by saying that this is the first glass toy I've ever used, AND that I didn't find anything really wrong with this one, which is why it got fair rating from us. But I probably couldn't have chosen a more unsuitable one to try as my first for insertion. My internal bits have never gotten along well with toys that were very textured, but the nubs on this one were so smooth and round that I didn't think it would matter. I was wrong; even with slow careful movements the toy was really uncomfortable for me. I loved it for clit play though. The weight, the texture, and the uber slick surface made up for the lack of strong vibes that I usually prefer in that department.