The kids are talking about wet look plaid knickers this time. (L)
The look of this set so bewitched me that I decided it was worth the risk to order a large for my XL body.......Oh well, at least I tried. The top fits wonderfully (it's essentially two triangles and some string, after all), but the panties are a bit too tight. The material is nice, but the panties have no liner. The garter snaps are quite nifty, but the garters are spaced inconsistently. The stitching is solid, but there are some loose strings. This set is a solid three stars.
Published:
Pros:
Flirty, Top is versatile and small bust friendly, Material feels nice, Garter snaps are nifty
Cons:
Zipper completely nonfunctional, Not much stretch, Garter spacing issue, No panty liner
Every so often, I bemoan my position as a plus size female. Certainly, I love my size and my body, but OSFA and S/M/L clothing items are, for the most part, off limits. There are exceptions. This set happens to be a half exception. I love the top and will be sporting it as often as possible, but the panties are just not working with my body at my current weight. Admittedly, this is not the poor garment's fault, and I'm certainly not striking any points against it for not accommodating me.
This item from Leg Avenue came packaged, like so many things do, in a thick paper box made to hang on those things made to hang stuff on in stores.
Included in this set: A triangle bra top and a garter panty.
The tag reads: 95% Polyester 5% Spandex exclusive of decoration, Hand wash cold, Only non-chlorine bleach when needed, Drip dry, Do not iron.
The bra top, laid flat. I was prepared for the material to feel ultra-plasticky and cheap, but was pleasantly surprised by the non-plasticness (yet still very smooth) quality of the fabric. Granted, this material is not as shiny and slick as the traditional black 'wet look' fabric, but that is hardly a con.
The ties are very stretchy and soft, much like those of a bathing suit.
The cups are virtually flat, so they will fit very small to medium breasts very well. Obviously, breast support is lacking with this design, and if one tries to force the halter ties into providing breast support, the result will be flattening of the breasts. As long as the wearer is okay with not being supported, they should be pleased with this top.
I know it looks white, but it's metallic. My photos don't do a very good job of depicting it...just trust me.
If there were no garters attached to this thing, the only qualm I would have with it is its lack of a panty liner. HOWEVER, the garters ARE there (and are NOT detachable) and they have issues, mainly spacing issues. There is OVER a half inch discrepancy between the distances of the front garters to the front center of the panties....wtf. The back garters are similarly screwed, but the difference is less noticeable. I should also note that all the garters are slightly different lengths, though it isn't painfully obvious.
A close-up of one of the nifty little garter snaps. I'm really pleased with them. They don't slip at all and aren't a hassle to fasten or unfasten.
Sizing Information
According to EF's
Leg Avenue size chart
, a large should fit:
Size: 12-14
Cup: C
Bust: 36-38
Waist: 27-29
Hips: 38-40
Me:
Size: 16
Cup: C
Bust: 42
Waist: 32
Hips: 42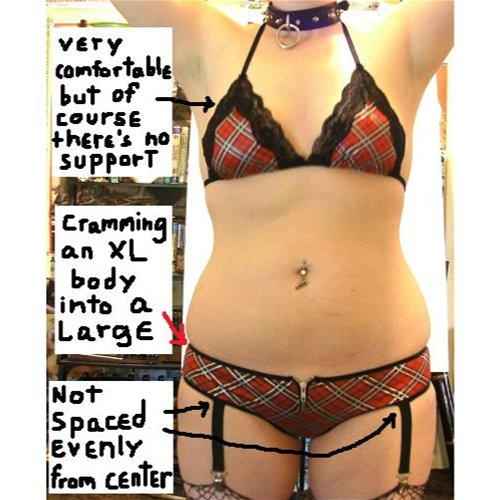 I haven't much more to say on the fit of the top. It's comfy and the ties are not irritating and I love it.
Yeah, the panties are pretty damn snug, BUT if I were 15-20 pounds lighter, they would be really comfortable and fit really well! For those of you with 42 inch hips that are wondering if you could wear this in a large, then you are blessed with the foresight of about how this will fit! Also, the leg holes do not irritate me, so they shouldn't irritate anyone that can actually fit into this thing.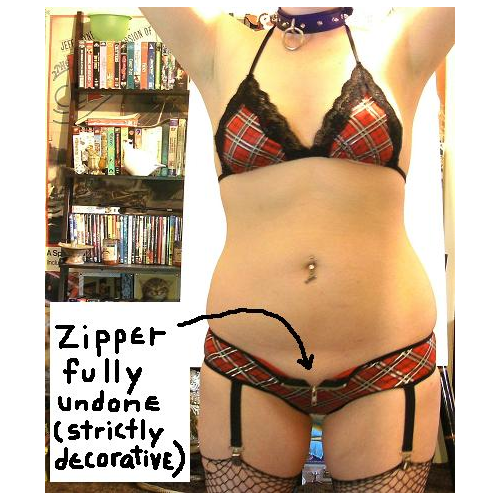 Once I put the panties on (using the phrase "put the panties on" generously here; more like "forced the unwilling panties to circumscribe my mass against the will of God"), and realized the fit was less than desirable, I thought, "Maybe undoing the zipper will loosen the fit while looking trashy in a good way." NOPE. Undoing the tiny zipper did NOTHING to reconcile the difference between my mass and the decidedly less amount of mass that the panties so longed to contain. Oh well.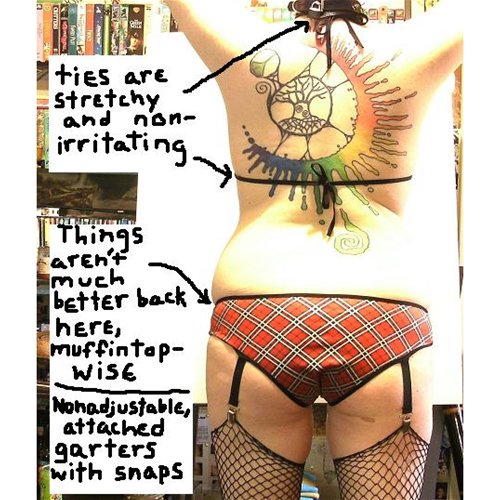 REALLY not anything good going on back here. Lets move on.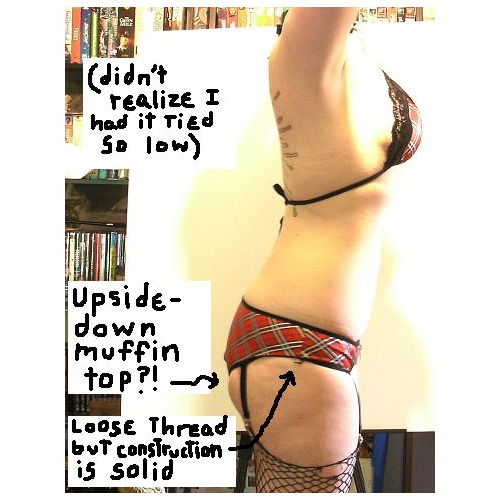 Yes, that is an extreme form of muffin topping (muffin...bottoming? No, that's not right. Muffin top bottoming?)
In conclusion, this is a decent set for those who can actually wear it.
More Sizing Information
My seemingly half-assed redone size chart for a Large:
Cup- AA- ??? -whoever damn well pleases as long as they know they aren't getting any lift
Bust- Whatever. It's too hard to say exactly. Someone who can fit a large will most likely fit.
Waist- Doesn't matter
Hips- 36-40
Thanks for reading and feel free to ask questions :)
This product was provided free of charge to the reviewer. This review is in compliance with the FTC guidelines.
Thank you for viewing
Wet look plaid short and top set
– bra and panty set review page!