Nipple and breast toys reviews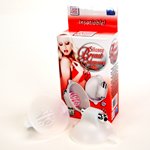 Silicone breast enhancers

This is an interesting product. The vibrations are strong and quiet, but the bullets shut off after about fifteen minutes of use. They would be fun for most couples to try out, but probably won't impress everyone.
100% silicone, multiple ways to use them.
Bullets overheat and shut off quickly.
Rating:
Published:
November 23, 2009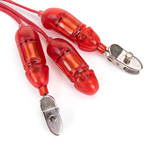 Red hots Blazing love clamps

Red Hots Blazing Love Clamps are good for beginners at nipple play, or for couples seeking to add a little spice…but I'd call it mild rather than wild. If you are a seasoned connoisseur of nipple clamps, these won't even simmer. The toy says it's waterproof, and technically it is. Call me crazy, but I don't think a waterproof toy should have parts that rust!
Two toys in one, Lots of variation in play, Mild clamps for beginners.
RUST! Lack of bite on clamps, Can barely feel vibrations, Limiting controls.
Ultra light clamp

The Ultra Light Clamp is a good choice if you haven't used clamps before, or have a hard time finding clamps that fit. It's lightweight, comfortable, and stimulates your nipples nicely. It also stays on well if you or your partner tug on the chain.
Lightweight, comfortable, accommodates any size nipple, stays on well.
Can't be worn unobtrusively under clothing.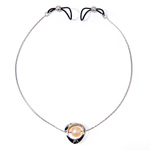 Silver pearl nipple chain

This is a beautiful silver and pearl nipple jewelry that will fit a wide range of body types. It can be worn under clothes and during sex.
Very adaptable to all sizes of breasts and nipples.
Should not be mistaken for a BDSM chain or clamps.
Rating:
Published:
February 16, 2009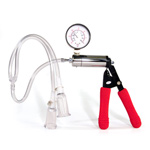 Nipple pump system

This is an attractive pump system that yields promising results. Not only does it earn a Gold Standard for Quality and Innovation, it's also endorsed by Dr. Joel Kaplan who has been awarded Diplomat status with the American Board of Sexology in Washington DC and is a registered sex researcher and certified sex therapist.
Industrial grade, professional, and absolutely lovely.
Price.
Rating:
Published:
December 01, 2008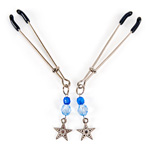 Fresh beaded nipple clamps

The Fresh Beaded Nipple Clamps are cute in your hand but not on your nipples. They are difficult to secure and may leave you feeling frustrated and disappointed. For something to look adorable, it has to fit well, and you really can't have one without the other.
Cute, decent bead work.
Too long, too narrow, and the slider ring was too small.
Rating:
Published:
November 23, 2008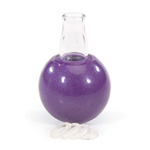 Nipple bulb

If you're looking for a fun nipple toy, the nipple bulb is definitely not it. It simply does not work. However, if you are looking for a toy to add a little more tension on your other sexy parts, this may very well be up your alley. Everything it should do to arouse your nipples it does to do arouse your clit. It even stays where you put it so you can use your hands (and/or more effective toys) to work on the nipples! Everybody wins!
Just the right suction amount when applied to clit.
Does not work well on nipples. Bulb is stiff and somewhat difficult to squeeze.
Rating:
Published:
October 09, 2008

The Nipple bulb is a nice, inexpensive toy for those who are looking to heighten their nipple sensitivity or are new to nipple play and want something more gentle than clamps.
Strong suction, clear rings, effectively holds nipples erect most of the time, easy to use
Only four same-sized rings included, rings do not always stay in place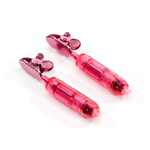 One touch micro vibro clamps

These clamps have a lot of good features to them. They are adjustable, vibrate, and don't have cords. Theoretically, you could attach where ever you want to feel some vibration. Just realize that they won't stay on unless there is quite a bit of pressure involved which usually means it hurts. Might be good for those that might want to bring some pain into their sex lives.
Clamps are adjustable, cordless, and vibrate.
Couldn't get them to stay on without causing pain.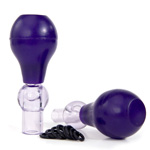 Nipple erector set

Probably not worth the cost unless you really like the O-ring usage. And forget it for guys (unless, of course, you have sensitive nipples).
Inexpensive, easily washable. Okay suction. Also useful for clitoral play... and fake hickeys.
Not a matched set, small pump is too small for some people.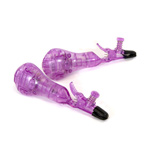 Royal clamps

The Royal Clamps are well made, easy to use clamps with a spring and screw closure. However, they lacked the kick I was hoping for.
Great packaging; batteries included; minimal assembly.
Not much power; did not stay on.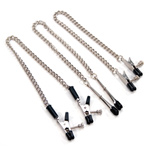 Clamp set

The nipple clamps looked smaller online than they were in person. I have always been curious in S&M and nipple play but have always been too shy at sex toy shops to buy nipple clamps.
Medium clamps were perfect size and strength; easy removal mechanism.
The tweezer nipple clamps did not stay on; rubber slipped off tweezer clamps.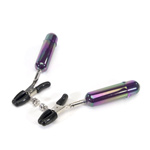 Vibrating nipple clips

These nipple clamps are light-weight, fairly powerful, and quiet. The plastic-coated alligator clips are easily adjustable. Unfortunately, the vibrations did nothing for me sexually beyond the stimulation provided by ordinary nipple clamps.
Powerful and quiet, easily adjustable clamps
Difficult to align the batteries properly and make these units work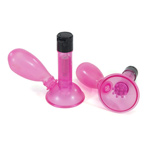 Nipple luscious vibrating suction

The portability and versatility were probably the best features. I tried them out on other body parts too...pretty much everywhere I'm ticklish or sensitive. Those little suction cups work all over!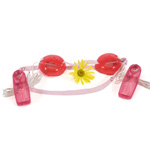 Tickling bra

The vibrations have a great range, all the way from low to mm' mm' good. Getting everything all set up to use it by myself was frustrating... that's not exactly the type of mood I want to set.
Rating:
Published:
August 13, 2007