The Eden team and community have done a lot in the last year. We're known for our continual innovation – so, surely, you're curious about what's next…let's ask Eden Fantasys' President, Fred: What is in the pipeline for 2010 and beyond?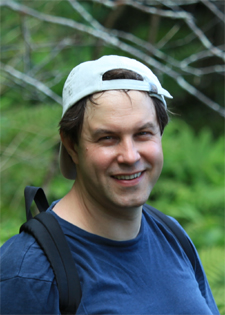 EdenFantasys is a special place in the sex toy world. It is the culmination of the Eden community's efforts; creating a unique atmosphere for customers, manufacturers, trade and industry partners, educators, and anyone interested in sex toys. How aesthetics, education, experience, social and environmental consciousness become the community's quest for a life better lived. Let's meet the man who dreamed big and laid the foundation for this community!
As much as the future is interesting, how about the past? How did you get your start in the adult product industry? Did you ever expect your company to grow to this size?

Ah, nothing interesting actually. I started this business the worst way – on a whim. I worked for a TV company back then, and it was boring. Everyone around me was starting their own business and I, of course, wanted my own business too. The adult industry looked exciting and mysterious. I got sold on the infamous "Sex sells".

Did I expect to grow to this size? Of course, I didn't. I expected it to be much bigger!

Today, however, I would say we've done great and much more is ahead. "It's always Day 1" – more invention, more obsessing over the customers, more exciting projects. I watched Jeff Bezos of Amazon on

video

recently and this reflects Eden's spirit totally. I am a big fan of Jeff and love his thought process.

Victoria (host): "That probably surprises people - as everyone thinks working in TV is so exciting!

Great video. Jeff's point about the 5 year and 7 year time frames is very interesting. Solid leadership and thinking long-term are definitely key!"

I know you had intended to do a weekly newsletter on the forum but that didn't seem to last long. Is there a specific reason why and do you have any plans to peek in a bit more with the community?

I start and finish my day with the community. Community suggestions of new products, improvements or fixes of functionalities, occasional incidents, and of course, reports – this is my daily routine and a huge influence in the development of Eden's plans. The newsletter sort of didn't work out, but I might try it again. In any case, you're always welcome to reach out to me personally through our message system. Please do!

Victoria (host): "I sometimes wonder how you manage to read reports from each of us every day! So much info, so little time!"

I must ask...what is your biggest goal that you want to accomplish for Edenfantasys in this upcoming year?

What do you think will be the biggest change at EdenFantasys in the upcoming year that you can tell us about?

I am hoping for a few big ones. I would like to see more community involvement in Eden business processes. We already rely on you guys a lot for product selections, reviews, descriptions, ratings – which is very helpful. Many of you have amassed extensive product knowledge through reviewing dozens of different product and I think it is time to build on it.

We're about to introduce 'Personal Stores' to the community. Basically, these are stores within EdenFantasys.com, built by us but operated by you. Your selection, your advice, and your expertise will be there. We're still brushing up some of the bugs in the test systems and considering the compensatory plans for the store operators. Victoria will start some polling soon.

The other one is challenging, and in a way could be controversial. I have high hopes for this one. We want be able to answer the simplest customer question: "What would you recommend for ME?" As simple as it is in a physical environment, this is still an unsolved problem for online stores. I think we have a solution for this, but it depends on community support. I am not going into details right now, but you will hear more about it from us soon.

Another significant project is for the community only – The Mentor Program. There are many very experienced reviewers who might want to help newbies master the review process, become a product expert and join the community. Mentors will be rewarded, and mentees will be able to reach the Advanced Level faster. This project will solidify our community and bring yet another level of sophistication.

You might have noticed our experiments with video reviews lately. I am looking forward to developing this program further. To do reviews on video, in our industry, requires guts. I salute those who do this and I love most of the videos I've seen so far. Special thanks to

Saraid

and

Carrie Ann

for doing a great job!

So, those are some of the projects that are in various stages of development right now. I am looking forward to your feedback, and of course, your participation.

I'd like to hear your plans for SEXIS. i've heard rumors that there will be more multimedia content on our favorite e-zine. where do you see us heading in the future.

Sexis

has been our baby throughout 2009. Multimedia is standard nowadays, and we are in the midst of bringing more multimedia platforms into Sexis.

However, our main goal with Sexis has been and will continue to be the shattering of all our collective misconceptions, phobias, and culturally shared complexes which hinder our perception—and enjoyment—of sexuality. We strive to give new and renewed voice to the ongoing dialogue about sex — as it pertains to everyone — in order to increase the quality of our lives. Please, read it, discuss it, and share your own thoughts on its polemics.

In January 2010, Sexis will issue its first-ever print edition, distributed with BUST Magazine. We will be sending free copies to all contributors published in the first issue, and to anyone who requests a copy via email. Special thanks for this to

Matthew Lewis

,

Judy Cole

, and all the writers, artists, and programmers who have made this their passion—our vision is a shared one.

Victoria (host): "I think Sexis print will be a very exciting milestone for EF and I know the community will love. Again, thank you to everyone who contributes and makes it possible!"

It seems that Edenfantasys has become much more than a safe sextoy shop. It's more like its own little sex positive world, with not only the store but the reviews, the forum, Sexis, and EdenCafe.

Was this part of your original vision? Or have things just fallen into place that way?

And by the way, thank you for all of that! Speaking for myself, I have learned so much through this community. And I have felt safe enough to ask questions that I never would have dared ask anywhere else. Not to mention what EF has done to help revive my sex life and keep the sparks flying.

So I guess what I'm saying is that, whatever your intent for creating all of this.....It worked!

Thank you, Newme21, for your kind words.

Yes, we are all building Eden with the vision that it is more than just a store. I am grateful to all of my employees, everyone in the community, the industry, and trade partners who share this vision. Honestly, this direction was not planned from the start. It became clear over time, and through trial.

Not that long ago, if you remember, the average online sex toy store was quite a creepy place to visit. Lacking even basic information, low resolution product images, non-existent customer service. Purchasing from such stores almost surely led to harassing direct mail campaigns and email abuse, sometimes a customer could even suffer identity fraud. As troubling as all of these problems were, they were fixable - and this is what formed my initial plan: to build a store that didn't have any of those problems.

We accomplished that, and realized that it wasn't enough. There were even bigger challenges ahead: opening and maintaining dialogue with people of incredible diversity. This is how the community was born. Since then, we have been continually learning from the community, listening to the feedback, and happily sharing our passion with all of you. Again, thank you!



Victoria (host): "I think it says a lot about EF that the approach was so thoughtful from the very beginning. The innovations since have truly set the company apart - but more than being a unique retailer, this has turned into a real resource for a great many people. I feel that we do truly meaningful work."

I know that the environment is a major priority for you. What are your plans to keep "the Garden of Edenfantasys" green?

It's true; I am seriously concerned about our environment, and especially disheartened over the recent

Copenhagen accord

.

Can you believe that

OPEC countries demanded financial compensation

for any decrease in oil prices resulting from climate treaties?

As if the big picture wasn't disturbing enough, many of the world's nations are most likely far from reaching any meaningful agreement on climate change within the next few years. In the meantime, the question comes down to us — on the personal level: recycling, controlling or capping our energy consumption, developing and supporting innovative technologies and renewable energy sources. I try to do my part: I drive a Prius (yes, it delivers 45mpg!); I recycle meticulously (for instance, unsubscribe from the tons of direct mail you receive and never use); I maintain a strict organic diet (the only downside is since it tastes so much better, it is harder not to overeat!).

On the EdenFantasys side of the equation, we have a very special recycling project currently in development. The biggest obstacle, however, is to find a recycling facility equipped to process complex products such as vibrators. Dildos in general are far easier to process, although the variety of materials which go into the manufacture of dildos pose their own challenges. It appears that if this recycling project will indeed become a reality, it will most likely be done on the West Coast —California is at the forefront of many innovative green technologies. I am certain that sometime in early 2010, we will begin accepting old products recycling — we simply have to.

For everyone interested in learning more about the climate problem, I would wholeheartedly recommend Al Gore's book

Our Choice

.

He presents a startling overview of the core problems, the state of new technology, and the public's willingness to start solving the problem on a large scale.

For a somewhat more advanced take, I would also recommend

Cradle to Cradle

by W. McDonough and M. Braungart. These are truly innovative thinkers, who, among other things, have introduced into the green vernacular the term "upcycle".

Briefly, today, any product designed in such a way that it ends its lifecycle in a landfill is evidence that society effectively produces garbage. Thus, the idea is to design products with its utilization process fully envisioned and incorporated into the overall design: a cradle-to-cradle lifecycle, not cradle-to-grave.

What made you decide to go study in Russia and get a degree in Physics?

What do you think are some of the most common misconceptions about Russia? What do you miss the most about Russia?

I am originally from Russia; it is where I was born and raised. A career in science was one of the most exciting choices back in the 80s, and was sort of a natural choice for me – my family is mostly in science. I left the country quite awhile ago and still have mixed feelings about it. It's sort of a love / hate relationship for me, probably leaning more toward the hate side.

What do I miss? Old friends, some relatives, though most of my friends live everywhere in the world: some in Norway, France, US, Canada, Germany. It doesn't matter much, I think, because the world today seems much smaller and surely more connected.

The misconceptions: honestly, I've found the representations of Russia, in the media and in private conversations, to be quite accurate: Russia is basically a culture that stands between Western (European) and Eastern (Asian) civilization. A unique, but very unsettling, position.

How do you describe a Eureka moment? What have been some of the best ones you've had?

"Eureka!" has a bit of a different meaning for me than the historical connotation of ones intellectual satisfaction upon solving a tough problem. I love the story of Archimedes who found a solution for the problem of measuring an object's volume while in the bathtub of all places. (

story

)

He is said to have been so eager to share his newfound discovery that he lept out of his bathtub and ran through the streets of Syracuse naked. I like to think that he did this, not because he was in a rush, but because this was a moment of absolute and unadulterated happiness. Eureka moments for me are moments of absolute, infinite, uninhibited happiness. I've had very few in my life so far. Sorry, but those moments are ones that I will keep private just as I am sure that most people would rather keep their own personal Eureka! moments to themselves.

Let us hope that 2010 turns out to be a year of Eureka! moments for us all!

I also like

Eureka!

the TV series.

Sex toys are fun, of course, but they can also be very educational. Do you see Eden's products as conduits that promote safer sex play and self-awareness? And if so, how do you get that message out to the public at large?

I'm not sure if I see sex toys as educational, but they sure are a lot of fun. However, because selling sex toys makes EdenFantasys a part of the sex industry, it is therefore our responsibility to promote safer sex practices, sex education, and support related non-profit organizations.

I am glad to see that Eden's sex toy

review program

which started as sharing product information, grew into something so much bigger. Today, our community expects a good review to address product and material safety issues along with the toy's functionality and usage. Safer sex practices are often a matter of discussion on the

Forums

, and the community has shown a great deal of support and respect for all our educational efforts.

Sex education is a big and serious topic. For understandable reasons, this topic has always been over politicized, and as a result, sex education today is almost non-existent. Most teenagers don't even know the difference between sex and gender and most of us still live in a gender-binary world. There are many modern online resources on sex-ed (

Go Ask Alice

Columbia University program,

Scarleteen

). However they are more akin to emergency patchwork than a systematic change in our society's educational curriculum.

Part of the problem, I think, is the complexity of the subject itself. Sex-ed is anatomical, physiological, intellectual, social and psychological all at once. Moreover, we, as a society are just now beginning to realize the intricacies of human sexuality and the vastness of their social manifestations. I would say we live in a moment of intensely brewing social awareness on this subject; it seems to me like society is about to explode with its burgeoning understanding of human sexuality.

Our small token in this process is

Sexis Magazine

. Its tag-line is "sex education for a new generation". Developing this project is our way of understanding current social mores, and expounding upon them. The main goal is to reach out to everyone, to reflect the opinions of not only the majority, but also all alternative voices, and to imagine how the sex education of tomorrow will take shape. This is an ambitious and expensive project that I see as one of our main contributions to the issue of sex education. Please read it, and participate in it - this is your magazine.

In January 2010, the first issue of Sexis premiere print edition will be available at bookstores (in collaboration with BUST magazine). You can also order your free copy by emailing to sexis(AT)edenfantasys.com.

On a charity front: we found a wonderful organization run by great people the AIDS Service Center NYC

AIDS Service Center NYC

a nonprofit that really helps people.

We participate in ASC fundraising, organize events together:

World AIDS Day

was our most recent event and we are looking forward to doing many great things together with the ASC in 2010.

If you aren't already familiar with the ASC and the exemplary work they do, please read our

interview

with Sharen Duke, ASCs CEO.

I want to ask about the path from doctorate in physics to an online sex toy store. From the little quick bio on the side bar, it sounds like the MBA was after your PhD (maybe?)...but when was the idea for EF born? Did you leave the PhD thinking "what next" and take a slight side track, or was this always a possibility in your mind?

I resisted the urge to track down your thesis title, so instead I'll ask - what was your thesis on?

My PhD was related to the theory of vortex-type flows. In practical terms, I studied tornadoes and found that such structures have what is called an alpha point—the point in a tornado vortex which, if effected by the outside force, could destroy the tornado vortex itself—effectively ending the tornado. WOW— huge discovery, you might think. But the real trick is to find the alpha point inside a real moving tornado; then if you just fire a bullet into it, the tornado will simply disappear. For my thesis, I ran a mainframe computer non-stop for a week to find the location of the alpha point with a precision area of about 1 inch. Yes, the today's machines are much faster; but it still takes about a day to make this calculation.

This is, by the way, a very typical scientific result—no practical application whatsoever.

We had a joke in college: "A scientist is a person who spends tons of government money to satisfy his own curiosity". Yeah, it's true. Check this out—the

Large Hadron Collider

latest scientific gig that cost about $10 billion.(

pictures

). Still, I think this money is better spent than financing wars.

How did I get into the sex toy business? After my PhD, I went to work in the private sector: I did analytics in banking, traded securities for an investment company, moved to the media (I was a TV technology executive)— all big companies. After over a decade, I grew totally disillusioned with corporate culture. When I left to go on my own, I felt I wanted to do something different in a more democratic, open, and friendly environment. This was one of the strongest motivating factors.

Add to this the new-again hotness of the Internet (it was 2002—two years after the dot-com crash, as investors again started realizing the value of properly-run business on the Internet)— and of course, "sex sells": it's not only a truism, but it's still a killer punch line. Also, a bit of research showed that the sex toy industry was ripe for renovation.

I could imagine that being a business owner has led to a lot of success for you, but has being in the adult toy business ever had a negative effect on you in social settings? With family, friends or lovers for example?

It is always hard to predict how people would react to this industry. I received some negative reactions from people in the news, particularly from my former corporate colleagues. However, since Eden has become what it is now, I am no longer hesitant of telling people about it. I am, indeed, proud of it! My son — Ilya — works for the company now. He does photography — all these great pictures across the website are his; my girlfriend and partner of many years — Rufina — is my right hand and I cannot imagine how the company would operate without her. Most of my friends know what I do. I would say that there has been minimal negative social effect.

How did you come up with the name (and spelling) Eden Fantasys? I've been wondering ever since I first stumbled upon the site.

In retrospect, the name is something of a weak link. We have "Eden Fantasy" and "Eden Fantasies" all registered too. We've noticed, however, that very many people when typing in the name do make the typo "-sys". After a year or two of deliberate discussions, we settled on "EdenFantasys". Here are a few of the reasons that were cited back then (2002):
1. people obviously WOULD notice the misspelling. Back then, we badly wanted to be noticed no matter what—even for being grammatically incorrect;

2. everything around us that had anything to do with Internet business had "system" in their names. I suppose this was considered cool in 2002/3, and we wanted to be cool too. Who doesn't? I think if we were starting Eden today, we would've called it "EdenFantasy2.0";

3. and — yes, quite a lot people do type "fantasys", believe it or not—don't ask me why!

Victoria (host): "Aha! Now more of the company lore comes to light! I have often wondered about the origin of the name...and now we all know!"

I'm curious about how involved you are in the review program. Do you read some of the reviews? Are you happy with the direction it is going? Or are there things you would change about it?

I love reading reviews. Even though we've never met personally, I feel like I know many people in the community and I love listening to members of the EF community — reading your reviews and articles on EdenCafe and Sexis. I will say that reviews have, over time, become extremely influential in our decisions on adding new products to the Eden catalog, and therefore on the overall success of EdenFantasys as a business.

The review program itself is high on the project priority list. We have some immediate plans — for example, the Mentor Program (I mentioned it earlier in my answers to Sir and Sammi), and we plan further developments still. However, it all depends on you guys — on the community level. We need your feedback, your suggestions and involvement. Because, in the end — it will be you who accept or reject the new functionalities, presentations and ideas. Please, email us, send us a system message, call — whatever it takes. Please be assured, everyone is heard and cherished here.


What areas of Edenfantasys are you most wanting to improve and expand? Conversely, what areas are you surprised became as big as they are today?

This one is easy because I am seldom satisfied, and most of the time I want to redo nearly everything from scratch. This is often a nightmare for my employees, but that never-ending search for perfection is what makes things the very best they can be. And we all want Eden be the best!

On a practical note: we could really use help in shuffling products. We want to aggregate similar products in groups or create new groups for better usability; we want to make targeted and meaningful suggestions of add-ons to any product on the site: for example, matching lubricant, attachments or another nice product that complements the first selection. If you feel you can help, please contact us.

In 2010, one of our first projects will be a redesign of our category pages. We have much more complexity of information now, and will accommodate it on one of the most important pages of EF.

Customer service, order processing and shipment are other areas to improve in the New Year. We recently introduced an automated customer ticket support system. It proved itself a valuable tool for expediting troubleshooting issues and answering customer questions. We will be developing the system further with added automation for return and exchange service.

We also will be introducing special packaging solutions that will be more aesthetically pleasing, and, most importantly, more environmentally friendly overall. And if I may take this opportunity, I would like to ask everyone: Isn't it time to dispense with the boring, drab old brown boxes we ship orders out in now? How about more bright colors —while still absolutely discreet and secure?


Since everyone else, including you, have asked this question in past interviews I am excited that I finally get first crack at it with the boss. Please answer the following.

Sex Is . . . . ?

Sex is passion; sex is relaxation; sex is healthy; sex is good.

I love it all.

Eden Fantasys is so community based, which I think has spearheaded your rise in the industry. I look at unique visits of sites that were revolutionary 5 years ago compared to yours and you have definitely surpassed their businesses in such a short time. So here's my question:

When and how did you recognize the importance of reaching out to bloggers and toy fans and what makes your outreach different than all the other affiliate programs?

Metis, thank you for the question.

We do have solid traffic numbers, but I don't think that it is mainly due to bloggers or the community. These efforts bring some traffic, of course, but it is not why we do outreach. There are examples of competing websites that have done almost nothing in this direction and yet they have surpassed EF quite significantly. This needs to be fixed in the future

but I think the success, traffic-wise, can primarily be attributed to the ad channel mix: PPC, PPA, SEO, print, TV, radio, magazines, and everything else.

Our community adds the main ingredient into this cocktail – it makes the website alive! I am grateful to everyone who has joined EdenFantasys. Thank you!

You mentioned that you have learned a lot about us through our reviews, posts and stories. You mentioned that you have a son and that Rufina is your partner and right hand girl.

So my question is, what can you tell us about you?

Please share whatever you are comfortable with about your personal life.

A: Wow, here we go! My personal life is not as exciting as it was some time ago. I work intensively, usually putting in 12 hrs a day, but usually less on the weekends. I read quite a lot of books, mostly professional (this is what's on my desk right now

Co-op Advertising

and

Ecology of the Web

).

I'm a fan of

"House MD"

, I miss

"Boston Legal"

, and am getting into

"Chuck"

.

I'm somewhat clueless about music and wish knew more of the arts. I feel like I need to do more with sports but cannot bring myself to do more than occasional jogging and biking.

My hobby is cooking - I love it. Once I have some time, I will write a toy review or two. I guess, there is enough here for some serious New Year resolutions!

Happy New Year everyone!

Two somewhat related questions:

1.) How do you conceptualize the role of reviewers in relationship to the whole of Edenfantasys? What do you believe the responsibilities of reviewers are? What is a reviewer's overriding purpose, above anything else?

2.) What do you personal like best and least about activity on the Edenfantasys forums? What kinds of moments make you proud of the EF community and what moments are the kind you would like to avoid?

Reviewers bring an invaluable human touch to the online environment: experiences and opinions from a real person who has tested the product. Sex toys are hard to select, and an honest review from an independent source is often the only trusted information that a customer can rely upon. Therefore, conceptually, a reviewer is a person who is not affiliated with the stakeholders (retailer and manufacturer) yet they evaluate a product and thus become the most relatable person to a potential customer, forming almost a virtual bond with a customer through their reviews.

I would say a reviewer's main responsibility is to write a review that objectively describes the product's pros and cons while preserving the personal unique experience that you had with the toy. This is a difficult balance and surely hard to master. Often reviews that have this balance get selected for presenting a product to the public, via Description Reviews.

I love our forums. They are not only a fun and informative place, they are very often compassionate. This touches me the most, and this makes me proud of our community - how people who have never even met each other can be sincerely supportive and caring. Salute to our community!

I think Sexis going to print is very exciting!

Considering the expenses of a print publication, and the fact that print magazines and newspapers are not doing very well in this age of the computer. What made you want to branch out in that direction? Are you planning on doing this on a regular basis? Or is this a one time deal?

Yes, it is true that most of the print industry is going under. While industry news is filled with stories about the death of print and more and more content is moving to the internet, a small subculture of printed traditional magazines, zines, and small press books are flourishing. Those publications have a passionate following; and with low budget production, they are able to not only survive but to grow. We are betting for just such a scenario with Sexis and are planning on publishing it quarterly.

Okay, Fred—brace yourself—here comes The Hardest Question In The Whole Wide World, a.k.a., the Sarah Palin Question: what periodicals/websites do you read regularly? And how do they inform your worldview as it pertains to the EF family?

My periodicals list is short and targeted. My daily shot of politics comes from the

NYT

and I get my economics info from the WSJ (the first page only). For a deeper political and social picture, I go to the

New Yorker

. I stopped watching cable a few years ago and am very happy about it.

I love to occasionally flip through Vogue (Paris edition),

Computer Arts

,

Communication Arts

, and read

Ad Age

from cover to cover. All of these magazines I read in print, not online. There is something special about a print magazine that viewing online will never have.

Victoria (host): "Viva la print!"

Could you explain what Eden Link is and how it operates? What benefit does it have for site contributors? And what do you have planned for it in the coming year?

Eden Link

is our free online service that enables manufacturers in the adult industry to communicate directly with end consumers. What does that mean? That means the makers of the products can talk directly to customers in arena that is totally neutral, and likewise.

You can see who works for the company, check out their latest products (often pre-market), and read announcements from the manufacturers, as well as email them or ask them questions on the forums.

The manufacturers can easily keep track of feedback by watching their activity stream - all product reviews and forum mentions are right there on their profile page. For customers and fans, this creates a big picture about each of these companies – encompassing all of their activity in one place.

We also help manufacturers by collating some of their performance data and securely sharing it with them – providing them with stats about things like return rates and reasons, how well they are selling specific categories of products as well overall products etc. This helps them to see how people are responding to their products and will hopefully result in consideration during future product development - which ultimately benefits customers.

The core of this whole initiative and service is making information accessible – for both manufacturers and consumers.

In the future, we hope to see more interaction, promotional campaigns, and featuring of products, in addition to more sponsored products coming into the pool for reviewers. You will also see more community interviews with these interesting and charismatic manufacturers. It will be an exciting year!

With all the internet sites up and brick and mortar stores, what do you believe sets Eden Fantasys apart from all the rest?

I think EdenFantasys is much more than just a store. The thoughtful variety of products, the ease of navigation and search, the community, all of the information we provide, not to mention the many levels of interaction, the continuous innovation - all of these things set us apart. We continually endeavor to make EF a comfortable place to visit for anyone who is interested in the many aspects of human sexuality. I have never seen such a place anywhere else on the Internet. And, of course, I am confident that EdenFantasys is the best store!

I noticed EdenFantasys has a material safety index. Could you please elaborate on this—why you created it, and what advantages it has for shoppers?

Materials that are used in sex toy production come from different sources and are very complex chemical compounds. Moreover, the toy manufacturers, in their quest to create the best product, constantly experiment with materials which get introduced to the market under proprietary names - like Cyberskin, UR3, Futurotic, Jelly, AquaGel, Jellee, just to name a few, which makes it harder for the consumer to understand exactly what the material is or what to expect. Unfortunately, some of these materials might be not be body safe; this is why we developed our own Material Safety Index. We research the new materials across several characteristics:


- toxicity (if the compound includes potentially dangerous components like: phthalates, latex);

- porosity (the ability of material to retain bacteria in its pores, which might lead to bacterial contamination if the toy has been used uncovered);

- compound stability (sometimes toys have a strange smell; these fumes occur because the material is 'off gassing', meaning that the compound is not completely stable);

- hygienic properties;

The index takes into account all of the properties above and calculates the overall safety index on the scale from 1(unsafe) to 10 (the safest). The index is not a scientifically based approach to the problem, rather it is a hands-on, practical approach based on our experience and diligence with sourcing product information. We believe the index provides a reliable and easy to understand snapshot of the material safety.

Victoria (host): "This information, combined with product reviews, makes for the best information a customer could ask for!"

Hi, Fred! How does EdenFantasys' affiliate program differ from other sites? What's in the pipeline for the affiliate program in 2010?

Our Affiliate Program (we call it

Eden Partner Programs

differs in that we have a higher percentage of commission for our affiliates, and we provide more customizable tools (such as widgets and banners) and options available to fit your blog and website needs.

We are looking to make the program even more user friendly, by updating the site information to better explain the ways you can utilize this program and its tools, and possibly creating new tutorial videos. Affiliates also have a place on the forums where they can discuss strategies with each other and make suggestions to all of us here at EF – we welcome any feedback you might have!

I've watched Eden grow, and I've watched some of the problems it's had along the way. I think at this point in time it's a pretty amazing place. I was wondering what is the true "Mission Statement" of Eden right now? How much of it is business oriented and how much of it is community oriented? As reviewers know, there is a lot of overlap between community and customer!

Thanks for all the work that you do!

DBD, thank you for the question. I would say that

Eden's Mission Statement

, which we announced about 2 years ago, still holds true. To briefly recap it:

- We celebrate the fact that sexuality can be expressed in so many ways;

- We welcome everyone, with the goal of helping each person find sexual fulfillment;

- We strive to provide products, services and information that help you to celebrate the powerfully positive affects of sexuality in your life - with no judgment or embarrassment;

- We guarantee the highest standards for online transactions;

- Our toys, books and other products have been chosen to appeal to people of all genders, ages and orientations.

These are still the pillars of our overall business goals, and will continue to be so in the future.

I have also received quite a few private questions essentially about how Eden can sustain such costly community oriented activities. The answer is simple: the community funding is quite significant; it's part of our advertising budget, as we believe the community truly helps spread the word for Eden. We appreciate your continued support!

So, I've gotten emails with new ideas or feedback from you at like 11:30pm on a Saturday …which makes me wonder: Do you think about Eden all the time? When you come across things outside of work that inspire you, do you try to find ways to modify and incorporate them into EF?

Yes, I sometimes work late into the night, though I try not to. Victoria, and you do so quite often too, as I noticed by your reports.

I think we are all passionate about Eden and the work we do to make it a better place. Do I find inspiration outside of work? All the time - I find inspiration sometimes in the transactions I have with other businesses , in articles I read about changing technology or social trends, in conversations I have with friends. It all becomes fuel, mixing in with other ideas - which leads to some of the features people see here today.

I just wanted to say that I loved your answer to my question! All of those ideas sound so wonderful, I cannot wait for them to be released!

Thank you and many thanks to everyone who participated. We'll meet again sometime this year. Happy New Year!