Introduction
The acronym CBT stands for cock and ball toys or sometimes cock and ball torture in BDSM. It is a fairly vague term that just refers to toys that are male oriented or, in the BDSM world, any toy used to "torture" a male.
A male's genitals are very sensitive. They are lots of nerves running through them, lots of blood, and they are important for him to pass on his genetic lineage, so the body takes great care to keep them in good working order. These all add up to his testicles, and penis being very sensitive organs. This means many males will get lots of enjoyment or a very intense experience out of cock and ball toys. Therefore people would want to use CBT toys, because they could provide them more pleasurable stimulation. Or if you are into cock and ball torture and a masochist, you would use these toys, because they provide lots of intense stimulation and the possibility of pain.

The first toy I will talk about is a cock ring. A cock ring works by understanding the physiology of males. The penis has arteries going into it to create an erection, but veins on the outside taking the blood back. A cock-ring works by constricting the veins. So blood flows into the penis, but has a harder time flowing out of the penis. This causes blood to pool and therefore achieves a more erect penis (an erection is caused by blood flowing into the space between the tissue of the penis). In short, it creates an easier erection and is supposed to create "stronger erection". A cock ring can be made out of metal, silicone, or stone.
Here are some photos:
Metal Cock Ring: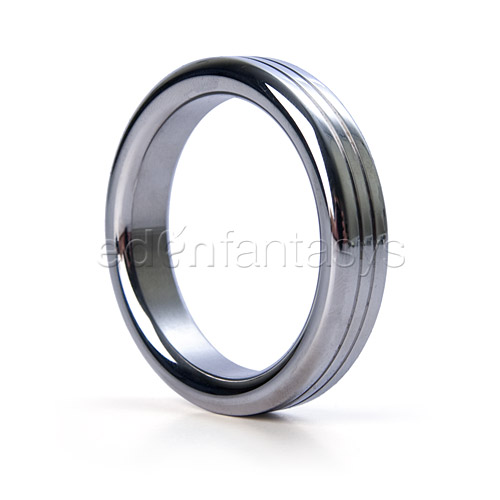 Aventurine Cock Ring: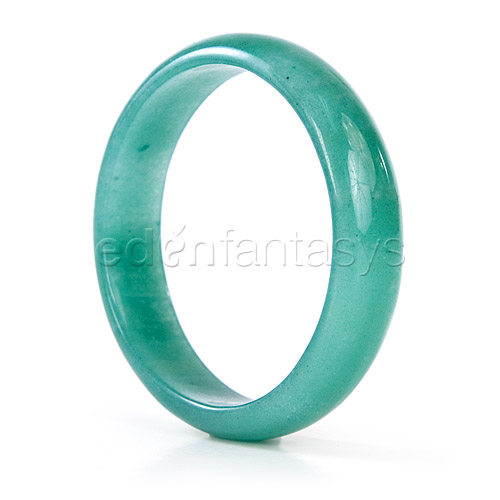 Agate Cock Ring: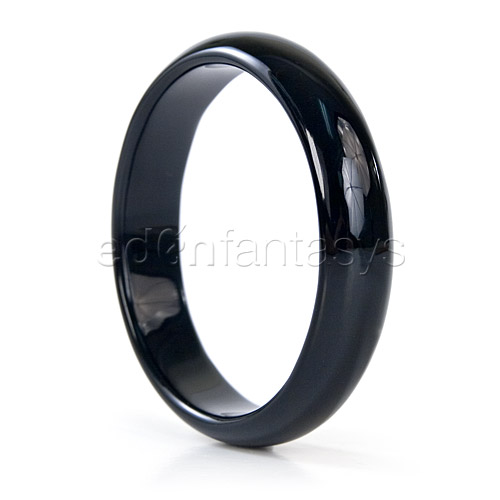 Silicone Cock Ring: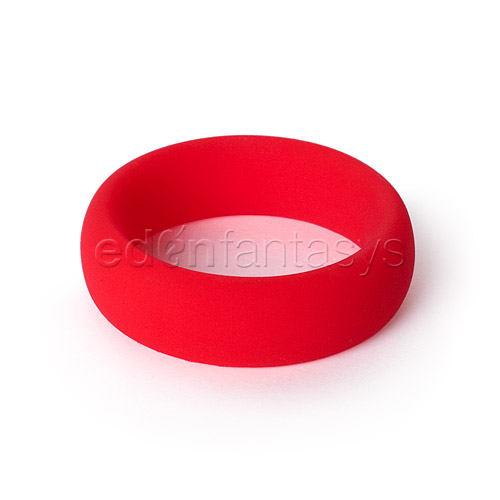 Silicone With Perineum Tab: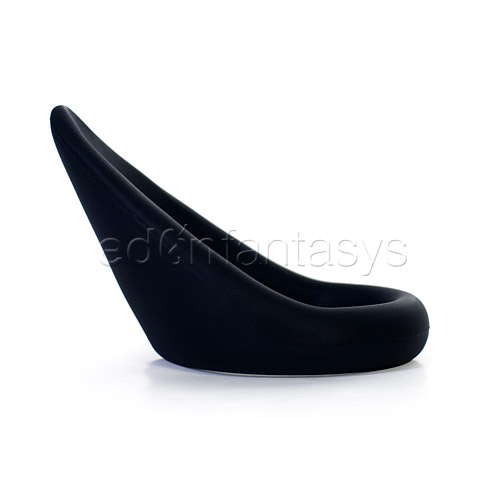 Photos by Eden Fantasy
The final one is a silicone ring, with a tab for perineum stimulation (the point between your anus and penis). The perineum is a location where you can stimulate the prostate externally. A cock ring can also be worn for aesthetic purposes. It changes the appearance of the penis and testicles, and if the ring is made out of a fancy material it can be considered classy and sophisticated. The stone and metal cock rings do not have any stretch to them, so they are not a one-size fits all option. If you are going to buy one of those, I would suggest measuring yourself and buying a cheaper metal version first. This way you can get a good idea of the size you need, before investing some good money, only to find out it does not fit. There are also leather cock rings. These typically have snaps along them or Velcro and you just tighten them to the desired length. Just a note, a cock ring does change both your erection and your sexual experience. You will now have material between you and you partner. It is possible for it to rub or chafe. Just something to take into consideration, when buying one.
Then there are vibrating cock rings. I personally consider these to not be in the same category as cock rings. Typically the vibrating cock rings are worn on the shaft of the penis and not around the testicles. Therefore they do not provide any constriction on the veins returning blood and they do not make it easier to achieve an erection. Occasionally some do go around the testicles or can stretch enough that you can put them around the testicles, but most do not. What most vibrating cock rings are designed for is stimulation of the penis and stimulation for the clitoris. So, as I said, they go along the shaft of the penis and you push them down until they cannot go any farther. Then you turn the cock ring on and then have sex. The cock ring has a motor that vibrates, typically placed upwards (up towards your belly button) and then when you fully insert your penis, the motor presses against the vulva and the clitoris and provides additional stimulation for the female. So, vibrating cock rings are mostly about female stimulation, with some additional male stimulation, without any real effect on blood flow and erections.
Here are some photos of vibrating cock rings EF sells:
Jopen Ego: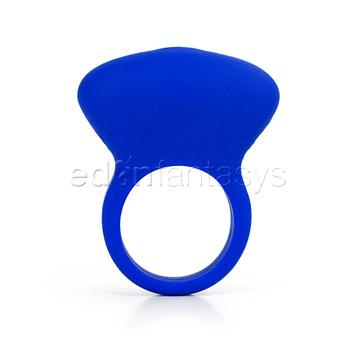 Lelo Tor: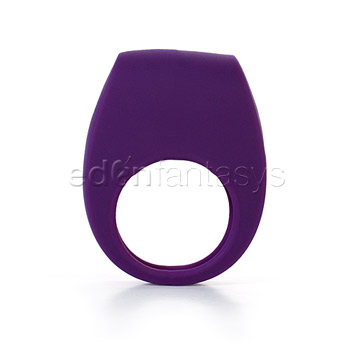 Ball Stretchers are toys that pull the testicles away from the body. This can range from just slight pressure to actually being painful. There are different varieties and ways stretchers pull the testicles away from the body. One of the first designs is called a parachute stretcher. It does kind of look like a parachute and it wraps around the base of your testicles. At the bottom, is a chain that allows you to place weights on it. These stretchers require the addition of weights, to cause much stretching or they require you to pull on the chain for them to stretch.
Here is a photo of one: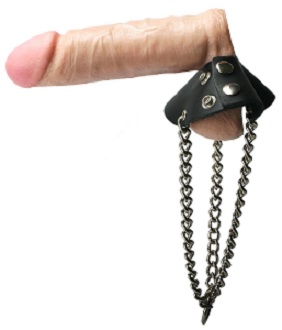 Photo from amazon.com
Then there are stretchers that use material to pull the testicles away from the body. They often are made out of leather. They can use buckles, snaps closures, or Velcro. The leather pushes the testicles away from the body and causes the stretching. They come in lengths of 1-3 inches typically. 1 inch being fairly moderate and a 3 inch stretcher being very intense. Sometimes these stretchers also have places where weight can be added, making for an even more intense sensation.
Here is an example of one Eden Fantasys sells: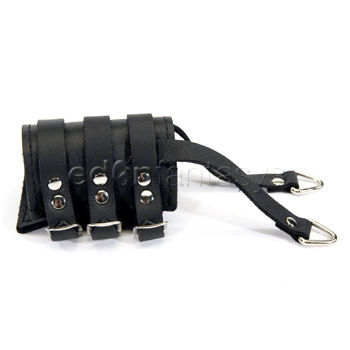 The two stretchers do provide different types of stimulation. The parachute causes the pressure to be more spread out and less intense. While the other stretchers are a bit more intense and the pressure is less diffuse. There are also stretchers that are made out of metal. These ones cause both the mechanic stretching and have weight from their material, so they are more intense when compared to a leather stretcher of the same length. For those stretchers that have a place for weights you can also get creative. For example, if your boyfriend was tied in a spread eagle position, you could tie the stretcher to the bottom of the bed (you would need something at the foot of your bed). You can attach a leash and lead your boyfriend around by the testicles or it can be used to keep your boyfriend on all fours, by running a chain through it from an ankle to wrist restraint (you can see my BDSM 101 Pet play article to see a photo of this).
A penis sleeve is another male toy that exists. These are not BDSM toys and are seen very common in sex toy shops. A sleeve is just a toy that mimics a vagina, mouth, or anus. It is a male masturbation toy. A male inserts his penis into the toy and moves the toy up and down and up and down. This causes stimulation of this penis and can eventually bring him to orgasm.
Here are some photos of ones Eden Fantasys Sells:
Tenga Cup: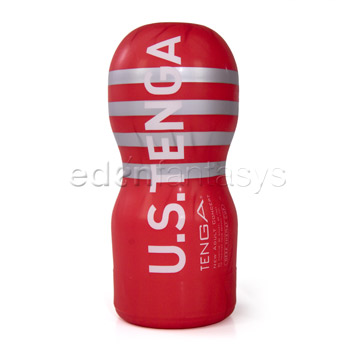 Tenga Flip Hole: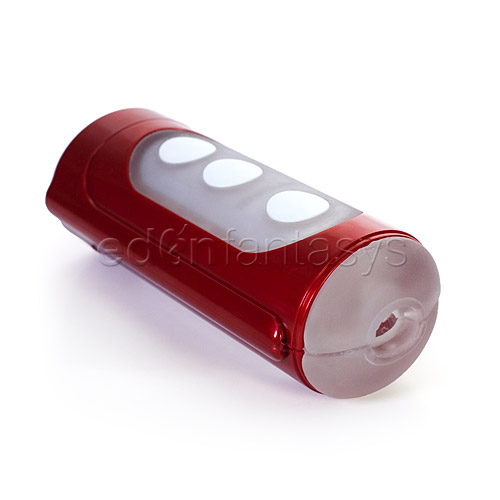 Fleshlight: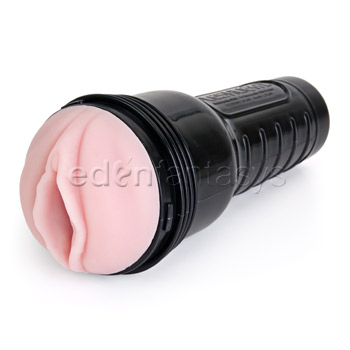 These toys can be used for solo masturbation. They can also be used for partner masturbation. They could also be used in other scenarios. For example, you could tie your boyfriend up and tempt him with your vagina. You could tell him he doesn't deserve it and deny and tease him with a masturbator, but never allow him to orgasm. (this would be orgasm denial and some D/S play at the same time). On rare occasion, these are inserted into the vagina and the male has sex with it in his girlfriend, but he is the only one who gets stimulation (this means the woman is denied an orgasm and is now on the submissive end of the D/S relationship). The sleeves can be one-time use, or multiple-time use. They can also be vibrating or non-vibrating. You can find some attachments for the hitachi that will cause a lot of vibration and are very pleasurable.
Next we come to sounds. These are toys that are inserted into the urethra. They are typically stainless steel toys that are long, narrow and sometimes have a "bud" at the end that is wider than the rest of the toy. The urethra is a sensitive area (on both males and females), so sounds take advantage of this. Sounding does carry some risks with it, namely urinary tract infections. Especially with females (females are far more likely to get a UTI because they have a shorter urinary tract). These toys also can come in vibrating or electro-sex varieties where they provide new sensations.
Here is a photo of some: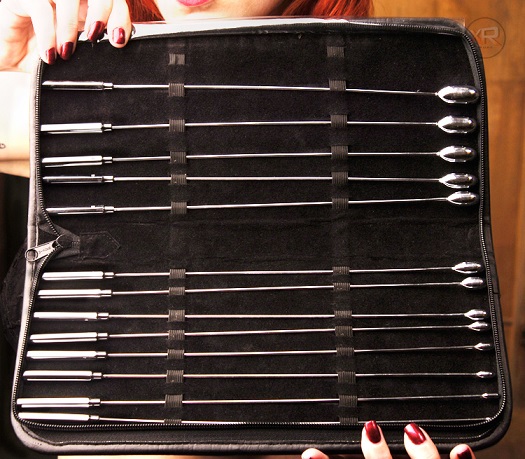 Photo from Extremerestraints.com
The last toy I will talk about today is a penis pump. A pump creates a vacuum, which causes suction. This causes negative pressure and forces everything into the tube. So the penis is sucked into the tube and your blood is also sucked into the tube. The inflow of blood into the penis causes an erection and can causes additional stimulation. You can get more blood flow into the penis than during a normal erection. This will cause increased sensitivity. Certain people claim you can grow your penis with a pump. This is false. There is no physiological basis for this. If this were true, then erections would cause your penis to grow, because there is largely no difference between the two of them. Pumps also create an aesthetic appeal, as you see the penis squished and sucked into a tube. A penis pump can also be useful for someone who has some trouble getting an erection. It can help the process and facilitate sexual intercourse.
Here is a photo of one Eden Fantasies Sells: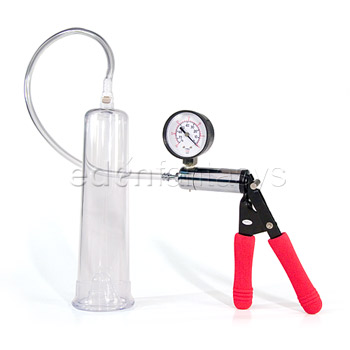 So, you can see there are a wide variety of cock and ball toys. Some are more BDSM related, while others are more vanilla related. Hopefully, you now know more about cock and ball toys and if you decide to buy one, have a better idea of what you might want. If you have any additional questions, feel free to ask them in the comments.