When I was in college, I met a girl who was a professional candy taster. That was her job. Discerning whether sweets had the right hints of vanilla or too much caramel was the sort of thing, I imagined, she did all day. It was a defining moment in my life. The "real world" had been painted by adults as a drab, difficult place where we'd be sandbagged with responsibility. Imagine coming to learn that "Willie Wonka" was a job you could actually get.
The exact same thrill of possibility hit me recently when I happened on a story quoting Sarah Forbes, Curator for the
Museum of Sex
in New York City. Now, there's a job title that no one—no guidance counselor, biology professor and certainly, no parent—ever hinted was out there.
And yet, such a job exists and Forbes has it.
"My background is in anthropology, with a focus on gender, so actually it's a really natural transition to this type of role," says Forbes in explanation of how one comes about landing such a plum gig—or at least how she did.
Initially, Forbes came to the museum as a patron, not a job seeker. "I was just really excited about what was happening here," she recalls. "It was a very young institution at that point, about two years old, and I was in grad school at the time."
Forbes liked what she'd seen so much, she sent in a resume. "Someone else with an anthropology background was leaving and I came in," she says. "I've kind of grown or evolved with the institution." After her serendipitous entre, Forbes started out as a researcher, then moved up to Assistant Curator, before landing her current gig.
Like most who work at MoSex, it's not easy for Forbes to single out a favorite exhibit. "It would be like choosing between your children," she says. "You put so much into all of them." However, she's particularly fond of a current show: "Rubbers: The Life, History and Struggle of the Condom," which illustrates the history of the humble sheath and includes "condom art"—like a dress made out of custom-dyed rubbers.
"We were able to have Trojan as an exhibitions sponsor," Forbes says. Many of the artists created pieces about safer sex. "We were able to pull [them] into a larger narrative, so it has some serious messages it's fun and it's playful. I think that's what we ultimately love about the exhibitions we create."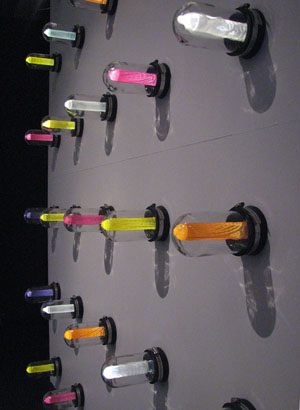 Courtesy of the Museum of Sex
And how could anyone not love a show titled, "The Sex Lives of Animals"? The "thrust" of the exhibit is that animals do in fact engage in non-reproductive sex; that they, like us, actually have sex for pleasure: "Oral sex, anal sex group sex, they masturbate, they have same-sex relationships," Forbes says. "The diversity of sexuality within the animal kingdom is really tremendous."
Sex works best, at least sometimes, as multi-person endeavor. MoSex features a wide variety of mediums through which they showcase the subjects it highlights, and this requires a variety of expertise to bring off. In addition in-house curator Forbes, guest curators are sometimes brought in to helm specific exhibits. Ditto designers. MoSex also boasts a host of prestigious advisors, including primary advisors Stanford evolutionary biologist Joan Roughgarden; Marlene Zuk, biology professor at UC Riverside and author of Sexual Selections: What We Can and Can't Learn About Sex from Animals and Kees Moeliker, Curator, Natural History Museum Rotterdam.
"We create these large thematic exhibitions, so maybe an artist will contact us at one point not appropriate at that moment a year or two down the line, and there's an exhibition that it's perfect for," Forbes says. "Sometimes they may not be making content in relation to sex, but their perspective might work with a given exhibit … We give artists a wonderful platform to create pieces to have conversations that other institutions may not be able to have."
While other museums are feeling the clammy hands of the recession tightening their budgets, MoSex is actually expanding. Relying exclusively on patronage, they now have four galleries. "so when people buy tickets to them museum they're not just supporting that one day and that one experience they're really supporting having an institution of this type in this country," where the goal is education, entertainment and mostly intriguing you enough to continue discussing the topics presented on the way out the door.
So what your mom said was true: If you study, pay attention and follow your dreams, you can get a spiffy job, too. There are such jobs as candy taster. Only now that you're grown up … there's better stuff than candy.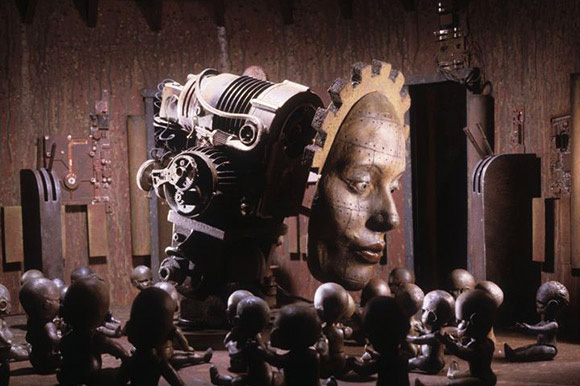 From Michael Sullivan's Sex Life of Robots, courtesy of the Museum of Sex