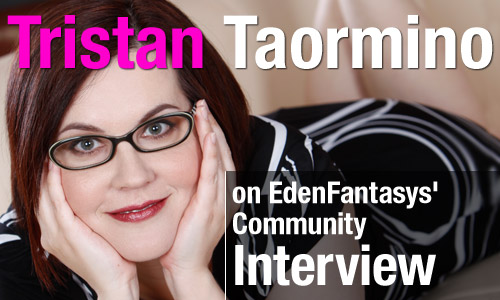 Let's welcome sex educator, feminist pornographer, and author, Tristan Taormino, to the EdenFantasys' Community Interview with
Buck Angel
as her Interview Host!
After Tristan's initial career plans didn't work out, she turned towards sexual education in 1993. Now, Tristan is an award-winning writer, sex educator, and feminist pornographer! She has been featured in over 200 publications and teaches about sex and relationships around the world.
While she is currently on a book tour, Tristan Taormino has certainly been busy lately with the release of her two new books: Take Me There: Trans and Genderqueer Erotica and The Secrets of Great G-Spot Orgasms and Female Ejaculation. This is in addition to 7 other books and 23 other edited anthologies she has previously published. Along with that, Tristan was the former editor of On Our Backs and was a columnist for The Village Voice for almost ten years.
A lot of Tristan's products can be found right here on EdenFantasys! From
The Big Book of Sex Toys
to the Vixen toy named after her (The
Tristan anal toy
!), her products are all over EdenFantasys! We're also carrying her famous books
Opening Up
and
The Anal Sex Position Guide
along with some of her DVDs such as
The Expert Guide to Anal Sex
,
The Expert Guide to the G-Spot
, and
Rough Sex 3
.
The host for our interview,
Buck Angel
, was the first FTM to be signed to a major adult film studio before he started his own entertainment company; he has since been nominated for, and has won many, awards including both AVN and XBiz Transsexual Performer of the Year and the Feminist Porn Awards over the last few years. Buck Angel has been on Community Interview before, so feel free to
read through his interview to learn all about him
!
Do you have any
questions
you'd like to ask Tristan? This is your chance to ask them!
How does she choose the actors and actresses for her pornography films? What's her favorite part of editing erotica anthologies? What was her favorite lecture that she's given? Does she have any advice for aspiring sex educators? Just head on over to the
interview page
, and ask her your questions!
To celebrate Tristan Taormino being on the EdenFantasys Community Interview, we're going to be giving away some
amazing
prizes after the interview! Tristan will be giving away three prizes for her top three favorite questions! The prize winners will be announced on this thread after the interview is completed.
The prizes are...
1st
:
An Njoy Pure Wand
!
2nd
:
A Mystic Wand
!
3rd
: Your choice of a Tristan 1.5:
Tristan 1.5 with Bullet
or
Tristan 1.5
!
The
interview with Tristan Taormino
is open today,
October 18th through October 24th (at midnight)
for all of your questions!
Let's giveTristan Taormino a very warm welcome for joining us here on Community Interview!