Tristan Taormino, a sex educator, author, feminist pornographer, and lecturer, has built an entire empire around her innovative sexual education. What inspires her to keep going? What part of her jobs does she enjoy most? Because her work revolves around sex, does she ever get bored of it or burnt out on it?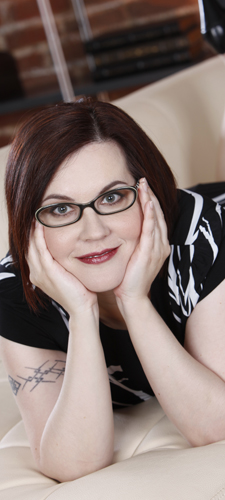 Tristan Taormino initially didn't know she was going to become a pornographer and sex educator. After her plans for law school fell through, an adviser suggested going into sex education because Tristan's senior thesis was on lesbian sexual identity. That was in 1993, and you can see how far Tristan has come now!

An award-winning writer, a sex educator, and a feminist pornographer, Tristan is now one of the largest names in modern sex education. Having been featured in over 200 publications and having appeared on hundreds of TV and radio programs, Tristan Taormino is the new face of a new generation of sex education. As an exclusive director for Vivid Entertainment and the administrator of Smart Ass Productions, Tristan has directed and produced 24 different adult films including her Vivid-Ed sex education series.

Currently, Tristan is working on the re-launch of her website, PuckerUp.com, a new Vivid-Ed movie, and a book out in February: The Ultimate Guide to Kink. She's also in the middle of a multi-city book tour. In her free time, Tristan enjoys desserts and being around dogs.

How does Tristan stay so organized with all of her projects? What information do Tristan's lectures include? What was her favorite adult movie to produce? How has the world's view of sexuality changed since she started her career in sex education? Find out the answers to your questions in this Interview! Please join us in welcoming Tristan Taormino to Community Interview!
I love your work, written and video. I was very pleased to see The Eleven steel dildo and the Hitachi featured in Rough Sex II.

What toys do you like the best, either to look at, use or use for projects?

The toys I like the best to use are: the Njoy Pure Plugs, Lelo's Liv and Ina vibrators, Je Joue's G-Ki vibrator, the Tristan butt plug, Aslan Leather harnesses, and nearly any dildo made by Vixen Creations. I also love to use toys in the movies I direct, and I am known for bringing a HUGE selection to the set with me. But during the casting process, before we shoot, I always ask my performers what their favorite toys are, and I do my best to get them. I have great relationships with some of the top toy companies, and they often send me toys to use in my films. It's win-win: the performers get to use their favorite toys (or try something they're interested in) on camera and take the toys home with them! I swear that a large number of porn stars who own an NJoy toy got it from my set!

Buck Angel (host): "I think that is so cool that you show the use of many different toys in your films. Some people are afraid of them so they get to see them in action and how much fun they can be. NJoy is one of my favorite lines as well."

So you've designed a couple of butt plugs - do you intend to branch out and design any more sex toys? I think that someone with your background and experience could create items we would love!

I would LOVE to have my own line of sex toys. That would be amazing. I've been approached before to do one, but I haven't found the right fit.

I can see a tattoo in your biography picture here, and I'd love to know the meaning behind it (if any) if you're willing to share. And do you have any other tattoos/piercings/other body modifications?

I have a tribal design on my right arm which I got in 1994 after a particularly difficult year in my life. I worked on the design with the artist and wanted it to represent pain and strength. I have a tribal scorpion tattoo on my right thigh, and the tail wraps around the back. It is a memorial tattoo for my father, who died in 1995. He was a Scorpio. I had one of my nipples pierced for about ten years, but let it close up. I've had my naval pierced since 1991, before everyone had one! I also have my clitoral hood pierced.

Buck Angel (host): "WOW I did not know you had your hood pierced!"

Did you have a specific moment when you looked around you and went.... whoa! I'm famous!? And how does it feel to realize what you do is recognized and loved by so many people?

This is a funny question, because I am not sure I'm that famous. Especially because another person asked a question which implies that I am not! I once got recognized by two complete strangers in Bed Bath and Beyond in New York; it was pretty surprising, but the couple was so sweet and cute—they just wanted to meet me. I feel really blessed to be able to do the work that I do and have so many people respond so positively to it. When someone writes to me and says, "You changed my sex life (or relationship or sexuality)," it's incredibly rewarding.

What is your opinion of amateur pornography and how it fits into the porn industry? Do you think it's good, bad, neutral, or do you judge it on a case by case basis?

I really love that individuals and couples can create their own porn websites; many of them have become amateur, self-made porn stars, but, more importantly, they are in control of their own representation and they get all the profits from their work. As for the amateur porn that is distributed through mainstream porn channels, I think it can be really hit or miss. The one thing that always strikes me is that some of it just isn't sexy to me. Porn is not just pointing a camera at people who are having sex. There's a reason that adult performers are successful—they are great performers, and a lot of amateur performances are missing some key pieces. For me, a great performer is able to externalize her or his very internal, personal experience of sex and share it with viewers. Not everyone can do that.

Buck Angel (host): "You are so right on! That is why your films are so amazing. You have really great performers."

You have given sex advice to many, many people. Are there one or two that stand out after all these years, that you might find yourself still saying "Holy shit, I gave sex advice to ... !"

That's easy! I was a guest on a show called "The Other Half," which was a daytime talk show on NBC. It came out a year or two after "The View" debuted—it was supposed to be the other side of the coin. It featured four male hosts from different backgrounds. I did a segment where I gave sex advice to Dick Clark and Danny Bonaduce, two of the hosts. Dick Clark and Danny Bonaduce!!!

I know you've worked with the top artists in the feminist porn industry. (Jiz Lee, Syd Blakovich, and April Flores to name very few.) Do you prefer to work within the feminist porn industry, or do you like mainstream performers? What's the difference with performers who are more mainstream versus "queer," "feminist," or "underground?"

They each bring different things to different projects. I love working with mainstream performers because I give them an opportunity to do things they haven't done before, to shoot scenes no one else in mainstream would, or to have a lot more input in the scenes we shoot than they have with other directors. Working with experienced, articulate, talented mainstream performers is really exciting because they have so much wisdom to share. What I like about alternative performers is that they have few preconceived ideas about "what I want" as a director. I don't have to tell them *not* to do certain things that mainstream performers are just used to doing all the time—like "opening up" for the camera, switching positions often, etc. Non-mainstream performers approach the process differently, and that' often a good thing.

With so much on your plate, what do you do to relax? Do you have days where you set everything aside entirely, or is your work with the adult industry completely integrated in your life?

I work a lot, often seven days a week. For the past few years, I have been working on trying to find more balance in my life. I meditate which helps tremendously, and I just started doing yoga again. I started gardening two years ago and I find it incredibly relaxing. I also love to bake, but wish I had more time to do it. I also love watching junky television—I find that very relaxing! Yes, I take days off, but it's more rare than I'd like it to be!

Heya cupcake. So, you've been at it for a few years now. Looking back, is there anything you've written or said that you look at now and think, "Boy, was I totally wrong about that!"? And, of course, what was it?


No, I don't think there is anything I've said or written which was totally wrong. But I do think that my mission, opinions, and vision have changed over the years. I know so much more now than I knew ten years ago.

You've done so much in such a short period of time. Which makes me wonder, where to from here? What are some of your future plans? What would you like to do that you haven't yet?

I have a bunch of new projects that I am working on. I'm editing my next Vivid-Ed movie, The Expert Guide to Pegging: Strap-on Anal Sex for Couples, which will be out in early 2012. My next film after that will be The Expert Guide to Female Ejaculation. I'm really excited about both of those projects. I have two new books coming out in 2012: The Ultimate Guide to Kink: BDSM, Roleplay and The Erotic Edge, which will be out in March and Stripped Down: Best Lesbian Erotica. I am co-editing a book about feminist porn (which doesn't have a title yet) that will include writing by academics, cultural critics, and people who work in the adult industry. It's a huge project that my co-editors and I have been working on for several years. In a more general way, I have focused more on writing and speaking lately, and I think that's where my career is headed. What would I like to do that I haven't yet done? Wow, that's a big question! Let's see: I'd like to write a book of short stories in the tradition of Davis Sedaris or Augusten Burroughs. I want to write a memoir eventually. I'd love to produce and direct a big-budget porn feature (anyone out there want to give me the $$ to do it?).

Buck Angel (host): "You have contributed so much to the sex ed industry! I think a book about your experiences would be amazing. I know you are such a great supporter of my own work way before anyone else was, and David Sedaris and Augusten Burroughs are my favorites!"

What sex ed topic do you enjoy teaching about the most and why?

Anal sex! I mean, it's the topic I'm known for, and teaching anal pleasure still hasn't gotten old, even after 13 years! I love to be able to dispel myths and misinformation and give people information, advice, and techniques.

In my extended "blood" family, there is a FTM (he is now 47 and started the process about 15 years ago). He is very open with everyone, family, friends, acquaintances and co-workers. At first it was an adjustment for the family, but now everyone accepts him. My question, is although we all love him, whenever the family gets together (like a wedding, for example), it is like the proverbial "elephant in the room" and everyone is very, very careful not to use gender related terms when we talk about our childhood. I say that is silly and if someone wants to talk about when he was 6 years old and did something really cute or funny or got into trouble for something, it should be OK. I know my cousin would not mind, particularly since no one would be intentionally rude. When he was a child, he was my Mom's favorite neice/nephew. How would you bring up a discussion with family? Even though everyone "accepts" him, I still think that after 15 years, it should be OK for the family to talk about the younger days with/about him just as we do for the other "kids" (I think of him as a kid because I remember when she was born and I am 14 years older). I used the word "she" to talk about when he was born, because back then to everyone he was a girl. How do you feel about this kind of issue? Thanks--my wife and I think you are WONDERFUL!!!

This is a very tricky issue, and family dynamics can be a minefield. But I think the issues you raise are very common for families who are dealing with the gender transition of a family member. First and foremost, I think you should specifically ask the trans person about what makes him comfortable with regards to discussions of his childhood as a girl. For some trans people, it is a very painful time, one they'd rather not reminisce about; I know many trans folks who bristle at the sound of their birth name, for example. For others, it's not an issue at all; they are happy to talk about the time before their transition. Let him decide what's okay. Then, if he feels comfortable, I think it's okay to have a sit down with the family and set the ground rules. That conversation should be gentle, respectful, and reassuring. The goal should be to calm people's discomfort, but realize that there still may be awkward conversations. Let your transgender relative take the lead on this one.

Buck Angel (host): "Right on! Thanks for being a great advocate for trans people. It is good to have a non trans person help with these issues as well."

I'm so excited for this! Welcome

Okay, My question: I've seen several of your porn movies (loved them!) Exactly how much do you plan out your scenes? Or do you just let your actors do what comes to them?

For my Chemistry films, nothing is planned or scripted. The performers decide who they have sex with, when, where, and what they do in their scenes. It is all spontaneous, and we just film everything over a 36 hour period. For my Rough Sex series, the female performer crafts the particulars of her scene in advance: she maps it out, chooses her fellow performer(s), the scenario, and what's going to happen. We talk it all through beforehand, I make a shot list according to our discussion. On the day of the shoot, we have a conversation, then when the cameras roll, I just let them go. The movies in my Vivid-Ed sex education series (The Expert Guides) are the most structured, although the performers still participate a lot in the process. First, I only cast performers who love the particular topic we're covering (fellatio, cunnilingus, G-spot stimulation, rough sex, etc.). Since it's instructional, I map out a list of positions and techniques that I want to show in the film, then I go over all of them with the performers. Basically, they get to pick from the list the kinds of things that appeal most to them (like "Oh, I definitely want to try the Mystic Wand!" or "My favorite position for anal is doggie style." or "We can demonstrate this oral sex technique). I try my hardest, with all my films, not to stop the action unless it's totally necessary. Stopping and starting really messes with the chemistry, connection, and momentum of the scene. So, ideally, we start shooting and don't stop until the performers are done!

I usually use a butt plug during masturbation and partner sex. I mentioned this to two of my friends (who do use toys) and I got the ""look".
Just wondering if this is becoming more common? Njoy, Tristan, and Ryder are my choices for stay-put plugs.

By the way, I love the way you show using lube and toys in your work.

I absolutely think that there are plenty of women—and men—who masturbate with anal toys and use them during partnered sex. I'm not sure why your friends raised their eyebrows! I love your three choices of plugs. The thing we always have to keep in mind is that everyone is unique. I can definitely relate to you—I like there to be some element of anal play in the majority of the sex I have with myself and my partner.

How involved are you with the stuff you have designed, toywise?

i always wondered just how involved you were with the creation of the "tristan" line. do you have any first hand accounts of the testing process, silliness or interesting details i wouldn't otherwise know?

I was very involved in creating my three butt plugs with Vixen Creations: the Tristan, the Tristan 2, and the Anniversary Edition Tristan (which I think of as the Tristan 1.5). I met with the folks at Vixen and told them my ideas, we did some sketches, and they sent me prototypes. I did test them, and we made various adjustments. I actually have a bunch of the prototypes in a case with my most treasured things—they're one of a kind! We also tried out a bunch of different colors for the Tristan 1.5 and the Tristan 2, so I have a cool red one, a pink swirly one, and some other interesting color combinations.

Welcome to Eden! I'm so excited to see you here, as I am a huge fan. I love to see the use of toys and lube in your videos. I especially enjoyed the Chemistry Series and I did a review on your "Expert Guide to Female Orgasms." So my question is, do you have any plans to do an "Expert Guide to Male Orgasms" ?

I know that males tend to have a much easier time in general when it comes to orgasm, but there are many out there that have issues. These can range from erectile dysfunction and/or premature ejaculation, to the opposite where they take a very long time to come or rarely if ever come at all. Many reading this will call "bull shit" to the latter, but this is something I have come across in at least four males I have been intimate with. A video such as this could address these issues as well as shed some light on various techniques or sexual aides such as creams and cock rings that could help. Speaking of cock rings and male sex toys in general, I would love to see some of them in use. My partner and I have avoided buying certain cock rings and cages as well as other toys because the simply don't come with directions and look too complicated. Another subject that would be great for demonstration would be prostate massage. Anyway, I don't want to write a book here, but I just thought that if anyone could do such a video, it would be you. My man actually thought of this after we watched the "Expert Guide to Female Orgasms". He actually said, wouldn't it be cool if she did one of these for men? So that's my question.... hope it wasn't too long!

This is a really good question. The Expert Guide to Male Orgasms is certainly on my "wish list" of movies I'd like to do, but I don't have specific plans yet. (Thanks for the nudge .) I think there is an assumption that all men have an "easier" time with orgasm, and it's just not true. I know from talking to thousands of men over the years at my workshops and online that plenty of men (of all ages) have issues with desire, arousal, and orgasm. You've got the wheels turning in my head now. And you're totally right—I've never shown cock rings in action in my films; I definitely need to remedy that!

Welcome to Eden! It's so exciting to have you.

For your videos (and books with real-life stories), do you draw from a selection of performers and people you already know? Or do you branch out to try to bring new faces and thoughts in all the time? How tight-knit is the community you're a part of, and how do you think that community affects your work?

There is a pool of performers I really enjoy working with who you'll see in many of my videos—folks like Adrianna Nicole, Madison Young, Dylan Ryan, Jada Fire, Bobbi Starr, Marie Luv, Christian, Danny Wylde, Evan Stone, Derrick Pierce, Mr. Marcus, and James Deen. For me, they have that perfect combination of personality, performance, enthusiasm, intelligence, and accessibility. Plus, the more I get to know a performer, the better their performance is, I think. They feel more comfortable with me, are more likely to open up during our interviews, and really have an investment in the projects we work on together. I also like to work with new performers, and most come to me recommended by fellow performers or my production crew members. I am actually a part of many different communities—the mainstream porn world, the feminist porn community, the queer community, a community of sex writers, the sex educator community, and the kink community, to name a few. My work intersects these different communities in various ways, and I think the level of diversity of ideas really inspires me. I can see, for example, how my involvement in the BDSM/kink community really frames how I shoot the Rough Sex series. I have learned so much from my fellow sex educators and I incorporate all I have learned in my Expert Guide series.

I have come late to this realm of life. Because of that, I have a different view of porn and sex education. It is not negative, I am just learning a bit late. My question is actually fairly simple, with all that you have accomplished in your life so far,
is there one thing in particualr that you feel you still really want to do? This could be something either in your personal life or in your business life.
Thank you, and I am glad that you decided to stop by and allow us the option to ask these questions. It is always nice to meet people who have been very successful and are willing to discuss how they got there.


I have been studying Buddhism for the past several years, and I would like to continue to do so. I would love to go on more extended Buddhism and meditation retreats. I want to sharpen my meditation skills and make more time for meditation in my life. I want to be able to practice loving kindness and compassion all the time and really reach a higher level of consciousness to incorporate Buddhist practices into all areas of my life.

I just love your Chemistry series and I frequently use them during masturbation sessions. There are certain scenes that just add so much to the intensity of my orgasm. I believe that most of the actors actually orgasm on the set but I do feel some are just "acting". So how far do you go to achieve authenticity as a director?


My goal is to represent authentic desire, pleasure, and orgasms 100% of the time in my films. I also prioritize female orgasms, since they are still underrepresented in porn. In order to achieve my goal, I need to create an environment where everyone feels comfortable, respected, and empowered. I give my performers the freedom to do what they want, to work with their chosen partner(s), and to take as long as they want in shooting a scene. I try not to interrupt them or stop and start a lot, as I said in one of my responses to another question here. It also helps to have vibrators (especially a particular vibrator they request) on the set. Some directors don't like to shoot women using vibrators because a) they are noisy, and you cannot take the noise out in post-production without losing other sounds b) larger vibrators like the Hitachi Magic Wand often "block" the camera's view of the vulva and are not the most stylish to look at otherwise. But if a vibrator will increase the possibility of orgasm, then I say, bring on the vibrators! I also tell my performers explicitly that I do not want them to fake an orgasm. Obviously, they may do so anyway, but I think I'd know. It's very clear to me that women have real orgasms in my films.

When you look back on your work (you've done *so much*!), are you still proud of some of your earliest things? Or, as you've learned and grown as an educator, do you hope people start with your latest efforts and let the earliest works slip by less-noticed?

I'm proud of everything I have done, including my earliest works. Of course, I have grown tremendously as an educator over the years. I know so much more than I knew ten years ago, for example. I think my writing style has matured, but my early work still stands the test of time. I loved the opportunity to revise my book The Ultimate Guide to Anal Sex for Women for the second edition in 2006 and add new information, techniques, and advice I'd learned since the first edition was published. I think my vision as a director has definitely evolved; when I compare my latest films with earlier ones, I see more clarity, style, and experience. But I still think my early films still have great content and format.

This may seem too obvious--well, it IS too obvious--but I sometimes wonder about how movie porn and written porn (or erotica) differ in their effect and their appeal. What's your take from the director/producer/writer/editor's viewpoint?

Well both are about storytelling, but they tell stories in different ways. I think that there is an opportunity for more character development and details in written porn/erotica; it can go deeper in many instances. Filmed porn creates visual images, and those images can inspire people in an instant way and stay with them for a long time. As a viewer, you don't have to process all these words to conjure the image, it's there right in front of you.

I'm really excited about "Take Me There"---do you have a favorite anectode from its creation? What about Take Me There are you most excited to share with us?

The thing I am most excited about Take Me There is that it's totally unique. There has been one other erotica collection devoted to trans folks, but this is the first to feature stories by and about trans and genderqueer people. I think that it was a challenge to represent the great diversity within those categories, but I worked really hard at it.

One of the authors recently got a letter from someone who read the book. The reader wrote, "I'm not sure how to describe how important it was for me to read your story, because it hit upon so many facets of my identity. I'm female-bodied and femme and most people assume that means cis. I'm pretty sure I'm not cis and I'm darn sure I'm not trans, so what the hell does that make me? I know, but I didn't think anybody else did until I read [this] line [in your story]." That letter just really sums up what I hoped readers would take away from the collection. I want the characters to resonate with people, challenge them, and, of course, make them hot!


I read where you said erotica is a political act and I would love to hear a little more about that; can you speak to that in the context of your new book, "Take Me There?"

As I said in a recent interview, I absolutely believe that writing and publishing erotica, especially for minorities, is a political act. We must write our own stories, our own truths, otherwise our detractors and enemies will do it for us. When I first handed in the anthology to Cleis Press, publisher Felice Newman called me and said, "I want your introduction to be required reading for my staff. It's about so much more than erotic writing or trans and genderqueer erotica. This book has the potential to shed light on gender and sexuality in a new way and bring more awareness and understanding about it." If Take Me There can accomplish that, it helps support the amazing work of transgender rights activists to increase visibility and affect public policy.

It's political for those of us who've been told we're freaks, perverts, and deviants to stand up and speak for ourselves. I think this is especially true for gender-variant folks who've been underrepresented and misrepresented in mainstream media. Their sexuality is either fetishized or denigrated or made invisible. It's time for that to change and for the variety of sexual desires, experiences, and fantasies of trans people and their partners to be heard.

Buck Angel (host): "This is so true. Many people do not understand us and always think of us as "bad" people or "freaks" so to actually have our own voices out there is amazing. Thanks for that book."

Tristan, your impact on the dissemination of positive sexual role models has been huge. What is the one achievement you are the most proud of?

Hello! Is there anything in particular that you consider your biggest accomplishment in life so far?

What would you say is your greatest achievement. What book are you most proud of and always recommend?

I hope you don't mind I combined these three, but they are all quite similar. I think my biggest accomplishment thus far is my contribution to a greater awareness about anal pleasure and the growing destigmatization of it. In other words, we've come a long way in the past 15 years as a society when it comes to anal sex: there is more open dialogue about it among people from different walks of life. There's more information and education about anal play than ever before. People have been doing it forever, but we're talking about doing it in a completely different way. I think that my book The Ultimate Guide to Anal Sex for Women (and the follow up The Anal Sex Position Guide), my videos, and my workshops have played a part in this evolution. I hope people look back and when they see that a shift really occurred in our thinking about anal sex, they say that my work helped that shift happen.

Tristan, I've been a fan of yours for many years, starting with your appearance on HBO's Real Sex. I own many of your instructional/educational videos that transcend gender barriers. Are there more topics you can, or willing to cover, such as bi-sexual (MMF, etc.) and transgender sex? I am a straight male and I am very intrigued, to the point of interest in trying.

Thanks for considering my question. I find you inspirational and motivational--as well as beautiful and sensual.

Thank you for your kind and generous words. I would love to make more queer, bisexual, trans, and pansexual porn! Right now, I am an exclusive director for Vivid Entertainment. Although I have a tremendous amount of freedom when it comes to the content of my work, there are some hard lines that I can't cross in order to have my work supported and distributed by Vivid. Unfortunately, that is just the reality. So, for right now, I've pushed the boundaries about as much as I can by casting non-traditional performers, showcasing a diversity of sex beyond intercourse, and featuring pegging, for example. I have explicitly asked Vivid if they'd distribute a bi video, and they won't. It's just not part of their market. If I ever venture out on my own, believe me, a boundary-busting porn movie will be at the top of my list!

Today, 10/21, is national fisting day. Fisting was considered to be edgy endeavor, the last frontier of sexual experience. I have been fisted (vaginally) by a female which I totally enjoyed but my male partner, with large hands, can not fist me and despite being very limber, I can not fist myself. So......is fisting becoming more common and can women fist themselves satisfactorily?

Yours is a very common problem, and I know plenty of other women who can be fisted with small hands, but not big ones. So, for all the men out there, if you have dainty hands, you're in luck! I think fisting used to be strongly associated with queer folks, and I've noticed that straight, bi, and non-queer identified people are talking a lot more about it these days. In my experience, only a few women I know can fist themselves really well, and it's because of a combination of how they're built, long arms, and great flexibility.

Are you coming to the Midwest at all for your book tour?

I plan to come to Chicago, Milwaukee, and Minneapolis some time in 2012. You can see my tour schedule at http://puckerup.com/tristan-on-tour/.

I consider your Expert Guide to Anal Pleasure for Men video a must have. It was so well made, classy, stylish, and absolutely erotic. However, anal play involving men is basically nonexistent in porn today, and forget about pegging (btw, I too am excited beyond belief for your pegging video). To what do you attribute this when it seems so many more are accepting of anal play. Is it really still just the fear of it being associated with homosexuality? Do you think it will ever move to mainstream porn?

This is a great question. I agree with you that anal play among men who have sex with women, with men as receivers, is becoming more accepted in society at large. I have definitely seen a shift in the dialogue about it in the past decade, and men are speaking more openly about anal pleasure in bigger numbers. Porn is often ahead of the curve in exploring society's sexual taboos, but when it comes to this particular topic, porn is totally lagging behind. I think that straight male sexuality is represented in a very one-dimensional, rigid way in most mainstream porn: men are portrayed as dominant, in charge, experienced, always ready (and rock hard) for sex, and stoic. There is not a lot of room for more complex portrayals of male sexuality, where men are submissive, vocal (in a variety of ways besides, "You like that cock?!?"), less experienced, curious, unskilled but enthusiastic, etc. I think men receiving anal pleasure is still pretty taboo in mainstream porn partly because most of the folks making porn are men (who may have their own issues or hang ups about the topic) and because of unexplored homophobia. I hope this will change. I think it's starting to, but it will take a bunch of performers who are comfortable doing it on camera (because, trust me, plenty of them do it off camera) and a bunch of directors willing to shoot it. Tom Byron, Christian, and Danny Wylde are, right now, among the only top-tier porn performers who will do it. I still can't believe that I shot my first pegging scene—for The Ultimate Guide to Anal Sex for Women 2—in 2001!

I also abandoned hopes of a career in law, after being unable to front the costs of the degree. (I know, an awful reason! And after a 164 on the LSAT!) I'm wondering - if you're comfortable sharing - what led you to digress from a law track?

Was it a strange transition from law school to the sex industry?

Hello and welcome to Eden!

My question: When you earned your degree in American Studies, would you have thought you'd be where you are now with it?

I went to Wesleyan University, where I found a politically-active community, accessible professors, and plenty of sex (funny, I don't think that last part was in the brochure). I did my share of rabble-rousing there, mostly in the form of queer and sex-positive activism. Through my activism, I decided that I wanted to go to law school and become a lawyer for the disenfranchised. Ah, youth and idealism! I had the grades, the recommendations, the over-achieving extracurricular activity list, and some pretty average LSAT scores. Everyone assured me not to worry about the standardized test numbers, so I was shocked to receive ten rejection letters, two "you're on the waiting list" letters, and no acceptance letters. I was devastated. I remember going to my professor and senior thesis advisor, Claire Potter, crying in her office about what to do. Claire said to me in her signature straightforward style:

"Tristan, I don't think you want to go to law school, and I don't think you want to be a lawyer. I think you want to write about sex. I think you're good at it."

Where on Earth did that come from? Well, I had worked for a year and a half on my senior thesis, about butch/femme lesbian sexuality, under her guidance. In the two hundred and fifty page project, I talked a lot about lesbian identity, sadomasochism, pornography, and, yes, sex. I even used lesbian porn stories, magazines, and videos as some of my primary source materials. So, while pornography may not have been my major (it was American Studies) or even my concentration (it was Women's Studies), I managed to make it part of my college curriculum. Later, I was taken off the waiting list and accepted to one school. I decided to take Professor Potter's advice: defer for a year, pursue sex writing, and see what happened.

Claire's advice seemed downright scary to me, not part of my original plan. I didn't know quite where to start. I started by writing erotic fiction; this way, I could write true stories about sex, disguise characters, combine events, and call it fiction. Eventually, I got the opportunity to write non-fiction. The thing is there were a handful of sex writers, but there was no one I could look to and say, "I want to be her when I grow up" or "I want her job/career." The career I have now simply did not exist when I was in college.


There's been a lot of controversy over sex education lately and I was just wondering if you think it is helpful to have sex education programs? Also what is the most important topic to stress during sex education to make an impact on people?

Abstinence-only sex education is what most young people get in schools, and it just sucks. Plus, we know from plenty of studies and statistics, it doesn't work: we have a very high rate of teen pregnancy and STI transmission for a developed nation. I think that the most important topics to teach young people are: how to set boundaries and limits, how to talk about sex, what consent means, and, if they're going to have sex, what some of their options are and how to reduce the risks associated with those activities.

How do you think society views women's position in the sex industry today? Do you think people are recognizing women as growing consumers of pornography and are major producers taking a note of this trend? Do you think our culture is progressing toward a movement where women are shown as being active and demanding in their sexual desires in pornography, or is sexual objectification of women still a major issue?

Female consumers of porn are absolutely acknowledged as a growing consumer group, although there are still some old-timers who simply can't be convinced. Part of what I, and others who are part of the feminist porn movement, are trying to do is really change the way female sexuality is represented on film. For me, it's also important to challenge the dominant ways in which male sexuality is represented in porn, too. Both are still too one-dimensional and stereotypical. There is a lot of work to be done, but I think that the more minorities take control of the means of production, the more of a shift we'll see in how those minorities are represented.

Welcome to Eden!

From what I understand, you work with trans and genderqueer individuals a good bit. Is there an outreach program for genderqueer individuals? Is there a community in place that has local meet and greets like the kinky and poly communities do? Basically, where can I meet more people like me? And what advice would you give a genderqueer individual about being comfortable in their own skin (I know it took me a long time to come to terms with my gender identity versus my physical gender)?

This is a very complex question, one I'm afraid I don't have the time or space in this format to answer thoroughly. I would encourage you to find some of your local resources for LGBT folks. I'm not sure there are groups aimed specifically and only at genderqueers, but I think a support group for queer folks who want to discuss gender identity, for example, would be a good place to start. In some cases, genderqueers find great community among trans people; however, in other instances, they feel alienated from people who choose gender transition. I'm not sure where you are located, but there is a great site called Midwest Genderqueer written by awesome activist and performer JAC Stringer (http://midwestgenderqueer.com), and JAC is very well-connected all over the country. I think that finding support, community, and like-minded individuals is crucial to feeling comfortable in ones' own skin. If you feel ambitious, you could also begin your own group—online or in person—and promote it locally to see who is interested. There are plenty of genderqueer and gender-variant folks who aren't trans out there, you just have to find them! I'm also not sure where you fall on the gender spectrum, but here are some other resources you might find helpful: jizlee.com, genderqueer.tumblr.com, genderqueerrevolution.org, genderfork.com, genderqueerchicago.blogspot.com. Perhaps our host Buck Angel could also chime in with some resources?

Care to share any guilty pleasures that might surprise your fans? How about any hidden talents?

I love reality TV, although I am not sure how surprising that is. Other guilty pleasures: Bon Jovi, Kraft macaroni and cheese, velour track suits...I can't think of others because they all just qualify as pleasures for me. I don't feel much guilt! As for hidden talents, I can organize anything, I have an insanely sharp memory, and I make an amazing apple crumb pie. I'm a pretty fast reader. I'm semi-ambidextrous—I can do a lot with my left hand, although I can't write left handed. I also play a mean game of Bananagrams.

Do you think that porn achieves it's goals of entertainment and pleasure for the audience more efficiently when the performers enjoy producing it? What, in your opinion, is the best way to ensure a safe, happy, cast and crew? Do you think it should be the industry standard?

As a viewer, I find porn more enjoyable when I have no doubt that everyone's having a good time. The minute I sense some ambivalence, discomfort, or coercion, I am totally turned off. Here are my ingredients for a great working environment for my cast and crew: explicit consent, mutual respect, communication, no judgment, collaboration, fair working conditions, good food, safety, enthusiasm, and a huge selection of sex toys on the set. I have my own standards, and I know they are high, but the work experience for everyone matters so much to me.

Do you think it's possible to stay in a strictly "friends with benefits" type relationship? Or do you think that emotions get in the way too much?

I think it completely depends on the people involved. I know people who've been in such relationships that have lasted for years. To make it successful, both (or all) parties need to be on the same page, communicate well, and be clear about expectations and commitments.

Are there podcasts you listen to, enjoy, and would like to recommend? I wonder, being such a well-respected sex educator, you ever feel pigeonholed and unable to talk about your other interests. Share a little---what else is important to you?

I don't feel pigeonholed because I absolutely love what I do. That said, I also like to be asked about other aspects of my life besides sex, so thank you for this question. I adore dogs. I donate to many rescue organizations, I believe that pit bulls have gotten a bad reputation, and I have dogs with special needs. I love gardening; I find it very meditative, calming, and grounding. I like to have my hands in dirt. I love theater and musicals; I'll even watch cheesy musicals, I just adore live theater. I love giving people gifts. I like it when I find something for someone that I know will really speak to them, it's just so wonderful to me. I'm a fantastic secret keeper. I worship dessert—it's the only reason I eat meals (kidding). I have an insane sweet tooth and the cavities to prove it. I listen to a few podcasts regularly that I would recommend. I love In Bed with Susie Bright, of course. I'm a huge fan of Wait, Wait, Don't Tell Me on NPR. I could listen to the podcasts of Buddhist teacher and author Tara Brach anytime; she really inspires me.

hey tristan, i first saw you in "ultimate guide to anal sex for women" I loved it and i especially think that you did an impressive job on the last scene.

my question is, i see that your toys are mostly centered towards the first few inches of one's butt and i wonder if you have ever or will ever market towards depth play? and for that matter, is it a part of your life? im not talking about fisting, just 18-24" of sex toy.

Thanks! As I said in another response about toys, one day, I would love to have my own toy line so I could help design a variety of toys from butt toys to vibrators to cock rings! For now, I just have the Tristan plugs. One of the things that is great about the rectum is that it's longer than the vaginal canal, so you've got more room to play with. I love anal penetration, although I wouldn't say that I'm a "length queen" (similar to a size queen, but you get the idea). The longest thing I've had in my ass was probably only about 12 inches, and that was long enough for me. I get so many questions from folks about longer toys and deep penetration—it's quite popular.

What direction do you plan on taking your adult videos in the future?

My films are constantly evolving. As I learn more about filmmaking, experiment with new techniques, and grow as a filmmaker, my work shifts and changes. I'm constantly coming up with new ideas. I have an entire notebook I carry around that's just devoted to ideas for future projects. I really, really enjoyed the short sex ed "webisodes" I shot for The Smitten Kitten about cunnilingus, fellatio, and the G-spot; I'd love to do more of them. Yours is a big question, but I can answer it this way: I plan to do more sex education films as well as more documentary-style movies. I'm not ready to get any more specific than that. You'll have to stay tuned...

I really love the advice in your book "The Ultimate Guide to Anal Sex for Women" which says that if a toy is at least 8 inches long and you a good hold on it, it's probably safe for anal use. (I think I'm quoting you correctly, please correct me if I am not.)

Sometimes, as we are toy reviewers, some get hung up on "flared bases" for anal toys. While necessary for butt plugs, longer dildos and vibrators seem totally safe if long enough. I mean, long, long dildos are most likely not going to go in too far, especially if one or one's partner has a good hold on it.

I've tried to get the word out and I wonder what else can be done to change a long held view (almost written in stone) that "all" anal toys have to have a flared base.

What do you suggest for changing, even if slightly, a long held mind set like this one?



This is a tricky one. I'm in the "flared base" camp and constantly tell people that toys must have a flared base or a handle (like on anal bead toys, for example) in order to be safe for anal penetration. Of course I know that people use toys in asses without flared bases and as long as they hang on to it, no one's headed to the emergency room. The problem is that as a sex educator, I have to err on the side of caution. There are exceptions to a lot of rules, but I think it's more important to really get the rules out there. There are still WAY too many people going to the ER with objects lost/stuck in their rectums. People put some really inappropriate things in their asses, and it continues to happen. I'm trying to reach the masses with my message, and, unfortunately, the masses need toys with a flared bases.

Off the sex subject; what is your favorite holiday and how do you most enjoy celebrating it?

We have a tradition of celebrating Christmas with chosen family and friends who all come to our house for a few days. On Christmas morning, everyone finds a package near their bed from Santa with pajamas. We all put on our matching pajamas and have breakfast. Then, we head to a local synagogue where we volunteer and deliver hot meals to homebound folks, most of whom are elderly. We come home, put our pajamas back on, open presents, cook, eat, and watch movies all day.

Buck Angel (host): "You are awesome! That made me so happy to hear. That's what the holidays are about, giving! WOOF!!"

Hi there, you mentioned that you like Njoy a lot. I'd love to try it. It's rather expensive. Is there any cheaper alternatives you would recommend that I can get instead of Njoy?

Truthfully, nothing compares to Njoy. I'd rather save my money and buy one than get four other toys. They are expensive because they're made of top-quality medical grade stainless steel by a small, independent company headed by a design wizard. I think we need to support these companies more than the huge ones that mass-produce toys of inferior design and materials.

Which sex myth or misconception bothers you the most? Which sex myth do you often try to dispel? What is the funniest sex myth you have heard, so far?

Too many people believe that their sexuality is weird or not normal because they buy into this myth that there is such a thing as "normal sex" and "great sex." I feel like folks are constantly assuming everyone around them is having this "great sex," but they are strange. I've talked to thousands and thousands of people and no one is having the same kind of sex! We need to let go of the notion that there is some ideal, an ideal that we're all falling short of.

It seems like there are many more young people seeking to become sex educators- do you have any advice for them?

My main question stems off from already asked in that it seems as though many more people are open to the idea of being sex educators. Is there a place that is best to go to for that information - somewhere accredited I mean. Obviously there is a difference between studying something freelance by reading information and practicing the information being read however it's a totally different deal to base a curriculum on what you're wanting to do with your life.

Secondly, if no such curriculum exists that you could suggest, what would be best to study in college to prepare you for a life of sex education?

Thank you for everything you've done with your life - it has inspired many ideas between my wife and I.

If someone is interested in pursuing a career in sex education and they want to take the academic route, I recommend they attend programs and get information from professional organizations related to sexology and sex education, including the American Association of Sex Counselors, Educators, and Therapists (AASECT), and the Society For the Scientific Study of Sexuality (SSSS). There are a growing number of universities in North America that offer advanced degrees in human sexuality. I've compiled a partial list of both organizations and university programs (in the U.S.) which you can find at http://www.vivid-ed.com/index.php?p=resources.

I went the other route and consider myself a self-taught sex educator. I've read thousands of books and attended hundreds of lectures and classes related to sexuality. I worked as a sex educator at Babeland in New York City, which is where I taught my first workshop on sex. The sex-positive stores around the country like Babeland are a great place to get your feet wet, learn a lot, and practice talking to people every day about sex. It was an invaluable experience for me.

If you are interested, I think you need to know that there are many different paths for education and many different options for a career. You have to be willing to be creative and flexible, since it's not a field that is as well-defined as others like the law or accounting. I essentially invented my current career as I went along, I did not have any role models to follow.

Do you believe that there is such a thing as people being addicted to sex? Yesterday I came across the website which talks about sex rehab! Unbelievable, sex a is part of our life, do you believe that you can be addicted to that? Would people who walk around with butt plugs inside their butts all day would be considered to be addicted to sex? =)

First and foremost, "sex addiction" is a BIG BUSINESS making people lots of money. Furthermore, many of the so-called addiction rehab centers and programs are affiliated with churches and religious groups, so you have to find God in order to be "cured." If you look through the criteria for sex addiction, it's insane, and many of us would qualify as addicts based on it. I think it's another symptom of our sex-negative culture, and a lot of the language around it is very shaming. I know one woman who was told she was a sex addict, and, as part of treatment, was not allowed to masturbate ever. That's just bullshit. I think it's become the trendy new rehab because all these public figures need to *do* something to make amends when they've been caught cheating on their partners, paying for sex, or both. If Tiger Woods admits he's a sex addict, we can see him as "sick," instead of, say, recognizing that he likes sexual diversity, wants to be nonmonogamous, is a swinger, whatever. All that said, do I believe that some people get into unhealthy, compulsive behaviors around sex? Absolutely. If your sex life interferes with your ability to otherwise live your life, pay your bills, and interact with the world, you have a problem and need to seek professional help. But I don't think it's an addiction.

Buck Angel (host): "I totally agree. it is amazing how sex has become this bad thing. We all do it,it's natural yet it is bad. Shame on the world for making people feel guilty about something so natural, no wonder we have so much hatred in the world."

Do you believe the Pure Wand to be the most likely effective tool to learn to squirt?

If not what other toy or method would be helpful?



Thanks for all your work and contributions!

Lots of women absolutely adore the Pure Wand and others swear it's the best thing for G-spot stimulation and female ejaculation. I think that the combination of being rock-solid, weighted, and curved does make it an ideal G-spot and squirting toy. However, there is no one magic toy that can make any woman squirt. And, remember, some women can squirt without penetration—from external vulva and clitoral stimulation. I think learning to squirt is all about practice. In the interest of brevity, I'm going to plug one of my two new books, The Secrets of Great G-Spot Orgasms and Female Ejaculation, which has several chapters devoted to this topic.

Hey Tristan, I'm a big fan of your Expert Guide To Anal Pleasure For Men and it's probably the biggest reason why my wife is open to the idea of pegging. So I was very pleased when you mentioned that you are currently working on the Expert Guide to Pegging: Strap-on Anal Sex for Couples. It's definitely one I'm going to pick up when it's released. Care to tease us a little with some details?

I really loved shooting The Expert Guide to Pegging: Strap-on Anal Sex for Couples. One of the scenes is between Jada Fire and Christian; these two have awesome chemistry, and Christian just loves toys and strap-ons. Outlaw Leather from Seattle sent a gorgeous leather harness for Jada that I loved. Dylan Ryan and Wolf Hudson did a really long, rockin' scene with so many positions and different toys. Dylan used the Share double-dildo on Wolf's butt and she had such an intense orgasm, the image is seared in my brain. Jiz Lee and Mickey Mod started their scene on the floor of a bedroom, then moved to the bathroom where they did each other in the shower. Jiz doesn't shoot a lot of scenes like this one, so I was honored that they were willing to do it for this film!

What have you found to be the most challenging so far in your career?

I am quite excited for this interview!

My question for you is, what has been your greatest challenge so far? Whether that be something that you've written that you've had to work extra hard at (more research than the usual or you've had to dig deeper to find inspiration) or perhaps a certain moment in the filming of a movie!

Looking forward to all of your answers!

Welcome Tristan!

As a sex educator, what sort of work are you involved in? What challenges have you had to face in that career path?

Throughout my career, I think the biggest challenge I've faced is a simple one: rejection. First, as a writer, I've gotten just as many rejection letters as anyone else. I was rejected by On Our Backs and several years later became the editor! I can't tell you how many times I've heard, "That's a crazy idea," "No one will buy a book on that topic," "No one's ever made a movie like that," etc. In the moment, it's difficult to hear "No" from people in positions of power. It's hard to hear it and say to yourself, I still believe this is a great idea, and I'm going to go for it. There have been times where I feel like few people supported me in what I wanted to do, but I went and did it anyway. These experiences have really taught me to listen to my instincts, my inner voice and to trust myself.

Have you filmed anything about male chastity for couples? It's an amazingly erotic experience for both parties but the complexities of finding a good device and the false-starts can be discouraging for beginners. I think one of your high-quality educational films about the topic would be very helpful. If you don't want to dedicate an entire film to the topic it could just be a section in a broader film about strap-on play, cuckolding or just general kink/BDSM. Thanks for all your great work!

I haven't filmed a scene around male chastity, but I agree that it's a really hot activity and perfect for exploring dominant/submissive power dynamics. Thanks for the suggestion, and I will try to make it happen in a future film!

Thank you for joining us Tristan!

A number of years ago, a friend was writing a piece for our college paper regarding pornography in relation to feminism vs female objectification, and she interviewed me at the time. The question of reconciling pornography - particularly female submissive pornography - with feminism has stuck with me for nearly ten years now, and I've personally never found a way around the cognitive dissonance of being pro-porn and feminist (aside: I am both). As someone who is actively involved in both the pornography industry and as a feminist, how do you view the relationship between pornography and feminism? As a rider, how do you feel about pornography that depicts women in less-than-equal standing with men (being "tricked" into a scene, verbal degradation, et cet.)?

The relationship between pornography and feminism has a long history, and it's a thorny, complex, difficult one. I identify as a feminist pornographer because I am trying to make a different kind of porn, and I don't see my identity or mission as contradictory (although plenty of anti-porn feminists do). Consent is a crucial part of my filmmaking, which is why it's important for me to include interviews with the performers as part of my films (rather than putting them in a "behind the scenes" section, for example). I want consent established explicitly on film, and I want viewers to know that the performers in my films have agency, power, and play a big role in their own representation. I don't have an issue with depictions of consensual male dominance/female submission in porn; I do have an issue when consent is not clear or it appears that a woman has been coerced in some way. As a viewer, it's a complete turn off for me. As a feminist, it perpetuates these antiquated ideas about both female and male sexuality—that men are constantly chasing, convincing, and coercing women into sex.

Welcome to EF! I see you're a well-rounded individual, what aspect of your career do you like the most? Does this change from project-to-project?

One of the things that I love about my job is that every day is different! I could be writing, editing, teaching a workshop, lecturing at a college, directing a movie, or working on my websites. I enjoy teaching people the most, so whether I am talking to a group of college students or teaching a workshop at a store or event, that's where I feel like I get immediate feedback that I'm really making a difference in people's lives.

Hey Tristan,

I want to thank you for reading, and thank you for giving me (and so many others) porn that's actually kinky and dirty and hot, while not being cringe-inducing and ethically questionable. The other day I was talking to a male friend of mine who confessed on the verge of tears that he likes degradation in porn; porn with a prominent d/s dynamic with women on the submissive end is what turns him on the most. He doesn't let himself watch it because he worries that it means he secretly hates women, and that he is not truly a feminist at all. He is a dear friend of mine, and I know that this suspicion is far from the truth. I directed him to your work, and we talked a long time about the distinction between fantasy and reality, role playing in the bedroom and the roles we take on in the straight world. I told him that many great women enjoy consensual submission and degradation, and that in my estimation, this is healthy and perfectly consistent with my feminism.

My question for you, is what do you make of the way the United States consumes pornography. Is it, on the whole, healthy? Are we, generally speaking, making the distinction between fantasy and reality? Optional sub-questions: if not, in what ways is that affecting how we deal with sexuality in our culture? Are interviews with the actors at the end of particularly rough BDSM flicks a step toward correcting a blurring of that distinction, or do we need to do more?

Thanks for reading, apologies for the wordiness. Keep up the great work; you will always have a loyal supporter in me!

Well first, it is great that you're the kind of friend who your friend feels comfortable talking to about such a loaded topic, and I'm sure he appreciated the validation he got from you. Your question is an important one and there is no easy answer. This is partly because we have so little research about how people actually use pornography and what role it plays in their sexual identities, fantasies, values, and practices. When these anti-porn folks go around saying "porn is ruining everyone's sex lives," that statement is not based on any kind of extensive research. They've talked to a few folks who've told them that, so they have some anecdotal "evidence," which they use to make sweeping generalizations. I think, on the whole, Americans can tell the difference between fantasy and reality since we engage with other fantasy material—books, television, video games, Hollywood movies—all the time. What's necessary is that along with the fantasy of porn, people have solid, honest, explicit sex education, which is woefully lacking in our society. I think when we know more about how our bodies work, how to communicate about sex, and how to express and fulfill desire, then we have a better grip on reality to compare it against fantasy. I'm not ready to make broad, general statement that they way Americans consume pornography is "healthy," I just think it's way too thorny an issue. But I will say that porn has become an easy target on which to blame all of our society's woes and inequalities, and that's just not fair. Sexism, racism, classism, bigotry, and intolerance would still thrive in this country without porn.

It's important for me in my Rough Sex series to make sure viewers know that performers are consenting to what they're about to see, and, in fact, that they are doing exactly what they want and have set boundaries and limits on their own. So the interviews are absolutely critical. This kind of performer agency is crucial, and it also provides viewers with *context* for a scene. I think that context is often missing, which is why some of us end up questioning whether the performers are roleplaying or if someone is genuinely distressed in a rough scene. So, I do think interviews with performers are a good start toward providing context for viewers. I also think that showing a diversity of power exchanges on film (it brings to mind the "switch" scene in Rough Sex 1 with Sasha Grey and Danny Wylde, the kind of scene you rarely see in mainstream porn) is a necessary piece of the puzzle. The repetition of dominant man/submissive woman without any diversity outside of that category and WITHIN that category is a problem. For example, in Rough Sex 2, the way that April Flores submits to Claire Adams is quite different than they way Sinnamon Love submits to Orpheus Black. That's why it's important to hear from women about how they submit, why they submit, and what they get out of it, rather than seeing them act out a one-note role. And I don't think this should just apply to BDSM and rough scenes, I'd like to see it as part of all kinds of scenes. To assume that because a couple is in a romantic setting in a "couples' movie" that consent is implied and power isn't an issue, is absolutely wrong. Romance can be just as treacherous as bondage, really. In the interest of time and space and getting to as many questions as possible, I need to wrap this up. But I really appreciate the questions: they are part of a larger conversation that needs to continue.

Hi Tristain! As a kinky individual, I absolutely adore your 'Rough Sex' series, and was wondering if you had any plans on continuing with it. If so, is there a chance of seeing some rope bondage used by some of your actors/actresses? Rope is one of my kinks, and it's so rare to see it in more mainstream porn, and even more rare to see it done well...

Thanks for your time!

Thanks so much! Yes, I hope to have another Rough Sex movie out soon! Since all the scenes are based on the fantasies of the performers, I'll have to cast a performer who's really into rope bondage. That shouldn't be too difficult...

How do you feel about abstinence only sex education?

Hello! I just wanted to say I love your work! I have a niece whom I am very close to. Everything that she knows about sex is from me because her school is severely lacking in sex ed education. It's not a very conservative school, per say, but the sex ed curriculum has not been changed for many years. They are about to revamp it, and since I am acquainted with some of the administration, they have asked for my opinions. I understand how to educate about sex with a close family member or friend in a more personal way, but I am at a loss for how to help with sex ed in general. Do you have any suggestions?

When a parent states that condoms shouldn't be made available to teenagers because it encourages them to have sex, what goes through your mind? Would you attempt to persuade the parent to educate their child(ren) about safer sex?

My partner and I have three girls. Two are grown, and I'm afraid I gave them inaccurate information about anal sex many years ago. Mainly because I knew little about it at all. A few years ago my husband and I discovered this beautiful way of making love, I want to include at least a mention of it in my discussions with our youngest child, who is still in middle school. I also want to go back and correct the misinformation I gave my older girls. They are now grown, but I feel bad that the info I gave them was not accurate.

What suggestions would you give for educating young people about anal sex? How to approach it, how much to say, what not to leave out, what to leave for later, etc?

This is obviously an important topic that several of you asked questions about: how to talk to young people about sex and what kind of sex education they should get. First, let me say that abstinence-only education is bullshit. It doesn't work, and there is solid research that proves it. Plus, I think it's patronizing; built-in to the arguments for abstinence-only sex education is this idea that we need to "protect" children and young people and we don't want to "give them any ideas." It's incredibly disempowering because what abstinence-only sex education does is withhold information from young people. And because folks in favor of it are convinced *their* kids aren't experimenting with sex, it shames those who are and makes them less likely to seek out advice, safer sex, or birth control when they really need it. Leviathan, I would point the folks in charge of the curriculum to Heather Corrina and the site she created and runs, Scarleteen.com. She is an expert on sex ed for teenagers and her site is rich in resources. Stromy, yes, I encourage all parents to educate their kids about safer sex, consent, and to have a clear discussion about STIs and how you get them. Too often I hear these stories of young people who had no idea they could get an STI from oral sex because it wasn't "sex." We really need to unpack these terms, not make any assumptions, and let young people tell us what kinds of things they are doing. P'Gell, it's difficult to admit to your kids that you made a mistake, but I think you need to do just that. I think you need to approach them and give them the information you know now about anal sex. The important things I would emphasize are that it's an erogenous zone capable of giving both men and women pleasure; how delicate the rectal tissue is, thus the importance of lube, arousal, and warm up; how to practice safer anal sex; how to communicate with a potential partner about what they want and don't want.

Hi Tristan! Hope your back's feeling better.

My question is this- how do you both give and ask for consent during sexytimes? When things are hot and heavy, it feels easier to just "see how it goes" but signs can be misread. How can you make consent, enthusiastic consent, a part of your play and super hot? And, of course, how do you communicate to a lover "that's really not working for me" without hurting their feelings? Thanks!

This is a really important question. I think that making consent part of the play is something everyone needs to learn, and it really goes hand in hand with communication. Ask questions in a sexy way, like "Do you like it when I [fill in here whatever you want to do]" or "What do you want me to do to you right now?" Wait for an enthusiastic response before you proceed. Give feedback in a warm, respectful manner, saying things like "That feels great and would feel even better if we switched positions" or "I'm so turned on, could you go down on me?" or "How about I take over for a while?" It's also important to read your partner's non-verbal cues, their body language, but if you're ever confused or unsure, don't rely on body language alone. Remember, very few humans are mind readers. The rest of us have to open our mouths and speak up as well as open our hearts and really listen.

Do you plan on writing an updated Big Book of Sex Toys? I know the industry changes year after year and it's been a couple years since you wrote that one.

Writing a revised edition of a book is totally up to the publisher, so Quiver Books would have to make that call. But I agree that the industry is constantly changing, so not everything in the book is up-to-the-minute. However, I talk a lot in the book about different types of vibrators (for example, compact clitoral vibes or dual action vibes), not just specific brands and toys, so I think the information will stand the test of time.

From my experience and what I've seen, most people who are good at their craft often have others they depend on for guidance. Would this be true for you? Is that person someone in/familiar with the sex industry? If not, how did they react when you first went to them for advice.

I think mentoring is such an important thing, and there are certainly people who have mentored me over the years, including Ernest Greene, Nina Hartley, and Susie Bright. I have learned so much from them and they are still a big part of my life. I also have a wonderful community of peers, fellow sex educators, and pornographers, who I look to for support and advice. I love to collaborate on projects with people I respect and admire—like my talk with Susie Bright at the 2011 Momentum Conference, The Expert Guide to Sensual Bondage with Midori, workshops with Barbara Carrellas, and plenty of panels with lots of other bright and talented folks. My next book, The Ultimate Guide to Kink: BDSM, Roleplay, and the Erotic Edge, is my most ambitious collaboration to date. Each chapter is written by a different educator, which is an uncommon format for a non-fiction sex education book. It was a difficult, but incredibly rewarding process. I can't wait for it to come out (in February/March 2012).

Tristan I've loved your work and interviews for years. As I've only recently gotten a real job, I've not bought your books previously, but have gotten it at the library.

I am a male in a relationship for the last 24 years. I'm interested in receiving anal stimulation, and eventually strap-on sex. My partner still thinks it's gross and dirty, and unfortunately, after a foolish, uneducated attempt while dating 23 years ago, I've been unable to progress with her past occasionally rimming.

Is there a way you would recommend communicating to her my significant desire to proceed with my own stimulation after all this time, if not her own?

Thanks

I think you need to bite the bullet and have a conversation with her. When we're in long term relationships, we often assume a lot about our partners, so I am going to encourage you to come to it with an open mind. You've changed, she's changed, and you're not the same people you were 24 years ago. Test the waters gently at first to see where she's at. Sometimes, it helps to do a little studying up beforehand so you can respond to any issues she might bring up (like the hygiene/cleanliness issue). Encourage her to think about it and to be open with you about what turns her off about anal play. If she absolutely doesn't want to do it, ask her about you self-stimulating as part of sex with her, and see what she says. I know these conversations can be difficult and scary, but you won't know the answer if you don't ask.

I have a specific question that came up because I'm very much involved in reading (and to some extent translating and writing) slash erotica. What's your view on realism versus fantasy when writing scenes? I'm bugged by stories that for example propagate the myth that painful anal intercourse is normal during the first few times. There are a lot of post abstinence-only young girls in the fandom. I don't want them to end up with fissures, 'cause they read that pain that brings tears to your eyes is normal. Should I raise my concerns while giving feedback on the story (even constructive criticism can be frowned upon in the community)? Or should I leave it be and not interfere with other people's fantasies?

You've brought up one of the central issues with erotic fantasy material: should it be socially responsible or can it just be fantasy? That is a debate worth writing an entire essay about, but I'm just going to give you a few thoughts. I try to include realistic depictions of anal sex—preparation, the use of lube, warm up with fingers and toys, communication—in my porn films, even the ones that aren't specifically marketed as educational. I think it's important because people do learn things from watching porn, and I don't want anyone to think they can just stick a dick in an ass without lube or warm up. As an editor of written erotica, I've read countless stories where negotiation, safer sex, lube, etc. were worked into the story pretty seamlessly, and, to me, didn't mess with the fantasy at all. I think it's totally fair to suggest more realistic and responsible depictions of anal sex in slash erotica.

Tristan,

As a fan of pornography, I wish the male orgasm cycle would be treated differently in movies, i.e., the money shot or the creampie variety.

I have never really seen porn where the male ejaculates earlier in the scene, but still continues to either stimulate the women or otherwise continue having intercourse, as he might very well do in real life. Especially with all the talk about male multiple orgasms, with or without ejaculations, I am always looking for the scenes to show multiple orgasms (with ejaculations) with men.

Ever considered speaking with your actors about this -- or is the sight of a flaccid penis or semen normally spell the end of the scene. Or, are actors unable to perform once they have ejaculated.

Thanks

Jake, thanks for this. You are absolutely right—the male orgasm in porn has become predictable, one-dimensional, and, dare I say it, pretty boring. I've shot several scenes that challenge the basic formula of every scene ending with a single external male ejaculation shot: Bobbi Starr and James Deen in Rough Sex, Penny Flame and Derrick Pierce in Penny Flame's Expert Guide to Rough Sex, and Adrianna Nicole and Ramon Nomar in Rough Sex 3 (where Roman comes three times). But there just are not enough scenes that explore multiple male orgasms with or without ejaculation. Some male performers can keep going after they've come, and others can't, it really depends on the guy. But even if they aren't hard, it would be nice to see them come, then give pleasure to their partners. I 100% agree with you, and I am definitely going to keep this in mind for future films.

Is there any one piece of advice you would give to someone getting into the same line of work as yourself?

Listen to your instincts. Believe in yourself. Don't worry about what other people are doing. Ignore the haters. Figure out what your passion is, and build your mission around it.

When you first started your career, did you get met with any resistance from male colleagues by being a woman in the industry?

Hello Tristan! It's so inspiring to me to see a woman pornographer because that's my ultimate career goal! How easy was you to get in an industry that is mostly dominated by men behind the scenes?

As a woman and a feminist, I am definitely in the minority among directors and producers in the mainstream porn industry. I have absolutely faced sexism, misogyny, and other bullshit from some male directors, but I have been welcomed and encouraged by others. Like in any industry, there are quality people and assholes. My crew (camera, lighting, etc.) is predominantly male and we have tremendous mutual respect for one another. I also feel a very strong affinity to the feminist porn community, where I get lots of support and inspiration.

Do you think the labeling our society does relative to sexual preference or orientation (ie : "homosexual", "bisexual", "straight) is a useful practice? I have given this some considerable thought. To me, wether you have a sexual attraction to some one of the same gender or of the opposite gender is very personal issue. However, sexual preference/orientation has such a powerful impact on our lives and creates so much confusion.

Whether it's useful or not, it's a pretty ingrained practice. I'd love to live in a world where sexual orientation didn't matter as much as it does. You and I can say "It's no big deal," but realize that we have the PRIVILEGE of making a statement like that. Furthermore, heterosexuality is promoted, rewarded, and privileged in multiple ways by our society, so not all sexual orientations are "equal." People have deep investments in their LGB and queer identities and communities. What you consider personal I consider, at this stage of the game, quite political. The reality is that people are kicked out of their homes, bullied at school, assaulted and murdered in this country because of their sexual orientation.

There are a lot of guys out there, myself included, who are erotically obsessed with sexually powerful female figures. Many men want nothing more than to submit to such a woman, have her take control of their sexuality with a male chastity device and exercise her dominance with a strap-on. OK, great. Now there are plenty of feminist women out there, my girlfriend included, who are fighting for equality for women in all societal tiers and in all aspects of life. Shouldn't these two groups teem up? Are they really yearning for something similar? Wouldn't a partnership between them yield better results for everyone?

I am not sure exactly what you're asking in this question. Is it, "Should female dommes and submissive men band together and take over the world?"? I think you're conflating two different notions here: one, the issue of equality for people regardless of gender (one of the things feminists are fighting for) and the desires of dominant women and submissive men. I suppose you could argue for some overlap, but I am not the two automatically go hand in hand. I will agree one on point: we need more feminist-identified men in the feminist movement.

The thing I admire most about your work, is that you acknowledge anal sex, in it's various forms, as a mainstream, normal and acceptable sexual activity. To often in my education anal sex was dismissed as an deviant or abnormal practice. Do you think anal sex is becoming more common and acceptable within society as a whole as our ideals about sex evolve? Also, what advice do you have regarding responsible/hygenic anal sex and what suggestions can you offer to make this an enjoyable and safe form of sexual intercourse which can be engaged in on a regular basis?

I do think that anal pleasure is becoming more accepted in our society. I have seen a pretty dramatic shift between the first publication of my book The Ultimate Guide to Anal Sex for Women (1998) and the second edition (2006). I think that all sexually-active adults should be tested regularly, know their STI status, and, if they aren't in a monogamous or fluid-bonded relationship, always practice safer sex. That goes for all kinds of sex, including anal sex. People often worry about the effects of having anal sex over the long term. As long as you're being responsible, using lube, not pushing yourself too far, you can engage in it on a regular basis. Many people who do it frequently like to have an enema once a week to really clean out the rectum, so you may want to give that a try. If you do, you should wait at least 2 hours between the end of the enema and the beginning of your hot anal sex date.

Has the fact that you are an admired and respected sex educator caused problems in your personal relationships? Do you put undue pressure on yourself? Has your partner(s) ever been intimidated by your involvement in sex education?

I have an amazing partner who I've been with for ten and a half years. We also work together (he is my manager and runs all our sites), and my career does not cause any major problems for us because he is a big part of it. I also have wonderful friends and chosen family who are very supportive and wonderful. I don't consider myself intimidating, and I don't think the people around me do either, although you'd have to ask them! I put a tremendous amount of pressure on myself. I'm my own boss, and I have very high standards and expectations. I'm a type A personality and work extremely hard.

Do you ever feel like people try to co-opt your influence, sway you to their causes, or name-drop you to further themselves? And, if you've noticed it happening, how do you feel about it?

Of course, that kind of thing happens to many authors, performers, celebrities and the like. I have personally noticed bloggers throwing your name into their blog-post-tirades against companies and other people -- or calling on you in their tweets, to add weight to their opinions. It seems a bit opportunistic, even if these people claim to be your biggest fans. Just wondering if you see it and how it makes you feel.

Honestly, I don't have a lot of time or energy to keep up with what people may be saying about me or who may be using my name online. And if I focused on what other people were doing, it would really take away from my mission, goals, and work. You can get really caught up in what other people think of you and in online drama, and I try my very best to steer clear of it. It's unhealthy, unproductive, and says more about them than it does about me. All that said, my name Tristan Taormino®, which is the name on my birth certificate, is also a registered trademark of my company, Tristan Taormino Enterprises, Inc. So, if someone uses my name without my permission to promote a product or event, make a profit, or somehow misrepresent my involvement, I can just call my queer, sex-positive lawyer, and she'll be all over that shit.

I've seen complaints recently from both Violet Blue and Ducky DooLittle about other 'sex educators' ripping off their presentations and articles, and passing them off as their own. Neither of them called out the plagiarist 'educator' - but it seems like this continues to happen as mentions of it pop up every few weeks. In a field where many are self-taught, how can people be sure that the credentials, accomplishments, published works, curricula, etc that an educator claims are REAL? And how do you handle it when someone rips off your work? Or when you've realized that someone is not quite what they claim to be?

I, too, have had my work ripped off by other educators. People have quoted me without attribution or tried to pass off a concept of mine as their own. I've had people misrepresent themselves to me, suggest that they've worked with folks I respect in order to gain credibility, and outright lie about what they've done. Plus, there are lots of folks running around calling themselves "doctor" or "Ph.D." who, in fact, are not doctors, don't have PhDs, or have degrees from educational institutions that are not accredited. It happens in every industry, I think, although because sex education doesn't have the traditional formal training, education, and corporate structure of other fields, people can probably get away with more. I think someone's resume is pretty easy to fact check and where they went to school and who has certified them to be whatever they are does matter. I think people should do their homework and trust their instincts if something doesn't seem right. But, like I said in my previous response, I also can't spend a lot of time worrying about other people. I've got to concentrate on doing the work I want to do, being honest and straightforward, and letting the chips fall where they may.

Dr. Ruth; Susie Bright; Nina Hartley - I'm betting these are just some of the names that as a fresh, unknown college girl you may have looked up to/idolized or at least felt a level of star-struck awe towards or a desire to follow in their footsteps.

What do you think life will be like for you when you are the age they are now? Will you be a household name? Do you WANT to be? I think you could be, and I think you're well on your way; you've accomplished SO much already. True, Dr. Ruth has that "German Grandma" angle in the bag but the advice you give is from personal experience. I once saw a Sue Johanson talk show on TV late one night and I was absolutely horrified at the "advice" she was giving to callers (just as an example, she'd never heard of toe-sucking as an erotic activity). I think you would be much more qualified to do something similar for the general public - is that something you'd want to do eventually, or similar to it?

Thank you so much for such an incredible compliment, and for mentioning me alongside some of my heroes and mentors. My answer is a little cheeky: I hope to be a household name, although whether it's in your household will probably depend on your address. I have accomplished a lot and garnered my fair share of attention from the mainstream media. Television is an incredibly powerful medium and it reaches a massive amount of people. I've actually explored the idea of my own television show several times (including shooting two pilots), with different production companies and networks. To be honest, my experience in television has been discouraging: producers often want to "dumb down" the content, make it less radical, whitewash the message, etc. It has felt like I had to compromise too much in order to simply make something happen. I'm not sure I can be "packaged" for mainstream America (either that or I just haven't met the right producer yet who can do it). I'm too queer, too sex-positive, too kinky, too political, too opinionated, too porny, and so on. I still entertain offers from TV folks, and there may come a time when I'm not too much for them. For now, I'm going to continue to follow my passion, educate as many folks as I can, and be the change I want to see in the world (as Gandhi said).

Thank you to everyone who participated in this community interview. If I didn't get to your question, I apologize, but I had limited time and space. I really appreciate all of you for being a part of this.