So, just as a refresher, an electrode is any device that actually delivers electricity to the person.
EdenFantasys sells two boxes: The Nexus iStim, and the Fetish Fantasy Series shock therapy BDSM kit. Here are photos of both, and below is some explanations of the toys you can buy to use with them.
Nexus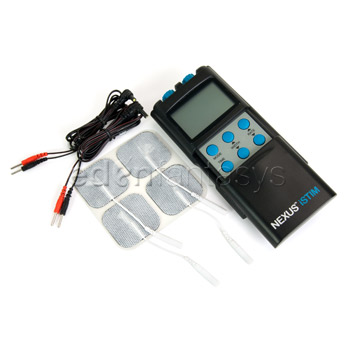 Fetish Fantasy Series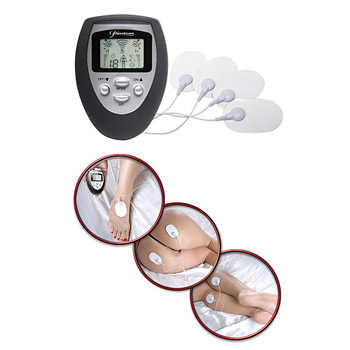 Pads
These are basically just small pads that stick to any part of the body. They are typically small squares, and they have a sticky gel on the side that goes on the person. The gel serves two purposes. The first purpose is to act as an adhesive and keep the pad attached to the person. The second purpose is to help conduct the electricity equally, which helps to prevent any burns from happening. The pads are very versatile and can be placed all over the body. The inner thighs, buttocks, and on the penis are common places for these to be used.
Here is a photo: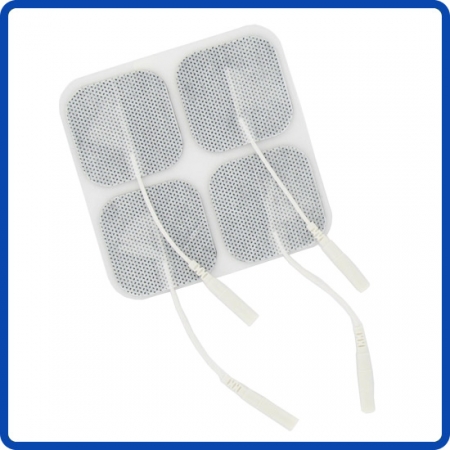 Cock Rings
These are similar to a normal cock ring, but they differ in the material that they are made out of. They are made out of a material that conducts electricity. Typically these are also less about being a cock ring, and more about being an electrosex toy for your testicles. Like a normal cock ring, they go around the testicles and the penis. The cock rings can be connected to an electrosex box and be electrified. Similar to cock rings, there are cock sleeves. Eden actually sells an electrosex faux leather sleeve as part of a kit. This is just a sleeve that goes around the penis and has contact points on it. These contact points are the part that deliver the electricity. Some men find the electrical stimulation of their penis to be very enjoyable, and some even find that it can cause an orgasm, but that will vary from person to person. Here is a photo of the toy I just mentioned.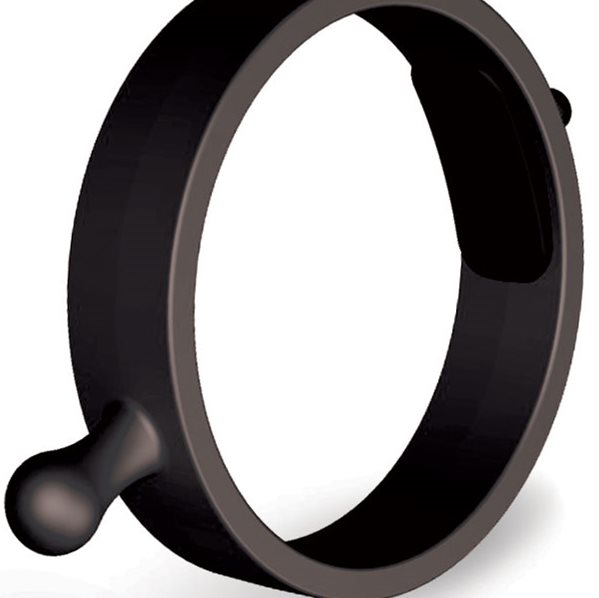 Photo from bondagepedia.org
Anal Plugs
These, too, are similar to a normal anal plug, but they can conduct electricity. These are also sometimes used vaginally. There are two main styles of these plugs. The first is a normal plastic plug that has a conducting metal plate. These have one issue, and that is that they get hard to clean. There is typically a small edge that runs around the metal plate, and bodily fluids and material can get trapped here. This makes them harder to clean and less hygienic than some other plugs.
There are, however, solid plugs that are composed of plastics that conduct electricity. These plugs tend to be more expensive, but are one solid piece. Because they are one solid piece, they are easier to clean.
Here is a photo: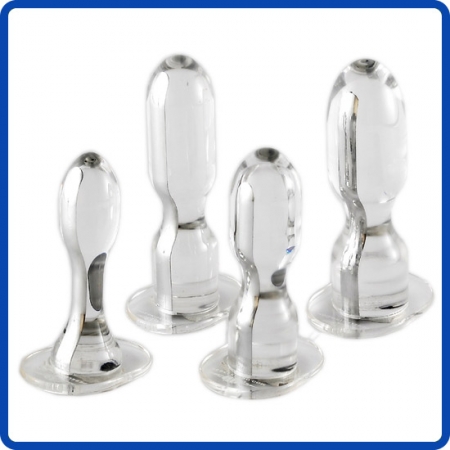 bondagepedia.com
Bullets
There are also bullets that can be attached to a box. They tend to be identical to normal bullets, except instead of vibrating, they shock instead. These tend to be a bit larger, just because there needs to be quite a bit of wiring in them. They can be used for vaginal play, run along the body, or used anally. Here is a photo of the one Eden sells.
Here is a photo of the fetish shock therapy, which includes the clamps, cock toy, and bullet: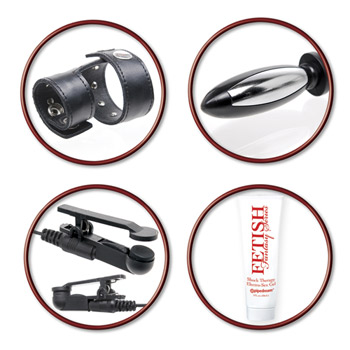 Prostate Toys
These are toys that are meant to put direct pressure on the prostate and be used for elctrosex at the same time. The one that Eden sells is actually an attachment to some of their normal prostate massagers. The Nexus iStim kit comes with three black attachments. These attachments clip onto the prostate massagers Nexus sells (only certain ones, such as the Nexus Excel), and then there is a hole for a wire to be inserted and connected to the box. Then, the prostate massager will conduct electricity and provide electrical stimulation to the prostate, rectum, and anus. This provides a very interesting experience. Most boxes require things to be connected in twos; so, you need to use a pad and a prostate massager for this one to work. This is because it is a bipolar toy; it requires both a positive and a negative end to complete the circuit and get electricity to flow into you, and then out the other electrode. So, you cannot use just a prostate massager alone, as you need a pad on the body, too.
Here is the photo of a Nexus one: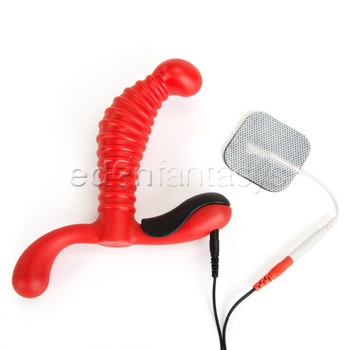 Nipple Clamps
These are like normal nipple clamps, but they have a space where you can connect a wire to them. This allows for the stimulation of the nipples. As I mentioned in my last article, anything above the waist has some increased risk, but it can be very safe to do, as well. It is best to read up on it, and know what signs to watch for in your partner to make sure he/she is alright. These clips tend to not grip as hard, because they focus on the electricity and less on the pressure aspect that most normal nipple clamps provide.
Those are some of the common toys that you can find to have some electrosex fun with. As always, if you have any questions feel free to ask in the comments.