Impact Toys
Today, I want to talk about impact toys and impact play. Impact play is where the bottom is hit with an object any number of times by the top or the dominant. This is done for sexual and erotic gratification and is mostly seen in BDSM play, but not exclusively. Light spanking or small paddles can be seen outside of BDSM. Impact toys are usually broken down into different categories, because each one provides different sensations. They are floggers, whips, canes, paddles, crops, ticklers, and slappers.
There are two main words used to describe impact toys: thuddy and stingy. There are others as well, but these are the two I will mainly be using to describe toys. Even within thuddy and stingy categories there will be variation because as you change length, material, and design you change the sensation. A thuddy toy is a toy that often times has a large surface area or many strands. It tends to provide a very visceral and deep impact, but is often not very painful. I would liken the sensation to a sore muscle. It is a longer, slower warming ache. A stingy toy is one that creates sharper more intense and sudden sensations. These toys are often narrow or have few strands. I would compare a stingy sensation to getting a papercut.
So the first impact toy I will talk about is the riding crop. These can in fact be real riding crops that you can find at your local tack shop (and for a very reasonable price too). There were adapted by those interested into BDSM and converted to a kinky erotic sexual purpose. A riding crop is actually used by people who ride horses. It is a stick with a rectangular piece of leather on the end of it. They are used to hit a horse with and spur them on faster. They are used in pretty much an identical fashion on humans. The head of the toy tends to be relatively small. It is quite flexible and made out of leather, this gives is an somewhat stingy and somewhat thuddy sensation. It is kind of a hybrid between the two of them. They do tend to have long handles so you can swing it with some pretty decent force. Length however does make it harder to use in tight spaces. Because riding crops are used on actual horses, they are often associated with pony play. This is a specific type of role playing where on person takes on a trainer persona while the other takes on the persona of a horse. It is then used as a training tool or to punish the horse if he or she cannot learn how to gallop, trot, or whatever the trainer decides. Typically crops are used in short bursts of a couple hits. Certain toys are used to hit an individual for longer periods of time. A crop is more of a reinforcement toy that likely won't exceed 10 hits in a small time frame.
Here is a photo of a riding crop: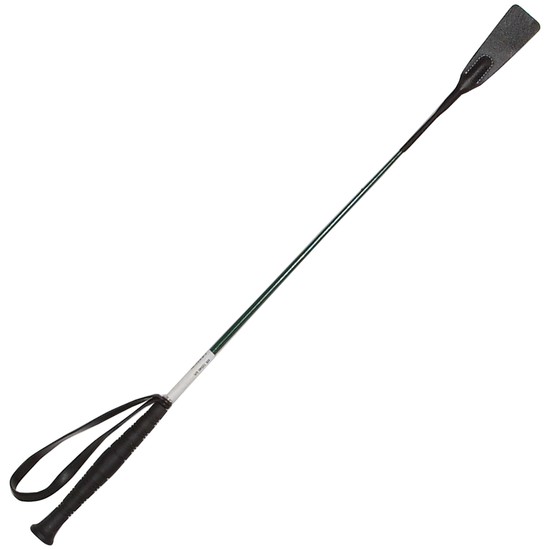 The next impact toy is a flogger. These are quite characteristic of BDSM impact play. Basically it is a handle with strands of material. The toy can be made of rope, leather, suede, or plastic. Floggers vary in lengths, number of strands, thickness of strands, and how the ends of the strands are cut. So floggers are used to flog a person. Now this is often a sexual activity in of itself. There is no "training" or punishment involved. It is just a pleasant sensation. You can run the strands erotically all over the person's body. You can lightly flog their buttocks, back, their thighs, or their breasts. Or you can flog them more force leading to a lovely warm throbbing sensation. As I mentioned, the strand thickness changes the sensation. The thinner the strand the more stingy it is. The wider the strand the more thuddy it is. Then there are materials that change how it feels. Suede is the softest and therefore the most thuddy. Then comes leather. There are different varieties of leather. Elkhide tends to be the softest, then cowhide. Other hides you will need to do some research on, because they are less common. The most stingy are rope and plastic floggers. As you increase the number of strands, you also get thuddier floggers. There is a certain type of flogger called a mop which possesses lots and lots of strands, these are very thuddy floggers. As you start to get down to 8 or 10 strands you get a lot more sting out of a flogger. Then comes the cut on the ends of floggers. There are lots of different styles. You can have a horizontal cut across, you can have a snake tongue, you can have a pointed end, you can have knots in the end. As you make the ends more pointed, you make the flogger more stingy. As you make them more flat you get a thuddier flogger. Floggers, finally, come in different lengths. You can get a full length flogger which is in the range of 32-34 inches long. These have lots of handle and strands and let you really swing them with a lot of motion. They are great because you have lots of control and lots to play with, the downside like all long toys is they are harder to use in close quarters and small spaces. The smaller ones (like the Lelo one on EF) get to be around 12 inches long. Finally, there are aesthetics of floggers. They come in a variety of color combinations, and the handles are braided in a variety of patterns. Sometimes the handles are wooden, sometimes metal, something leather. What you want is a balanced handle. This means the strands and the handle weight a similar amount. This makes the flogger easier to swing and lets you use it for long periods of time without getting tired. I personally think if you were going to try one type of impact toy then a suede flogger would be your best bet. You can create a large number of sensations. Floggers do however tend to be expensive, but the fluffy flogger on EF is a good price.
Here is a photo of a flogger:
Next comes paddles. Paddles, in my mind, are associated with bottom spanking. I do not think they are used elsewhere very much. Typically just because they are bigger and other areas on the body simply would not be large enough. So paddles can be made of wood, they can be leather wrapped, they can have fur on them, they can be plastic. Plastic is the most stingy, then wood, then leather, then fur lined. The larger the "head" of the paddle the more the impact is spread out and the less pain it will inflict. Spanking is an erotic activity because it conjures up images of a younger and an older party, where the older party takes control and disciplines the younger party. There is a distinct power dynamic in spanking. There is also a humiliation factor. There is something embarrassing about a spanking, something embarrassing about being told your punishment reduces you to a child. Because of this, spanking is often seen in teacher/student or student/headmaster role playing fantasies. Oftentimes spankings are used to reinforce a "lesson" and teach the sub to do something or not to do something. Spankings can be quite intense and cause bruising and a lot of redness if done hard, but the buttocks is quite fatty and can take lots of abuse without much concern for important parts (there are no important organs in your buttocks, there are however in your chest so you would not want to spank a chest). I would classify paddles as more intense toys, but they are less stingy then canes and whips. Along with paddles comes bare hands. They too are often used for spankings, they have the added benefit of being far easier to tell how much force you applied, but spanking with your hand for a long time can also cause you some pain.
Here are some paddles: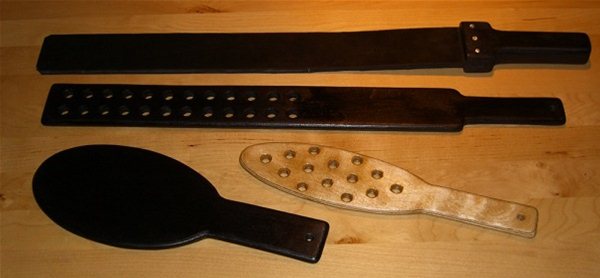 So next we move on to canes. Canes are, well... a cane. They are like an old person cane, only thinner and more flexible. Canes are very stingy. They are the most intense toy and I would compare them to being hit with a ruler, or whipped with a piece of string. Canes are often made out of fibrerglass or rattan (which is wood). Caning hits a small area, so this is why you get the stingy sensation. It also causes welts if you hit hard enough. Most of the other impact toys cause more bruising then welts. And caning can even break the skin if enough force is applied. Caning is typically done on the buttocks, hands, soles of the feet, breasts/chest, pubic bone, or thighs. You do want to be extra careful with hands and feet because you do not want to cause any nerve damage. Caning is definitely a more intense form of impact play and I would say is likely only fun for masochists (those who enjoy pain). Otherwise the sensation is just too intense to be erotic and sensual. Caning fantasies are often similar to paddling fantasies. The teacher bending a student over a desk to cane their bare bottom is one that comes to mind. Canes are very flexible, but they are also very strong. No matter how hard you hit (within reason) you are not going to break a rattan or a fibreglass cane.
Here is a photo of a cane: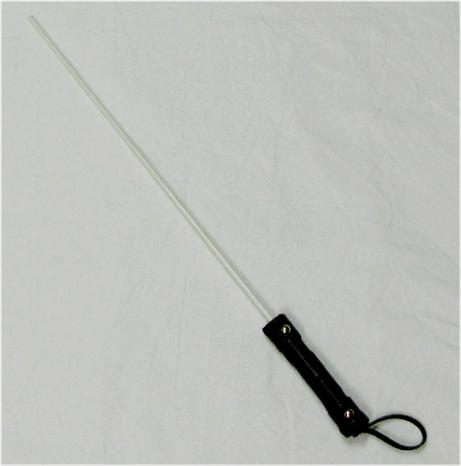 The next impact toy is slappers. Slappers are really just a strap of material. You could think of folding a belt in half. These are kind of like the crop and a mix of stingy and thuddy. A lot of that depends on how wide the material is. These can be made of leather or plastic and as I am sure you have caught on by now the plastic is more stingy then the leather. You can get a pretty good sting from this toy because they are flexible and can wrap around tissue. These toys are less commonly seen, but you do see them. These do tend to be a bit shorter so they are good when you are in close proximity to a person or have a small play space. Sometimes slappers have modifications. For example a tawsee is a slapper but its head is split into two. Thing allows the strands to whip more and makes for a stingier toy.
Here is a photo of a slapper: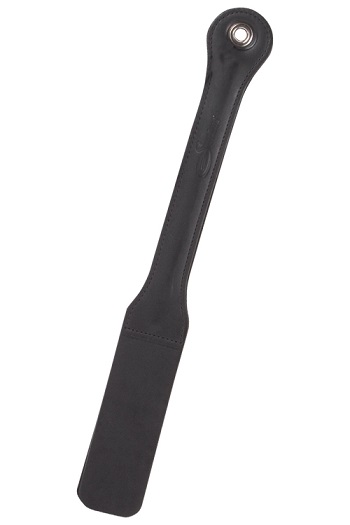 The next impact toy is ticklers and teasers. These are very light toys that I think would be great even for someone who is not interested in BDSM. So these tend to be toys made of something soft. They are made to create sensations, not to hurt. They tickle, they tease, they provoke. There are ones that are feathers on the end of a stick. These are run over a person's body to create pleasurable sensations, or if your partner is ticklish they can be used to tickle your partner. There are also metal ones. These often have some metal beads connected together that are used to run over your partners body. You could use this to whip someone with, but that would be a very intense and very stingy sensation. Metal is also nice because you can use it for temperature play. You can heat or cool the metal balls and they will retain that heat or cold and transfer it to your partner's skin. These are very light toys most often made for foreplay and no for an actual scene. These would be something good to try out if you are just starting out and unsure if impact play is good for you.
Here is a photo of a tickler: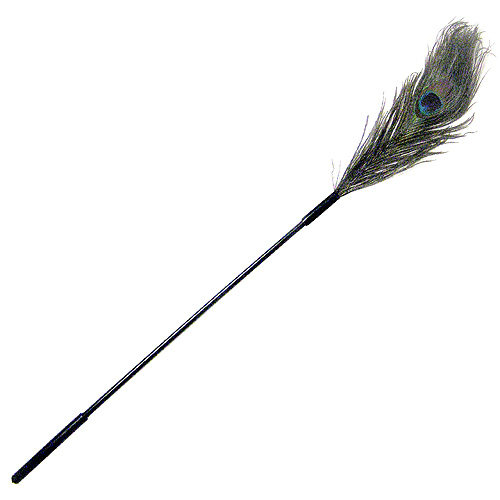 The final toy is a whip. These are real whips that you see in movies like Indiana Jones. These are not a beginner toy, because you could serious harm or even kill a person with a whip. These provide extremely stingy and sharp and intense sensations and are only for experienced users. Certain people enjoy the pain of a whip. Whips are typically made out of rope or leather. The leather would be slightly less stingy, but still would be far more stingy than all the other toys. As you increase the length of the whip you do allow for a more intense sensation to be created. You need to be careful though, because wrapping a whip around someone's body can cause it to strike their chest area. This is where internal organs are found and causing them damage is very bad. This is why most people suggest you practice on a pillow or stuffed animal or target until you can hit it with accuracy all the time. Whips, like floggers, also do tend to be quite expensive. Whips are most often used on a person's back, their thighs, or on their breasts. Like I said though, you have to be very careful not to hit anything you were not aiming for. Whips do come in a variety of colors, and braiding styles. I am not very familiar with whips, because I have never played with them but there are names for all the styles. Names also tend to indicate a specific length and material. If you are whipping a person, the purpose is to hit them with just the very tip. Whips do cause welts and can break the skin.
Here is a photo of a whip: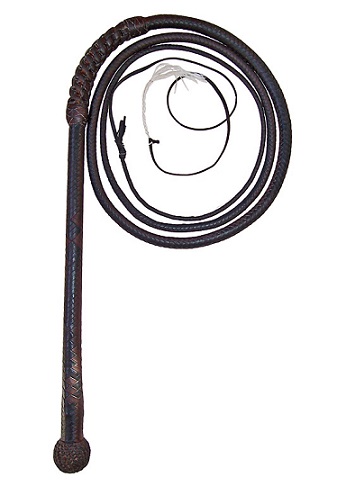 So that is all of the impact toys that are common. Just a final note. Be safe when using these toys. Hitting a person can cause damage to them, so read up on technique and how to safely use your toy before you use it. Most impact toys are porous and you cannot properly sterilize them. The one exception I know of is the silicone paddles that EF sells.
Thanks for reading and keep checking back for more articles on BDSM related toys and activities.