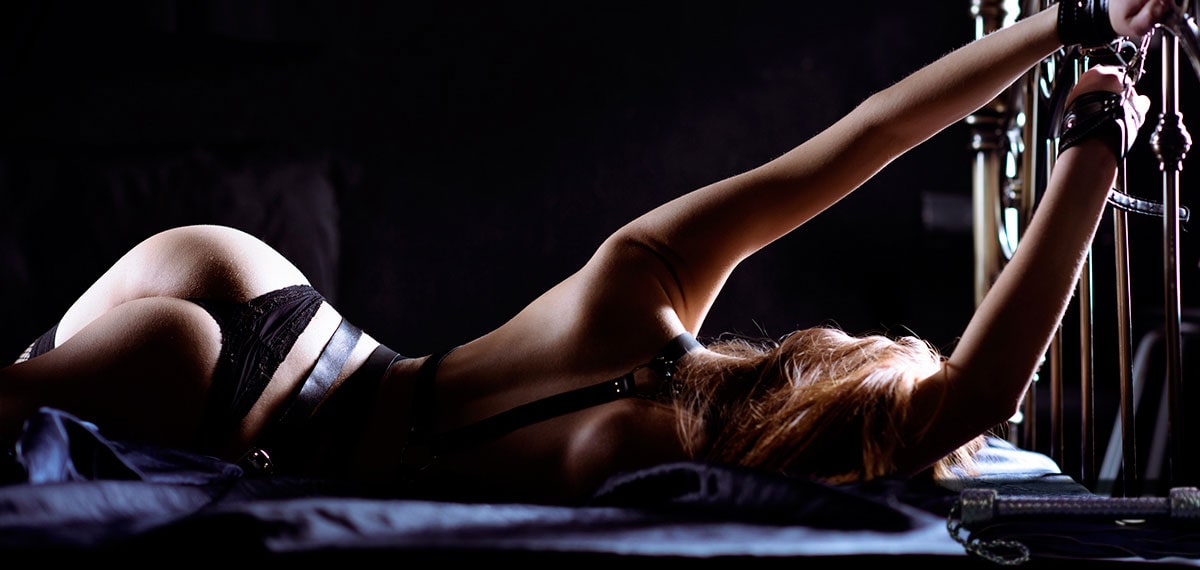 "Sticks and stones may break my bones, but whips and chains excite me" - while everybody knows this Rihanna's song, BDSM remains the practice that is "not for everybody." Though the awareness that BDSM is something forbidden makes it, even more, seducing, agree? Wanna know how to make your first steps into the thrilling sensual world of BDSM? Explore our guide to BDSM for beginners and enjoy a super safe and delightfully kinky play.
So, What Is BDSM?
BDSM (aka Sexual Magic, Power Exchange, S&M, Sexual Surrender, Kinky Sex, Fetish): is a ubiquitous acronym for Bondage and Discipline, Domination and Submission, and Sado-Masochism (S&M).
Commonly, BDSM is categorized as a fetish, which means an obsession with specific objects or activities. There are many inanimate objects linked with BDSM - whips, handcuffs, leather, latex, and many more. However, those will cause an erotic response even when taken out of the BDSM realm.
That is why BDSM stands outside the majority. Complex, beautiful and vibrant, the concept of BDSM lays in many things, not only items or steps. Want to know what BDSM is? You have to experience it because it's not simply a practice - it's a lifestyle.
As a beginner, to fully understand what BDSM is all about, it's important to know that it's not considered super fetishy or "kinky." It's just another means of erotic expression. Want to explore the full potential of your sexuality, but feel alienated and sort of coming on a "darker" side? Give BDSM a chance. You'll be surprised at how friendly and welcoming the BDSM community is toward BDSM beginners. No doubt you can find someone there to have fun with. Want proof? Here our contributors talk about their fetishes - check it out and join in!
What Are BDSM Terms?
Fetish
But one fringe of BDSM, fetishism is an erotic reaction to an object or body part (body type). It used to be defined as a lustful attraction to an object that was not commonly considered arousing. Now, the term has become very vague because so many objects that were once considered "fetish" are now widely seen sensually. Silk stockings, for instance, are a very fetishy object.
You might be a BDSM beginner and not at all a fetishist, but you'd probably consider a pair of sexy legs wearing stockings to be seductive.
SSC
"SSC" (stands for "safe, sane, and consensual") is the name of the most common BDSM safe rules' list. If you want to enjoy a safe and pleasurable session without risks of harm, you and your partner have to ask the following questions before any BDSM play:
Are we sure the practice is safe?
Is it sane to do this? (this includes common sense, staying off booze and drugs, etc)
Am I okay with it? Is my partner okay with it?
If you and your partner are on the same page, and both know what is acceptable for your couple and what is not, you can focus solely on your pleasure, instead of the potential risks. Each person varies in their experience, erotic preferences, and desires. What may be pleasant for you, is not always so for your partner, and vice versa. Therefore, good communication is the first condition for having a positive BDSM relationship.
EdenFantasys recommends:
Discuss your kinks openly and you're sure to find a common kink. Explore this fetish guide for an adventure together.
What Are BDSM Roles?
Ever thought what's up with the word "play" following the BDSM? From a BDSM beginner's perspective, such a play is a theatre stage, where usually people step outside their day-to-day lives/personalities to take a role as an actor would in the theater. That's why everyone involved is called a "player" and what is the BDSM playing role of the participant becomes evident before the game begins and can change during the event. Check out this discussion if you want to see how our community identifies themselves with the given BDSM roles.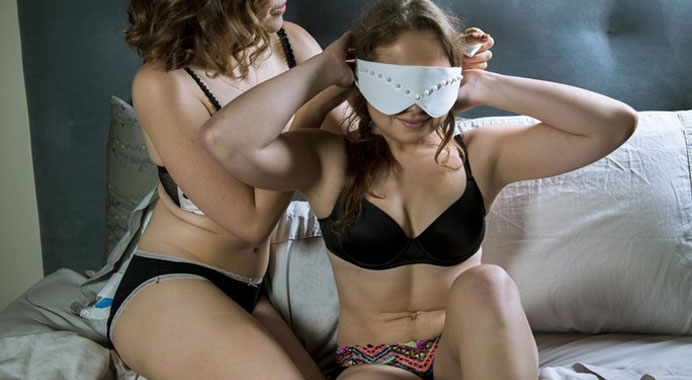 Dom
Also known as Dominant, the player that has been given consensual power/control over another individual(s) in BDSM practice.
Sub
Short for Submissive, the player that has, under pre-established specifications, given up control of their actions, behavior, and body to another person(s) in BDSM.
Top
The one who assumes the active role in BDSM. This is different from a Dom because the Top does not necessarily have any power/control over another individual(s); the Top is carrying out an act upon a Bottom, perhaps even under the explicit directions to the Bottom.
Bottom
A player who is inactive (not necessarily passive) in BDSM. The Bottom does not automatically surrender control to another person's; the Bottom is the player receiving the actions of the Top.
Sadist
In BDSM, it is the one who gets orgasmic pleasure from inflicting pain on another individual. The individual who agrees to receive the pain does not have to derive pleasure from it (as a Masochist would); the person who gets the pain is considered a Bottom.
Masochist
Someone who gets erotic pleasure from receiving pain from another person. The one giving the pain does not have to derive pleasure from it (as a Sadist would); the individual who gives the pain is considered a Top. Ever thought what is your pain vs pleasure level? This forum thread might give you a hint.
Switch
That is an individual that can assume the role of a Dominant or a Submissive, depending on the situation and partner. According to this intriguing pole, 80% of BDSM fans are a Switch.
What Is The Difference Between BDSM Roles?
You might wonder if there is a difference between the relationships of a Dom and a Sub, a Top and a Bottom, a Sadist, and a Masochist. That difference is what makes BDSM so safe. There are strict rules of relationships that are observed rigorously. Dom and Sub exchange power, Top and Bottom exchange actions, and Sadist and Masochist exchange pain. Most people who participate in BDSM activities are some combination of these three categories.
BDSM Activities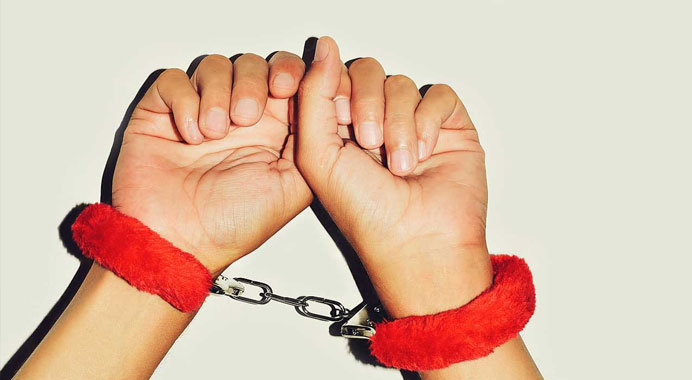 S&M
Or Sadomasochism, often dreaded by the BDSM beginners, is a practice and ideology of giving and receiving pain for pleasure. A popular misconception is that S&M is what BDSM all about, but is more specifically related to the activities of Sadists and Masochists.
Power Exchange
This is the consensual empowerment given to the Dominant by the Submissive. This exchange can last an hour, a week, a year; power can be surrendered to a Dom for whatever length of time the Sub chooses.
Discipline
Much more than just an S&M beating, discipline is the process of changing a Submissive's behavior through any combination of physical, emotional, or psychological punishments - it's never torture until Sub wants it to be.
Spanking
Surely you know it's a process when a hand or a paddle is slapped against the bottom. But what is BDSM spanking? It is usually a part of roleplay, a severe or playful punishment in a dominant/submissive game or merely an excitement perk up during intercourse. Wanna learn how to spank? Here's our handy step-by-step guide.
Bondage
In BDSM, bondage wavers from a form of art to a form of punishment. It is the idea of achieving erotic bliss both by physically restraining and mentally controlling your partner, or giving up said control.
Roleplay
Roleplay in BDSM is what many would call a fantasy festival. Namely, roleplay usually gets BDSM beginners into the mix. Nothing is impossible in roleplay. You can relive any sex fantasy you've ever had, as foreplay or in the act, arousing the deepest, most innate desires.
What Is Vanilla In BDSM Universe?
Every BDSM beginner used to be a vanilla. Vanilla is soft - that's what it is in BDSM. The vanilla-flavored relationships seldom involve the extent of the power exchange and control games that BDSM has. It also rarely involves any roughness, being oh so very sweet.
BDSM is an exceptional lustful theatre, where anyone could experience everything they
dream of.
Example Of Play For BDSM Beginners
An example of kinky play is a great way to dive in and see what BDSM truly is. This scene is gender-inclusive, meaning any participant could a female, a male, both or either.
First player is a student, and the second is a teacher.
The naughty student wants to seduce the teacher. Perfect chance to act out on that schoolgirl/schoolboy preppy look and nasty attitude. The scholar misbehaves, threatening to tell the principal that the tutor hit on him (this is a lie). In exchange for the silence, the teacher must do whatever the student desires.
We are more familiar with the opposite scene, but here the power roles are reversed, making the naughty student a Dom and the tutor acts as a Sub.
It's time to take advantage of the position of power. The second player is ordered to perform oral sex, so they start kissing the inner thighs of their commander, going higher toward the crotch. The professor is a Top at this point because they are the one doing something on the other person, even if that person instructs them to do so. The relationship stands.
Our naughty first player is a Sadist, and they want to spank their teacher with a ruler because that would turn them on. The tutor resists, begs to stop (this should be talked through before the scene) - they are not a Masochist, but they comply with the desires of the Dom. It doesn't mean they don't enjoy the beating, they just act on their role, re-creating a sweet BDSM fantasy - in real life the one who plays the tutor can be all in for some hard flogging.