Restraints / Bondage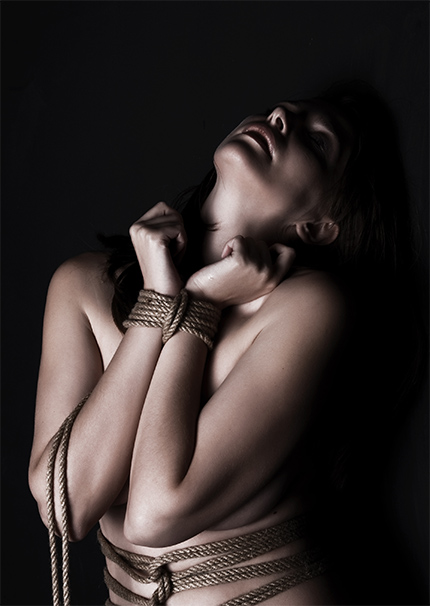 Bondage is defined as restraints (Mental/Verbal or Physical) placed on the body to restrict movement.
Physical restraints include all types of cuff (hand/wrist, ankle, thigh, and thumb), collars, harnesses, belts, ropes, bondage tape, spreader bars, blindfolds, straightjackets, silk ties/scarves, ball gags, as well as cock and ball devices (though some suggest they, like nipple clamps, are for sensation play).
Mental/Verbal bondage, when a Sub is instructed to hold a certain position/posture as if held by physical restraints, but the body itself is not bound. A Sub could be instructed to keep his/her hands on the head until told otherwise by the Dom. If you are curious about bondage but nervous about wearing restraints, this type of play is a good way to start.
Physical bondage is very important to sensation play, especially flogging and other types of S&M, because restraining a Bottom is sometimes a safety precaution as well as a way to exercise the Dom/Sub and Top/Bottom relationships. If you are just experimenting with bondage, restraining a lover can be a very erotic experience. It involves complete sexual surrender and trust in a partner.
Trust is very important in bondage as well as any other type of erotic activity; if you feel you cannot trust a player 100%, DO NOT participate in bondage/restraint play with that person. You will not be able to enjoy the pleasure of surrendering to pure sensation when you are constantly worrying if your Top will perform a nonconsensual act or leave you tied up longer than consented. Please see the section on Consent for more information.