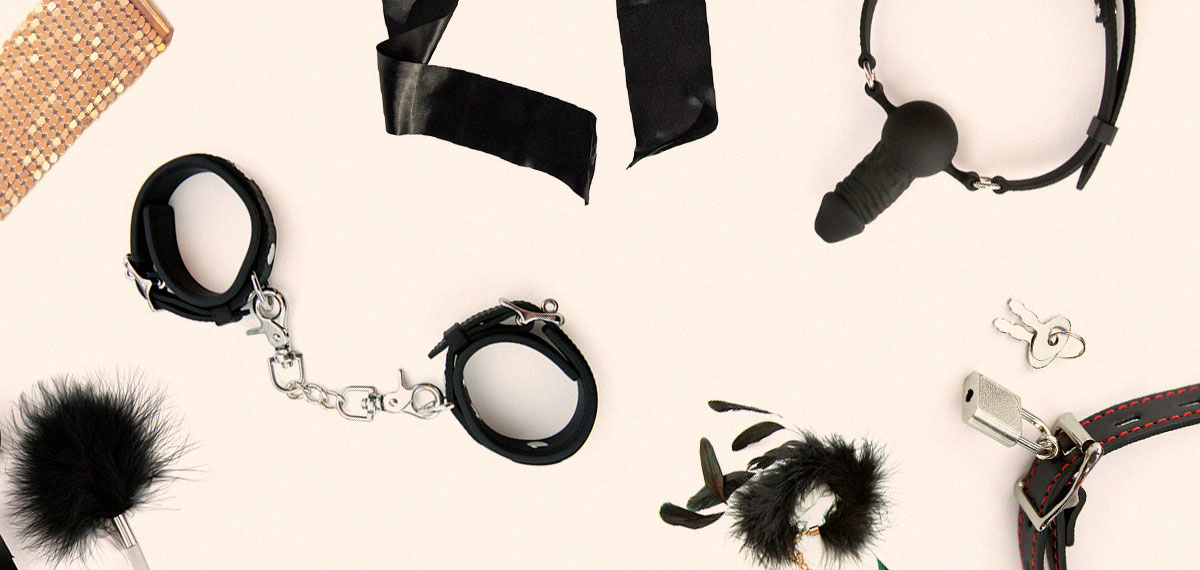 How To Choose Bondage And Restraints For BDSM Play
Oh, we see so many dashing and eXXXtremely seductive bondage scene in the movies - they look fantastic, but they fail to convey the intricacy and the true meaning of BDSM bondage. If you really want to learn where Fifty Shades went wrong and how knotty one can really get with restraints while keeping it safe and sane, this is the guide for you.
1

Why Are Bondage / Sex Restraints So Fun?
Bondage (yup, the first letter of the "BDSM" acronym) is one of the fundamental BDSM games. When bondage is involved, the Bottom usually gets restrained, while the Top does al the kinds of naughty stuff to them. Whatever you choose - ropes, cuffs, or even a simple blindfold - BDSM bondage play is about trust, because you have to fully trust the person who ties you up to a chair, amirite? After trust, come all the treats - the sensory play and all the kinky spanking stuff pairs perfectly with bondage - after all, would you be able to try the whole arsenal of pleasures on a person unless they weren't tied up?
Restraining also helps in establishing the Dom/Sub relationship, putting all the responsibility and power on the shoulders of one of the partners. But, most of all, bondage and sex restraints set a scene, keeping us freer than we are where we're not cuffed, allowing to explore and experience far beyond our comfort zones, playing out fantasies that are too dark to come out to play in a vanilla setting.
Restraining your lover is a very erotic experience. It involves complete sexual surrender and trust in a partner.
There's also the concept of mental/verbal bondage when a Sub is instructed to hold a certain position as if they're held by physical restraints. This is less of a bondage game than it is a mind game, which holds upon the premise of the Sub obeying the Dom fully. It's a cool activity to try out if you are in a power relationship but aren't ready to get tied down just yet.
2

What Are The Coolest Head Restraints?
Blindfold
While for vanilla couples, blindfolds are a gentle introduction to kinky play, in BDSM they are used for sensory deprivation and restraint. When the sense of sight is removed, other sensations tune in, amplified by a hundredfold. The Bottom (the one who is being blindfolded) gets a chance to enjoy the play as pure as it comes, without being distracted and dissolving in their sensations. It also creates an element of surprise because the Sub has no idea if the Dom is going to strike with pleasure or pain. It also works like the fetish mask to get a player into character. Using a blindfold is a good way for BDSM beginners to start playing with sensation and bondage.
Fetish Mask
It doesn' get any more theatrical than with a fetish mask. Assuming a different personality in the course of BDSM roleplay scene is pretty common, and nothing builds up the intensity of a character like a full-on mask. Just like an actor would use costumes and makeup to create a character, a BDSM player can use a fetish mask to get their submissive flow on. The mask strips the player of the need to "put on a face" - they become a silent acceptor of anything that hits them (no pun intended).
Masks with zippers over the mouth and eyes are awesome tools for sensory deprivation, and it's also useful in S&M play as safety gear, to protect the face from stray lashes.
Collar
Since, in a BDSM scene, the Sub is everyone's favorite pet, there's no scene without a pretty collar. Some Doms also wear collars to match his/hers Sub and show "ownership". The collar serves little practical application but represents Dominant's power over the Sub wearing it. Some collars have D-rings so you could complete your game with a leash. If you use a collar, keep it loose enough to slip one finger through.
Leash
You know the drill, all the dog and the cat and ferret persons - leashes are really comfortable when you have to make your pet obey. That is a BDSM leash's purpose, too - it established dominance and plays into the pet fantasy. There are leashes that lead a Submissive around by the genitals or nipples. If you're using a collar with a leash, always lead from the front as not to cut off the player's air supply.
Gag
Gags are used in BDSM mostly to prevent a player from speaking. They are also used as something to bear/bite down on when receiving a flogging. If you are not familiar with gags at all, you are most likely thinking of a ball gag; a red rubber ball (a little bigger than a golf ball) attached to a head strap.
On the other end of the spectrum, there are gags that are akin to horse bits, which can be very brutal for the wearer (but that is usually the objective). Truly effective gag use is gradually achieved. A good variant for beginners is a breathable gag that has holes in the balls allowing the wearer to breathe. Some experienced wearers are able to mouth breathe with a gag, while others learn to breathe through the nose.
When using gags, remember to set a "safe move" instead of a "safe word". Yes, one player cannot voice their likes and dislikes and that's kind of the goal here, but safety comes first. A one-hand clap (if the hands are spread and tied) or a finger snap are good "save move" options.
3

How To Choose The Best Cuffs?
These pieces of bondage gear are worn around the limbs. Most of them have special rings used to bind the limbs together (like traditional handcuffs) or bind them to other objects. Cuffs can be made of a variety of materials, but most are made of leather, nylon/neoprene, or metal.
Wrist / Hand Cuffs
There are many situations where a player can have their wrists restrained and still be able to move if they want. Novice players should get something that won't be too harsh on their skin. You may have the fantasy of being handcuffed by the police, but try using nylon or neoprene restraints instead - they are easier to get out of, softer and comfier.
There are variations on the traditional metal cuffs with fuzzy covers, but they are still not as user-friendly as the synthetic ones. The nylon and neoprene cuffs look like mountain climbing gear and, with the use of straps, can be attached to just about anything worth being tied to - creativity of the knots! Because why knot?
Pink fantasy soft cuffs
Ankle Cuffs
Most wrist cuffs double as ankle cuffs. Play around with spreader bars and straps to keep those bound legs open and other parts fully accessible. Just as their little sibling wrist cuffs, ankle cuffs are more beginner-friendly in the nylon and neoprene, but the leather versions do look much sexier. Pay attention to buckles and closure solutions - pick something without keys to keep your play safe, or go for something with full-on locks to create a real "fetish dungeon" experience.
Leather ankle cuffs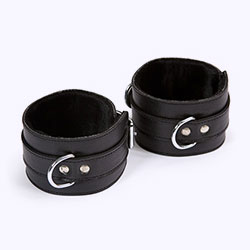 Thigh Cuffs
More groovy than ankle cuffs, thigh cuffs are less traditional, and hence way more fun. Nothing speaks "a sex slave" better than these babes - they are not too restrictive, the Bottom still can walk or keep their legs closed, but the whole body is centered around the sweet bit area, and the Bottom can't do anything about that.
Soft touch thigh cuffs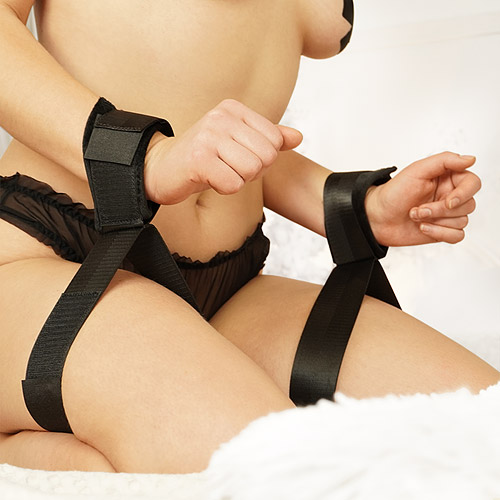 4

Other Types Of Bondage And Restraints
Scarf
Silk scarves, ribbons or ties can be used in BDSM to restrain a player. They can be tied like ropes, they are just not as strong and are not available in long strands for more elaborate knots. Scarves and ribbons are softer and more comfortable than a rope, but knots don't hold up very well on silk. These frisky ties are great for beginners who get anxious or for fetish player who is more keen on the whole setting the scene part than actually restaining their partner.
Straps
Straps or tethers are mostly used to connect restraints to one another or to other objects such as bedposts, chairs, railings, etc. They can also be used as a rope for the art of bondage tying. They are similar to straps for rock climbing and come in a variety of sizes. Bed straps are a great alternative for people that want to try bondage but never sprung for the four-poster bed.
The strap runs under the mattress, and the ends come up over the sides of the bed. You can attach most restraints to it and tuck the ends under the mattress when you're not using the strap. Beginners can get a restraint kit to start off with: a good kit will contain straps, wrist cuffs, and ankle cuffs, aka the full set for a little "sex slave" foreplay.
Spreader
A spreader bar forcefully keeps legs and arms apart during BDSM play. It is usually rigid, at least 18 inches long and has multiple hooks or rings to attach cuffs. They are especially useful to people without bondage-friendly furniture. Spreaders are also convenient when used for leverage during intercourse; you can pull the bar to bring your partner closer or just move it up and down to lift his/her pelvis off the bed. Be careful, the bar is attached to the player's limbs. If you are looking to make an amateur dungeon, spreaders can be hung from the ceiling, as well as connected to a wall or the floor.
Bondage Tape
Bondage tape is a tape that is made specifically for restraining bodies and only sticks to itself: not skin, hair, or anything else. It is our typical adhesive tape and comes in a variety of different colors. The tape can be used to bind body parts together or to objects, and for corseted bondage (sensation play that restrains the whole torso very tightly). The tape is a lot of fun to use and very sexy to look at, but be aware of how tight you are wrapping and leave room for the blood to circulate.
Rope
Rope made for bondage is usually made of cotton or nylon for comfort. This is the most traditional form of bondage, and the Japanese style of rope tying (Shibari) is very beautiful and elaborate. Ropes come in many lengths depending on what you intend to tie up. Some players make entire harnesses out of rope, and others use it simply to tie limbs together and to other objects. If you think that only Boy scouts and sailors can succeed when it comes to tying rope for bondage, know that anyone can manage it with a little practice and a trusting partner.
Green Fact
prefer to be tied up and spanked during bondage play.
5

How To Bondage With Comfort?
Restraint Positions For Spanking And Flogging
Have the player begin in a standing position, arms down at his/her sides. Then place the player's hands resting palm-to-palm in front of the crotch. He/she should keep the shoulders relaxed as much as possible. Have the player kneel, legs together in front of a chair, or the bed. You can put a pillow or folded towel on the floor for his/her knees.
Make sure the player's legs are closed and then restrain the ankles as you did the wrists, leaving room for one finger in the restraint. The player's butt should be now perfectly situated for a good spanking. Even though this position leaves room for some concern about the safety of the genitals, the player can position the hands over his/her crotch if so inclined.
Restraint Positions For Foreplay And Penetration
Have the player lay down (face up or down - however you like). Legs spread apart, preferably, so the ankles are a little further than shoulder length apart. The arms should be raised on either side of the body.
With whatever bondage you choose, restrain the ankles to the opposite sides of the footboard leaving room to slip a finger within the cuff, rope, tape, etc. (this is to avoid cutting off circulation). Then restrain the wrists to the opposite sides of the headboard leaving room for one finger as well.
Once restrained, you can have your way with the captive player in different styles. Penetration is easier if you place a pillow under their butt as he/she will not be able to meet your movements as easily as if unbound. If you find that this is still too difficult, you can use a dildo or vibrator for penetrating your partner.
Be creative to give the restrained Sub as much pleasure as you can. Lick, tickle, bite, use toys on them - anything to make them moan.
Play Only With Those Who You Trust
Trust is very important in any other type of erotic activity and is crucial in bondage. If you feel you cannot trust your co-player a 100%, DO NOT participate in bondage/restraint play. You will not be able to enjoy the surrendering when you are constantly worrying if your Top will perform a non-consensual act or leave you tied up longer than you want.
Control The Longevity Of Play
Remember that the average player should not be restrained for longer than 15-20 minutes, especially in a position where the player is standing, inverted or contorted. Only experienced players have a full understanding of their physical/emotional limits and can choose to push them through prolonged restraint play.
Make Sure It's Not Too Tight
Never restrain a player so tight you cut off the blood circulation. The general rule of thumb is actually the "rule of a finger." There must be at least a finger's worth of slack for each limb inside the restraint. If 2 limbs are being tied together, then leave room for 2 fingers, etc. This includes cuffs of any variety, rope, collars, silk scarves, harnesses, and bondage tape.
Prepare An "Escape Route"
Emergencies happen whether it's a fire or an unexpected visitor. Always have an "escape plan." If you are using restraints with locks, always have the key close at hand. If you are using bondage tape or rope, always have sharp scissors close by. If you get stuck, don't be ashamed to call 911; they have heard and seen it all, so don't think you're the only folks who have ever lost the key to their handcuffs.