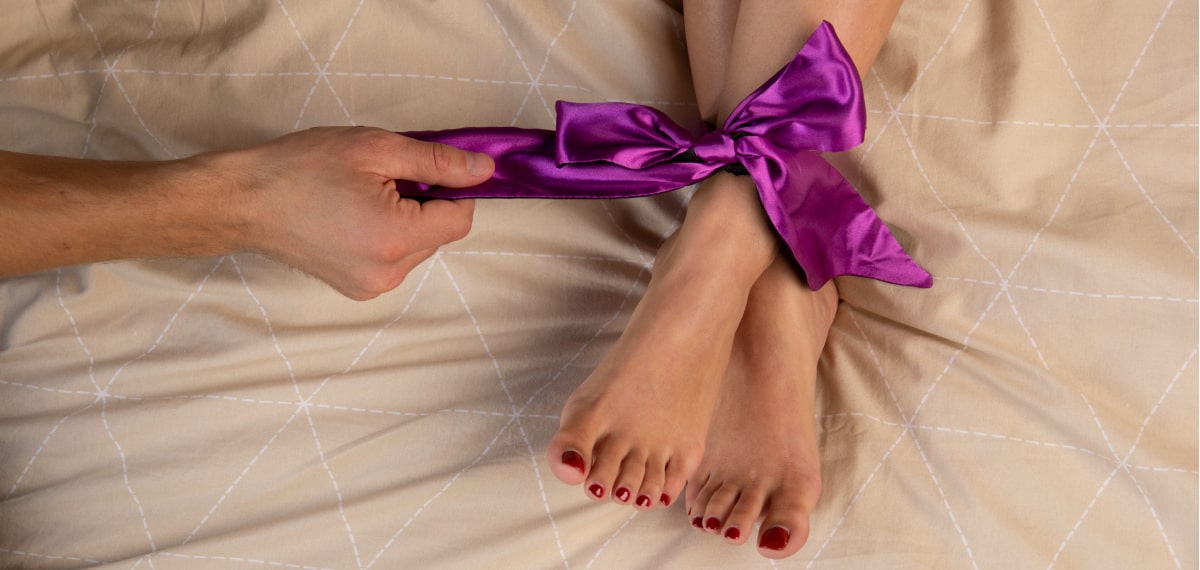 4 kinky scenarios and BDSM sex toys to match
Want to heat up your intimate encounters, but not ready for full-on BDSM? Good news – we've got BDSM-inspired tips, tricks, scenarios, and kinky sex toys you can use to spice up your love life without going all the way. This article will help the BDSM noobies discover their frisky potential, while a seasoned BDSM player can surely pick up some inspiration.
What is Dom/Sub play, and how is it different from BDSM?
Let's start by exploring a BDSM subset called D/S play.
The "D" stands for the Dominant (Dom) partner, and the "S" (Sub) is for the submissive partner. D/S play is a fun way to explore what if feels like when one partner takes charge in a consensual sexual encounter. This might mean a power exchange where the normally-dominant partner takes on the role of a Sub or an extension of the normally dominant partner's role outside the bedroom. Make no mistake about it – this is role play, not a BDSM lifestyle.
In this fun little adventure, we will explore a variety of toys, including blindfolds, cuffs, crops, paddles, and floggers. We left whips, canes, wooden paddles, gags, and nipple clamps out of the picture since they are typically used in high-intensity BDSM scenarios.
The use of D/S toys and techniques are always foreplay – intended to heighten the arousal of both partners before the orgasm comes.
The Best D/S Sex Toys For Your BDSM Scene
Blindfolds
Vision is the primary sense we use to evaluate the world. Using a blindfold results in a heightening of your other senses, especially hearing and touch.
Since beginners don't quite have D/S techniques mastered, the blindfold gives them an embarrassment-free way to play. And the pauses created by the Dom significantly add to the Sub's anticipation, which really supercharges the scene.
Cuffs And Other Restraints
Restrains are best when you are looking to perform some forced play or wish to make the "overpowering" thing really lifelike. A set of simple wrist and/or ankle cuffs can hold the Sub in one position for a while. Face up or face down, in the chair, or even standing using a door holder - whatever rocks your boat.
Velcro fasteners are the easiest to use, but you can go all the way and use keyed cuffs if that turns you on. A serious buckle adds up to the fleur of kinky-ness. Ropes are awesome when you are in the mood for noire roleplay, chains might be too grotesque for any scene that is not a dungeon, but velcro and leather cuffs are perfect for a frisky setting.
Impact Toys
One thing that most people overlook is the versatility of impact sex toys. The intensity and intent of their use make all the difference. Often, a light touch – like a caress or tickle, can have as profound an effect as a hard spanking or flogging. Moving your Sub between soft and firm builds up quite an erotic charge.
Impact toys are fantastic for build-up - they are accessories to your kinky orgasm.
Paddles & Slappers (P&S)
Two important features to consider when purchasing spanking toys for BDSM scenarios are length and width. Lengths from 15"–24" and widths from 2"–4" are appropriate for most D/S play. The goal here is to combine a satisfying "crack" for you with igniting the pleasure centers of the recipient.
P&S are amazing when you are into some punishment/treat roleplay, i.e., teacher and their pet, "you-ve-been-naughty" type of stuff. The craved result of P&S play will be some warming and reddening of the skin. Care should be taken not to create welts – it's a sign you have gone too far. In case you're not sure about how red the bum should actually be, check out this beginner's spanking guide.
Crops
Crops are generally longer and thinner than P&S products. They are used when the target of your strike is a small section of the skin. Because of the tiny narrow tip (a standard tip is about 1," and a longer length is 30"), don't be too aggressive in the beginning.
Remember, the goal of using this spanking tool in your BDSM scenario is an eventual orgasm – not a hurt or angry partner. A crop might be a cool tool if your scene a lip-biting fear factor - since this is a toy that can actually hurt, the play becomes so much more lush. Think sexy boss/employee, "you-want-this-oh-you'll-get-this" kind of scenario.
Floggers
These multi-stranded impact toys are probably the most versatile of this group. The strands are called "falls," and the width of the falls determines the kind of sensation that will result. Narrow falls in the 1/8" range create a "stinging feel, whereas wider 1/2" falls create a "thudding" feeling.
Floggers are so versatile in the type of experience they can provide that they will fit in virtually any kind of scenario. Ranging from gentle tickles to heavy thuds, a flogger can embellish your master/slave, employer/employee, teacher/student fantasy, etc.
Impact Toy Cautions
I cannot stress enough that the impact play must be consensual in any BDSM scenario. The receiver must be able to opt-out at any time with what is often called a "safe word." The Sub can use directing words like "stop," "harder," "softer," "higher," "lower," etc. to signal what they hope to experience next.
Most impacts should take place on the upper back and buttocks, although the chest (of men) and thighs are okay, too. Joints and genitals are generally off base.
EdenFantasys recommends:
For me, women's breasts are off-limits for firm strikes. Although they can be involved in soft-touch techniques with a paddle or crop.
How To Prepare For S/M Play?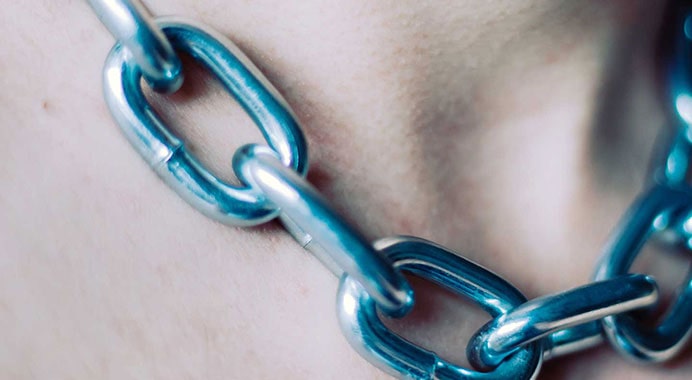 D/S play is generally not a "spur of the moment" activity. IMO, it's best to have some sort of plan going into it. Ask your partner, "Who's driving the bus?" It's essential to decide where the power lies before the game begins. We tend to switch roles, so the answer might be either of us.
For example, if I'm into some severe Sub treatment, I'll mention that "Edgy would be good!" My Dom will respond, "You'll get what I give you!" As you can see, she's willing to ramp things up as her role requires – and that really gets the anticipation going. BTW, it is better to phrase your ideas in the form of what you'd like to be done to you, rather than what you would like to do to them - it sets a safer, more inclusive tone to your conversation.
EdenFantasys recommends:
Paint a mental picture of the scene and verbalize them. Walking through your fantasy will ensure everyone's happy.
Hot BDSM Scenarios You're Oughtta Try
At her command: Female Dom/Male Sub
Having prepared in the shower – clean-shaven and large butt plug in place, my Mistress (Dom) enters the hot shower and calls out, "On the door my pet (Sub) – I'm going to warm things up a bit!" Cuffing myself to the door (velcro makes it easy), I await my Mistress. She doesn't hurry – I am at her disposal.
Briefly showing off her luscious figure accented by revealing lingerie – she pulls the blindfold over my eyes – her visage burned into my mind. "Smack!" My attention turns to my soon-to-be glowing red bottom, greeting her favorite paddle.
The impacts repeat – some hard, some not – until one final, hard crack. "Such a satisfying sound," she coos. "The paddle makes you wet, doesn't it?" I tease, which is enough of a provocation to warrant a thorough flogging.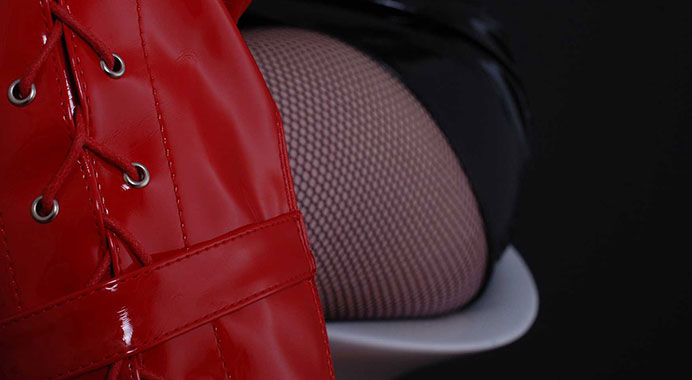 As she gets into her rhythm, the wide flogger falls spread out across my back and buttocks. Reaching around in front of me, she wipes the pre-cum from my penis and laughs, "You love this, don't you?" No need for me to respond, the evidence is clear.
Switching to the fine-fall flogger – the sensations go from thuds – to stings. Forcing my legs apart, the long thin leather falls swing between my legs – adding glancing teases to my jewels.
Releasing me from the door, my Mistress guides me to the bed and secures my ankles spread eagle – to ensure that my inner thighs remain exposed. Removing the blindfold, she lowers her pussy onto my face – "Don't move!" she orders as she gyrates on my face.
Taking the crop in hand (reach is essential here), she flicks my thighs and other assorted areas, causing my body to twist and turn in response to the strikes.
"Stroke your cock for me – cum for your Mistress!" she commands. With the crop finding its mark, and my fist in action – I cum hard – the sight of which drives her over the top, soaking my face with her gushing orgasm.
Queen of the world: Female Dom/Male Sub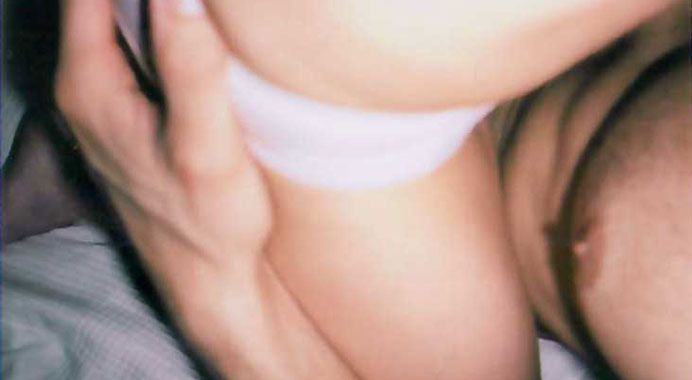 Here's another way to play out the theme, just to get your creative juices flowing.
Tugging on my leash, I feel the collar tighten. "Hands on the bed," she orders. "Crack" – my behind feels the initial sting as my Queen uses her now-famous two-handed technique. The rhythm of the strikes has me near orgasm without even touching me – and I know how wet she gets with her paddles in hand.
"On your back!" she barks, "I'm riding MY cock!" Of course, I belong to her. After adding a few swats to my inner thighs, she climbs on for her Cowgirl ride. "Don't move!" she reminds me – this is her rodeo. Reaching up, I cup her breasts – pinching her nipples with a couple of clamps, driving her to convulse in waves of multiple orgasms – and a warm, explosive gush of nectar.
Climbing up, she smothers my face with her soaking sweetness. Holding my head still & grinding her hips, she opines, "It's good to be the Queen!"
Going for a win-win: Male Dom/Female Sub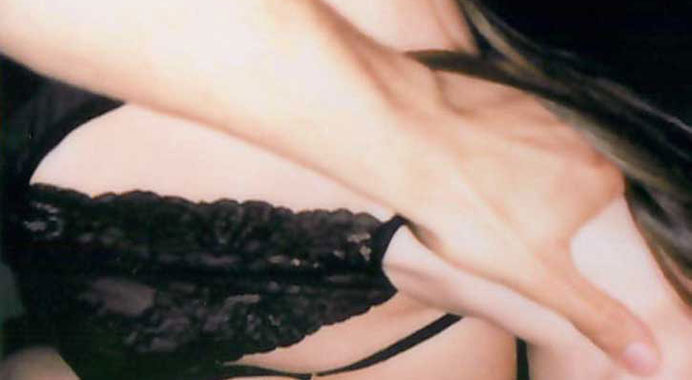 "The bed is ready, go ready yourself for me, face down – ass up," I command. Waiting in the next room until I hear her groan with her first orgasm before entering. "How dare you!" I bark – spanking her ass with the 4" wide paddle (it makes the loudest sound and leaves the biggest red mark – but doesn't hurt her as much as the narrow paddles).
In response to the crack of the paddle, her hand pulls away from her hot clit – "Don't stop, gush if you want!" As I spread the strikes across her buttocks until they glow a light shade of pink – her groans grow louder – her second orgasm tells me that I haven't hit her too hard. Lifting up her face, I knowingly ask, "You need more, don't you?" She doesn't answer – she knows more orgasms are coming!
"Ride this big dildo for me, baby – I know how you love it big!" As her wetness consumes the silicone shaft, I stand on the bed – presenting my cock for her to suck. As she tries to balance the competing sensations in her pussy and mouth, I use the fine-fall flogger to add a pink glow to her back – overwhelming her senses and eliciting orgasm #3.
My insatiable wife will go on to have many more orgasms. She often opines about how unfair it is that she can have so many – and just one for me!
If you haven't had a woman orgasm while giving you head – man, you have to try it.
She can take control, too: Male Dom/Female Sub
One last scenario to give you some ideas – and be sure to share your successes on the Forum.
Stepping back, I admire the visage of my willing Sub. Blindfolded and bedecked with jeweled nipple tassels and open thong. Guiding her hands to the barstool, she dutifully juts her ass toward me, revealing her jeweled butt plug – those beautiful cheeks begging for attention.
Taking the flogger, I use a rotating motion to deliver rhythmic strikes – creating a pink, then a reddening tone on her lovely cheeks. To keep her guessing, I manipulate the falls so that some hits are glancing while others are full contact. Some strikes of flogging elicit coos – others groans.
Topping from the bottom is one of many ways for a Sub to take control of the action!
The spirited Sub that she is – she breaks my rhythm with a request, "May I suck your cock?" Without waiting for my response, she's on her knees, taking me deep in her throat – no preliminaries here! Switching to the broad-fall flogger, I redden her back with firm strokes. She sinks a prostate toy inside and begins massaging my P-spot – quickly delivering my orgasm just as she wanted.
Take Care Of Aftercare
Intimacy and communication are vital for a session to be a success.
Basking in the afterglow of a successful roll-in-the-hay should be a routine part of your repertoire – but it takes on a special meaning after a D/S encounter. Keep the conversation positive with a little self-deprecating humor to let your Sub know that the D/S session is over.
This is the time when the Dom should be listening and learning about what the Sub enjoyed most, could do without, and even things that they would like to see added to the next session. Because of their role, the Sub may be reluctant to talk about things that they didn't like. If so, the Dom should coax the Sub to be forthcoming, making it clear that the Dom is only happy and satisfied when the Sub feels the same way.