"Backstreet Buyers"
Whether you are a new buyer or a seasoned one we all come across the question. Where should I buy my next toy? With so many options out there it is hard to choose. While there is nothing quite like going to a store and seeing each one for yourself before you choose off of the shelf there is always the risk of buying from a non-reputable place, one that is too expensive, or not having all the choices that you could. I have experienced this time and time again.
The first time I went out to buy myself a toy I bought it from a local place. I went in and described what I wanted to the woman who was there to help, she was very nice and helpful which wasn't the problem and still isn't. The problem was the prices! There were many choices, from beginners toys to experienced ones and rechargeable to battery operated. When I told her I wanted something for a beginner, one that is strong, but sleek, and quiet since I live with a few room mates she directed me to one spot. She only had one option and that option was a $66 Evolved Marvel.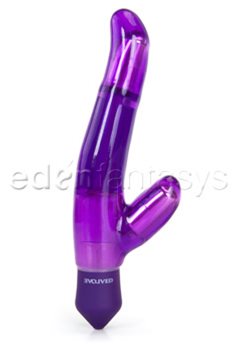 Nice little thing and exactly what I was asking for, except the strong part. Well I've always believed in the give and take and at the time being quiet was more important than strength. I could make up for that. This was $66 can you believe it? However, after a month I wanted another toy. I went online and found EdenFantasys. While I was shopping around I found this same toy, can anyone guess for how much? $33.90. Yeah, half the price of what I paid for it at the other store. Well, this wasn't the news I wanted to hear. Not only did I use gas money to get there and back, but I could have gotten it for half the price! Granted shipping costs money, but here at EdenFantasys there is almost always a free shipping deal going on if you purchase more than X amount of merchandise. With this thought in mind, I decided to look at how much it cost at other online stores. Several sold it for $30 to $40, but most did not have an option for a free shipping.
Needless to say I wasn't happy that because I had actually gone to a store I had bought something for double the price. You may be thinking, that's just one store. Checking a few in person stores, while some might have had a wider selection the prices were still insane! Though, unlike the first store I went in, one did have products on sale. That was nice. I had my product without having to wait for it to arrive in the mail.
I have found that you can buy sex toys on Ebay as well. Personally I wouldn't buy anything like that on Ebay even if it does say never used before. That is just a personal preference, but before you buy anything remember to check who you are buying it from, what their rating is, and if it has never been used before. To some of you this might be second nature, but to some it isn't and can be a dangerous situation waiting to happen for a new buyer trying to find a deal.
I believe that EdenFantasys is one of the best places to buy toys. It is cheap, there is always something on sale, and there are even free gifts and free shipping available for those who buy several items at once, or for those who buy the more expensive items. Shopping around is still the best option if you are low on cash, because even though Edenfantasy has some of the best deals around I have still found some items that are cheaper on other sites. If it's not expensive, and you're only buying one thing, since you won't be able to get free shipping, I would buy it from the cheaper source if you can find one, but make sure it's reputable.