Part One: Lights, Camera... Predicament!
Or, if you're a purist—action.

As any director will tell you, the first shot of a film is crucial—for establishing tone, mood, and what Joseph Campbell called the hero's journey. Pornography, while gratuitous by its own definition, also has its own cool swatches of tone, mood and stoic (or amped) heroism to ascertain. And thus we begin, with a slow fade-in to a pair of artfully bound feet, rope interlaced with rope, in a stately Golden Gate of taut constraint. A few ominous clicks and clacks off-screen; a sanguine splash of nail polish; the first few seconds inform us that the lady in question is both well-heeled and well-heeled.

Pan up: The setting is dank—warehouse dank; the sort of dank that beckons a cattle-call of fantasy—and there she is, the brown-eyed ingénue—for where there's smoke, there's fire; and where there's high heels and rope, there's a lady waiting.

She's a pretty girl, back straight, arms pulled behind her in a braided topknot of human moorings. She would, by most criteria, present the idealized form of the damsel in distress (i.e., pretty, crimson-lipped, if it weren't for that sly smirk pursing her mouth. That being said, if you were to de-colorize the frame, reduce it to a daguerreotype, she'd fit perfectly—and the next thing you'd expect to see would be a mustache-twirling fiend, followed perhaps by an intertitle explaining that the No. 7 train was on its way.

Between the smirk and the glint in her eye, you might think our young damsel was well-accustomed to being the apple of the camera's eye. But not so—in fact, this was Sabrina Wolf's first adult film—ever.
Let's start at the top. Was doing this film a goal of yours?

I'm what the BDSM community calls a "rope slut." I love rope bondage—specifically tight or challenging bondage done with natural fiber rope. I never was that interested in doing Hogtied until Lochai took it over. Lochai and I have played together a few different times, and he's become a friend. When he presented the offer to me at a convention in February of this year, I was thrilled. So has it been a goal? No, but I try to keep a very open mind about life in general, and, never say never.

Okay, so more of a realized passion then?

Well, rope bondage is definitely a part of my lifestyle. My boyfriend and I are in a D/s relationship, with me being the submissive. Rope bondage is my favorite type of play. Honestly, doing it on film was a bonus of sorts, and not really a goal. Playing with Lochai in that capacity was the real draw. I'm what many call a lifestyler; not an adult performer.

It was like a perfect storm of ideal conditions?

Yeah. It was definitely a lot of wishes come true. The Hogtied shoot involved sexual play, which Lochai and I had never done together—which I had never expected, but definitely wasn't going to turn down. I also had some scheduling challenges, and my availability to do the shoot fell in line with when they wanted me to come out. Lochai wanted me; I doubt the talent crew would have selected me. For that I'm extremely grateful. And it's rope bondage—with one of the best riggers alive—yum!

So it was a total win-win scenario.

Honestly? I wouldn't say totally. I was extremely nervous.

Why nervous…and about what, specifically?

Oh, sheesh. I've never done anything on camera. I used to be pretty reluctant to do nude/erotic photos. I've never ever done video, never even in private. I'd just done my first erotic adult photo shoot a few days before I flew out to California. Plus a total lack of experience, the fact that I'm average height and weight and not model skinny, being out there by myself versus with my partner, etc. All played a factor.

So you didn't just get your feet wet, you jumped right in.

Oh, yeah. I have a bad habit of doing that. I'm an adrenaline junkie by nature. My day job, my hobbies, etc., all involve a certain element of danger and lack continuity. But I'm definitely not an exhibitionist. Which makes doing something like the Hogtied shoot a totally new experience.

Let's talk about the shoot and the circumstances a little. You went out there alone?

Yeah...I went out there on a Wednesday, did the shoot Thursday, and flew home on Friday. It was somewhat short notice, and my partner and I didn't have time to make arrangements for him—and the money was an issue as well, since Kink paid my travel costs. I was also concerned that he would be bored out there without me, knowing I was going to be busy all day Thursday. And I knew that he couldn't stay in the model dorms with me, so we'd have had to find a hotel close to the Armory. The whole thing of him going out there with me was a logistical nightmare. I can definitely tell you that no matter the logistical nightmare, I will never do a shoot like that without him ever again.

Did making the trip alone help steel your resolve, or did it make you even more nervous?

Significantly more nervous. It sounds corny, but he really is my rock. We're at a level in our relationship where I feel somewhat lost without him. Can I function independently? Absolutely. Do I want to? Absolutely not.

Were you in close contact with him during the trip—especially in leading up to the shoot?

Oh, yes. He took me to the airport. I let him know as soon as I was on the ground; we talked all the way to the Armory. I went out with a group of friends locally—the time difference was a little bit of a factor, but he and I talked again the morning of the shoot. After the shoot was a totally different experience.

How so?

Well, the shoot is much longer than it appears on video. Four and a half hours, to be exact—not including wardrobe and makeup. So I spent four and a half hours on set. I had never done a scene that long. Granted I had breaks; we were chatting and talking among the four of us throughout. But I spent much of that in what those in the lifestyle call headspace.

Understandable. So, considering both the length and the nature of the shoot, was it more exhausting physically or emotionally?

Emotionally for sure. I do feel submissive towards Lochai. My partner entrusted me to him while I was there, so I was effectively Lochai's to control.

Was this understood between the three of you?

Yes. Discussed in length and detail before I even agreed to the shoot. Lochai and my partner aren't exactly friends, but more than acquaintances.

Having known Lochai previously, did this understanding and bond alter in any way his behavior or demeanor?

Oh, absolutely...there was this one situation the last time Lochai and I played at a convention. There was a standing agreement between Lochai's predecessor on the Hogtied site and the models—anytime he was behind the models, he expected them to be attempting to fondle him. Well, while Lochai and I were playing at the con, I attempted to follow the trend. Somewhat as a joke, somewhat serious. I knew Lochai had taken over; I'd seen some of his work, but didn't know if he was continuing the tradition. And so Lochai called me out to my partner, "Is she supposed to be trying to..." So I got in a little trouble for doing that. But my partner gained a ton of respect for Lochai and his respect for our relationship that day. They've also talked extensively about boundaries and such.

How much negotiation was there between Lochai and your partner?

Discussion in person at the last convention, and trading emails—usually with me in between, but things were nailed down pretty well. Neither of us knew what exactly he had in store, but we had a general idea that there would be rope bondage, fingering, insertion of toys, and vibrator use. I expected Lochai to try and take advantage of my, um, oral skills, because both my partner and I sort of brag about them.

But Lochai doesn't have the models give handjobs or blowjobs on set. Or at least I haven't seen it, and he didn't ask it of me for my shoot. And off-camera, we discussed it—and I wanted to, but Lochai was very clear in that since it wasn't negotiated, it wasn't going to happen. And I was not to call and try and ask permission either, because it would effectively be springing it on my partner.

So essentially, Lochai WAS your dom; and subsequently, he took that responsibility very seriously, it seems.

Yes. That's exactly it. See what I mean when I say he's an amazing person as well as an amazing professional? That's what a lot of people don't know or have the opportunity to appreciate.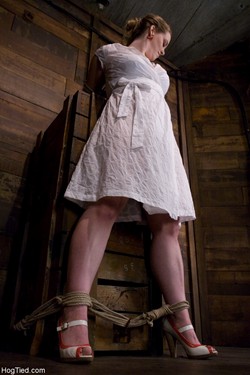 Did you talk with him right before the shoot started? If so, what did he tell you? And what did you tell or ask him?
Oh, yes. We spent some time together at a local club the night before, had coffee together the morning of the shoot, chatted before the shoot, during the breaks between scenes, and then had dinner after the shoot; and he saw me the next morning as I left for the airport. Like my partner, he and I were in constant communication. He told me that he wanted real reactions, not to fake things. We discussed the fact that he didn't want me to suffer just because it was the shoot. That I still had control of what happened. If I couldn't handle something, if something needed to be changed, to let him know. He checked on me as far as hydration and sugar levels, etc.
Did you have a safeword or sign during the shoot?
Not one specific word for the most part, except for the last scene. Usually, I can just tell him that something needs to be adjusted or isn't right. The last scene, I was hogtied and gagged, and he was behind me so couldn't see my eyes or my face. That scene, he told me when he gagged me, because he didn't use the gag at first, but when he put it in my mouth he let me know three strong, quick grunts meant "check on me." Again, I feel like in my instance, as I can't speak for anyone else, he took really good care of me. And he has two others in the room that are aware of how I'm doing as well. His personal assistant is his right-hand man, and is well-trained in what's going on. His videographer was also right there with me, obviously. Those two can and are somewhat expected to let Lochai know if something doesn't seem right.
How was the anal hook? Is it as truly imposing as it looks?
They suck! No, really, they're not that bad. It was challenging under the circumstances—a really tight hogtie, then he ties my hair to the anal hook. He played nice and used the smooth one. He could have used one with a ball on the end of it, but didn't. He tied my hair to it, up and over the center tie of the hogtie. So if I pulled my head forward or down too much, I effectively impaled myself further—predicament bondage. But my neck was killing me pretty quickly, not to mention orgasms making me toss my head involuntarily. Fun, but challenging to physically endure.
How did you feel physically afterward?
I was somewhat tired, and a little sore all over, but good. I had some pretty wicked rope-marks for a few hours, but I heal really quickly, so they were almost gone by the next morning.
How did you feel when you got back home?
Pretty drained, really. Grateful to be home and back in my partner's arms. Being in San Francisco was stressful for me, because it feels very high-fashion, high-protocol, high-fetish to me. So many beautiful people that I met and was in the same place with. I just didn't feel like I fit in. I felt much better at home where I'm known and loved.
I had mixed feelings about if I'd ever do it again until after the shoot was released. Had I been asked to come back before the release party, I'd have said, "Not right now, ask me in a few months." If they asked me now, I'd have to tell them I need to wait until I figure out what's going on with my job opportunities, and that I'd get back to them when I know if I can do it again. But...I really don't think it's an issue; I haven't been contacted by them or anyone else I've applied with. Part of that could be that I'm not local to the San Fran or L.A. area, so it's expensive to bring me out there, and part of it may be that I'm not what they're looking for. Either way, I have no regrets and had a positive experience overall.
Earlier, you alluded to body size and type. You're by no means overweight; however, it does appear that many fetish models/performers tend to fall in the 'size zero' range.

Yeah. I'm not your typical model. Models are usually 5'8" or taller, and everyone knows all the perfect measurements. Totally not me. And yes, adult performers are not always your typical models, but they're pretty close. Large breasts, and most, other than niche work, are pretty thin.

However, I've noticed that they're starting to bring in more 'real women'. I'm not fond of that term, because I feel like we're all real women, but I understand the effect they're going for with the term. Fetish fashion is still fashion, and many of the same standards apply. Adult entertainment varies.


If you had to choose a term, what would you choose?

I wouldn't say 'average' either, because that implies a lack of individuality. Honestly, I'm not sure. I guess it plays into the 'girl next door' image.


Have you had any reaction specifically to your look since the film went live online?

The reaction's been overwhelmingly positive, from the feedback that I've received. To me, it seems there is definitely a desire to mix up the models. There's still a high demand for industry professionals, and that makes sense—they wouldn't be successful without the demand. However, there also seems to be a desire among the general public for more of the 'girl next door' model. The one that isn't a size zero.

It seems there're many who appreciate and enjoy models of all sizes, ranging from the size zero to a plus-size model like me. I'm not plus size by clothing standards; but by modeling standards, I am. It seems many just want variety. I think that seeing the 'girl next door' type makes some of their fantasies more believable. Many don't see the professionals as real people; they're out of reach in the minds of many viewers. Someone like me goes on Hogtied, and some viewers identify with my situation more, like they could easily be in Lochai's position with me. So I think it's a mix of wanting variety and the perception that I'm more accessible to the viewer.


Do you plan to do more—become a pro? Or is this a one-shot deal?

Well, my future in adult kink modeling is really unsure right now. I am at a point in my vanilla career where some things are changing. Surprisingly enough, the kinky population is composed of a lot of real people, with day jobs!

Right now, I'm at a point where my day job may be expanding into a career that may prevent me from continuing. I will never stop pursuing my interests in my private life, and even in my local BDSM community, but doing more adult films may not be an option. I don't know how to put it any more discreetly, but basically I'm in the process of obtaining a top secret clearance for my job. I don't think that my participation in the adult industry will hinder that, but they may very well say don't do it again.

I guess the easiest way to answer that question is that my career may be moving to a point where my participation in the adult industry will no longer be acceptable. I'll never regret it, and I will never be ashamed of what I've done. I wouldn't have done it if that were going to be the case.


Does that bother you, or is it the sort of thing where you can say "hey, I got to do it once—that's good enough for me"?

That's a somewhat tough question. I am not as happy with the shoot personally as many of the viewers, including Lochai and my partner have been. Obviously Lochai wouldn't have made it live if he wasn't pleased with it. I feel like physically I have more work to do before I'd be comfortable repeating the experience. But does it bother me that because my career choice may prevent me from doing it again should the opportunity arise? Nope, not a bit. I love what I do as a paramedic. Would I like to do these productions on a regular basis? Absolutely. Do I want to make it a career? Nope. In my experience, it's very challenging to maintain BDSM in the industry and then maintain it at home as well. It's just like anything else. If you do it all day at work, you're reluctant to do it frequently at home. My personal relationship with my partner, my friends and my family—will always come first. And I think it would be detrimental to my personal relationships to attempt to pursue the adult industry as a career. So for me it's not really an option. For others it seems to work well.


You said that you feel like you have more physical work to do before repeating the experience—can you elaborate on that?

Sure. I spoke about it briefly before. It's a major reason I said I wouldn't repeat the experience without my partner present. Lochai and his crew were downloading the film and video onto the computers, and he showed me some of it. I freaked. We're always the most critical of ourselves—but I took one look, saw all the personal flaws, and about lost it. I've seen many of the Hogtied shoots. My shoot was different from the norm because I am reasonably proportionate, but I am heavier than most of the models. I have larger thighs, my stomach isn't washboard-flat, I don't have double-D breasts, etc. The contrast of seeing myself on the same set as some of the other shoots I've seen was concerning.

I was thinking that there was no way anyone would want to pay to see this. It's me caving into the stereotypical pressure of, in my view, society as a whole. I had to be reminded that if Lochai didn't anticipate my shoot to be successful, he wouldn't have brought me out there from the other side of the country. If the talent department or anyone else had major objections, I wouldn't be there. I had the support of many of my friends here at home, saying that they were really looking forward to seeing it. I was just as nervous about it being released on the site as I was actually doing the shoot.
You had a viewing party for the film?

Yes! The viewing party exploded into something significantly bigger than I ever anticipated. Around twenty-five people showed up to a friend's house, where he has a big projection screen, a subscription to Hogtied, and an HD projector. And I gotta tell you, I'd seen it already—I watched it with my partner the day it came out. But still, seeing myself on a big screen like that...in all my intimate details...was...interesting.


Was it nerve-wracking? Arousing?

There was food, alcohol—thankfully. And I was completely surrounded by friends. It was nerve-wracking because I was scared they'd hate it, but had also been told a hundred times that these are my friends and they've seen me naked at the club before, and they all love me. They also reminded me they'd beat up anyone that said anything negative.

It definitely wasn't arousing for me. I know some performers that get aroused by watching their own performances as well as others, but that's not me. I'm sitting there analyzing everything.

I will say that I do take pride in what I've done, despite the flaws. Lochai put me through some pretty challenging situations, and I did it. I also actually went through with the shoot, so I do take pride in it to some extent, but I'm not an exhibitionist. It's weird; I care about what the membership thinks of the video—it does matter—but not as much as what my friends think. My BDSM friends are what I call my chosen family. I've never had such close relationships as I have with some of them. But ultimately, if Lochai is pleased with it, and my partner is pleased, that's about all that truly matters. The others pale in comparison.

I really try not to do anything I'd be ashamed of; and when I do, I own up to it, learn from it, and move on. This is me, and you have every right to choose if you want to be involved in my life in any way. If you choose not to, I respect that. So yeah, I try and be a pretty live and let live kind of person.


And now—it's up, it's out; your friends—and membership holders—have seen it. How do you feel about it now?

Right now, I'm reasonably proud of it. I'm more proud of the scenes that I made it through than how it looks. It was definitely the most challenging bondage I've been in to date, so that for me is something to be proud of.


What was your partner's initial reaction when he first saw the film?

He's always said, from day one in our sexual relationship, that he thinks I'm sexy and beautiful when I'm aroused and during orgasm. So he really enjoyed the shoot, was really proud of me, and said he felt special that I'm his girl. He's a keeper, for sure.


Okay—any words of wisdom you'd like to leave the readers with?

Adult entertainment is done by real people that put their pants on the same way you do—but it can be a really challenging experience that isn't right for everyone. Oh yeah—and I'm plugging this: please help support Mz Berlin! She's an adult entertainer in a major custody battle because she's an adult fetish performer. She's being prosecuted as an unfit parent because of her legal profession as an adult performer. Makes me crazy. I'm trying to spread the word so that people understand this is really happening, even if they aren't able to contribute financially—just boosting the signal helps.


Of course. So—last question: what's worse—predicament bondage, or an in-depth interview?

I've honestly enjoyed both! It's been fun. This is another first, so it's always nice to experience new things. Masochist that I am, I suppose!