Rachel Kramer Bussel looked on radiantly as the crowd swelled to fill the room, one last time. After more than five years of hosting this event, giving public voice to over 200 readers, feeding the audience's minds and eyes with deliciously sexy words and images, and their bellies with thousands of free cupcakes and goodies, the
In The Flesh Reading Series
has come to an end.
Curator and host,
Rachel Kramer Bussel
, an acclaimed erotic writer, editor, and SexIs columnist, launched this series as a way to highlight some of the country's best erotic writers; taking something she knows well and serving it to the city for free every month. Her mission was an undeniable success—every crowded month a testament to her ability to bring people together.
Boasting erotica, memoir, cabaret, comedy, two burlesque performers, sex toy giveaways, 500 free cupcakes and issues of the latest SexIs print edition for all, the finale was raucous and full of surprises. Writer/performer
Michele Carlo
got the night rolling with an excerpt about a teenage virginity dilemma from her memoir,
Fish Out of Agua
.
| | |
| --- | --- |
| Scenes from In the Flesh | |
| Rachel welcomes guests, cupcakes in hand. | Laura Antoniou captivates. |
| | |
| Cyber correspondent Samara O'Shea | Kama Spice heats things up. |
| | |
Next up was
Laura Antoniou
, author of the bestselling
The Marketplace
series, editor, and sexuality educator, with a steamy tale of tattooing. Her performance was followed by author and famed letter writer
Samara O'Shea
reading email transcripts of witty repartee between herself and an "anonymous author of some renown" that left the room in stitches.
The surprise one-man cabaret by Lambda Literary Award winner
Rakesh Satyal
(author of
Blue Boy
, performer, editor at HarperCollins) had the whole place singing along, as he covered standards and pop hits with joyful improvisations.
Not to be outdone, burlesque sensation (and Slipper Room, Webster Hall, and The Box mainstay)
Stormy Leather
followed with a show all her own, stripping artfully and harnessing herself while blindfolded and gagged.
Rakesh Satyal's impromptu cabaret.
"Knot" a cloud in the sky…
until Stormy Leather…
ties one on.
Author/journalist
Stephen Markley
shared his misadventures in self-publishing, while the expressive face of erotic novelist
Kama Spice
added to the masterful reading of her supernatural sensual fiction. Nancy Balbirer, designer, performer, and author of
Take Your Shirt Off and Cry
wove vivid memories into a wry tale about a musician, his dead father, and her relationship with them both. Photographer and photocomic CulturePOP creator
Seth Kushner
shared the story, "Bound," which is based on Kramer Bussel and one of her short stories.
Closing the festivities was a reverse striptease double performance by
GiGi La Femme
gigilafemme.com (of Revealed and Wassabasco Burlesque acclaim), who started off sexy and defiant in sparkling black, and ended her act to a serene, soft tune dressed in a white gown.
A moment from "Bound."
Gigi La Femme's reverse striptease.
A bittersweet last few notes hung in the air as Rachel called the room to attention one last time. After her words of appreciation and some details about upcoming events, she was enveloped in warm applause and congratulations—a fitting end to five years of erotic revelry.
"RKB" with SexIs' newest columnist, Twanna Hines, and the latest print issue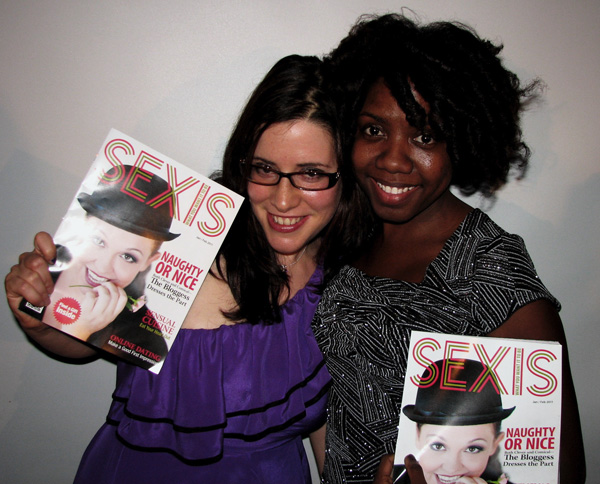 Rachel Kramer Bussel lines up for a last goodbye with participants from the final "In The Flesh."