What is working behind the scenes like as a woman - practically, professionally, and personally?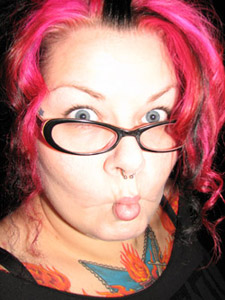 She's a juggler of sex toys and those who love them. She's getting married and learning how to transition after a decade of being a single mother. She's a workaholic, a no-nonsense professional, and occasionally enjoys an afternoon doing some carpentry. She's worked in a brick-and-mortar sex toy store. And now she's got her hands in the cookie jar of the final frontier…the internet. So what's it like behind the scenes as a woman? Is it all dildos, all the time? Or is it actually…you know – work?
How did you get into Mission: Coming Home? Is a loved one currently deployed? What sparked the inclusion of the enlistee's partner?

Being a military wife I love when the community steps forward and supports our military and their families!

Can you tell me more about your current project? (mission: coming home) Is it something you've started? Or joined? In one state only? Or everywhere? Can others help? It sounds awesome!!! But I spose I'm biased

There were two questions about Mission: Coming Home, I am combining my answer as the questions were similar.

My brother is currently deployed in Iraq. 3rd TDY. A few other family members are military as well.

The project was my idea – it came up during a meeting with Fred when we were talking about doing meaningful outreach. I actually got goosebumps when I told him my idea. He was immediately receptive and excited. Fast forward to me buying dozens of baskets, ribbon at AC Moore and putting together the first round of 50 baskets for the project.


It is for soldiers who are currently deployed and their partners. We are sponsoring a romantic evening with one of three luxury baskets. It will be launching soon, so keep an eye on the forum. I'd like the first basket to go to a current Eden contributor, so contact me if you fit the description. I'm really proud of this project and excited about helping soldiers feel appreciated when coming home.

There are a lot of contributors here, how do you find the time to reply to all our questions and requests?

I try to stay organized and prioritize well. It's a juggling act but I make it work.

You're getting married, are you planning on having a large ceremony or something small and intimate?

We're having the wedding and reception in our house with several friends' bands playing afterward. It's a private and fairly small event. We expect about 70 – 90 friends and family. It's going to be really fun and totally our way.

What is your favorite sex toy of all time?

You won't believe me, but the I-Vibe pocket rocket. So reliable, so small and so powerful

Can you remember what was the first sex toy you ever bought?

A jelly rabbit I think by Swedish Erotica…it was a long time ago…seriously, think prehistoric rabbit.

What reaction do you get from friends and family when you tell them what your job is? What about when you worked in a brick-and-mortar sex toy store?

No one is shocked. A lot of people want the inside stories though. They think it's some crazy bizarre 'anything goes' environment.

What's the best thing about being a woman working in this industry? The worst?

The best is how I am received by the community here and online. The worst is how I am judged by people outside the industry. I know that I'm making a difference, so it's worth it to me.

I gotta ask the "bag" question: what would you do with a bag of wax fruit?

Give it to the local thrift store, like all my kids' grown-out –ofs.

How long has your hair been pink? Have you ever dyed it any other colors?

Ok, ask my mom cause I ain't lying…on and off since the 4th grade. My mom dyed streaks of my hair in the 4th grade, at my request, and I've been doing stuff with it ever since. It's been pink, blue, black, blonde, red, green, purple…you name it, many shades and lengths. It's just hair. It was solid 'vampire red' for almost 7 years straight though…til I got sick of it. My son has a magenta and violet mohawk and my daughter has a pink betty page…I guess it runs in the family?


What are your plans for the future? Do you want to work in the sex toy industry forever, or do you have other dreams?

I love my job and hope to be here for a long time. We have a lot of exciting plans in the pipeline. I'll be sticking around and helping in any way that I can to make those plans a reality.

I would like to do more personal writing when I have the time and possibly self-publish. I also plan on becoming a better guitar player and doing more musically.


Do your children know what you do for a living? If they don't, have you found it difficult to keep your 'work life' removed from your personal life?

No, they do not know what the company sells. They know the company as "Eden" and they know that mommy is the Review Program Manager and Editor. Period. My kids don't know that sex toys exist – and they shouldn't. They're 9 and 10 years old.

We are discreet about all of the conversations we have around the kids, whether it's about work, the asshole neighbor or how much money we have in the bank. They don't know who we dislike or how much we pay for electricity either…because they're kids and they shouldn't be concerned with adult matters.


What's your favorite part about working for Edenfantasys?

It is a creative and interactive job. Working with reviewers and having personal discussions with them about toys, use and new ideas is great. It's rewarding to know that we are making people's lives better by providing resources for them to explore their sexuality. It's wonderful to be able to be myself. I get to be creative and professional at the same time. That's rare. I share ideas, opinions and information freely with my boss and the community.

The review program is growing constantly, have you ever felt overwhelmed by it?

It's a lot to keep up with but the growth is a major accomplishment and evidence that I'm doing my job well. It's a cycle in that way.

Will the community ever get the opportunity to read some reviews by you?

Of course! I've recently done a few Description Reviews and will be doing some 'regular' reviews soon. Promise

What unusual talents do you have? Can you cook spaghetti with your toes, for example? (Of course, if you really can juggle sex toys, that definitely counts!)

I draw, play music, tattoo, act…they're not very unusual talents but talent nonetheless. I grew up in a union family, so I can do a lot of drywall, carpentry and other related labor home improvements myself.

I was in the Vagina Monologues two different years at Penn, four performances. I did 'The Flood' in 2006 and "Say It" in 2007. We sold out the 1,200 + seat theater every night and we raised over 35 thousand dollars in 2007 to benefit Women Organized Against Rape. A talent and accomplishment I'm very proud of.


What does your future husband do for a living? What does he think about what you do?

He works practically three jobs: two in the adult industry as well (and no, that had nothing to do with how we met) and the other doing recording / running a studio / band / record label.

He thinks my job is surreal, that it's crazy and funny and very demanding. He has no qualms with it – the only caveats being that I don't talk too much about our intimate life and that I don't talk in detail about my job to his grandma.


If you could change anything you wanted at EF what would it be?

Many people think we have a huge staff, but we're just a small group of hardworking people who wear many hats. We all do more than one job. It would be great if there were more time for staff meetings. It would be great if Eden were closer to my house. It would be great if we had a company jet – you know, normal stuff.

Wow! I'm impressed that you occasionally enjoy an afternoon of carpentry! Have you created any masterpieces that you are extremely proud of?

My fiancé and I built a huge L-shaped desk from lumber and we made shelves to match. I mean huge, like 10 foot by 8 foot huge and the 2 sets of shelves above each portion are the same length. It's attractive and super-sturdy. I finished it with paint and polyurethane.

What is your biggest pet peeve when it comes to reviewers and/or their reviews?

Dishonesty. Poor grammar. Laziness. Exaggeration. Not knowing the definition of the words 'objective' and 'subjective'.

Sorry, I'm just being honest.


Has it been hard for you to find a balance between work, kids and your fiance?

Yes. I work long and often erratic hours. I get up with the kids in the morning, make breakfast, take them to school, work then pick them up from school. I try to break it up so that I'm available to help with homework and talk to the kids about their day. My fiancé and I share cooking and household stuff. We have sit-down-at the-table-together family dinner at least 4 nights a week. It's very taxing and I often am super-tired at the end of the day but I wouldn't have it any other way. I don't feel guilty because I'm able to meet everyone's needs and be present in their lives. I like my life at full capacity. It's hectic, but I'm never bored.

Are you going to be taking a break soon so that you can enjoy a honeymoon with your new spouse? If so, how long can we expect you to be away? I personally hope you do and congratulations!

I wish! But now is just not a good time, with the kids being in school, work, the weather etc. We're going away for one day / night for some private time, Sunday – Monday. I'm probably just taking a 4 day weekend, so I'll be off February 20th – February 23rd returning to business as usual on February 24th.

I know myself, so I'll probably check my work email on Friday, Sunday and Monday – but not Saturday (my wedding day) I swear!

Our real honeymoon is going to be late April / early May. We're going to Nashville and Memphis…just the two of us. And yes, we're going to Graceland while we're there.


If you don't mind sharing, how did you (a single mom with a busy job) and your fiancee meet and how long have you been dating?

We met 2 years ago. I booked his band for a birthday show /house party I had for my 30th birthday. We've been inseparable ever since. I have never known anyone like my fiancé and was sure that he was "the one" within the first few weeks. I had to juggle a bit to make it all work. He and I both have busy lives. We transitioned into merging them a bit. He moved in a few months into the relationship and we got engaged this past May.

My two children adore him. The three of them often conspire against me, since I have to be 'bad cop' sometimes. They play music together and work on projects – it's amazing. I trust him completely and have a deep appreciation and respect for him. It's mushy and gushy, I know – but it's the truth. Our wedding is two weeks from now, Saturday the 21st, and is 2 years to the day that we met.


What do you think were your unique qualifications for landing your current job as review program manager and senior editor for a prominent internet sex toy retailer? Was your Salem College education helpful?

I've held web administration, editorial and development positions over the last 13 years. Prior to that, I worked in retail as a teenager and young adult. The combination of my professional experience, knowing both the front end and backend of retail, my knowledge of the industry and my skill set made me a prime candidate for this job. I understand all of the factors at play here.

I've worked in nonprofit and academia most of my career and gleaned much of what I learned about diplomacy, writing, outreach, cultivation and MS Office within the walls of those institutions.

I learned a lot about the backend of retail when I was the Web Administrator / Marketing Coordinator for a manufacturer for 2 years in between working for public broadcast and later at the Wharton School. I polished my skills at Penn while working in development in External Affairs. Yes, it's a far cry from the adult industry but a lot of the practices I've developed have transferred to how I work in this job.

College only goes so far, I'd say I learned more by doing. Being able to juggle multiple tasks, communicate effectively and be accountable are skills you earn. I have learned many things the hard way, by making mistakes and seeing how I could have worked 'smarter'.

I didn't land this job, I earned it. Other people interviewed, I was chosen. My resume was a factor but not the sole reason I was offered the job. I was the right fit and I showed initiative and potential for being able to grow in the position – which is important, as we are evolving. I proved myself early on that I am a valuable addition.


Has the downturn and layoffs world wide effected business at EF?
Congrats on up comming wedding.

I have seen our review influx double in the last three months, so I want to say no…However, I didn't consult the accountant. We do have an operating budget, so we have to fall within that framework – that does affect how many outreach projects we do. There have been no layoffs. Hopefully people keep loving themselves and each other – and we'll keep the lights on!

Do you have a hero or someone who has made a dramatic impact in your life? How?

My personal hero is my maternal grandmother, Nanna. She was the strongest person I've ever known. She was hardworking, honest, very intelligent and tough as fucking nails. She had the sharpest tongue you'd never want to be on the receiving end of. She raised 5 kids while working fulltime, never made excuses, and gave sage advice. I miss her more than I can ever express. She died of cancer this past Easter. She lived years past her oncologists' predictions. Another testament to her amazing tenacity.

She had high expectations for me. She never showed pity or enabled me to make excuses – she was never that family member who just halfheartedly listened and told you what you wanted to hear. She gave it to me straight. She was brutal at times. She was quick-witted, a born skeptic and keenly self aware. She traveled and read voraciously. She loved fiercely and lived fully. She earned it. She inspires me now more than ever.


How do you think your friends would describe you?

Pretty and nice. Most likely to succeed. Just kidding. Um, mostly.

Honestly, I'm the mother hen or sister to a lot of my friends. I have a pretty big circle of friends and few really close friends. Most of my friends are also friends with my fiancé, which is really nice.

Most of them ask me for advice and talk to me openly about their lives. I'm very open with them about how I feel and what's going on in my life too. I often have people ask me how it is that I can get someone to open up to me and tell me really personal things. That is definitely an asset when you're bartending, I used to joke that I was a "blue collar psychologist".

I can be intense as I feel really strongly about things – I'm "passionate", I guess. That also means that I'm persistent and assertive. I invest deeply. I definitely have some serious Type-A tendencies.

I've had people tell me I'm "unstoppable", "magical", "loyal", "too hopeful" and yes, even "ridiculous". My fiancé, who coincidentally happens to be my very best friend, says to make sure I also list "loud".


I remember once reading that one reason women in porn are paid as much as they are is because having sex on camera virtually eliminates any chance of them having a "normal" job after leaving the industry. I've got to wonder if that idea can be applied to women who work in other fields that, one way or another, deal with sex.

Let's say that tomorrow you woke up and decided that you wanted to become an investment banker (since this is purely hypothetical, we're also assuming you had the requisite experience and the like). Would having worked for sex toy shops present any sort of obstacle in making a career transition like that? How much flexibility do you feel you have were you to want to bounce around between various industries? Have you ever experienced any sort of derision or stereotyping based on your job choices?

Of course having worked in the adult industry would have an effect on one's options and it makes everything from how to list it on a resume to how to discuss the applicable skills from the former job in the interview a bit tricky.

Here's the thing, any good hiring manager will look at the black and white experience and performance from your former positions and couple that with your personality. They're looking for overall fit, so if you're a valid candidate for the job and you're not chosen – you have a right to question why.

I think having worked in this industry could be an asset to another industry – that learning to manage chaos and be more diplomatic by way of the nature of the adult industry could really lend itself to other dynamic jobs.

Have I experienced derision? Yup. While primarily working in the non-profit and academic sector for over a decade, I also worked in other fields, as I often had a second part time job in my single mom days. I was never able to discuss those 'other' jobs during interviews with large trusts and nonprofits because I knew they'd reflect poorly on my character in the eyes of the interviewer. And frankly, that's bullshit.

I learned a lot about people from bartending, managing clubs, tattooing, working in a sex toy store and booking shows. I became more adept at handling delicate situations and anticipating problems partly because of those jobs. I was proud of some of my accomplishments through those jobs but they had no place at the round table…so I stuck to discussing only my 'day job' and the related information. It really only presented a portion of who I am and what I have to offer – I felt very torn about it. The last interview I went on, shortly before my interview with Eden, was at a 5 billion dollar+ Trust and during my second interview, when being asked about interpersonal skills and hypothetical 'how would you handle such and such and why' questions, I mentioned some of the lessons learned from second jobs. I immediately felt a shift in tone. I was later informed that the office is a "very professional environment". Um, no kidding. She went from being impressed and respectful to being condescending – it was really upsetting. I'd formerly seen this organization as 'the mothership', so to speak, and after that interview, my feelings changed. They only wanted me because I had worked at Wharton, not because of what I could add to the team or because I might be a good fit with their culture. They weren't nearly as progressive as I'd thought. It was a huge disappointment. I guess it's a good thing she didn't see my tattoos, which were hidden by my pants suit.

This world is not a meritocracy, as much as most of us would like it to be.


What are some of the craziest requests you've received from reviewers, or potential reviewers?

The craziest requests are usually for ridiculously expensive toys or for toys that already have dozens of reviews. The back and forth over review requirements can get pretty crazy too. It's not all fun, I'll just say that.

Which would you rather have: the newest Lelo pleasure object, or a sack full of premium chocolate?

Lelo toy for the win…it'll still be there in the morning.

What's your favorite song?

Man, I hate this question. I'll give you my top 5 of the moment. That's the best I can do because I love music way too much to limit myself to just one song…and I think most people have favorite songs depending on their moods.

In no particular order:

* We don't run by Willie Nelson
* Drag my own coffin to hell by Bitchslicer
* Rabbit by Clamfight
* Come on down by The Nitelights
* Don't think twice by Waylon Jennings


Maybe I missed it, but I didn't see the big question:

What is your all-time favorite toy? You know, the one you'd sell your car to keep?

I don't have one absolute favorite… I'd say, believe it or not, my Evolved rabbit or my little I-Vibe pocket rocket get the most play. I know it seems crazy that it's not some crazy fancy toy – but those toys work for me. Don't get me wrong, I have alotta toys and if I keep a toy, it means it's getting used at least once in a while.

Did you find the sex toy biz or did it find you? Any helpful hints for someone looking to get into the biz.?

What American Cartoon character do you most relate with and why?

Do you ever consider moving to a more sexually uninhibited place, such as the Netherlands?

Everyone knows "Sex Sells" this can interpreted as a positive or negative thing, how do you relate this to the average consumer. Do you feel negative stereotypes and other boundaries are pushed to far at times in the biz your in ? (Examples "your not sexy unless you________." "Only a real man can handle product X." "A sexy woman should always________." )

This is quadruple question, so I pasted your questions and answered each:

Did you find the sex toy biz or did it find you? Any helpful hints for someone looking to get into the biz.?

I guess I found it and it found me. One of my best friends managed a porn store about 12 years ago and decided to start carrying toys – so he brought over some catalogs and asked me to help him with selections. I remember having so much fun picking out toys – I was so surprised at the selection available. I wound up getting a few for myself too. He would bring catalogs over from time to time and copies of AVN, so I became pretty versed in what was around back then. A few years later, he went on to manage the biggest gay bath house here in the city and worked part time at a well-known sex toy store. When the store needed help, I started working there as a second job. It just happened that way. I really liked working at the store and even wrote about it…which I think I may publish soon. I found my job at Eden in the classifieds and obviously did well when interviewing.

For someone trying to get into the business, I suggest continuing to try products and writing about your experiences. Look for available jobs in sex toy retail and publications. Make friends online with other like-minded people. It's really about being persistent while having fun. If you keep at it, you'll find you niche.

What American Cartoon character do you most relate with and why?

Dr. Girlfriend from The Venture Brothers. I think her one-liners are hilarious. I love her attitude about things. I dunno…I think that's reason enough.


Do you ever consider moving to a more sexually uninhibited place, such as the Netherlands?

Nope. I like clearing a path, it's just kinda who I am. And I'm a northeastern girl to the bone.

Everyone knows "Sex Sells" this can interpreted as a positive or negative thing, how do you relate this to the average consumer. Do you feel negative stereotypes and other boundaries are pushed to far at times in the biz your in ? (Examples "your not sexy unless you________." "Only a real man can handle product X." "A sexy woman should always________." )

I have more access and exposure, so as much as I see outdated approaches with some companies, I also see newer companies being very tasteful and educated in their marketing. The average consumer is changing – the shift is still happening, so while some people find the half-naked girls and screaming marketing blurbs on packages appealing and appropriate, others are more apt to respond to discreet packaging with more informative text. Every manufacturer has their own aesthetic for the lines that they sell, and I think until they see a problem with sales, they're not likely to change their packaging.

We don't propagate negative stereotypes here. We've taken upon ourselves to provide and host a huge wealth of information and open discourse to increase communication and knowledge regarding numerous areas related to sexuality. Our goal is to be a resource on every front for the community.



When you introduced yourself on the forums you said you and your fiancé were involved in bands? With all the time you put in at Eden have you had to cut back on practice and gigs? Do you have any of your music on the interwebz that we can hear?

I haven't been in a band in a while. My fiancé has a band and several other music projects he works on. He also has a recording studio, does recording, engineering, mixing and has two record labels. My kids even have a band. Music is huge in our household. We have our own production company that I founded to book shows, we do promotion occasionally and put out a few records a year – and yup, it has slowed down partly because of work.

We have several websites and myspace accounts – my honest concern about putting the links here is not that you'll know my 'real name' and what I look like – because you already know both of those things – but that some nutbag will start fucking with my real life friends and family that are accessible on those accounts – and that would not be cool. I'm sure someone with lots of time on their hands will find these things anyway.

As most of you are not comfortable with even using your real names, I'm sure you can relate to that.

I will say that our music shreds and we're awesome. And that our next "big show" with bands is our wedding.


What's your opinion on porn, sex toys, and their different effects on the treatment of women (or how they treat themselves)?

Oh man, loaded question…but since I have a vagina and all, I can answer this honestly, right? I only know what I've read and what I can perceive about what's it like to be in the porn business as a performer – however, with so many independent companies owned by women now, it seems like it's become a really positive thing. What was once mob controlled and exploitative has become a multi-billion dollar legitimate industry with goods easily accessible to average consumers. There is so much internet and amateur porn now, a niche for every fetish and the opportunity for anyone to put out their own porn. It's become transparent, lost a lot of its former stigma and is now more approachable for most people- especially women. There is also more porn than ever now that caters to a female audience. Does it bother me if a woman seems like she's on drugs in a porno? Yeah, sometimes. Do I think she was drugged? No. Does it matter to me if the woman seems into it? Yeah, usually.

It's hard to say how women in general treat themselves – that's such a subjective question. I can say that I have more respect for a woman who has 2 cocks in her ass and a load of cum on her face in a movie that she directed and is controlling the marketing of, therefore making her own money and decisions – whereas I have no respect for the women I see who give their babies soda in a baby bottle in line at the grocery store. If a woman is taking care of herself, doing no harm to others, is ethical and hardworking then I generally respect her and I think others should too. We all make choices – we do things that others don't agree with sometimes. Everyone can relate to that. When I can, I do what's right for me. Most of the women in porn don't have children and are in the business by choice, so they really shouldn't be looked down upon. They're making a ton of money while they're young and beautiful – and most of them really seem to enjoy what they're doing. Don't be a hater.

As far as sex toys and women…um, thank god for them! It's huge that they're mentioned in mainstream movies, TV shows and magazines all the time now. So many women are comfortable buying them, talking about them and most of all, using them. Who would have thought ten years ago that Oprah would devote a show to sex toys or that PG movies would have toys onscreen? Making toys more approachable means more people getting into using toys, which in turn means more people exploring their sexuality, getting more comfortable with themselves, becoming more informed and ultimately (let's hope) having better lives. So, in short, sex toys are saving humanity.


How is it that you rock so hard? Are you on some sort of vitamin regimen, like St. John's Wort?

I totally shred, dude. I'm powered by 4 parts espresso, 1 part thrash metal, 1 part sheer self-discipline and 1 part cranberry oatmeal or some kind of cooked meat depending on the time of day. I do take vitamins but cannot credit them for the awesomeness.

Did you know that you wanted to work in this industry from the get-go? Or did you go through the trial-and-error process that many people experience during their college years? What recommendations do you have for a college undergrad who is interested in pursuing a career in your field? Majors, programs, internships?

I knew, from the time I was a teenager, that I didn't want to end up in some soul-sucking day job that made me hate my life and filled my waking moments with dread…so yes, pretty much. As for trial and error, you would not believe the circuitous path I've taken. Many other questions here ask about my previous experience, so I'll spread the answers into portions among the questions - just to be fair and not redundant.

My recommendations are to not think that your college degree will get you into the business. Focus on developing your professional writing, build a portfolio of articles, and learn as much as you can about web administration and online marketing. Definitely pursue internships and try to network. Create relationships where you can and be willing to work in unrelated fields to make yourself well-rounded. You'd be surprised at how many of the skills I developed in academia have translated into making my work at Eden more effective. Who knew writing donor-related legalese would polish me for revising sex toy terms and conditions? Heh. Seriously, learning how to manage your time, be more detail oriented and communicate well with coworkers can be learned anywhere – and you'll need that to succeed in any job you choose, including one where you talk about fake pussy all day.


Do you have any regrets or did you face any obstacles regarding your choice to become an employee in the sex toy industry, with either your previous job or your new endeavor with EF?

My only regret is that I should have done it sooner! I didn't face any obstacles having already worked in this field in the brick and mortar capacity and having requisite editorial experience from a decade in the 'office' world. I've always been open to the adult industry because of personal interests and having friends who work in the industry.

So... Is that Special Effects cupcake pink you use in your hair? If not, what brand/color? (It's freakin' gorgeous, btw)

It's actually Atomic Pink

but my daughter's hair is Cupcake Pink. Good call though – Special Effects rules. It's the best I've ever used. Nothing compares to that brand. Thanks, I like the way it looks too but be warned that maintaining two-tone hair is worrrrk! I do it myself, so it's bleach, wash, dry, pink dye, wash, dry, black dye.