You know that theory that nothing worth having is ever handed to you on a platter? Ngo Van Tri, a reptile scientist from the Vietnam Academy of Science and technology recently learned that's a bunch o' hooey.
Dr. Van Tri found a totally unknown species of lizard, not by sweating his Ph.D. off in some desert or crawling under dangerous rocks, but by noticing some remarkably similar looking lizards that were captive a tank in a rural restaurant in the Mekong River delta. But they weren't just in captivity—
they were on the menu
.
Dr. Van Tri contacted some colleagues in the U.S., Dr. Lee Grismer and his doctoral-candidate son, both herpetologists (that's someone who studies lizards, not herpes) who flew to Vietnam from California, then motorbiked for two days to get to a rural village in which a restaurateur had promised to keep some specimens for them. Instead, the restaurateur got drunk and cooked up the great discovery.
The three scientists were able to acquire more of the lizards elsewhere. They dubbed the newfound species
Leiolepis ngovantrii
—which is Latin for "the honor of having a species being named after you has just been handed to you on a platter."
So, this is a Coen Brothers movie, right? And because it sounds like a Coen Brothers movie, you doubt there's going to be any sex. Well, there is… in the fact that…there isn't.
That's actually the most interesting part of the whole thing. The lizards looked so much alike because they
were
alike: they were all females and reproduced by cloning themselves. No males required.
And we human females thought we were such rebels when we discovered we could
raise kids
without a man. There we were in the '70s, humming the theme to
One Day at a Time
, polishing the chip on our shoulder before checking the "Ms." box on various forms and the whole time there were lizards—and wasps—who didn't even need males to
conceive
, much less run the results to soccer practice.
The process is called parthenogenesis, Greek for "virgin birth." It occurs in some species of fish, spiders, invertebrates, amphibians…and a few lizards. Some animals reproduce both sexually and asexually: With honeybees, for example, the males arise from unfertilized eggs, females and queens from fertilized eggs. Some species go back and forth between asexual and sexual reproduction based on
environmental factors
, such as population and food supply. (Which reminds me of Faye Dunaway in
China Town
: "She's my daughter. She's my sister. She's my daughter…")
Shortly before the discovery of the lunch lizards, scientists at the North Carolina State University found that a
female boa constrictor had reproduced asexually
, a feat never before heard of in these reptiles. Ms. Snake had a brood the traditional way previously; then suddenly, with no change in environmental conditions, produced two broods of all-girl snakelets with her distinctive pattern.
Are these signs of a changing environment in which males won't be needed? Where women can shut their eyes like Jeannie (as in,
I Dream of…
) and
"Boioioing!"
knock themselves up? Where men are encouraged to just deposit their unneeded DNA into a wadded up Kleenex, like they did before we met them?
Of course not. "Men Become Endangered," would really liven up the headlines but it's unlikely to happen. A mammalian virgin birth only ever happened once. No, not in Bethlehem. What am I, Linus Van Pelt? It was in a lab in Japan and it produced an adorable little mouse named
Kaguya
.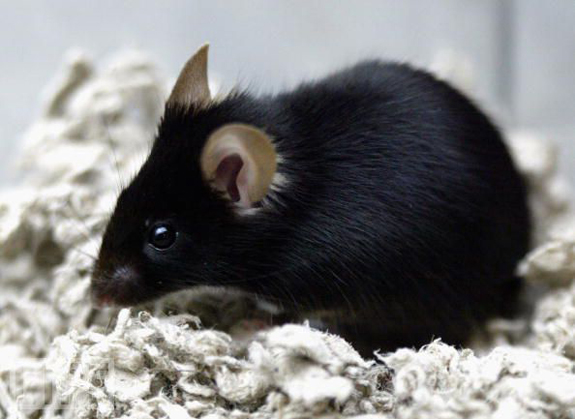 Kaguya, the "fatherless mouse"
Kaguya was not the product of the usual blend of eggs-and-sperm (there's a Monty Python joke in there somewhere) but of two eggs, one of which was from a newborn mouse, and thus, immature enough that two genes of its genes could be manipulated into simulating a paternal contribution. The team at the Tokyo University of Agriculture started with 457 of these dual-egg combinations. Of these, 371 became blastocycts, which were implanted in females. Ten survived through gestation. Two survived outside the womb. Only one, Kaguya, lived to adulthood and reproduced naturally.
That is a lot to go through for a virgin birth so it seems unlikely that this would just start to happen willy-nilly in mammals.
Every once in awhile though, a wave of men-going-extinct stories comes along. The
National Geographic
piece on Kaguya was headlined: "The End of Males?" Mouse Made to Reproduce Without Sperm" though it was one surviving mouse out of hundreds.
"Will End of Men Be Imminent?
Y Chromosome Rapidly Losing Genes," was ABC News's bid in a 2009 story about the deteriorating Y (male) chromosome, which now has only 80 genes to its X (female) partner's 1,000.
Alarming…until you read that genetic alternations are not only normal, but beneficial and that "evolution is weighted toward survival," making it unlikely that men will ever take their balls and go home. In 2004, it was NPR's
As Y Chromosome Shrinks End of Men Pondered.
The pondering went thus:
Could happen. Probably won't.
Theoretically women probably could do without men. There's probably enough deposits in sperm banks the world over to repopulate the earth via turkey baster for awhile, so when you come down to brass tacks we could do it. But would we want to?
Okay, some of you said yes, but remember that that would include your gay male friends.
Okay, some still said yes, but really, we've had sperm banks and turkey basters for years.
We could have done it already if we wanted to, which must mean we don't.
Most things that make life worth living are unnecessary. People survived before chocolate, movies, Earth, Wind and Fire (the band not the elements), spicy Bloody Marys and a billion other things, but life probably sucked.
We could go on without men… Men, with their sexy tree-trunk legs and perfect penises and their ability to bend time with one long, slow naked kiss, but what would be the point? There's surviving, and then there's living. If manlessness is where the Darwinian ride is taking us, start the evolution without me.
Those lizards have an amazing story. But damn…they have no idea what they're missing.