HIV is a retrovirus that has infected millions of people, from infants to adults, and to this day it remains uncured. Many people are confused by the difference between HIV and AIDS. The difference between them is that HIV is the infection transmitted, whereas AIDS is a final stage of the HIV infection. You cannot have AIDS, unless you already have been infected with HIV. The turning point for the disease to be considered AIDS is when the immune system becomes severely compromised, and this is typically when symptoms appear. As you can see, it is very important that you get tested each time you think you may have come into contact with the virus, or else you could go up to 12 years before becoming aware that you contracted HIV, and at that point there is very little anyone can do to slow down the process of the virus production.
To know whether or not you should be tested, you first need to understand how HIV can and cannot be transmitted. Some of the common modes of transmission include, but are not limited to: sharing needles, unprotected sex, unanticipated injury during care or surgical treatment of infected patients, neonatal transmission, unprotected anal intercourse, sexual partners of those in high risk groups, and infected mother to infant through, for example, delivery or breast milk. The most contagious body fluids are blood, semen, vaginal secretions, and breast milk. If you know people who are infected with HIV/AIDS, you do not have to run the opposite direction to protect yourself. HIV is NOT transmitted by casual contact, being coughed on, sharing food or drinking glasses, telephones, donating or giving blood, or hot tubs or swimming pools. It is also not transmitted by animals or insects.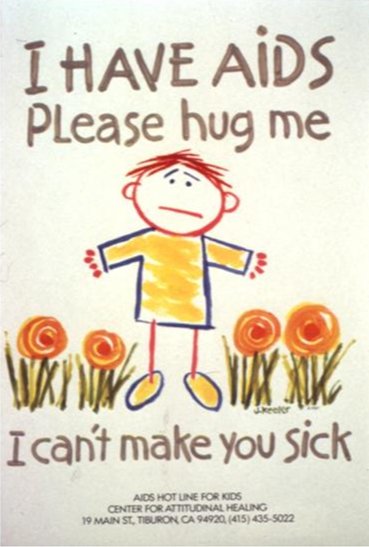 It is very important to take precautions, if you are in situations where you could be exposed to the virus. If you are at risk of exposure, be sure to always wear protective equipment. An easy way to help prevent transmission is to practice safe sex. Always have a condom on hand!
condoms

In case you are not a huge fan of condoms, I would suggest using lube and other products from Edenfantasys.com in addition to the condom. Safe sex is as exciting and pleasurable as you make it
In case you have been exposed, it is important to know what to do. As soon as you think that you have come into contact with the virus on your external body, immediately remove any infected clothing or equipment, scrub the exposed area for at least 15 seconds with soap and water, then go to a hospital or clinic right away. If potentially infected material entered your eye, flush constantly for at least 15 minutes, and then go to a hospital or clinic immediately after.
Now you can help bring education and knowledge to more people about HIV/AIDS. It is good to at least start with knowing the difference between HIV and AIDS. Remember, you cannot have AIDS unless you already have been infected with HIV! Never hesitate to get tested if there is a chance you have an infection. Although HIV cannot be cured, there are many ways to slow down the rate at which the infection progresses. Also, if you tested positive, it would be very important for you to then know how to prevent transmission to others around you. Just because you may not show symptoms, does not mean you are safe.
If you are worried about discussing the possibility that you are infected with a healthcare provider, you could also try an HIV at home test. I don't know much about the accuracy or cost with those however, so you can do some research! I wish the best of luck to everyone in protecting themselves, and others, by using your awareness of HIV/AIDS.