What is the prostate?
The prostate is an organ that is part of the male genitourinary tract. So sorry ladies, but men are the only one who have this organ. The prostate is involved in the production of male ejaculate. It creates and secretes a fluid that is milky-white and makes up about 50-75% of a male's ejaculate. This fluid is slightly alkaline. This has two functions, it helps prevent any infection of your genitourinary tract (bacteria do not like large shifts in pH). As well as neutralize the acidic environment of the vagina, allowing sperm to live longer and be able to reach an egg to fertilize it.
The prostate's growth is influenced primarily by the hormone testosterone. I mention benign prostatic hyperplasia is quite common in older men. What happens is your body tells your prostate to grow too much and it starts to press on surrounding organs. The organ that happens to be very close is the bladder and the urethra. Basically the prostate grows enough that it presses on these and causes some symptoms such as urinary frequency and a "stop and start" urination and a feeling of not emptying your bladder. Just a recommendation to watch for these symptoms as you age. Benign Prostatic Hyperplasia (BPH) is nothing fatal or worrisome, but it can be bothersome in day to day life. Just something for men to be aware of.
Where is the prostate?
The prostate is a walnut sized gland that surrounds the urethra and is just below the bladder. For those of you who are not familiar with physiology, that might be confusing. The most common way people massage their prostate is at the perineum or rectally. The perineum is the area located between your penis and your anus. If you start at your penis and slowly walk your fingers down towards your anus you will feel it change from hard and bony to a soft spot. If you press on that soft spot and move around a bit you can feel your prostate. The other way you can find your prostate is through your anus. If you insert a finger into your rectum you need to reach upwards (towards your belly button). The prostate is located 1-2 inches into the rectum. If you run your finger along the lining of the rectum, you should eventually find a small bump. This is the prostate.
Just some tips. Before inserting a finger to massage the prostate, it is good to void your bladder and to empty your bowels as well. This can make the experience more enjoyable, because you do not need to worry about the bathroom. Whoever is inserting their finger should trim and file their nails, and wash their hands. They can use disposable gloves (latex or nitrile) too, if they desire.
Here is a photo of where the prostate is: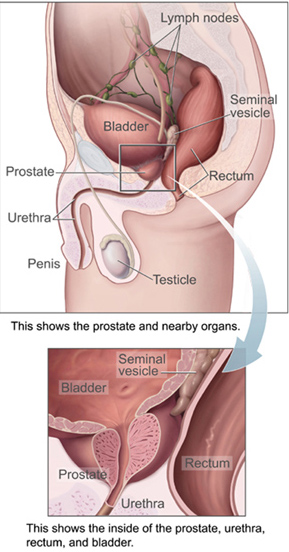 Photo from wikipedia.org
Why massage the prostate?
There are two main reasons, for health and for pleasure.
Prostate stimulation used to be the treatment for prostatitis (inflammation of the prostate), often caused by bacteria. This is still viewed as a viable treatment, but has fallen out of favor for antibiotics, which also work very well. It is generally considered that prostate massage decreases the risk of prostatitis
Ejaculation, in general, decreases the risk of prostate cancer too. Frequent ejaculation (5 times per week) has been shown to have this effect. So prostate massage, followed by ejaculation, can help you achieve this protective effect.
The other main reason people massage their prostate is, because it feels good. The prostate is typically called the P-spot and is considered the male equivalent of the G-spot. When stimulated, many men find they achieve orgasm without penile stimulation. Other men cannot have an orgasm from prostate stimulation alone, but find it adds to their orgasm and makes it stronger and longer. Certain men also find they can achieve multiple and longer orgasm from prostate stimulation and that it greatly adds to their sexual experience overall. In short, prostate massages provides additional sexual pleasure that penile stimulation alone cannot achieve.
How do I massage the prostate?
There are numerous ways you can massage the prostate.
The first is to use your hand. You insert 1-2 fingers into the rectum. You push up towards the belly button, until you find a small lump. Once you have found this small lump (the prostate), you can stimulate it however you choose. Most people suggest a come hither motion. Or stroking from the back to the front repeatedly. But there is no right way to massage the prostate. You can put constant pressure on it, you can flick it, you can go fast, you can go slow, you can do anything you want. Remember to use lubricant before you insert your finger though
Butt Plugs
These provide indirect stimulation to the prostate. If they take up enough room they will indirectly press against the prostate and cause stimulation. Typically for a butt plug to stimulate the prostate, they need to be decently big. Personally, a plug under 1.5 inches in diameter does not stimulate mine.
Vibrators.
There are many prostate vibrators out there such as the nexus and the Ego e4. These toys are inserted into the rectum and vibrate on top of the prostate causing stimulation.
Prostate Massagers:
These are toys that have a sharp curve to them. They are basically like butt plugs, but with a specific angle that is designed to stimulate the prostate. Some even have a perineum tab to stimulate the prostate from the outside too. An example of these would be the Aneros line of toys.
Dildos
G-spot dildos will also stimulate the prostate. If you are into pegging or just want to use a dildo anally, those with a g-spot curve will typically also hit the prostate.
Those are all the common ways to stimulate the prostate. With all of them, use lubricant, go slow and be careful of the rectal tissue. It is quite delicate and caution needs to be taken. As always, if you have any questions feel free to ask in the comments.