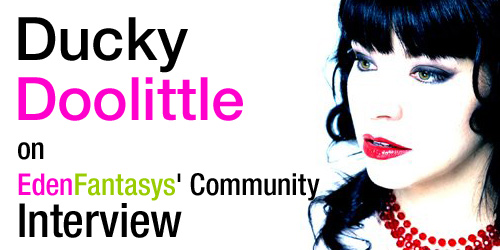 Let's welcome Sex Educator and Author, Ducky Doolittle, to Community Interview!
When she had to make ends meet, Ducky took up a job at a New York City sex shop. What started as a temporary job has turned into a career, and for the last 23 years, Ducky Doolittle has been educating the world about sexual education. Author of
Sex with the Lights On: 200 Illuminating Sex Questions Answered
with a second book coming soon, Ducky teaches sex education in a new and innovative way that has people paying attention.
Ducky Doolittle has been at the forefront of sexual education in the past two decades and has been instrumental in building public sex education programs for New York City's Museum of Sex. Touring internationally, Ducky teaches sex education on campuses, medical schools, bachelorette parties, book clubs, church groups, and sex shops. She has appeared on HBO's Real Sex, MTV, The Howard Stern Show, Playboy TV, and many others. Ducky was also awarded a fellowship with the New York Foundation for Arts for non-fiction literature!
Do you have any
questions
to ask Ducky Doolittle? This is your chance to ask them!
Where did she get the inspiration or her first book? Does she have any advice for aspiring sex educators? Does she get nervous before her presentations? How has the field of sex education changed since she started teaching?
Feel free to ask her all of the questions you have, and if you want to blog about the interview, we'd definitely love to hear your thoughts about it!
We're also going to be giving away some fantastic prizes during the interview! Ducky Doolittle will be giving away three prizes for her top three favorite questions! These prizes will be announced on this thread after the interview is completed.
The prizes are…
1st
The
Rechargeable Mystic Wand
for large power in a small and rechargeable toy!
2nd
A
$50 EdenFantasys giftcard
to purchase exactly what you've been wanting!
3rd
The
Tantus B-Bomb
to explore new types of pleasure!
The
interview with Ducky Doolittle
is open today,
January 24th through January 30th (at midnight)
for all of your questions!
Let's give Ducky Doolittle a huge welcome for joining us here on the EdenFantasys Community Interview!