You asked for it so here it is. Hope you like.
Icicle 3.0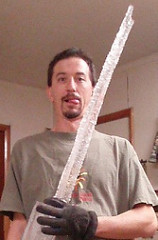 Oh my god, look at my newest toy! This new dildo is made by Father Nature and comes in many shapes and sizes. You can get the small version for beginners, or my favorite, the extra large! Ahhh
I cannot tell you how much I love these new dildos/probes; I mean really, if you like the cold, hard materials, these just cannot be beat. In addition, the texture, oh god, each one is different and unique. Some are smooth, some have a ribbed texture and some even have multiple tips, ya know, like a French tickler.
I find they are best used in the bathtub, due to the melting aspect of icicles. Of course, if you have a waterbed, you can just take of the bed coverings and go at it that way or just place a tarp on the floor. Furthermore, I recommend getting a few of them so when one melts you can continue the fun with a new one.
Another nice thing is the "Green" aspect of toys made from ice. They are formed by melting snow that freezes as it drips from the gutters. This is a renewable material and every year I can get as many as I want, as long as the weather is right.
If you want, you can use lube but I have never found the need. When my ass is frozen, I cannot feel anything but the cold hard texture gliding in and out of my ass, so I have no idea if lube is needed. I guess some may be needed to start, you don't want your new toy to stick to you like a tongue to a metal pole but after that, none should be needed.
With most toys that have a heavy texture, they can get to be a little uncomfortable, not with ice. They get smoother as they melt so you can thrust faster and faster until it has melted (that's the reason to get more than one) or you have that AWESOMELY cold orgasm.
Nothing better than frozen cum from a frozen prostate! Hell, even my pre cum looks like melting ice.
I also like to make an ice stroker using an old coffee can and a wooden dowel that is just a bit smaller than my cock. That coupled with the Icicle in my ass gives me such incredible pleasure; I just shiver with pure orgasmic bliss.
Those that live in the northern cold climates can find them hanging from most gutters. For the southern folks you can make your own in your icebox. I highly recommend these toys to everyone that likes freezing cold temperature play.