Use
Muppet fetishists rejoice! With the Tickle Me Elmo Vibrating Jock (TME), Sexame Street Toys has finally designed a sex toy to appeal to the child in all of us. Whether you enjoy using it by yourself or with a partner, the TME is sure to please. No one can resist the charms of Elmo. And rumbly vibrations added to a jock strap? Yes, please! Nothing makes me feel sexier than having a monster in my pants.
Material/Texture
The TME is made of soft, plush, polyester faux fur. It has a wonderfully soft feel against the skin and I can't help but run my fingers all over it, so imagine what it feels like rubbing against your cock and balls. Pure ecstasy! The bright red fur is sure to look flattering on everyone. The only issue is that the fur doesn't breathe well and can get quite warm. This may be a plus during cooler weather, but results in sweaty balls otherwise. A light dusting of body powder may help to address this issue.
Design/Shape/Size
The TME is basically a vibrator attached to a standard jock strap. The size Small has a 28" waistband that is 1" wide. My waist measures approximately 31" and the Small felt slightly tighter than I prefer. So if you measure in between the sizes, I would definitely recommend going up a size. The front pouch was also a little small but I didn't mind. It just meant that Elmo was pressed right up against my crotch. Nothing compares to the feel of faux fur. The leg straps weren't quite as tight as the waistband and framed the ass cheeks nicely.
Front and profile view: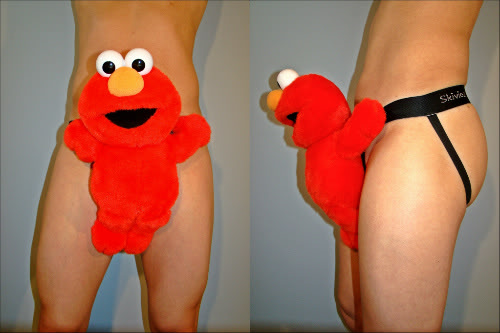 The TME is not discreet in the slightest and most people will wonder what it's for. However, it can be worn under clothing for a special night out. The TME provides a flattering bulge that will be sure to draw everyone's attention right to your crotch. For those not embarrassed to display their love for Elmo may opt for the peek-a-boo look instead.
Bulge and Peek-a-boo: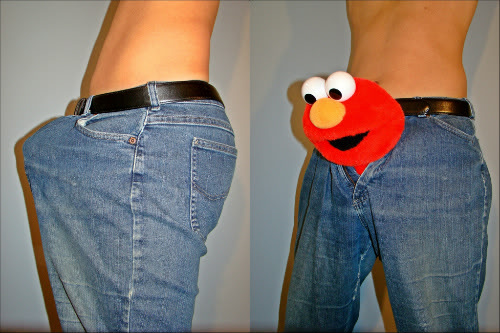 Functions/Performance/ Controls
The TME is activated by applying pressure to Elmo's belly region. While it takes firm pressure to activate the toy, it is still relatively easy to accidentally press the button, especially when grinding against a partner. The TME offers two different modes when activated. The first two times Elmo is squeezed, the toy only talks during what I call the "tease" mode. During the tease mode, there are no vibrations. Elmo cloyingly whispers sweet nothings as he mentally arouses the wearer. The next time Elmo is squeezed, the TME ramps up the experience and produces deep, rumbly vibrations that are sure to please. While the vibrations are not as strong as the Hitachi Magic Wand, it is probably the strongest battery powered vibrator currently on the market. The TME requires 6 AA batteries and has shown no decrease in intensity after daily use for the past several months. The TME is fairly loud and can probably be heard through closed doors. However, it's probably going to be harder to explain why Elmo's voice was heard laughing in your room.
The available patterns are as following:
1. "Hahaha, hahaha. That tickles!"
2. "Hahaha, hahaha, hahaha. Oh boy!"
3. 8 seconds of constant vibrations while laughing. "Oh boy, that tickles!"
Care and Maintenance
Unfortunately, the TME cannot be fully sanitized due to the faux fur. The best you can do is to gently wipe any stains with a damp cloth moistened with a toy cleaner. Use a blow dryer to fluff Elmo's fur afterwards if it gets matted. Ideally you should avoid getting bodily fluids on Elmo if at all possible, which is easier said than done. I've jizzed in my shorts more than once just putting the TME on in anticipation.
Similar Products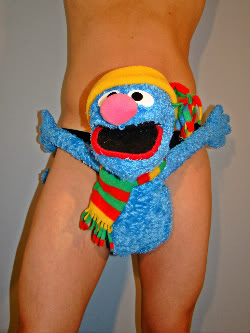 Fondle Me Grover Vibrating Jock