Every January of my recent past, after I land in Las Vegas and gear up for the onslaught that is the Adult Entertainment Expo (AEE), something a little cliché happens: I hum a few bars of that Talking Heads song, and I ask myself "Well, how did I get here?"
*
In most every respect, I'm just a regular gal… except that I'm also a scholarly expert on the adult production industry – a "pornologist" as someone sassy once said. Weird, right?
I became curious about "pornography" (as I then conceptualized it) in the early 2000s while working on my Master's degree; I started investigating professional porn production when I began working on my doctorate in 2004; and I went inside the adult industry to begin my field research in 2006. My first AEE was in 2008.
The Adult Entertainment Expo is the largest adult industry trade show held in the US, and thus probably in the world. All sorts of adult companies and performers come to Las Vegas every January to do business and network with their peers. There're also "fan days," so various adult entities with some measure of celebrity dedicate time to meeting and greeting the public as well. Honestly, it's not too unlike any other professional convention.
But let me tell you, back in 2008, it was
s-h-o-c-k-i-n-g
to me.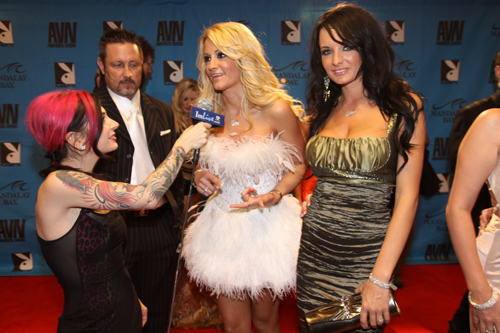 photo courtesy of AVN.com
You see, I'd heard about AEE: the raunchiness, the sex everywhere, the sleazy porn dudes peddling clueless chicks, the mega-weirdo fans salivating over girl-meat.
I'm gonna go ahead and say it—back in 2008, I was nervous.
But that passed rather quickly.
Yes, there was sex everywhere …but it was in the form of film trailers, content advertisements, and companies' marketing displays. There were also booths purveying sex toys, bedroom adventure gear, and fetish clothing. But duh—it's an
adult entertainment
expo.
There was no live, or even simulated, sex happening anywhere, but there were some bits of "sexy" diversion—pole dance demonstrations, fashion shows, ladies handing out penis shaped lollypops, fans walking around in various stages of costumed undress. But again, it's an
adult entertainment
expo.
Everything I had ever heard about AEE seemed to be either a gross embellishment or an out-and-out fabrication. The disconnect between what I'd "known" about AEE pre-2008 and the reality of the convention shocked me more than anything I actually experienced or saw.
And what exactly did I experience or see?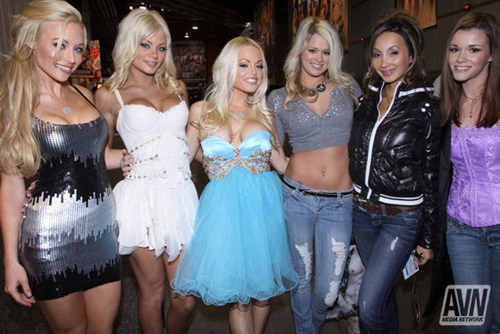 photo courtesy of AVN.com
Well, as I was then in the midst of completing my fieldwork, most of what I did involved helping out in The Booth.
Like most other major professional adult production companies, the group I was working with had a booth on the convention floor. It took a lot to run that thing; and, in order to get to go to the show, I had to help work it.
My duties included, but were not limited to: making sure the performers who were signing autographs and meeting fans were comfortable and happy; making sure the fans waiting in ridiculously long lines for said performers were somewhat comfortable and happy; making sure business people popping by were appropriately directed (or deflected); answering any number of strange and/or interesting questions; handing out DVD samplers and other swag; carrying boxes; stacking things; finding lip gloss, brushes, cigarettes, mints, tampons, Red Bull (sugar-free, of course), and an innumerable amount of misplaced cell phones—you know, glamorous sexy stuff.
When I returned home after that first AEE, exhausted from five days of fieldwork in Vegas, I had the worst headache ever.
In some respects, AEE hasn't changed all that much for me since 2008. I still come home exhausted because I still do some of the same work—I still spend some time hunting for lost lip gloss at that very same booth because, like the good scholar trained in feminisms and social justice that I am, I feel compelled to give back to the community that helped me to develop my work.
Plus, it's actually pretty dang fun.
Now, post-PhD, I do do other things at AEE, namely "have meetings" with people who have worked in the business for decades (important!!), conduct interviews with all levels and types of performers (also, so important), cruise the floor looking for new interesting people and/or things, attend panel discussions, and stay out waaay too late (Vegas parties that don't even start until midnight are something I will never get used to). The whole experience still wears me out, but in a slightly different sort of way.
Over the years, I've noticed some interesting things...
…like the recurring fans who attend year after year. Some of these mostly men
**
fans are kind. They show up with small gifts for their favorite performers that range from flowers, candy, and fancy toiletries to genuine care and concern. It's kinda sweet.
There are of course other fans, recurring and otherwise, that are not so sweet – demanding, somewhat unsettling, and/or simply living on their own planet entirely.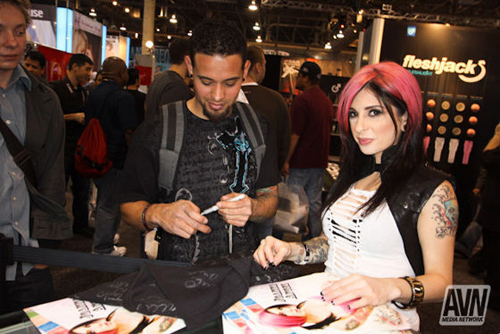 photo courtesy of AVN.com
And although "dealing" with fans in general is clearly handled and regarded in variable ways,
some
of the women
**
performers seem genuinely jazzed to see
some
of the recurring fans. It's a complex exchange.
Another thing I've noticed over the years is the tenor of the industry. It's changing.
This year, the show was smaller than I'd ever seen it. There seemed to be just as many fans present, but there were fewer vendors. There has been much going on with occupational safety and health in the industry as of late; but at a meeting/discussion forum on this topic set for performers only, only two women showed up. At one of the panels, industry leaders spoke at length about content piracy and declining sales.
The paring down of AEE could be a sign of changing times… but changing how exactly?
At this year's AVN Awards show, the Oscars of Adult and the convention's acme point, industry leader and Reuben Sturman Award recipient, John Stagliano, gave a little speech. He talked about his recent obscenity indictment and about being proud to work in such a rabble-rousing, boundary-pushing industry. The crowd at the Palms' Pearl Theatre cheered, and there were even a few teary sniffles (it was a good speech).
But this makes me think of another thing I've noticed in my years attending AEE —in spite of an ever-changing complex climate, the people who work in the adult industry really seem passionate about what they do. I know I am.
*from "Once in a Lifetime" by Talking Heads (Remain in Light, 1980)
**The author purposely uses 'men' and 'women' in lieu of 'male' or 'female' (respectively) in order to refrain from conflating gender and sex. Please direct any questions about this decision to Dr. Chauntelle.