Being just another pretty girl with great tits or handsome guy with a larger than average dick is not enough to make you a star. For many performers, the answer is simple: do something crazy to get attention, find a niche to fill that no other performer has satisfied. In an industry that is controversial to start, what can you do to stand out in the crowd?
In possession of what were arguably the largest enhanced breasts in porn, Lolo Ferrari underwent a total of 22 enlargement surgeries to achieve her Guinness World Record-holding chest. Her chest was a total of 71 inches in circumference, and records say that each breast weighed over 6 pounds and contained three liters of saline solution. She reportedly wore a size 54 J bra.

Sadly, after appearing in a number of adult films, Lolo Ferrari was found dead of an apparent suicide in her home in 2000.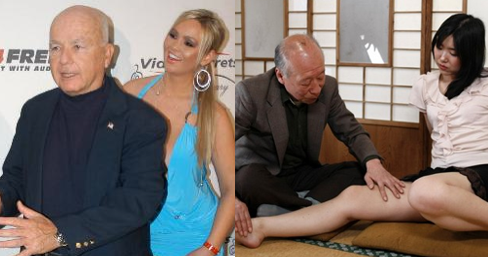 Right: Dave Cummings, Left: Shigeo Tokuda
Dave Cummings, born in 1940, and Shigeo Tokuda, born in 1934, are two of the oldest men working in the adult film industry today. Both men started working in porn after the age of 50, and have both starred in hundreds of films during their respective careers.
Cummings was inducted into the AVN Hall of Fame in 2007, while Tokuda's wife allegedly has no idea that her husband is one of the biggest porn stars in Japan.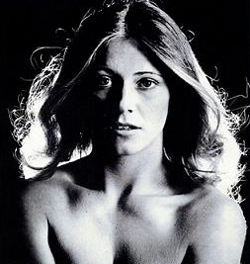 Mariyn Chambers
While some performers on this list set out to make a name for themselves by doing something radical, few were able to become groundbreaking activists for the civil rights movement.
Marilyn Chambers deserves a spot on this list for making a name for herself as the first woman to do an interracial sex scene in a feature-length hardcore film, in the 1972 classic, "Behind the Green Door."
While it may not seem extreme by today's standards, in 1972 a hardcore interracial sex scene between a Caucasian woman and an African-American man was shockingly taboo, and a move that set her apart from other adult film actresses.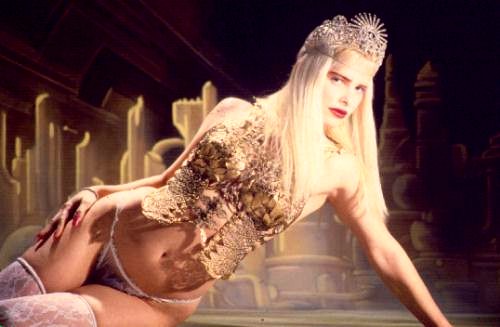 Ilona Staller
Also known as "la Cicciolina," Staller started her career in porn in 1983. Shortly after that, she became a member of the Italian parliament, but surprisingly continued to make adult films, giving her the unique distinction of being the only member of a country's parliament to make adult films while holding office (that we know of).
Can you imagine if Michelle Bachman or Sarah Palin worked in the adult film industry? That would make them
so
much more interesting, don't you think?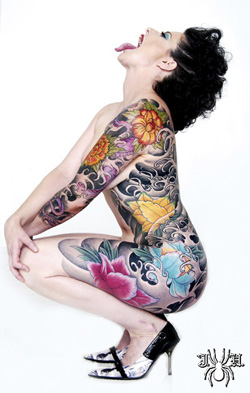 Michelle Aston
Arguably the most heavily tattooed female performer in porn (though it should be noted that Belladonna and Joanna Angel also sport their fair share of ink), Michelle Aston has tattoos down most of the left side of her body. She has plans to add more ink and re-ink certain areas, as well as add a few more piercings.
It would probably be fair to add that Michelle is also notable for being the only stem cell research scientist working in the adult industry. She has also studied oncology radiation, English, and neurobiology. Sexy and smart? Seems too good to be true, but she's the real deal.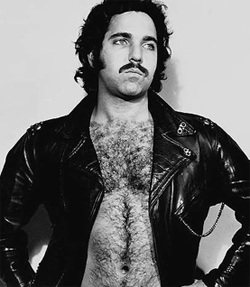 Ron Jeremy
Today, we know Ron Jeremy as one of the most famous faces in porn (not to mention low-budget movies and reality TV). Jeremy is the current holder of the Guinness Book of World Records title for the most appearances in adult films (he's done over 2,000).
But before all that, Jeremy distinguished himself from other male performers the industry by specializing in auto-fellatio, a trick that can be seen in classic skin flicks like "Inside Seka." While he wasn't the only porn star to demonstrate this talent on screen, audiences always remembered him for his impressive…talent.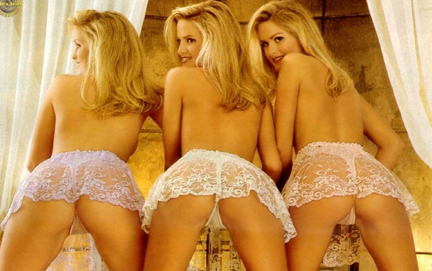 The Dahm Triplets
It's rare to have identical triplets. It's even more rare that all three girls decide to model for Playboy. And it's rarer still that the triplets would get the suggestion to get into nude modeling from their own father.
And yet, that's exactly what happened to Nicole, Erica, and Jaclyn Dahm, who all became famous after being featured as the Playboy centerfolds of the month back in December of 1998.
While they haven't done any hardcore pornography, the girls were featured in "Playboy's Video Centerfold" and "Playboy's Playmates on the Catwalk", and it was the uniqueness of being identical triplets that catapulted them to fame and fortune.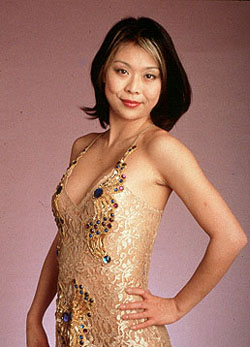 Annabel Chong
Sometimes the only way to stand out from the pack is to take your profession to its extreme. Annabel Chong became famous in 1995 at the age of 22 when she was the star of
The World's Biggest Gangbang,
where she engaged in over 250 sex acts during a 10 hour period with 70 different male partners.
Her notoriety was short-lived, however. By 1996, her record had been broken by Jasmin St. Claire, who indulged in 300 filmed sex acts with 300 men in a 24-hour period. Over the years, many others have broken or set
new records in this field
, including records for highest number of unlubricated anal sex partners and the largest "reverse gangbang."
The world of adult films is highly competitive, with stars and directors constantly trying to one-up the competition. So it's only natural that some performers feel the need to go to extremes to distinguish themselves from others in their field. For better or for worse, these performers all delivered truly unforgettable performances.