Bondage is simply the act of binding somebody, restraining somebody or preventing them from moving. This can be done using multiple materials. Leather, metal, and rope are the three big categories. Today, I thought I would talk about rope bondage. So, rope bondage is pretty self-explanatory. It is bondage that uses rope.
So, the first aspect of rope bondage is the type of rope itself. There are different types and actually different subtypes, within each type. So there is cotton rope (like clothesline rope), nylon and hemp. There are other less common types too, I believe. The whole point though is you can change the experience, if you change the rope. For example, hemp rope is tough and stringy, it digs in and is more painful than the other types of rope. It is rough and abrasive, which is quite different than nylon, which is a very smooth and soft. Rope also comes in various diameters. The smaller the diameter the more pressure it applies, so it is harder to get out of. It is also harder to untie knots with smaller rope. 3/8 of an inch is the most common diameter of rope used for bondage. It works well for being small enough to work with, but not too large that is it bulky
As I said, there are different subtypes. Basically you can make/braid rope different ways. They have "cores". This really isn't that important. It just changes the strength of the rope. Rope has different strength. It also has different flexibilities. Some rope has a lot of give and is stretchy. Other rope is very tight and does not give much. This becomes more important with stuff like suspension bondage where the amount of weight bearing load is important. But, really you can just read the package and see what the rope is rated for.
Rope bondage exists in two main forms. Aesthetic and for the sake of bondage. There are some ties that really do not confine the person and is just there to look pretty. You can also make a tie look fancier with decorative knots as well. There are lots of designs you can make with knots. Some people consider rope bondage to be very artistic. There are some people who do it for art's sake with photos. Then there are those who do it for purely bondage reasons.
So, there are lots of things you can do with rope, but today I wanted to focus on some of the unique things.
Body harnesses are one of the things you can do. Here are a few examples: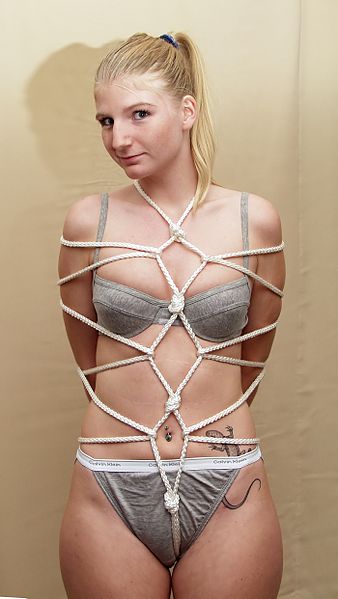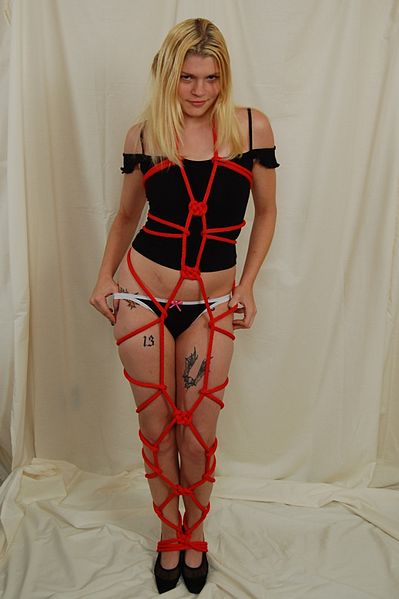 Basically, the rope wraps around a person's body. Now this can be restrictive or fairly non-restrictive; it can even be completely non-restrictive, so there is no real bondage aspect. Or you can have them being restrictive like hands tied behind the back, hands tied to the side, legs tied together, or lots of other things.
One of the other reasons for tying a harness is breast bondage. You can tie around the breasts. This puts pressure on them and sometimes the nipples. This also causes some restriction, so less blood flow and increased sensitivity. You can tie it tighter or looser, depending on the intensity you desire. You can have breast bondage without a body harness, as well. Just lots of body harnesses include it.
Here are some photos of what it looks like: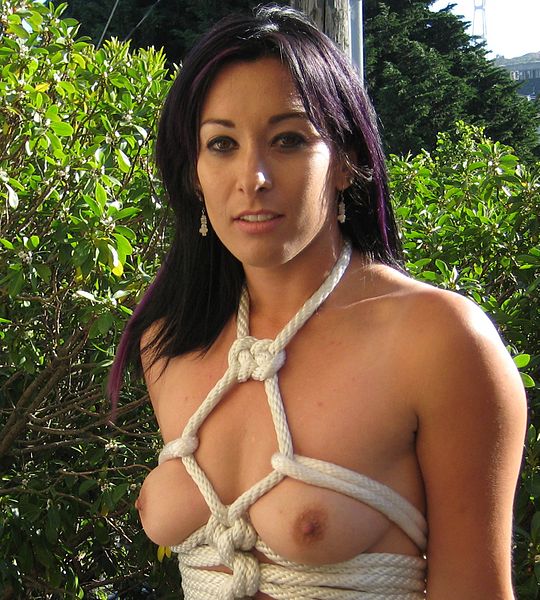 Photo from wikipedia.org
Suspension is possible with rope too. You basically are just suspending a person above the ground with rope. You can have a partial suspension and full suspension. Now suspension is a more advanced type of play. Not something you just try without reading up on it. You need to understand there is increased pressure on the rope and you need to spread out the load when you compare it to bondage on the ground. You need a very safe place to load the weight (typically you want 5x to 10x greater a capacity than what you are actually using just to be safe). For example, support beams in a house, metal beams, hooks that are bolted into beams are also places where you would be safe to apply weight too. There are safety issues, but it can be safely done with some knowledge. You can suspend people in any number of ways, such as hogties, from the feet, from their arms, from their body. You just need to be creative and make sure there is not too much pressure on one location.
Here are some photos.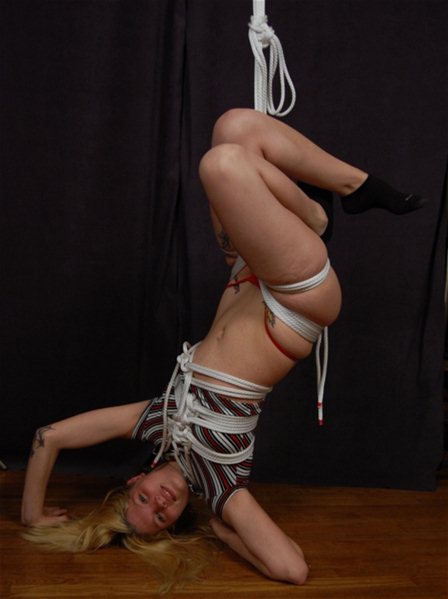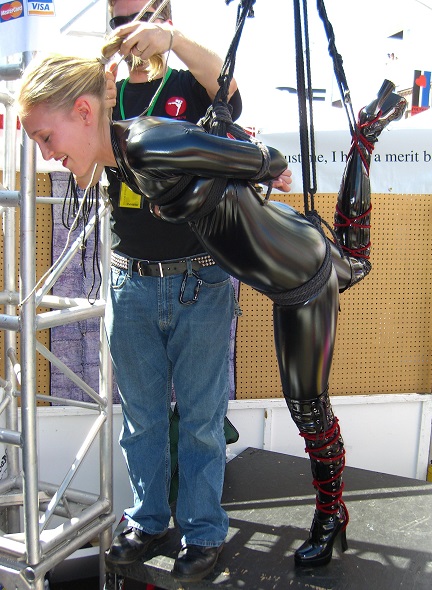 Photo from wikipedia.org
A Crotch Rope is another unique possibility with rope. A crotch rope is having rope basically pass over top of or through a woman's genitals. You can tie a knot, so when it rubs, you get stimulation. This can be tied tighter so there is some pain or it can be tied looser, so that the rubbing just stimulates the clitoris. This is often used in combination with an activity, where the woman moves and accomplishes a task. This forces her to be mobile and causes more stimulation from the rope.
Here are some photos: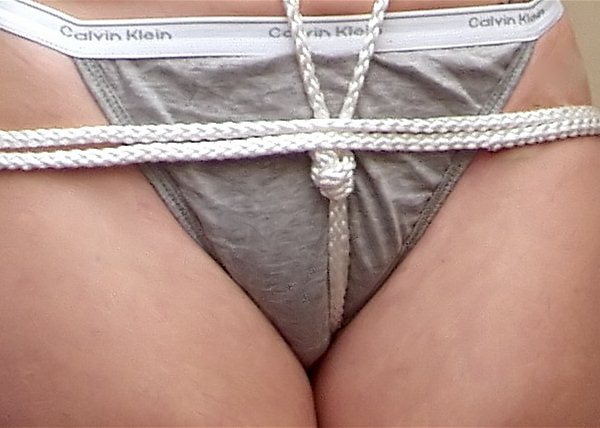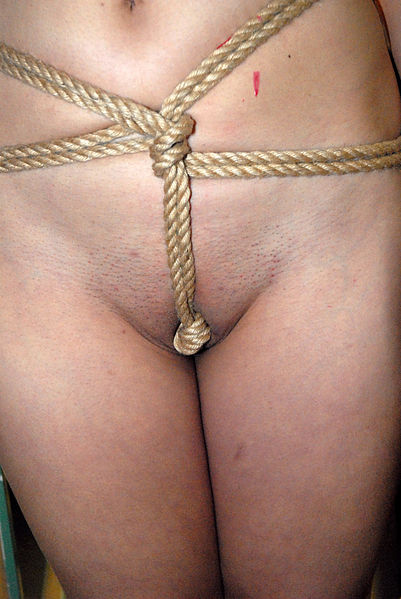 Photo from wikipedia.org
You can also be creative. For example here is a photo of something unique: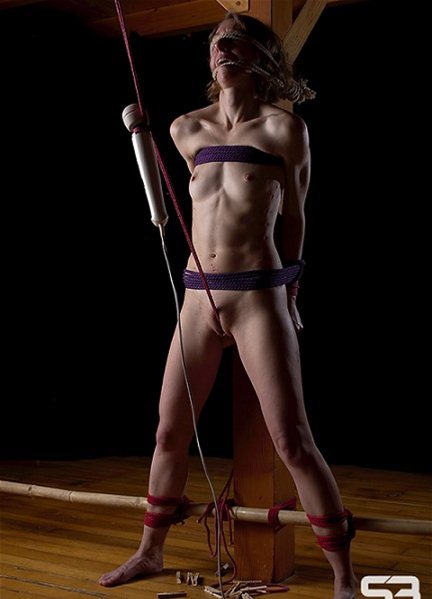 Photo from Reddit.com
Here you have a crotch rope with a vibrator attached to the top, so there are some vibrations going through the rope. The description of this photo describes how the vibrations were stimulating, but not enough to reach orgasm and the experience was sexually frustrating, but lots of fun.
Then you can do just about anything else you want with rope. You can tie a person spread eagle (think tying arms and legs to bedposts), a hogtie or anything else you can think of. Here are some examples.
Shrimp Tie: Chest tied to legs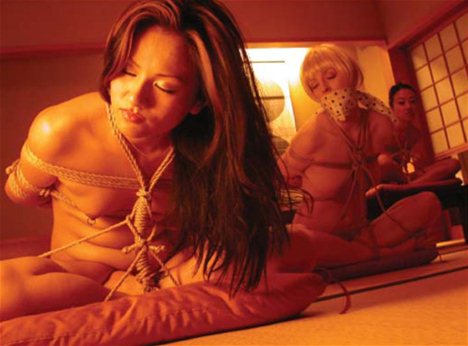 Frog Tie: Thighs tied to legs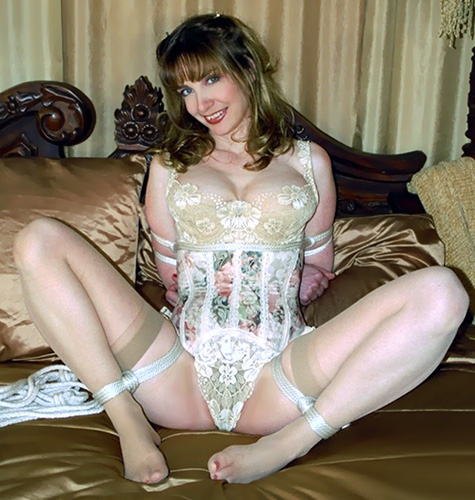 https://www.easternrope.com/fashions2/thumbnails.php?album=7
Hogtie: Legs and arms tied together behind the back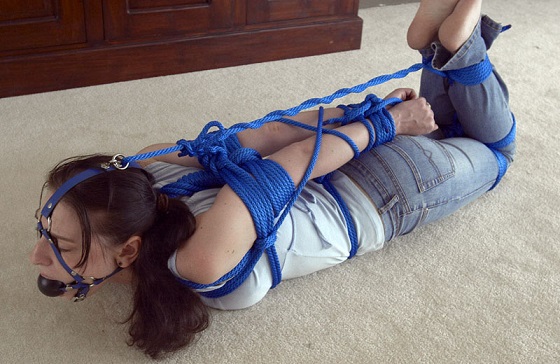 Strappado: Elbows tied together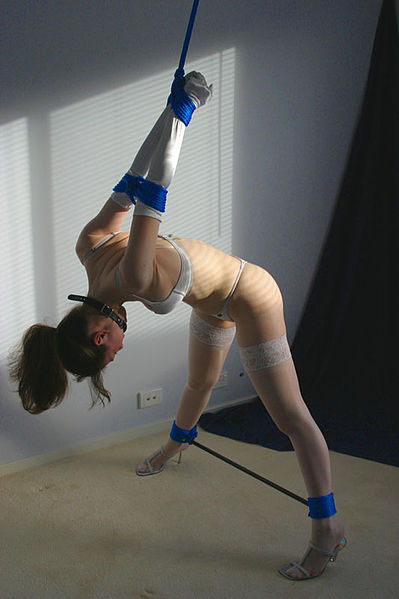 Photos from wikipedia.com
Rope bondage takes a bit more work than other forms of bondage. There is a bit more concern with circulation. If you tie too tight, you can harm a person and then learning knots takes time and effort. But if you do learn, it can be quite rewarding. There is a beauty and a complexity and fluidity to rope bondage, that is quite attractive.