Personally, I am not a fan of the bubble butt, though I know it has its admirers. On guys, I don't mind a butt that's out of shape, hairy, whatever, as long as is owner is comfortable with it being touched and explored. On women, I tend to notice butts that are bouncing in front of me down the street; some women manage to make each butt cheek seem like its own entity, and even through a skirt or dress, you feel like you can see almost everything. Ah, summertime!
People care about butts too, from size to shape to composition—witness Kim Kardashian recently getting a butt x-ray to prove that her booty is the real thing, while Kelly Osbourne took to Twitter to proclaim Coco's much-photographed ass "100% real and a force to be reckoned w/!"
Fetish photographer Dave Naz has a new book out from
Goliath
called
Butt Babes
, featuring exactly what you'd think: lots and lots of asses. "The butt is my favorite part of the body," Naz told me. "I love photographing them, all sizes. I remember when Trevor Watson's book
Cheek!
came out, I was so happy to see a book of butts, shot from the perspective of someone who loves them like I do. I can say the same about John Stagliano's
Buttman
series. I've been a fan for a long time."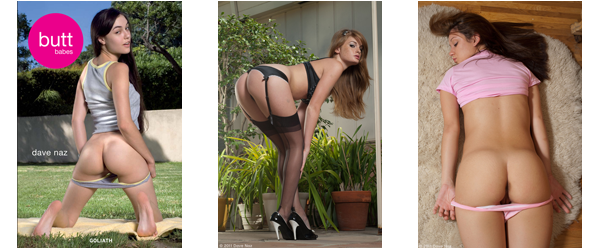 Last year I was in L.A. and actually got photographed by Dave, though ultimately my rear end does not appear in
Butt Babes
. I donned a leopard-print nightie, thigh-high fishnets, and with a little help from Dave's wife, Oriana Small (aka, Ashley Blue) with my garters, I was set. I straddled a chair, wrapping my legs around it so my ass was on full display. I was impressed with the lengths he went to to get a good shot, from lying down on the ground while I stood on a chair to angling me just so. Posing with my ass front and center was a different experience from traditional poses; my smile didn't matter, but how I thrust my hips and angled my butt did. It was a little nerve-wracking, because while most of the time I like my ass, when I saw it so close up, in the spotlight, I found lots of things not to like about it. I learned that to be an ass model, you have to truly own your ass, work it like you're on a runway.
I wouldn't say the ass is my favorite body part (that is reserved for the back), but I am definitely a fan. Often, it's not a part you get to ogle a lot on a lover, unless you specifically set out to do so. Maybe they're getting out of the shower or happen to bend over, or you grab them before they get dressed. Or maybe if you're lucky enough to get to spank them, you get to have their ass over your lap, right there for the taking. It's been quite a while since I've had that pleasure, but for me the appeal of getting to spank someone is that close proximity, that you get to observe every movement and the effect of your handiwork.
I think you can be an ass appreciator as a voyeur, not necessarily an aficionado of anal sex, but sometimes those two get totally conflated. Not to knock anal, but simply to say that I think part of the reason asses get so much attention is that they (usually) stick out. They are squeezable and spankable and inviting. On women especially, they stick out behind us when we walk.
One man on Craigslist put up an ad complete with image of a clothed woman sitting on a man's face, saying, "I have a particular fetish for wanting to sniff, kiss and lick a woman's ass. It arouses me and turns me to keep my face near your backside. There is just such an eroticism for me to it and it really turns me on."
My personal favorite thing to do with my ass is to have it spanked—I'm sure that's no surprise. But I also enjoy having it fondled, and that's something that could be done in public (subtly). I wear dresses all year long, but since it's summertime I've been forgoing my beloved fishnets for bare legs, and I like the feeling of knowing that my ass is on display (sometimes literally, when I walk through a particularly tricky subway turnstile).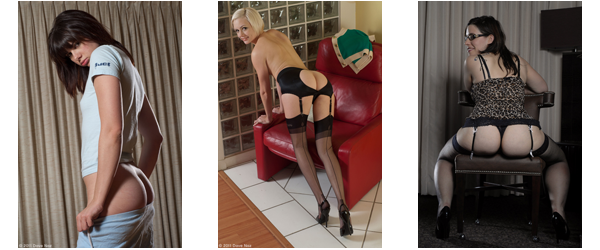 In her foreword to the Alison Tyler anthology
Luscious: Stories of Anal Eroticism
, noted anal sex expert Tristan Taormino writes, "What lies between the cheeks can be a source of incredible pleasure and while the notion of the ass as an erogenous zone in its own right is not new, the public discussion of it is." Of the butthole, she writes, "It represents strength and control to some and ultimate vulnerability to others. It's delicate yet resilient and embodies some of our deepest needs—things like privacy, trust, and power. Some fear it, others fetishize it, and everyone has to think about it on a regular basis."
That's interesting, because the asshole is usually hidden, but butt cheeks, are everywhere. Naz says, "Beautiful asses bring a lot of enjoyment into my life. I love looking at them. You can ask my wife—I watch and slap hers several times a day. For the book I photographed girls of all shapes and sizes. I find that usually the larger more shapely butts are my favorite. Goliath narrowed it down and made the book less like some of the other butt books out there, using more of the slender Barely Legal type girls."
Indeed,
Butt Babes
features a lot of asses, and my favorites are the ones where the ass is framed, either by a pair of jeans in the middle of being removed, or by lingerie that perfectly frames it. Some are covered by stockings or panties, and are among the ones I liked best, because they tease you with the promise of what's beneath—even if you know, even if you've seen that very ass before, whether in a photo or in real life, the right pose can tempt you into wanting to get a peek or a taste.
Maybe that's my favorite thing about the ass: it's hidden possibilities. That's why sometimes the perfect, tight pair of jeans can be hotter than even the skimpiest bikini, though your mileage may vary on that one. Even covered up, an ass can manage to make a fashion statement. What your ass says about you will depend on what message you're trying to get across!