"It's short fast and hard, you know?" Lani Beloso says about her period. She's a gorgeous 42-year-old with a license in nuclear medicine, a musical giggle and a condition called
menorrhagia
, which causes her period to be about three times as heavy as a normal one and horribly painful.
"One day," she says, "I thought:
I'm gonna sit over something and I'm going to see exactly how much comes out of me
—because I thought it was a gallon. I thought I was bleeding to death every month. I wanted to actually see the amount…
I'm just going to sit over great a canvas and make a painting out of it while I'm at it
."
That was the beginning of
"The Period Piece,"
a project in which Beloso, already a painter/photographer, created 13 canvases with her own menstrual blood, representing a year's worth of cycles. She wasn't making a statement—she was just wanted to make the pain worth something.
"It was cathartic and made me not hate that time of the month so much anymore," Beloso says, but she also finds it beautiful and funny. "I don't plan on having children, I'm not using my uterus. I just wanted to take it out and throw it in the garbage can." But the project did make the intense, painful periods useful to her and beautiful and inspiring for others. (She did bring that "When life gives you lemons, make lemonade" bromide to a whole new level).
Beloso actually did just stay there and bleed on a canvas for the first painting, but for the others she collected her blood and then applied it. She'd "paint the canvas, let it dry, then paint the blood on, pour it, or whatever I was doing and then cover it in resin, so it's not a biohazard or anything."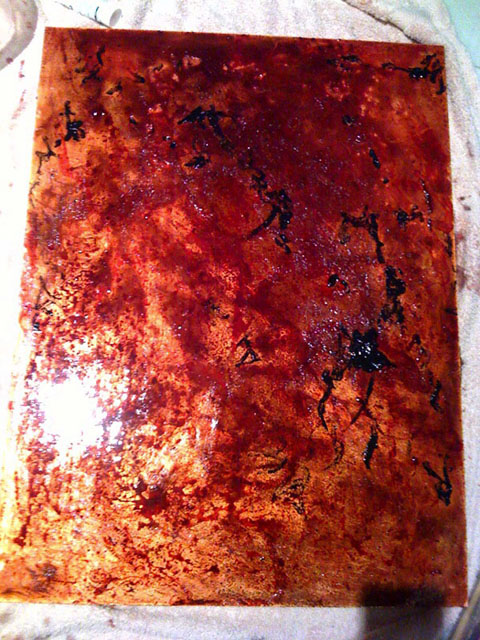 From up close, Beloso explains, the resin seal makes it looks like the blood is "suspended" in the resin, which doesn't mix with it, but stays separate, "like oil and water." Sometimes the drying process or temperature the blood was stored at or at what point the resin was applied caused changes in the blood color, from red to a dark maroon. But it's all her.
Menstrual art is certainly not common but there are other women who do it, like
Vanessa Tiegs
, who created a series of paintings called "Menstrala." Sarasota, Florida, artist Charon Luebbers created a 6'x6'x5' "Menstrual Hut" in 1996 to illustrate the isolating experience of menstruation.
News of the Weird's
Chuck Shepherd writes that the work included "28 canvasses created by Luebbers pressing her face into whatever discharge was present in each of the 28 days of her cycle for one month, to show the contrast."
Beloso isn't nearly that serious. Asked if her project was fun, she says, "Well, it made me actually look forward to my period. It was like,
I have something to do with this instead of sitting there, just being a lump every month
."
Some friends thought it was "gross," or "disgusting," she admits. "People loved it or hated it." But when she was working on her next-to-last canvas Beloso was offered a show at Miami's ArtWalk (the Florida native now lives in Hawaii). "Now that it's gotten some attention, it's like, 'See? It turned into something.'"
Beloso is taking the summer off from period painting, but she'd like to do the project for another year, and also plans something live, she says, with a film to go with it. "I'm going to do a performance piece where I actually paint and something crazy."
Bloody painting live?
"Yeah, like pour it over myself and roll around on the canvas, and [incorporate] a [background] film that will go together."
What does her family think of her menstrual media?
"My parents have got one [painting] hanging up in the living room," she giggles. "They just think it's funny that people come over and don't know what it is, and still like the painting."
One strage bonus: Once she'd finished the project, her periods got less painful. "It lightened up for me. I don't know if I was just meant to do that or something."
Marvelous. Bloody marvelous.