This column is, in many ways, about what I don't know about AIDS, what I'm surprised to have learned and what I want to become more aware of, going forward. It's not that I'm totally cavalier about protecting myself, but I am not always as vigilant as I should be.
I've noticed in the past few years that a good number of my partners haven't bothered to ask about whether I've been tested, nor have I asked them. Logically, I know this is foolish—that just because I think someone is HIV-negative, or want them to be, doesn't make it so, especially when "CDC estimates that more than one million people are living with HIV in the United States. One in five (21 percent) of those people living with HIV is unaware of their infection."
I'm not proud of this, but I'm sharing it in the name of honesty, and as a reminder to myself that my health is more important than anything else. And I know I'm not alone. Witness this Reuters headline:
"More, but not enough, Americans get AIDS tests."
This column is called Secrets of a Sex Writer, but I think this is the first time since I started that I've truly felt odd about revealing a secret, worried about others' judgment. I have plenty of other vices, if you want to call them that, things I'm ashamed of, and want to improve. Certainly as soon as I can, I do plan to follow my own advice and get tested.
Even by writing that so starkly, I'm reminded that I should be getting tested on a more consistent basis. (I usually do it when I'm getting other blood work done.) I do, however, think that knowledge is power, and if you haven't been tested and want to be, visit
hivtest.org
to look for a testing location near you.
Another area I don't know as much about as I wish I did is what it's truly like to live with HIV. One of the best books I've ever read about AIDS is the memoir
The Naked Truth: Young, Beautiful and (HIV) Positive
by Marvelyn Brown and Courtney E. Martin (HarperCollins, 2008). Brown contracted HIV with the first person she ever slept with, and she shares her story with grace and honor.
Brown says that the most frequently asked question she gets is whether she still has sex. On her
blog
she writes: "Sex is a lot different for me now than before my diagnosis. I now have sex because I want to, and not because I want to fit in or to keep a man. Now I always use protection not only for my partner, but also for myself." Her perspective is an important one, because rather than letting her diagnosis mean shrinking from the world, she's done the very opposite.
Reading about her life and how she's handled herself, as well as seeing some of the hatred spewed her way on her blog, was an awakening for me about the reality of what living with AIDS, as well as the stigma around it, is like. It's also an important part of the conversation.
When she writes, "I've found that people have more sympathy for people living with breast cancer than they do for people living with HIV. I know that breast cancer has come a long way from its days of silence and stigma. I hope that HIV can follow," that's both a hopeful statement and a sad one.
Brown's voice is incredibly important, both as a message about the reality of how one can contract HIV (and that just because you think you can trust someone doesn't mean you can, or that they know their own status), as well as an example of someone who took that diagnosis and has used it as a way to help people.
Raising money is certainly important, and efforts such as the "Kim Kardashian is Dead" fundraising campaign, part of the AIDS charity
Keep a Child Alive
is a great start, but again, to echo Brown, we shouldn't only care about AIDS for one day of the year, but all 365.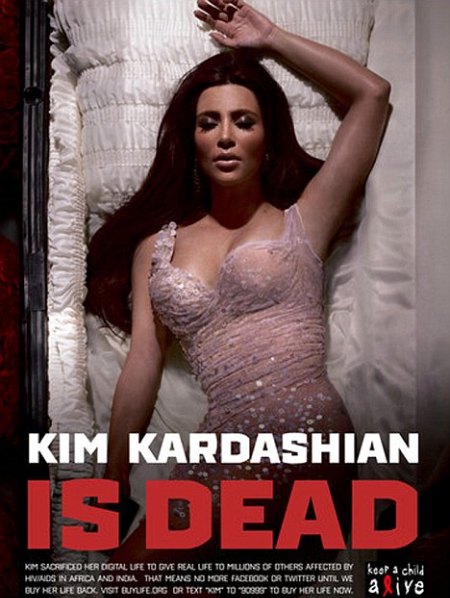 Educating ourselves, both about preventing AIDS and helping those who are living with the impact of AIDS, here and abroad, is a key step. I learned a lot from the
HIV Plus
story,
"The Year in HIV"
(such as the fact that in March, President Obama signed The Patient Protection and Affordable Care Act into law. The bill "prohibits insurance companies from denying coverage based on pre-existing conditions, like HIV."
I don't have a tidy way to summarize this column, and am not going to try to pretend to be an expert on AIDS. Clearly, I'm not, but I can say that I'm inspired to learn more, to do what I can to become better educated. To that end, here are a few final links for you, in addition to the wealth of other contributions here on SexIs:
"5 Ways to Get Involved on World AIDS Day"
,
White House Office of National AIDS Policy
.