Before we begin talking about birth control, we need to learn about the female menstrual cycle if we are going to understand how different types of birth control work. So let's begin.
A part of your brain is called the hypothalamus. This part of your brain releases a hormone called gonadotropin releasing hormone (GnRH). This acts on your pituitary (which is located at the base of the brain) and causes it to secrete two hormones called follicular stimulation hormone (FSH) and Luteinizing hormone (LH). These hormones act on the ovaries and cause effects depending on their levels. The ovaries in turn secrete estrogen and progesterone.
When estrogen levels reach a certain point, it stops the hypothalamus from releasing GnRH and it stops the pituitary from releasing FSH. When progesterone levels get high enough, it stops the pituitary from releasing LH. This complex cycle of hormones is what regulates a woman's menstrual cycle.
A woman's menstrual cycle on average is 28 days, but this ranges anywhere from 21 to 40 days. Later on we will talk about days of the menstrual cycle so just keep in mind that the first day of bleeding is considered day 1 of the cycle. The menstrual phase is further broken down into 3 phases.
1. Follicular phase
2. Ovulation phase
3. Luteal phase
The follicular phase is very variable and lasts anywhere from 1-14 days. Typically on day 1 menses (bleeding begins), then on days 1-4 there is an increase in FSH that causes a follicle (which will contains an egg) to develop and grow. More than one follicle develops. But around day 5-7 one follicle becomes dominant. This is now the follicle that will release the egg. (Although estrogen normally inhibits FSH, when it is high for a short period of time it causes a short burst of FSH. Your hormones are complex and their levels change a lot of things.)
During the follicular phase, your body causes an increase in estrogen. This stops the menstrual flow, thickens the endometrial lining (that is the lining of your uterus) and produces thin water cervical mucus that allows sperm access from the vagina to the cervix to the uterus and fallopian tubes where they can meet an egg.
Next the ovulation phase happens. If the estrogen levels remain high, it acts on the pituitary and causes a sudden release of LH. This surge of LH causes the follicle to mature and to rupture, releasing an egg (ova). This happens 28-32 hours after the LH surge. The egg then travels down the fallopian tube where it can meet a sperm in the uterus.
Finally the luteal phase happens. During this phase the follicle has a left over part called the corpus luteum. This corpus luteum produces progesterone. Progesterone causes the built up endometrial lining to build up even further.
If pregnancy occurs, the egg and sperm combined (called a zygote) implant into the uterus and cause new hormones to be released (such as one called chorionic gonadotropin) which prevents the corpus luteum from being broken down. The corpus luteum continues to secrete progesterone until the egg and the placenta develop enough that they can regulate their own hormones.
If pregnancy does not occur, the corpus luteum is broken down by your body. This causes a drop in progesterone levels and the endometrium lining sheds (this is menstruation). With no corpus luteum, your progesterone and estrogen levels begin to fall. This in turn causes FSH levels to increase (because estrogen and progesterone are no longer inhibiting it) and the FSH in turn starts causing estrogen levels to increase and the cycle starts at step one again. This repeats over and over and over until menopause.
Here is a photo illustrating the menstrual cycle: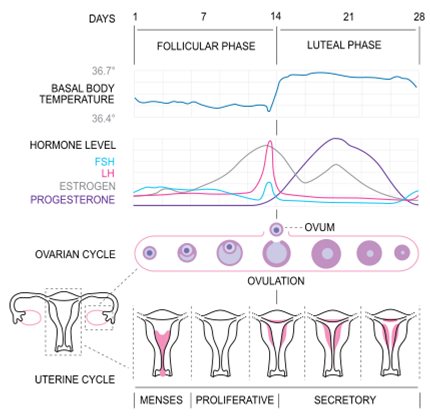 Photo from wikipedia.org
Just some statics about pregnancies: About 30% of pregnancies are unintended and of those 30 percent, 50% of them end in abortions. So there are a lot of people who become pregnant who do not wish to. So there is a definite need for increased contraception awareness.
With the knowledge of this hormonal cycle, it is possible to exploit it and prevent ovulation from occurring, and make it harder for the egg to implant if it is fertilized. That is how hormonal birth control works. We can also prevent sperm from physically entering, we can permanently alter the reproductive tract, or we can use knowledge of the menstrual cycle and abstain from sex during that time. These four methods of birth control are classified as:
1. Hormonal
2. Barrier
3. Permanent
4. Natural Family Planning
Over the two articles we will discuss these in great detail.
As always if you have any questions feel free to ask them in the comments.