How did April and Carlos meet? How has their relationship been challenged by working in the adult industry? How has it been strengthened? They're already working together on incredibly unique books and films, what more can we expect from them in the future?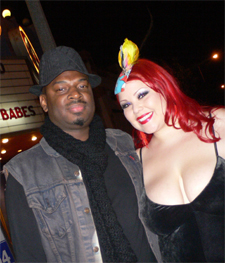 April Flores is the muse, the voluptuous model, the performer – inspiring her husband, the photographer, director and artist Carlos Batts – sounds like mutual chemistry, right? This couple has shown, through their body of collective work, how a real-life couple can harness their passions and collaborate on some pretty steamy projects.

Did these two envision themselves working in the adult industry or did it find them, so to speak? April spent her youth reading, visiting museums and delving into art. She became interested in modeling through her love of art and posing for photographer friends. Carlos was a naturally gifted kid, winning art awards and scholarships through school; he was even the yearbook photographer. While at B.I.M, he wanted to be in broadcasting but photography and film won out. After college, and working his way around the country honing his skills, he landed in LA. Now he and April collaborate to create provocative books and make exceptional films together.

When we asked April and Carlos what is on the horizon for them – they say 'making art' – they live art, they want to contribute to the history of art and film. With April and Carlos being immortalized not only in photos, on film and April in cyberskin and plaster – we eagerly await what's next.

Carlos:
I have to ask...have you used April's new Topco love toy?

Carlos here - I have not yet tried the toy because I have the real thing. However, I am planning a night out with both of them soon.

Victoria (host): "I hope you tell us how your threesome works out ;)"

How is your new clothing line coming?

April here - The clothing line is coming along very well. It has been a very unique experience, from designing the line, thinking of fabrics, talking to retailers, it has become an intense creative process. We are having fun bringing it to life. Thanks for the question Earthquakepixie!

April,
How was the first scene you ever shot? Were you nervous? Was it easy or were there a lot of blooper moments?

Hi Saraid, April here. My first scene ever was in late 2005 for Belladonna''s movie Evil Pink 2 and my scene was with Bella! I had no idea what to expect or really what to do. It's kind of funny because back then I didn't watch porn. I was totally nervous, but she was so lovely, nice, comforting and gentle that it made me feel really comfortable. During the shoot, I was trying to pace myself out and make sure my moves would last for an hour or two. I had what I wanted to do planned out in my head. Once the camera was rolling, we started making out then the next thing I knew, she was telling me that we were done. It was funny because I felt like I had just gotten started. When I was leaving the set, I kept telling myself "man, I didn't get to do this, this, and this!" I also wore a black Cleopatra wig because at that time my hair was short and I didn't like the way it looked. I also wanted to wear a wig as a small form of disguise because I thought me being in a porn would be a one time thing. I had no idea (or plans) that I would perform in any more movies. Thank you for the question!

Victoria (host): "Isn't that funny how you can prepare and stress something, and it winds up being totally different than you expected? :) I love this answer - thank you being so honest and sharing the story of your first time."

April, does being called a muse cause you to put more energy into your work?

Hi Peg, April here. When I work with an artist, my ultimate goal is to fulfill and become their vision. The final image is what is most important, so I have always done the best that I can to contribute in my own way. I have evolved as a subject by always pushing my boundaries and using each shoot to grow. I try to do a good job for the photographer and try to personify the idea/image they are trying to achieve.

I describe myself as a muse because I don't think the term "model" completely describes me. In my opinion, the difference between a model and a muse is continued inspiration. When a model is working with an artist, they are the artist's muse for the duration of that specific project weather it's a photo shoot or a painting. But a muse has a more intimate relationship with the artist. It's a relationship that is developed over a continuous amount of working together and the muse may start to influence the artist's ideas. I also think a muse is like a blank canvas or an unformed piece of clay in that they give the artist freedom to create. Thanks for the question Peg!


Carlos, do you come from an artistic family? Does your family support your career choices and the path you have taken over the last 15 years?

Carlos here - My brothers are hip hop performers, but I am the only artist in my family. My family is proud of my accomplishments and they see that I work very hard on all my projects. In the past few years they have attended some events that have taken place in Baltimore. For the most part they have always just let me do my own thing.

What's the funniest thing that's ever happened on a shoot?

Hi Earthquakepixie. April here: Luckily I have never really had anything funny (as in blooper moment) happen to me at a shoot. The general mood on Carlos' sets is very light hearted, fun and fast paced. Everyone is working really hard the whole day, but the crew and talent generally have fun. Thanks for your question!

Do either one of you experience insecurity or jealousy from any work related situations?

Hi Wise Young Mommy, April here. This is a great question! Carlos and I have a very strong relationship, so doing porn doesn't affect us in any negative way. We are pretty adventurous in our personal sex life, and I think it all blends to create a uniquely nontraditional marriage, but one that works for us. Since we are both open about our desires and explore our fantasies together, it makes us stronger. We are partners in every sense of the word.

Irrelevant but I must know. April, what is your natural haircolor?

Hi OrgasmoDuck, April here: My natural hair color is a medium-dark ash brown. I call it Caca Brown.

Victoria (host): "I think we all agree, you are gorgeous as a 'red head' ;)"

Carlos,

What, exactly, had photography and film winning out over broadcasting for you? A deeper love of it? Circumstance? Opportunities? Talent?

How did you decide and why?

Art and photography only involve me during the creative process. Broadcasting or network media is more commercial and anything that is going to be broadcast has a different set of rules as to how images are seen. Eventual television is a major goal. But there is more freedom in art.

Carlos, have you ever stopped to take a picture or notes during sex?

I ask, because I often want to capture our particular arrangement of limbs in the middle of sex, but have no camera handy. Or other times, I find what we're doing inspiring a phrase or story idea.

Often very great moments warrant a snapshot; new shoes, spank marks and threesomes. Just have a camera with fresh batteries, set your flash settings and have a model release handy. I'm usually hired to photograph or film people having sex after I've cast, styled, lit them in a very specific location. My advice would be to finish your sex act and later recreate it for a photograph.

Carlos and April:

Did you two meet socially and then become involved in these collaborative projects or did you start working together first and then become involved?

From Carlos:

We met 9 years ago at a gallery opening. I asked April if she would be interested in modeling because she has remarkable skin. Our first shoot is in my book WILD SKIN (2001 Edition Ruess). Our second shoot became the cover my publisher flew from Munich to edit my first book. He picked April from a selection of about three thousands images with not knowing it was her he actually selected 3 different pictures of April for the cover from the first 3 shoots. She is magnetic. From that moment we shot again and again eventually we've become stronger collaborators over time. April has been my producer, talent coordinator, make up artist and now 1st AD on our new film she wrote Dangerous Curves. We've traveled the world together, we shared ideas creatively and professionally and we inspire each other and support each others ideas. Each project we are motivated by doing something more exciting and more challenging.

Carlos and April,

Making art is such a vague answer!

Any specific plans on the horizon after the Love Toy show has run it's course?

From Carlos:

We live it 24/7 so when I'm not making films I curate art shows. Specifically the April Flores Toy show may come back to LA for an Exhibit at Antebellum Gallery Dec. 12th (maybe Atlanta 2010, maybe Detroit 2010). In post production now on new film Dangerous Curves Preparing my films Sugar Sister, YCKM, Follow the Beat, The Book of Midnight, working on pilot, working on April Flores Lingerie & Clothing as well as April Flores club/dance single F.A.T.T.Y working with hip hop artist Dirt & Bank occasionally shooting a band, boxer or celebrity in between that and trying to figure out how to bring my robot to life. I draw all the time, take notes and visual my films routinely.

April,

I noticed that you recently worked with belladonna. How was that? Were you intimidated at all? Nervous? How was it different than some of the work you've done in the past?

Hey Carrie Ann, April here. I actually did my very first scene with Belladonna back in late 2005.

She is such a nice, sweet, genuine person that you don't feel intimidated being around her at all. She has since hired me for four other films and each time has been a wonderful experience.

April,
What is the best compliment you've gotten from a fellow performer and why?

April here: By far, the best compliment I have gotten was from Belladonna after shooting my scene with Mr. Pete for Foot Soldiers 2. She said twittered that it was the best scene they had ever shot! I was totally flattered! Thanks for the question Saraid!

Victoria (host): "Whoa! Coming from Bella that is a big compliment!"

April, how do you prepare for scenes with people? Do you plan things dependent upon what someone likes, what you know of them? Do you have a choice in what you actually do with someone? Or is that all pretty much scripted and once you accept the script, it's out of your hands?

My curiosity is killing me.

April here: The days before the shoot I like to dye or freshen my hair color. I shave the morning of the shoot and like to pamper myself a little bit by doing a face mask so I look my best. As for the actual sex, I like to talk to my partner before shooting about what our likes & dislikes are. There usually isn't much time to hang out or connect when we are on set, so the sex happens pretty soon after arriving. There is always a choice in what I actually do with someone. I like to discuss with the director what they would like to see from the scene and try my best to do a great job in filling the director's vision as well as giving a good performance. Thanks Carrie Ann!

April and Carlos, I was recently asked "What's next for the BBW market?"...What would do you both think the answer to that question might be?

Hey Victoria! April here: It is so hard to predict what is next for the BBW market. It seems many industries are drastically changing (music, movies, adult) as a result of the internet and the financial difficulties many people are facing. I think that ideas about curvier women are gradually changing and this can only result in positive changes in the market.

Your skin... Everyone talks about it. Can we hear from Carlos on why he finds it so remarkable and from you April on what you do (if anything) to maintain it.

Hi Linestepper, April here: Thanks so much for the compliment!

I was blessed with my skin from my parents. My Father had very nice skin, and my Mother taught me to take good care of it from an early age. She bought me moisturizers containing sunscreen when I was 12, and told me the importance of keeping my skin protected from the sun. Drinking lots of water also helps keep skin looking nice and fresh.

Hey April! Love your work - I recently saw Voluptuous Biker Babes and loved it (although there was only one bike in it!)

As a fan, one of the things I love about you is that you seem totally comfortable in your skin - the very epitome of sexy even if you don't conform to traditional expectations (like being skinny.) I also get the impression that your sexy attitude has resonated with a lot of people - both male and female. For instance, the incredible response your cover on Bizarre magazine wrote. It's clear that a lot of people LOVE everything about you - not just the way you look, but your attitude as well.

How do you feel about being an icon? Not just for curvy women, but for people who don't want to conform to the physical, social and sexual expectations society has for them. If you had to give a message to the people who admire you for being so forthright - so YOU - what would it be?

Hi Red Roulette, April here thank you for the question! I am so happy you liked Voluptuous Biker Babes! I agree that confidence and being comfortable in your skin has more to do with sexiness than actual physical appearance. I am not sure if I am considered and icon, but if I am helping anyone feel more comfortable with themselves that is beyond amazing to me! I would tell people to believe in their personality and style and have fun. I would also tell people to try not to worry about what others think. I know its easier said than done, but once you free yourself from the scrutiny of others you will feel so much better. Negative people will always have negativity to spread. The key is learning to let the negativity roll off your back and stay focused on your own happiness.

Hi April, I am insecure about my body image and I was wondering how you overcame that in your life? Or have you always been comfortable with yourself? I'm more of a "dark room" intimate person and would love to find ways to change this myself!

Hi Michele, April here thank you for the question. Growing up, I felt uncomfortable with my body so I understand how you feel. My confidence is definitely something I have built over time. When I was younger I always wanted to be thinner. I thought guys would be nicer to me, everything in life would be easier, and that my problems would go away if I was skinny. Then I lost a lot of weight and realized that life is the same no matter how fat or skinny you are. I realized that if I wanted to be happy I needed choose to be happy in my head and that a number on a scale or pair of jeans could not dictate the quality of my life.
Perhaps a way to become a "lights on" person would be to try and not think so much. This may sound strange, but when you are being intimate, try not to worry about anything and just be present in the moment. We have all of our lives to worry (or try not to worry) and you should have positive, loving thoughts in your head when you are being intimate. I'm sure that your partner finds you extremely attractive and knows and loves every part of your body. That being said, I would bet that your partner would love to see your body parts in the light. I particularly like the mood and lighting candles provide.


April, when I listened to you on the Sheena Metal Show a few weeks ago, you said that you'd stopped doing boy/girl scenes for now because after the AIDS scare from a few months ago, you will only do boy/girl if condoms are used. Have you gotten support from co-stars about this? Have you had to turn down any offers because they wouldn't agree to your terms? Do you think you will change your mind over time or when filming with certain male performers?

Hey Victoria, April here thanks for the question. The risk with having unprotected sex with multiple partners is the only thing I don't like about what I do. Surprising as it may seem, I have not really discussed this with too many other performers. I know some other women have made the same decision I have and others feel that condoms will hinder their performances. I just booked my first boy/girl scene and my partner in the scene is totally fine with using a condom. It will be hard to stick to my decision because so many factors are involved, but I am determined. Change in everything is inevitable and I think a change to help protect performer's health can happen. When I made this decision, I asked my followers on Twitter what their opinions were. Every single reply I received was supportive. Everyone understands the risks of unprotected sex and I think the audience is open and ready to embrace safer sex in adult films. Films could be the perfect forum advocate safer sex and even teach people new, fun ways to do it.

Victoria (host): "I am SO glad to hear this! I really admire you, April. Thanks for being a strong advocate for safe sex!"

I was really intrigued when I saw the ads for your art show, I think it's audacious, sexy, and playful simultaneously. The inner "my dad is an art historian" came out when I saw the Duchamp Fountain version, but I really liked the variety of interpretations. How were the artists selected and how do you feel about the final products? Do you have any plans to continue working with/in the fuzzy borderlands of the art/sex world?

from Carlos

The show was inspired by various moments in contemporary art history like Jeff Koons sculptures and The Dunny movement. The first 8 artist were selected because I knew them and we may have had a mutual friend in common. Kime, Axis, Tony Mech and COOP appear in my film Young Hollywood. I think COOP'S piece connected the dots from 1919 to now and Duchamp pieces was radical and caused a stir in the counterculture of art during that group show and I think this is his addition to the avant garde tradition. Sex is a part of life. Sex is usually the motivation for any form or medium or art. I think we live in the future, art rules were a thing of the 20th Century.

Victoria (host): "Nice answer!"

April - what made you decide to create this replica of you? Is it a surreal experience to see your own body immortalized in cyberskin and in plaster works of art?

Hi Laurel, April here. Topco Sales contacted me about creating the replica. I was very intrigued and excited that it would be the first toy molded from an actual curvier woman. It feels completely surreal and wonderful to see my lady bits in cyberskin and plaster forms. Thanks for the question!

Being a very voluptuous woman, did you find breaking into the adult industry hard? What challenges or hurdles have you had to face because of your size? What advice would you give to other voluptuous/plus size ladies who are thinking of entering the business?

April here, thanks for the question bichickfromjersey! Since I entered the adult industry very slowly and at my own pace, it wasn't necessarily hard. I started with posing for erotic photos, then gradually moved into performing in films. On the flip side, unfortunately I can't give the best advice to other women my size who want to enter the business. I would just say to always be professional and try your best.

April, you mentioned taking on a larger directorial role in your new film Dangerous Curves. Can you give us some insight to what is like seeing and coordinating things from the other side so to speak?

What the creative process between you and Carlos like when you are developing a new idea or working together on a set for a film or a photo shoot? Your work is always different and unique from other main stream adult films. Do you study "porn" the same way you study any art?

Hi linestepper, April here. Thanks for this question! I definitely had the very cool opportunity to take on a larger directorial role in Dangerous Curves. I've been around photography and film making at a very intense level by working with Carlos. I have also been modeling for books, magazines, short films, fine art painters for 9 years non stop, traveling and performing with multi cultural and provocative role playing. I've learned a lot from my opportunities when working with photographers, artists, painters, writers and performers. There are times we take pictures for fun when we travel or go out. Sometimes we shop for wardrobe or shoes for different films. We create in our own bubble we love films and indie film making. We do our own projects we don't really look at anything porn. We are motivated by our imagination.
Erm, I meant 'got' in the above question about Bizarre - not 'wrote' - sorry!
Forum
No discussions yet.