Bitch magazine has been around for more than ten years and continues to confront issues regarding society and sex. How do you see gender roles changing in the cultural landscape particularly in confronting issues of sexuality, and convention? Where do you see Bitch magazine in the next ten years?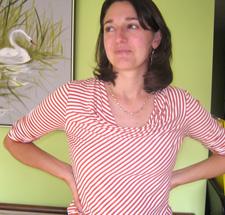 Julie Falk is the executive director of Bitch Media. Before coming to Bitch she spent time as Executive Director at the Center for Health Justice, an AIDS-service organization in Los Angeles that addresses the spread of HIV in prisons and jails and is a national expert in in-custody condom distribution. She was also the Executive Director of Prison Media Fund and has toured and visited prisons and jails in Massachusetts, Virginia and California looking at conditions of confinement. She has written several papers on related issues and is now a driving force in how Bitch Media operates and spreads its message. Julie is also a mother of two and a lover of art and literature.
How would you describe Bitch magazine itself to those who have never seen it? What's your core audience?

Bitch is a fun, witty, sassy magazine that looks at popular culture through a feminist lens. With a name like "Bitch", some people expect that it is angry and critical. And while there is certainly some of that, Bitch is written and read by people who love television, music, books and movies. They're news and culture junkies who think that popular culture, which impacts all of us, needs feminist perspective.

Since raising a well trained dog is listed as one of your accomplishments, I have to ask...

What sort of dog? And what are your training secrets?

Copper, who is not a bitch, is a Brittany spaniel. He's my first dog. My husband and I got him when we first moved in together.

Training secrets? I don't know. I was lucky to be working at home at the time, editing a prisoners' rights publication, so I was able to spend a lot of time with him. We also read a terrific book, SuperPuppy, by Daniel Pinkwater, which I would recommend to anyone getting a dog.


What made you decide to name the magazine and media company "Bitch?" Was it chosen for its potential controversy and a way to generate attention? Or was it chosen as a way of striking a blow to those who use it in its derogatory meaning, as in "We're bitches and damn proud of it!"

I can't take credit for coming up with "Bitch." The first issue of Bitch was published thirteen years ago, and I just came on in June. (We are very lucky to have one of the co-founder's, Andi Zeisler, still on staff as Editorial/Creative Director.) But I have answered this question many times over the last six months.

The name is controversial and off-putting to some people, but we think it's worth it, and it is about taking back the word.

The writer Rebecca West said, "People call me a feminist whenever I express sentiments that differentiate me from a doormat." We argue that the word "bitch" is usually deployed for the same purpose. When it's being used as an insult, "bitch" is an epithet hurled at women who speak their minds, who have opinions and don't shy away from expressing them, and who don't sit by and smile uncomfortably if they're bothered or offended. If being an outspoken woman means being a bitch, we take that as a compliment.

We know that not everyone's down with the term. But we stand firm in our belief that if we choose to reappropriate the word, it loses its power to hurt us. And if we can get people thinking about what they're saying when they use the word, that's even better.
And these days, when magazines are ceasing publication and nonprofits are folding, we're certainly glad we have an unforgettable name.




I went to a zine show in PDX in summer 07, I think just after Bitch moved to Portland . . . am I right in assuming that you're there, too? If so, I'd love to know how you're digging the place! (I was a busboy at Paragon restaurant that summer . . . great happy hour!

I am thrilled to be in Portland. I moved here 3 and a half years ago, from Los Angeles. I'm from Kentucky originally, but I hope to be in Portland for a very long time. Truly friendly people, I enjoy the weather, and it's just the right size. And there are lots of great happy hours!

I'm moving to the Bay Area in 2010, and I'd very much like to get involved with some kind of prison volunteering. Would you have some sort of resource I could use to find a cool program? I like the idea of literacy . . . also maybe Yoga for prisoners . . . is that even realistic?

The Bay Area is an ideal place to get involved in prison volunteering. My former organization, Center for Health Justice, has an office in SF. The Prison Activist Resource Center (PARC), would be a great place to start. They know just about everything that's going on with prisons in the area. And I have heard of "Yoga Behind Bars" programs, though I don't know if there are any in SF. You should definitely look into it.

As a mother and a writer who writes about sex and controversial issues, I worry about what is going to happen when my children are confronted with what I do for a living in the future. Do you ever worry about this and do you have a "game plan" so to speak as to how and when you will introduce your style of journalism to your children?

My daughter (age 3) knows and says that I work for "Bitch Magazine." I hesitated about telling her the name, but after hearing her say too many times that she was going to work with her dad at the hospital, I decided she needed to know more about what I do. One day she proudly wore a "Bitch" sticker on shirt when we went out to dinner, but I decided against letting her wear a "Bitch" pin to school. She's never asked what the word means, but it's only a matter of time. I don't have a game plan, but I figure I'll continue to talk to her about what I do and the issues I care about at her level. It's like anything else really. We talk to her about what it means for her father to be a doctor, but she doesn't know about death and serious disease. She's knows about getting her eyes and throat checked about fevers and stomachaches.

If you had the power to dispel one myth about feminists (ie. they're humorless, they hate men, they don't enjoy sex, etc. etc.) what would it be?

Great question. All your suggestions are would be at the top of my list. Perhaps my choice would be that feminists are only concerned about women and giving women power over men.

Julie, can you tell us a little bit about your day-to-day duties at Bitch? I'm wondering how much interaction you have with the magazine staff. How does what you do inform their decision making processes and vice-versa?

We work in very close quarters, so I certainly interact with magazine and website staff throughout the day -- which is great. They're creative and funny, and their ideas and projects help inform the conversations I have with donors and board members and other members of the community.

I love working for an organization that publishes a magazine. I really enjoy sitting in on content and cover meetings when I have the time, and occasionally I throw out an idea about a story title or I give my two cents about the cover art. Having said that, I very deliberately don't involve myself in the editorial decisions of the magazine. It's not my job and I don't have time, but also, people love our magazine. We have a very supportive, engaged fan base, and I don't need to insert any control over the content or the style. My job is to make sure that mission of our organization, to create a feminist response to the media and popular culture, can be achieved. One of the ways we do that best is through the magazine, so part of my job is find ways to support the magazine and make sure it is reaching the people whose lives it can impact. I do make decisions about circulation and distribution of the magazine, so in that way, I act as publisher as well as the executive director of a nonprofit that, among other programs, publishes an international magazine.

I think you might need to do the world a favor...and share that quiche recipe! Please?

The key is for the cheese to be gruyere!

Delete My Account (host): "Awww what a tease, I guess we will never know the recipe secrets."

We have a traditional question here, could you please finish this sentence: "Sex is..."

...often the explanation."

When I was in my twenties, I worked at a feminist women's magazine, so I had the opportunity to read all the great publications like Bitch, Bust and Ms. as part of my job. Although I continue to read them now for pleasure, I sometimes feel that I've outgrown them in some ways -- now that I'm nearing 40. I wonder: how does Bitch see itself for the future? Will it continue to keep its focus on younger (meaning under 30) women, or will it 'age' along with its readership and staff?

I think in some ways the magazine has aged a bit, as cofounder and Editorial Director Andi Zeisler has moved through different phases of her life. We also hear from former readers who say they no longer want to subscribe to the magazine but will continue to donate to Bitch because they want to make sure its around for their daughters, their nieces and the next generation.

Having said that, it is very important to me and to Bitch that we use our organization and our programs, including the magazine, to foster dialogue between feminists from different generations. We have, for example, inter-generational forums on the docket for 2010, and we get very excited about projects that involve feminists across generations learning from each other.

(Also, check out our next issue. Currently on the newstands is "Art/See," but the theme of the following issue is "Old"

.)

Julie, I'm curious to know your thoughts on a movement (or "the" movement) to take back the word "bitch" from how it's been used and defined in the past - sort of what the LGBT community is doing with the word "queer."

Do you feel that "bitch" is still strongly negative, or do you believe that it's moving towards being used as a term that might actually have a positive (strong and powerful) connotation.

Interesting, Bitch's editor and I were having a related conversation this morning. We were talking about how in terms of putting people off with our magazine and mission, the word "feminist" is probably more of a problem than the word "bitch." This is backed up by some surveys I saw recently suggesting that 3 out of 4 women reject the word "feminist" but people are split about 50-50 on whether the word "bitch" can be empowering. Of course you can find numbers for anything, but you get my point.

As far as taking back the word "bitch", I don't think we'll take it as far as the LGBT movement has taken "queer". The word "bitch" remains strongly negative, but I'd like to think it's diminishing in its power to hurt us.

I've definitely heard "Bitch" (the magazine) mentioned in multiple contexts but haven't yet had the chance to check out the magazine. But I'm kind of curious if your focus is primarily on women feminists, or if it's more all inclusive? As a trans person a lot of feminists issues are relevant to me because of my lifestyle as well as because I consider myself to be a feminist...so I'm just curious how you approach your audience?

Bitch has always striven to project an inclusive feminism, representing and welcoming perspectives of trans and genderqueer identities. We know that people come to feminism from many paths. And while we don't want to define what feminism is to Bitch, in the magazine, blogs and discussions, it definitely encompasses analysis of race, class, gender and sexuality.

I'm relatively new to Bitch Media and wondering if you plan on doing more in depth coverage on issues affecting older women arguably a time when we reach the zenith of our bitchdom. (I choke when I say this but the media pegs "older women" at over forty). Specific issues I'm referring to are (a) perspectives on sex and older women: according to popular culture you are only "sexy" if you have attained the exalted status of "ageless" and it doesn't really matter how you get there, how much it costs or how much it hurts; (b) the hotly debated issue of hormone replacement for menopause (said hormones also being connected to the sexiness question above). I saw one article in Bitch about hormone replacement that I will comment on because I disagree with it's premise, but I'm wondering here if you anticipate tackling some of the interesting discussions about how women are perceived as they age and even findings in evolutionary biology regarding the role of menopausal women and the use of antidepressants (see work of Helen Fisher for instance)? Thank you!

As I mention in another answer, the next issue of Bitch is called "Old".

And when a theme is given to an issue and a call for pitches is made, writers will interpret the theme broadly. However, I certainly would expect to see articles in that issue specifically examining the role of older women in popular culture.

Also, I just asked our editor about Helen Fisher (her research is fascinating for those who don't know her), and she said that she was trying to get in touch with her this morning to see if she would be interviewed for the "Old" issue.

Delete My Account (host): "Helen Fisher is a Research Professor and member of the Center for Human Evolutionary Studies in the Department of Anthropology at Rutgers University. Dr. Fisher has been on the national lecture circuit since l983 discussing the evolution of human sexuality, romantic love, marriage and divorce and gender differences. Dr. Fisher has published numerous celebrated articles and award winning books. You can check out her
her website http://www.helenfisher.com for even more info."

Julie, thank you for this great opportunity. I was curious about how you your academic background and your professional experience working in the prison system has informed your stance and view points on the future of the direction of the magazine?

I feel strongly that a feminist analysis of power is very useful to understanding how and why many people are incarcerated in US prisons and jails, and I think the continuing empowerment of women can play a crucial role reducing crime, violence and drug use in our communities.

I would also say that my academic background, studying literature and art history, and my work with in the prison system, have both, in very different ways, encouraged my personal love and political commitment to print media. I mourn the passing of print magazines, and I am very committed to keeping Bitch available in print. For some people, having a magazine to hold in ones hands is an aesthetic preference. But for people who are incarcerated, getting news and information from the internet is simply not an option.

Delete My Account (host): "My wife and I are both very much into the joys of flipping pages in a magazine and/or book. I am always sad to see great magazines go by the way side. I really enjoy the process of sitting down and reading and I feel that when reading online I do not get the same emotional connection to the work. I applaud your commitment and we look forward to many years of reading Bitch in print."

In a former professional incarnation I had a chance to work with women who had been in jail/prison. The message that I frequently received from them was that sex was power - a form of control they had over men in a world in which they had little control or influence over anything else - and being a "bitch" entailed sacrificing a certain degree of joy and passion in order to survive. How do you reconcile this idea of being a "bitch" as developing a set of survival skills in a hostile environment and being a "bitch" as an empowering way of expressing a woman's strength and all the joy and passion that is a part of that?

If I'm seeing a dichotomy that's just not there for you, that would be interesting to know more about as well.

Gender and sexuality is critical to the power dynamics of incarceration. You simply can't examine the relationships of prisoners and guards and the relationships among prisoners without talking about gender and sexuality. And survival and how you exist in prison is, for many prisoners, predicated on sex, for both male and female prisoners.

While a lot of empowerment can occur while incarcerated, survival in prison is paramount and sex is often essential.

Sex is ubiquitous in prisons and jails, but condoms are not. They are considered contraband in all but a handful of facilities, making sex even more dangerous behind bars.

As far as women's professional and collegiate sports are concerned, sampling a WNBA game, college soccer event, or LPGA tournament will prove that the athletes can generate as much excitement and intensity as any players in men's pro sports. For the most part, it still seems like drawing a large fan base and viewership is an uphill battle. How would you go about promoting these events to sports fans and broadening the audience? There's an awful lot of great talent that deserves to be recognized.

Bitch Magazine and our website are all about feminist response to pop culture, and since sports are very much part of the pop culture realm, women in sports is a topic we take on frequently.

Right now, Bitch guest blogger, Anna Clark is blogging about sports, and I love her series "Top Ten Reasons Why This Feminist is a Sports Fan." You can check it out at www.bitchmedia.org.

Bitch has a well-earned reputation for taking on all sides of the pornography debate with deliberation and balance, as well as myriad other sexual issues. As such, how would you define the concept of sex positivity in the context of Bitch Media?

I don't want this to sound like a cop out, but I would say that we don't define sex positivity at Bitch Media. Sex positivity means different things for different people, our readers have diverse views on pornography and sexual practices, which we try to represent and give voice to. And thanks for the compliment; it means a lot to us.

Looking back on the path you've traveled--college, past jobs, life experience--is it obvious that you would end up where you are now, as the executive director of Bitch Media? Or is it a bit of a surprise? Were your dreams for your career different when you were a child? How about when you were a college undergrad?

This question makes me laugh. In some ways, Bitch seems like an obvious place for me to be because I have had such surprising and unconventional work history. What next after advocating for condoms for prisoners? Why Bitch Media, of course! On the other hand, my career has never followed a planned path. In college, and after, I vacillated between applying to law school and applying to graduate, but I just found and continue to find jobs that challenge and fulfill. At some point, I might just put on the brakes and go to law school mid-life.

I'm curious who your current role models are in terms of feminism & gender theory writers & speakers? Are there any positive role models that you think don't get enough attention from the media?

Delete My Account (host): "This is a great question. Bitch Media has always sought out dynamic and exciting writers to fill their pages. It is always great to hear about who inspires them to write and speak up."

Hmmm...I'll try to list a few favorites. I really like Angela Davis, Leslie Feinberg, bell hooks, and Adrienne Rich.

A few feminist sources, such as the blog Feministe, have come under fire for using exclusionary language and being directed toward white, able-bodied, middle and upper class women. What is Bitch doing to make sure that all feminists can feel like they are represented and included?

I think we do a good job as a staff and as an organization of being really assertive about there not being one, hegemonic feminism. We know that a weakness of feminism is it's history of being considered a white, middle and upper class movement. We aim to publish diverse views and perspectives on feminism through the diversity of our contributors. But we also look critically at the make up of our staff and boards and diversity is always a priority in our recruitment. Having said that, I think we fall short sometimes, but it's a constant consideration.

With the major Hollywood studios becoming increasingly budget-conscious and the critical and commercial success of modestly budgeted films such as Kathryn Bigelow's The Hurt Locker, do you see a window of opportunity for women filmmakers? If so, do you think they'll be able to keep their artistic vision intact or are they likely to experience more studio interference than their male counterparts?

I think we all too often see feminist story lines (created by women and men) weakened by studio interference. I don't know a lot about the industry, but I do know that the opportunities for women to create their own media is greater than ever, and the more women use these new tools and resources the more ubiquitous their messages will become. Bitch Media is not just about "responding" to pop culture or critiquing from the outside. We're also about responding by creating our own media.

What sorts of challenges do you face between keeping Bitch Magazine fresh and inspiring--on a regular publishing schedule, while keeping the website fresh on a daily basis? How much give and take is there between the two different media, and how do you as Executive Director work to tie them together into a cohesive unit?

I think we're really lucky to have a quarterly magazine that allows our contributors and editors to step back from our crazy, fast-paced news cycle. That distance of time allows for greater perspective and analysis in the magazine. On the other hand, it's essential to be able to provide a feminist response to a topic or event that is here today but gone tomorrow. And I love how the immediate response through our blogs and the more removed response in our magazine is so rich for our readers who look at both. Directing a mission-oriented organization, I'm also very interested in how the two different media reach and impact different audiences.

How do you see the relationship between feminism and chivalry? Is chivalry dead?

Was chivalry ever really alive? Chivalry, strictly defined, is completely at odds with feminism. But I think most feminists, male and female, appreciate the respectfulness and polite qualities associated with chivalry in the 21st century. I'm going out on a limb here and betting that most people appreciate having the door opened for them.

Along with all your career and academic achievements, you are also a mom.

In addition to being a role model, what's your best advice for raising informed children so that they can grow up to be socially responsible, sex-positive adults?


What a great question...I wish I had a great answer!

I have two children, a daughter, age 3, and son, 8 months. Both of them have visited me at work and really hope both of them will grow up to be adults who call themselves feminists.

Three things come to mind:

1) Raising your kids to be confident and independent by helping them to become good decision-makers at an early age. I don't mean that they should be allowed to do whatever they want, but within limits there preferences should be allowed and encouraged.

2) Talking about sex in an age appropriate way through every stage. So that talking about sex isn't dreaded or unnatural in the pre-teen and teenage years.

3) Exposing your children to a wide variety of people and experiences and letting them process those differences for themselves. Traveling and meeting people with different backgrounds is great for kids, but I think letting them read widely and without censorship can be just as valuable.

You said that the topic of your next issue is "old". What is old? What do you consider old? And along those same lines, are you considering adding a regular section geared toward these women?

I am so excited to see how our contributors interpret and respond to "Old"! We are not planning for any sections particularly geared toward "older" women either in this particular issue or in the future. I can imagine that we'll have articles about the anti-aging industry. Perhaps on first wave feminism and things that get better with age. And what do I consider old...do you mean in terms of age? Ask me in few decades!
Hi, Julie. Not long ago I did a piece for SexIs about douching (https://www.edenfantasys.com/sexis/body/douche-debate-91592/), a largely unhealthy bill of goods sold to women under the guise of good health and cleanliness. Are there any products and/or practices that women have been brainwashed into using or doing today that you believe we should work to collectively strike down?

When you came on board at Bitch Magazine in June what were your goals? What did you feel you could add to the magazine? And in what direction are you trying to take it?
Forum
No discussions yet.