Katsuni is arguably one of the biggest European adult stars to successfully crossover to the American market. What do you see as the major differences in the American attitudes towards sex vs. the European outlook. How does the business of sex, including pornography, adult retailers, toys, and magazine differ and which do you prefer?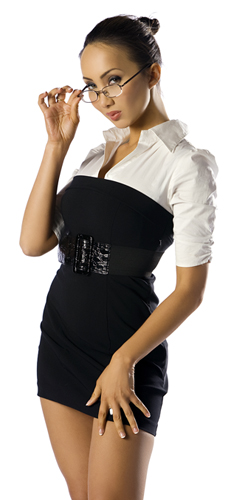 Katsuni was 18 when she started working as a go-go dancer while studying political science and literature in preparation for a career as a literature teacher. Three years later, she met a Penthouse magazine photographer who approached her about posing as a model, eventually leading to her being asked to perform in adult films. Her sense of adventure and love for sex helped her make her choice, first to enter the industry, then to become the first contract girl with Penthouse France. As France's most awarded performer, Katsuni signed with promotional powerhouse Digital Playground to break into the competitive American market This worldwide success has Katsuni living in Paris and Los Angeles, where she works as the first French actress under contract with Digital Playground. She is well known in France and Italy for her artistic stage performances and has begun feature dancing in the United States. She also is a producer and director for her own adult video company, Katsuni LLC, and has made it her goal to always make better films. She has been the subject of five 52-minute documentaries by MCM, and French director Gaspar Noe (Irreversible) chose her for his short movie. She also is slated to direct her first feature for French television and is listed by GENESIS magazine as one of the 10 most popular porn stars in America.
What do you consider the biggest difference in making porn in the US compared to France?

Another country, another culture

There are many differences between both countries, and both markets. Of course the USA is a huge country, so you have more money, and the adult industry is much more developed and professional . For a performer, as for a producer or a director, making a porn in the USA is just easier than making it France; working conditions are ideal. But making porno is not only running a business; having a name and a reputation is important. For me, for example, who has a big name in France, I finally have more opportunities than in the USA where the competition between female performers is increased. When you're number one in a small country, you really have a comfortable situation and you get the whole market for you: mobile phones, TV, magazines, VOD etc. In the end, the good solution is making porn in USA...and sell it also in France!

If you had to pick your favorite shoot that you've done so far, what would it be and why?

I can't choose only one favorite movie or scene because I have many great memories with many performers and companies. But the one I've preferred to shoot is Digital Playground's

"Pirates II: Stagnetti's Revenge"

. When you work on this kind of project you realize that you're making something more than just another porn only made to turn people on. It's a real entertainment. You have dialogue to learn, you must play a character , you belong to a story, there's decor, incredible lighting, costumes, make-up....a real atmosphere. For this movie I even had to train for the fight scenes which was probably my favorite part. lol. Of course I had fun during my sex scenes (I did my first one with Jesse Jane and another one with Belladonna and Stoya in the same time), but it was also interesting to work with a big crew and do scenes which include special effects. I was somebody else other than just "Katsuni having sex". It has been a nice challenge, and I can't wait for the next one. I had the feeling for few days to be a "movie star"...and that's a great feeling. Working on our big release "Teachers" was a similar experience too. It came out just a week ago. I'm really excited to see it!

Just like to say that I am a HUGE fan and have been following you almost as long as I've been watching porn (I started late and used to live in France.) I just reviewed 'Chocolate Covered Asians' last night, which was a compilation featuring a scene with you in it!

I'm not exactly au fait with the specifics of porn in France, but I was of the understanding that they almost exclusively use condoms there these days - it certainly seems to be the case when I watch Marc Dorcel movies, etc. I just wondered what you thought of that, and how you regard the current debate about whether or not American porn should be 'condom only.'

Keep up the AMAZING work.

Thank you , that's really nice of you!

In fact we don't shoot only with condoms in France ; but the fact is that the TV market allow the companies to make more profits. And if they want to sell to the TV market (French or European), they need to use condoms. It's just a question of rules. If tomorrow, the TV market doesn't ask for condoms anymore, then we will shoot without. In my opinion, that's quite a good thing to shoot with condoms for the TV market (for free channels) as we all know that porn movies are used as a reference by teenagers or young people who discover porn on their TV while flipping channels.

But to be honest, while I really respect the few companies who work with condoms only, I must admit that as talent and as a director, I prefer to work without. I'm very serious about testing for STDs and verifying the tests of my partners, but having sex without condoms allows you, especially for the group scenes, to be more nasty. You feel free to do what you want. Using condoms would kill the "gonzo" style, and we all know that it's a huge part of the market. I think that the debate is maybe not here: we must keep being careful and serious in our industry (and our personal life) in order to not take any risks. We must also keep communicating the fact that adult movies should not be considered as realistic examples of sex--they are entertainment, just like how a car chase in mainstream movies shouldn't happen in real life either. Prevention must be done about the risks of diseases, but also on the fact that porn movies are not reality.

Does the work you do make relationships outside the adult industry difficult?

Yes of course! That's really not simple. This job is not a regular job and is often not compatible with a life as a couple. Even if you just consider it like a job to pay your bills, you still have sex with other people. And for me who really enjoys what I do, who is looking for more that just having sex and is trying to share something special with my partners, it makes things even more difficult for the man who loves me. Besides that, you're never at home, you travel a lot, have no free week-ends...So then it's a question of compromise, of communication, of trust. It takes time to find a balance but it's possible .The proof is that I am now with my boyfriend for 3 years and it's now perfect. I do my scenes, I enjoy them...but my boyfriend enjoys too because we also share a lot; he travels with me and uses this opportunity to direct documentaries for French TV. We even do scenes together (only for my website www.clubkatsuni.com). We have a "happy sex life", and we use my job as a nice way to turn us on.

Can you tell us more about your upcoming television feature? I know French tv is different than American but it is adult in nature? Or more mainstream?

The movies I produce for my own company are also on French TV, but I still haven't been able to shoot the type of adult feature movies that I'd like to direct. I need time for that and a good budget. Right now I focus more on gonzos, castings, or simple stories... It seems that we have more porn on French TV than in USA, but to be honest I don't really watch American TV. The only thing I realized is that mainstream programs in USA are much more "hardcore"and violent than the ones in France!

I went to your lingerie website and noticed it wasn't up. Could you tell us a little about what kinds of lingerie lines you'll be putting on the market?

Yes with pleasure! We put a page on www.petitcoeur.com so you can subscribe to the newsletter while we 're developing the website which will be also an online store. It takes time because I'm also working on the French website and distribution, and as you know I still work in the adult industry! But this new activity means a lot to me and I do my best. "Petit Coeur by Katsuni" is a brand of sexy lingerie that I created. I wanted to get a kind of mix between American lingerie which is very sexy, colorful, provocative, and add a taste of France by putting nice little details. This line of sexy lingerie starts with a catalog of 16 items (lingerie sets, baby-dolls, teddies, costumes). It's made for any woman who wants to feel sexy and who wants to turn their partner(s) on! It will be available in France by the end of the year , and for the US market we will have to wait for 2010. "Petit coeur dresses women who love...to be undressed. Do you dare be this woman?"

I read on your website that you will be hosting your own TV show about anime and hentai. What were the motivating factors behind that career decision? Do you particularly enjoy watching anime and hentai? Was it a niche that needed to be filled?

I'm fond of watching hentai myself, but finding good shows can be a bit hit and miss. What are your top picks for quality hentai?

In fact, I don't host this TV program anymore (I also had one where I gave sexual advices and another one where I used to shoot short documentaries about the filmings in Porn Valley). I love anime and hentai, but I'm not a specialist. What I like about Hentai is the possibility of having access to some fantasies that you would never been able to see in a real porn. It's absolutely exaggerated, there is a lot of humor, it can be extremely hardcore but still, as you know that it's not "real". You can't worry whether it is good or bad? Does this girl really enjoy or not? Hentai allows you to see your wildest fantasies while knowing it's 100% a fictional entertainment.

How has your Vietnamese heritage affected your career? Has it opened doors for you in the industry, or has it made it more difficult?

It's true that to be different and exotic is great, but it also makes it hard at times. In France people love the blond "girl next-door". I'm "to asian" for them. I've often heard "Yes, we know that you're the #1 star in France, but you're Asian. We will lose a part of the audience because you don't look 'French enough'." It really took time for me to be on the magazine covers and do media, and to tell you the truth, my breast surgery really helped. Today, almost 10 years after I started, people are a little bit more open-minded and as I really managed to build a name, it doesn't affect me anymore in France. Yet in the USA, I know that I won't have as many opportunities to be on a magazine cover (I highlighted my hair because I think it looks sexy, but still...I'm not blond).

Most of us have a favorite genre when it comes to porn: Large breasts, small breasts, blondes, redheads, Latina, anal, DP... Each genre has something different to offer and they certainly aren't mutually exclusive.

What do you think appeals to fans of Asian porn? Is it exoticism, or could it be that some viewers like the idea of a submissive Asian woman?

As an Asian woman, I'll sometimes watch porn featuring Asian women and enjoy it, but then I'll worry about whether others will see the same scene and come to generalizations like "Asian girls may look demure, but they're actually slutty" or "Asian girls are subservient". What are your thoughts? Does Asian porn objectify Asian women, or have we as a society moved beyond that? Could this genre add to racism, or does it fight against racism?

Sam Benjamin (host): "What a superb question!
I often wonder about Asian men as well - they're quite underrepresented in the porn industry, though there are undoubtedly hordes of women out there who'd like to see them perform.
I wonder if it's objectifying, in a way, to keep some ethnicities OUT of the porn industry - ie, Asian men are too gentle to eroticize/they're not outwardly sexual enough to be in porn ...
It's the performers who are unique and have their own, genre-less style who really have the ability to take us out of this - so kudos to Katsuni for that!"

That's an interesting question but you know, we don't have to watch a scene with an Asian girl to sometimes worry and think "well, that's really hot to see this girl being so submissive or doing a rough anal scene with 3 guys, but is it really a good thing? Is it bad to show a woman like that?" We have the eternal debate about the image of women in porn. I think that we mustn't forget that porn is an entertainment. It's a game for adults. The situations we present in movies are made to turn people on and of course we use some easy clichés because they always work: the "stupid" blond girl who just acts like a barbie doll, the submissive Asian girl, the dominant MILF. I don't see anything bad. Myself, I like playing the submissive girl, and I know that lots of my fans will enjoy it...so everybody is happy in the end. Besides that, Asian girls are not always submissive. It would be a problem if we had no choice but this is not the truth. Look at Tera Patrick. She's far from the usual "cliché". She's a real goddess...and myself in "Pirates II", I don't play the submissive at all! Digital Playground gives more and more strong characters to play. To fantasize about Asian women and idealize that they're the perfect, sweet women but also sexually wild and devoted to their partner, that's not being racist. It's just dreaming about a foreign culture. This is why exoticism makes people dream. It's better to imagine an ideal from something you don't know!

I imagine that, as an adult star of your caliber, your immediate family must know about your career. How did they react when they first found out? Have they been supportive?

They found out very late! My father just discovered what my job was last year and my mother knew only for a few years. It has been more difficult with my father for many reasons and of course I understand how they could be disappointed. They always pushed me to study and before porn I was in a very prestigious school in France....But I'm lucky to have smart parents who really love me so that's ok now. We don't speak about it but we speak of my projects. They know that besides porn my next goal is to be successful for the launching of my line of lingerie, so they're reassured. And most of all when I am with them, I'm still their daughter. So no sexy outfits or heavy make-up. For sure I don't play the "diva" with them! lol.

Do you remember the exact point in time when you decided to trade in "future as a literature teacher" for "future as transcontinental porn star"? What did it feel like? Were you nervous at all? Have there been times when you wondered what life might have been like if you'd never been discovered?

Lol! I had no idea at all that I would have a career in porn when I started. I didn't think that I would be able to be so successful, and I even didn't want to be famous. It took years for me to realize how much I'd become popular. I just wanted to get new experiences when I decided to shoot my first scenes and for the first two years, I kept studying because I still was thinking of becoming a literature teacher. Then I made the choice to do only porn, but still, it was to have fun, learn new things, and meet different people. Each day I tell myself that I'm lucky. But I know also that if I wasn't doing porn today, I would still do crazy things. It's my personality. I can't be "normal".

Do the audiences in Europe want something different in their porn compared to North American audiences? (For example are story driven porns more popular in Europe as compared to North America or vice versa) or Are porn viewers pretty much the same regardless of location?

Each country has its own fantasies, as fantasies are born from the culture and taboos of a society. I really think that the more puritan a country is, the more it will look for hardcore movies. This is quite the case for the US market (we have even realized that the biggest number of consumers of porn on the web are the most conservative / puritan states--a Harvard professor did a study on this). So in France, I would say that we are less extreme, as we are quite sexually open-minded. We are still a little bit old-fashioned and quite simple. We like natural girls, accessible, the "girl-next door" style. Amateur movies are successful and we start to have more and more people loving watching girls through their webcam. French people like real things. For sure in France, fans of porn enjoy watching US hardcore gonzos and Digital Playground has plenty of fans because of its huge variety of movies from gonzo to features, but they first appreciate the classy Marc Dorcel features where all the women (from East Europe) are beautiful, wear sophisticated lingerie, and have sex in luxurious locations. I will add that we also love comedies. We also like adding a lot of humor in our movies.
In the USA, the market is so large that you can find all kind of products. There is more space for everybody. Some girls will be successful in the USA because they have a huge ass and do double-anal..they won't in France.
Now, if you want to know the differences concerning the other countries of Europe, it's again something different because each country in Europe has its own culture. Germany is the most hardcore and we find there a lot of rough BDSM content. Italy is great for glamour features, England likes fetish....

Age plays a big factor in many industries. Being that you are in your early 30's with Jesse not far behind, how do you feel in an industry that seems to thrive more and more on younger women? Obviously the whole Cougar, MILF and whatnot still exists... But with Riley starting fairly recently and new girls waiting in the wings, I was just wondering if you ever stop a second and wonder if and when you'll be ready to step from in front of the camera, or if age ever bothers you at all when you are slated to perform with girls in their late teens and early twenties.

I share a similar feeling. I'm 30 and I'm a go-go dancer in the evenings, thankfully I have good genes and am usually mistaken as being anywhere from 23 -25 yoa, but the age thing still sometimes gets to me. Even though I can out perform half the girls I dance with, sometimes I just stop and think, holy crap! When did I start getting old? (abruptly followed by holy crap! I wonder how much longer I can hang) haha )

LOL! Yes, I understand what you are saying, but you will probably understand me when I tell you that I feel much better now than when I was 20! 30-years-old is a great age when you take care of yourself, you're maybe not as fresh as a 20's girl, but you have so much more experience! I used to have a lot of success before, when I had an innocent look with my small natural breasts and my face like Lolita. Now I have the pleasure to be appreciated for something else. Men will always fantasize about girls like Digital Playground's Riley Steele of course (I also love innocent girls), but they are also attracted to me because I know myself and I know men. This means that more than ever, I know how to seduce and give pleasure.
Another point: as you said, the MILF market is really successful for the past few years and that's a good sign. In porn we have an audience for every type of woman: young, older, natural...or not, white, Asians etc. I don't worry because of my age, and I totally understand why Digital Playground prefers to hire young women. There are many reasons for that. For me the question is not really the age. It's more about running your career and knowing how to evolve and renew yourself. After 9 years nobody told me "Hey girl! It's time to stop!" It's because I had different steps in my career: features only in France, then in Europe, then mainly gonzos in the USA, then the contract with Digital Playground, and my own content...I'm aware that one day, and not in 10 years, it will be time for me and Digital Playground to evolve toward something else! It's just a question of doing the right things at the right time........

You look absolutely STUNNING--the first time I saw you, you just about blew me off of my feet! How do you stay so gorgeous? Special skincare routine, lots of time at the gym...?

Wow, thank you! You know I'm lucky. My parents are very healthy. They don't smoke and eat only fresh food. I have a good genetic heritage. Also, I take better care of myself the past few years. I use daily creams for my skin, I eat well, I smoke just a few cigarettes a month for my pleasure, and I drink a little bit of wine for dinner. I don't party or take drugs, and I go to the gym at least once a week. Nothing amazing. I think that too many girls do UV and this is really something I never do. I also protect my skin a lot when I tan.

What's that something special you try to bring to your work?

Myself! I invest myself a lot in anything I do; when I love something I give myself 100%.. So when I do a scene I always try to connect with my partner and make it obvious in front of the camera. I need to connect my mind with his / her mind. Sex is first a question of using your brain.
When I direct I need to shoot what turns me on. I can't do something I don't like.
When I perform on stage for dancing, I also need this chemistry with the audience. I need eye-contact, a smile, positive energy.
In the end , whatever I do, I need to share something, and if possible a kind of intimacy. I always say that the best way to act is to not act and to not be fake. Just be honest, enjoy it, and be yourself.

Okay, I gotta ask it: if you could only have one sex toy for the rest of your life, which toy would it be?

My boyfriend! lol.... Ok, you're going to laugh but I still haven't tried the very famous "Rabbit"! So I will choose the one I always have, a little vibro. Just a few seconds on my clit are enough to make me cum!

How do you maintain an image as a strong woman in what is often considered an anti-woman industry? Do you think porn has a negative or positive impact on how we view women, or do you take a more neutral approach?

Sam Benjamin (host): "I've often wondered the same thing. I see strong performers like Belladonna, Sasha Grey, Nina Hartley, and Katsuni, and I'm so thankful that you all are in the industry; you all could have chosen to do something else, having considered the fact that the porn industry is so often misogynistic. And yet, your presence there makes it less so . . . in my opinion, the only way to improve porn is to do it from the inside out - as in, rather than condemning and abandoning, we need dynamic performers and directors to do it BETTER . . ."

It's not "difficult" to have an image of a strong woman in a world where many women aren't as strong as they are capable of being, or don't look strong. Lots of girls choose to do porn but much of the time they don't know why they made this choice. Since the beginning, even if I didn't know it would become a career, I've always liked what I did. I always had the control because I felt good in what I was doing. It's a chance. Besides that, I think that my education and my studies gave me good base. Today, with my experience I feel even stronger because I know more about what I want and don't want. In that time, I also became a business woman. You have no choice if you want to be successful and stay in this industry. You must open your legs and you must also use your brain!
You say that it's a "anti-woman industry"; I don't 100% agree with you. Women who are smart can really be powerful and girls are always paid more than men. The real stars of the adult industry are women. They are paid to sign autographs, they are the one who are on the covers, who are invited in the medias, who generate the most products and fans. Digital Playground is female owned and operated and its movies almost always have women in control of the men.
There are 2 sides to the image of women in porn : the sexual side in the scenes, and the business side. As long as a woman lets people know she decides what she does, I don't think it gives a negative image. The bad image of women in porn is in fact most of the time given by the women themselves! The ones who are lost, who don't respect themselves, who do crazy things just because they want to get money and fame are the real "losers". But smart women such as Jesse Jane and Sasha Grey are real icons.

In your business you obviously deal with men well above average size, which is what I think most people want to see in porn. Do you think there's a such thing as too big? If so, what do you think is the perfect sized penis?

Lol. Yes we prefer to watch "big sizes" because for some reasons it's more exciting and also because it's really easier to be filmed. It's all a question of habit. When you are used to having sex only with big sizes, it becomes "regular" to you. Personally I had the opportunity to shoot with Lexington Steele and it was fun. But it starts to be too big for me. lol. Mandingo is really huge and I couldn't go out with a guy who's like him. Perfect size? That's not really the right question. It's more about finding the perfect guy. The penis is a "tool", and yes it's cool to play with a big one, but it's just a bonus.

Do you enjoy working with black men? Do you approach work with black men differently than you do with men of other races? Do you enjoy black men in your private life?

Sam Benjamin (host): "Cool question; I'm curious, also. I made my money for a long time directing "interracial" scenes for a website - which always turned out to be black men and white, mexican, or asian women. But usually white. I fillmed hundreds of scenes that were scripted this way, and while it was business as usual in person, I think in the tapes we made, the concept of race became very sexualized. I wonder if any of that comes into play for you, when you're performing OR directing."

I enjoy it when the man is good! Lol. As with a previous question, the main thing is to get the right partner with who you will get the best chemistry. I'm personally more into white men than black men, but most of the times I've had sex with black men, it was good. It's another feeling, It's very exotic to me. Usually I take more of my time with black men; they are sweeter, and they need more attention and more kisses. I've only had sex once with a black man in my private life.

Do American men want something different from their porn versus French men? I.E. is one type more aggressive or kinky than the other?

Like I said, Americans are more puritanical, so I really think that they look for something more perverted and rough in porn. America is the country of extremes.

Congratulations on your leap from in front of the camera to behind the camera. Big difference, huh? When I was doing a lot of directing and producing for my company, Daddy Oohhh! Productions, I found that it was hard to get the talent to behave normally. And since we wanted to produce titles that reflected real people having real sex in real time, that was a problem.

Is it difficult for you to get your talent to perform in a non-stereotypical manner? So much of porn these days is cookie-cutter and pretty mindless. I assume you are trying to do something different from that, right?

Thanks!

I absolutely see what you mean. I didn't want to have this problem so that is why right now I'm directing and castings where I do the first scene with new girls and guys in the adult industry. I've been in this industry for years and I'm tired of seeing girls overacting and screaming for nothing. That never turned me on. I like nasty girls for sure, but I don't like to feel like I 'm watching a "show". By shooting beginners I don't have this problem. I hire girls who are brand new, and couples outside of the adult industry who just want to live their fantasies in front of the camera, or young male performers who are impressed because of my name and my experience. That's really a good way to obtain real feelings that we can see on camera.


It's a tradition to ask during the interviews here at Eden, would you please finish the sentence: "Sex is..."?

"Sex is like food!" You can be on diet, you can enjoy eating just for the pleasure, you can prefer a full meal or just a dessert...but in the end, like food, sex is necessary to have a healthy life; it's a part of yourself, so let yourself go! SEX IS FUN.

What prompted you to move into directing and producing? What do you want to accomplish in those roles?

I just want to keep doing what I always do. I enjoy what I do and share my pleasure with the people who follow me. It's always a question of sharing and doing new things. Performing in front of the camera is great, but you're still the "doll" of the director. Producing and directing means taking the ultimate control, deciding what you want to show, and totally creating something unique. That's intellectually more interesting ...and financially too!

If you could change one thing in the industry, what would it be?

I would eradicate any piracy on the web and increase the protection of the under 18 by controlling the access to the adult websites. We need to be ale to develop the adult industry on the web and be able to promote our content (like I do for www.clubkatsuni.com and Digital Playground does for www.digitalplayground.com), but we must have better rules to protect people who are not supposed to, or don't want to see this content!

What do you consider the most difficult aspect technically about being on the other side of the camera in Europe vs. America. Are productions more difficult on one side of the ocean vs. the other.

For sure. In my opinion, it's more difficult in Europe...and this why I never shoot there. When you think of the USA, you think ONE country and most of all you think Los Angeles, especially the San Fernando Valley where all the adult industry is concentrated. Most of the companies are there, all the agencies, locations, talent, etc...You can work 5 days a week from 9 am to 5pm, make your money, and go home. In Europe you must think of all the different countries like France, Italy, Spain, Germany, Czech Republic, etc, so it's like hunting! Looking for the best girls, deal with the locations, be able to shoot your scenes even if the weather is bad...It's more complicated. Besides that there's the difference in languages, which doesn't help .


Okay, for all of the fellas out there desperate to land a drop-dead gorgeous millionaire porn star who knows how to get nasty but is also brilliant . . . how do we do it?

Forget about it! Believe me, to go out or even have sex with a porn star is not the best deal! lol. It's much better to have a nasty girlfriend with who you will share a lot of experiences with you and with who you will feel confident. Porn and porn stars are fantasies. Fantasies often lose their flavor when they're made real because then we understand that what excited us was this unknown ideal. Porn stars are "perfect" women in a virtual world, not in reality!