Writing, editing, sex, books, romance & coffee (lots of coffee) are just a taste of Kristina Wright's passions. A self-proclaimed insomniac writer, she's forged a full-time writing career for over 10 years while balancing marriage, motherhood, and a perpetual career as college student. They say women can't do it all, so how does Kristina do it? What sacrifices does she make to get it all done?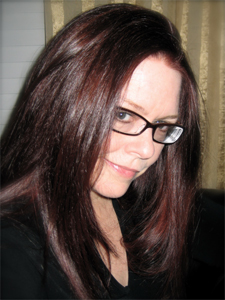 Kristina Wright started writing fiction in the first grade and hasn't stopped since. Along the way, she's written everything from greeting cards to book reviews, but fiction remains her passion.

Kristina Wright is an author, editor and college instructor. What inspires her when she writes? What motivated her to choose such unusual and interesting genres, like fairy tales and steampunk, for her erotica? How does she balance writing, teaching, family and her own education?

Her first anthology, Fairy Tale Lust: Erotic Fantasies for Women is nominated for a Reviewers' Choice Award by RT Book Reviews and was a Doubleday Book Club featured alternate. It has also been a featured book for the Naked Reader Book Club!

Her forthcoming Cleis Press anthologies include Dream Lover: Paranormal Tales of Erotic Romance, Corsets and Clockworks and Best Erotic Romance 2012. Kristina's erotica and erotic romance fiction has appeared in over eighty print anthologies and her articles, interviews and book reviews have appeared in numerous publications, both print and online.

She is a member of Romance Writers of America and Passionate Ink. She is a book reviewer for the Erotica Readers and Writers Association and the book club moderator for the Naked Reader Book Club at EdenFantasys.com. She holds degrees in English and Humanities and teaches English Composition and World Mythology at the community college level.

Originally from South Florida, Kristina is living happily ever after with her husband and son in Virginia.

Contributors who attend the Naked Reader Book Club meetings already know Kristina a little bit, she's been our Naked Reader meeting moderator for the last 6 months. But now, this is everybody's chance to really get to know her well!



Hi, Kristina! Do you enjoy moderating the Naked Reader Meetings? What's your favorite part of the meetings?

Hi Leila!

I LOVE moderating the Naked Reader Book Club! I love reading and it gives me an opportunity to read books that I might not otherwise read. Plus, I love discussing books and hearing what other readers think.

My favorite part? The wild tangents the discussions frequently lead to. Everything from wine to chocolate to vacation spots to recipes... It's so much fun to see how a book or author will inspire a discussion.

Thanks for asking!

LicentiouslyYours (host): "I have really enjoyed our Tuesday evenings together! The wild tangents ARE sometimes the best part! :)"

Just for fun, whats your sign?

I'm a Taurus!

Just for fun, I Googled Taurean traits and thought I'd share the ones related to love and sex. I think most, if not all, of these traits fit me! I've been told I am a very typical Taurus-- loyal, dependable, sensual... and, of course, stubborn as a bull!

Taurus and Love

To Taurus, love is a physical, sensual romance which can be expected to last forever. Taureans are attracted by physical beauty and are very sensitive to perfume, color, light, and sound. Taurus in love will have many of the characteristics listed below.

Behavior When In Love

The typical Taurus:

* is devoted and steadfast

* settles quickly into a stable affair

* loves glamour

* is extremely vulnerable to people who accept her affection but only want a flirtation

* will never forgive a betrayal

* the female is usually an earth woman/Venus

Expectations

The typical Taurus expects:

* her man to be all male

* a promise to be kept and never broken

* a wholesome, natural approach to physical love

* to be pampered

* to wait for a commitment to be made

The End of An Affair

It takes a long time for a Taurean to decide to leave a relationship. Taurus finds it extremely difficult to be convinced she was wrong about a person. However, once the Taurean mind is made up, there is never any turning back. She will walk away forever.

Being a good judge of character is not one of Taurus's strengths, so some will assume all is well, even when a lover is being deceitful. When a deceit is revealed, Taurus will be very hurt but will still hang on to hope.

Taurus and Sex

When a typical Taurus makes love it is the most physical and natural pleasure in the whole world. Sex is never a power game for a Taurean; it is something very natural to be enjoyed. Taureans, especially females, are sometimes embarrassed about their bodies if they feel they are being criticized. On the whole, Taurus regards nudity as natural and wholesome.

Taurus and Partner

The person who contemplates becoming the marriage or business partner of a typical Taurus must realize that Taurus will expect absolute loyalty through thick and thin and will probably want to establish a routine way of doing things his or her way.

Given this, the person who partners Taurus can expect honest devotion, a long-term relationship, and a partner who can keep his or her head in any emergency.

Taurus Woman As A Partner

She will want a partner who is attentive and appreciative. Common sense is essential in any partner of a Taurus. She, like her male counterpart, will look for a business partner who will bring prestige to the business.

The Taurean wife wants to be given gifts and treated with gentleness. She does not want to be patronized, but she does want her man to remember her birthday and other anniversaries.

She needs a husband who will let her organize at least a part of his life and who will never give her cause for jealousy.

Taurus Traits found here!

LicentiouslyYours (host): "You know the news has this story about adding a 13th Zodiac sign to the calendar which apparently makes me an Aquarius instead of a Pisces! I wonder if it changes your sign too?"

Hi, Kristina! You are a mother, I am too. Do you find working from home, while writing and editing the best of both worlds? Also, how do you prioritize your time? I know in our house, kids, especially sick kids or sad kids, come first. It's a struggle, but I wonder how you determine how to do what when and when to pack it in and just grab a kid, sit on the couch or bed and call "work" over for the day or even the week?

Hi there! My little boy just turned 1 at the beginning of December and my husband was deployed for the first 5 months of his life, so baby comes first. Luckily, kiddo has been an excellent sleeper since he was 3 months old and now sleeps 12+ hours at night. Which means I get several solid hours of quiet time at night (I'm a nightowl)-- if I'm not too tired from chasing a toddler around! I also have a terrific babysitter who comes in 3-4 days a week, so I trek off to my "office" (Starbucks) for 15-20 hours a week. If I have a ton of work to do, I'll leave baby with my husband for a few hours on the weekend and take off to Starbucks. The word I'd use to describe my work schedule is fluid... it's ever changing from week to week, based on what I need to do and the needs of the family.

As far as determining when to pack it in when I'm at home, I simply don't work at home when baby is awake. My computer stays in its computer bag until I'm at Starbucks or after baby goes to bed. I check my email on my iPod Touch obsessively, so I know if there is anything pressing I need to answer. I discovered that trying to work when baby is awake is just an exercise in futility and frustration-- he wants to play with the computer or I get distracted and don't notice he's climbing the stairs or I simply can't concentrate long enough to put anything on paper.

I'm sure as he gets older and more self-sufficient I will work more when he's awake, but I think it's important to make a distinction between "home time" and "work time." This wasn't something I'd even considered pre-baby, but I've found that having such clear separations actually makes me more productive. Instead of daydreaming for an hour at Starbucks before I get down to business, I do my daydreaming on the 4 mile drive and I'm ready to hit the ground running as soon as I have my coffee in hand.

Thanks for asking!

LicentiouslyYours (host): "That's great. Boundaries are so important when you are working from home or self-employed. It's too easy to let one area bleed into the other and like you said, with a baby around, focus on him is #1 when he's running around. I have enough trouble with my dog being around and wanting to play during hours I work... a young child would be impossible!"

What do you look for when selecting stories for anthologies that you are editing?

Hi Tori!

When selecting stories for my anthologies, I look for good storytelling. I want a story that grabs me from the first sentence and doesn't let me go until the end. I will overlook typos and grammar mistakes if a writer is a good storyteller. I want to read something I've never read before and that no other author could write. I look for a good plot that isn't just about sex; I look for sex that's written in a fresh away; I look for characters that I find intriguing and relationships that feel "real" even if the story is about vampires.

Of course, I also look for the story to meet the criteria of the anthology. Too often, I receive stories that are beautifully written but don't fit the collection I'm editing. For instance, for

Fairy Tale Lust

I received the most beautiful retelling of "Sleeping Beauty" I've ever read... it was missing the "erotic" part entirely.

For my forthcoming anthology

Dream Lover

, writers had three criteria to meet: paranormal, erotic, romantic. I received several stories that fulfilled two of the requirements but would be lacking the third (usually the romance).

In the end, selecting stories for an anthology is a very subjective process. If I love a story, I'm going to find a way to buy it. Period.

Does your son know what you write and do? If so, why'd you choose to tell him? If not, why have you chose not to?

My son just turned one at the beginning of December, so he has no clue what Mama does for a living.

However, my anthologies line an entire shelf in our dining room, so I imagine at some point I'll explain that all those books on the high shelf include stories that Mama wrote for adults.

What do you find yourself doing more often, reading the work of others or writing your own work?

It depends on whether you mean # of hours or # of pages. I probably spend an equal amount of hours writing my own stuff as I do reading stories for an anthology (pleasure reading is another story). As far as # of pages, I read waaaaay more pages than I write.

LicentiouslyYours (host): "I have to wonder if the required aspect of reading all that erotica erodes your enjoyment at all... I love to read, but somehow assigned reading tends to put a damper on my love."

Have you ever written fan fiction? If so, please elaborate, pairings, world, and such...

No, I haven't! I admire people who can take someone else's characters and create a story that is true to the original author's vision, but I've never been able to do it. Years ago I "auditioned" to be on the team of ghostwriters who write a popular YA series. I read several of the books and put together a proposal that took me 3 times as long to write as any of my own original work and I still hated it. It felt flat because I was invested in the story or the characters because they weren't mine. As expected, they rejected me.

Probably a good thing, in retrospect.

LicentiouslyYours (host): "I am not sure I could write fiction within those parameters and do it well either. I've never been too excited about fan fiction to read, let alone write, but I know many people just love it."

Have you found any great sex shops or anything in VA? My local one doesn't carry good products and just isn't that friendly, not to mention extremely over priced.

I haven't... but I haven't really gone looking, either. I should! I do most of my shopping online simply because I like to take my time, compare products, read reviews, etc. I don't really have a lot of free time to go shopping in person, so it's nice to sit at home at midnight with my laptop and order something fun for myself.

LicentiouslyYours (host): "Hey I know a great website that lets you do all that... what was the name...hmmm ;)"

Why did you start your writing career. What specifically made you choose the type of writing you do.

Those are two very different questions.

Writing is truly the only thing I've ever wanted to do since I realized that even I could write those stories in the books I loved so much. I wrote my first short story in the first grade (about a shapeshifting witch) and got the coveted A++++. (I'm pretty sure the 3 additional plus signs were not apart of the official grading scale.) I sold my first short story (a ghost story-- clearly paranormal stuff has always been close to my heart) when I was 15. It was actually a Halloween writing contest sponsored by my local newspaper.

As for erotica... I kind of fell into it. I'd been writing romance for several years and thought I'd try my hand at an erotic short story. "Service Entrance" which was published in the inaugural edition of

Best Women's Erotica

, edited by the wonderful Marcy Sheiner. The rest, as they say, is history!

Have you ever thought about writing another romance novel like Dangerous Curves, and did you write any more books for Silhouette? Or did you find that writing short stories and erotica were more fun to do?

Hi Sammi! Thanks for the question!

I wrote one more romance novel and numerous proposals after

Dangerous Curves

, but they ultimately didn't sell. During that very disheartening time frame, I started writing erotic short fiction and found I really enjoyed the shorter format.

My heart still belongs to novel length fiction and one of these days (hopefully 2011!) I want to write another novel. Most likely it will be erotic romance with some paranormal elements.

Thanks for asking!

LicentiouslyYours (host): "I really need to order Dangerous Curves! I enjoy everything else you write so I am sure this will be no different!"

You mentioned that you're a college instructor. Are you an English professor, or do you work in a different field?

I teach English and Humanities at the local community college. I have taken the past couple of semesters off to have a baby and edit anthologies for

Cleis Press

, but I do miss it and hope to get back to it soon. It seems I can do it all... I just can't do it all at the same time!

LicentiouslyYours (host): "lol - We could all use another 10-12 hours in the day, I think!"

Since you've already gotten the Golden Heart Award for Romantic Suspense, are there any other writing awards that you've been hoping to earn one day?

Oh, what a fun question! Awards of any sort are lovely, aren't they? I'd love to win a Rita (the Romance Writers Award for published authors), but my dream award would be an Oscar for Best Original Screenplay! Of course, I've only written one screenplay so far and have never even attempted to sell it, so... perhaps I should get on that, hmm?

Thanks for asking!

When you go on a vacation with the family, what is your favorite place to go or type of place (i.e. amusement parks, lake house, etc)?

My favorite city in the world (so far) is London. I haven't been since my husband and I went in 2007, but I am very much looking forward to going there as a family when baby is older. (I'd also like to escape alone for a few days if I can work it into my schedule!)

Our first trip as a family was to Chicago to visit my best friend. That was fun and we'd like to make it a yearly event.

I don't think I have a favorite type of place-- I love to travel and experience new things. Having a baby in the past year has kind of changed my travel plans for a couple of years. Despite a strong sense of wanderlust from a young age, my family didn't travel when I was a kid and I never left the U.S. until I was an adult. One of my priorities as a parent is to make sure my son is relatively well-traveled by the time he starts college.

LicentiouslyYours (host): "I've come to love going on vacation even just overnight, alone. The total freedom of not having to worry about what anybody else wants to do or parent anybody... just do what you want when you want it..or nothing at all! :)

Of course, I also love traveling with my daughter and getting to watch her experience new places."

Do you feel that you're paving the way for new genres in erotica? Do you see the landscape of erotica changing?

I think the landscape of erotica is becoming more in inclusive of other genres, just as other genres have become more inclusive of erotic content. The days of clearly designated genres are gone and there is no such thing as A, B or C genre anymore. It's A-B or B-C or A-B-Z. Of course, you'd never know it to visit a bookstore where sections are clearly marked Science Fiction, Mystery, Horror, Romance, etc. My forthcoming collection, Dream Lover, is paranormal erotic romance. My first collection, Fairy Tale Lust, was a collection of stories that blended erotic and erotic romance stories with fantasy, horror and paranormal elements.

I don't know about "paving the way" (little ol' me? No way!), but I do hope I'm helping expand the idea of what the erotica genre can be by editing anthologies (and writing my own stories) that blend erotica with other genres.

Thanks for asking!

LicentiouslyYours (host): "It seems like there's much more content that is highly specialized, like the paranormal erotic romance or gay erotica focused on just firemen... it's easy to get exactly what interests you in a very specific way. :)"

How many of your stories real life experiences? With the names changed to protect the not-so-innocent

Ha! Great question. I'm afraid I can't tell you how many stories are blow-by-blow (ahem!) fictionalized accounts of real life experiences... at this point, with over 80 published stories, I really don't know! But to be honest, there is a little truth in every single story I write. While there are certainly stories that are certainly based on real life experiences, sometimes it's not the sex that is true part. It might be the location (I wrote a story called "Mind the Gap" that was set in London, my favorite city) or the character (friends, acquaintances, crushes and old lovers make appearances in my stories, though by the time I'm finished with them, they probably don't/wouldn't recognize themselves), or even small details like clothing or food.

Stephen King has said, "Fiction is the truth inside the lie." and I keep that in mind with every story I write. I think my very best stories are the ones that are the most honest-- not necessarily about the sex, but in the storytelling.



LicentiouslyYours (host): "This has been true for me when I've written stories. Even if none of the sex has been based on my own experience, there's always something from my own experience in every story I write. Even if it's only that I was IN a Starbucks when I wrote about meeting someone there and sneaking into the Starbucks bathroom for fun..."

So, how do you get your hair to look that gorgeous? I'm jealous.

Oh wow, thank you!

I can't take any of the credit-- I simply have a fabulous hair stylist (and maybe the good hair gene?). She has been doing my hair for several years now and I wouldn't go to anyone else. I like to keep my hair long, so she experiments with color (various shades of reds-- burgundy, copper, violet), highlights and lowlights to keep it interesting. Finding the right stylist is like finding the right spouse-- you have to "date" a lot of them to find your perfect match!

LicentiouslyYours (host): "it's true! I had a great stylist in college and for 5 years afterward. Then she got MARRIED and had a BABY and quit working!! I cried.

Now I have Jason and as far as I know he has no plans to give birth!"

What's the best part of being an educator? And do you prefer giving out As or Fs? Care to share one of your favorite teaching anecdotes? (I like stories. LOL)

The best part: Really connecting with the students, motivating and inspiring them. Watching that "a-ha" moment when they reach a new understanding about the subject or really achieve the goal of a particular assignment.

The worst part: Realizing that, despite my best efforts, a student isn't interested in the class. I love school, I love learning, so it feels like a personal loss when a student cares only about the grade and not about the material.

Teacher anecdotes... hmm... I taught a World Mythology class a couple of years ago which resulted in many heated debates and thoughtful discussions. It was fun to watch students make connections between ancient mythology and contemporary culture. I used the Starbucks siren as an example of mythological creatures that have been appropriated for contemporary advertising and I could practically feel the synapses firing as they started examining labels and products. Such fun!

LicentiouslyYours (host): "This makes me want to be a teacher!"

In conjunct with MistressKay, if you are in any groups how did you go about finding them? I know there are some on FetLife, but the main one is still about 45 minutes away. There just doesn't seem like there's much in VA.

Do you get involved with other aspects of the sexuality community aside from just writing erotica? Are you member of any kink groups or anything?

Despite my racy writing, I'm pretty private about my sexuality and I'm not involved in other aspects of the community. I do have many close friends and colleagues across the sexuality spectrum (both personal and professional), so I often feel like I'm on the fringes of many communities without actually being an active participant.

Special note to lucidobsession: I don't know what part of VA you are in, but it seems like northern Virginia is much more sex-positive than southern Virginia.

How did you celebrate the holidays? Was there a favorite gift? A favorite tradition?

Well, this year was decidedly different than last year! Last year, I had a 3 week old baby and my husband was only able to come home from deployment for 2 weeks and had to return to Dubai on December 22. This year, I had about a dozen friends over for Christmas Eve dinner and it was wonderful and loud and so much fun. I'm not Italian, but for the past several years I've made lasagna for Christmas Eve and it was a big hit again this year. On Christmas morning, it was just hubby, baby and me opening presents. It took most of the day because baby got tired and had to take a nap. Then we just lounged around in our pajamas for the rest of the day, playing with baby and eating leftover lasagna.

I've been thinking a lot about traditions with the addition to our family last year. I'm terribly sentimental and like the idea of traditions, so I'm sure we'll be adding to them as the years go by, but Christmas Eve dinner is one tradition I love, whether it's just a couple of close friends or a crowd like this year. And starting last year, I bought a Christmas ornament for the baby and plan to continue that tradition every year until he leaves home. Then I'll give him all of this ornaments so he'll have a set to start his own tree.

Favorite gifts this year was music! I got Josh Groban's Illuminations CD and the CD/DVD set of Bruce Springsteen's The Promise: The Darkness On The Edge Of Town Story. But truly, the best gift this year was having my husband home and celebrating our first Christmas as a family.

LicentiouslyYours (host): "It seems like Christmas is so much more exciting and fun when you have children around who see it as a magical time instead of dreading all the work and shopping and everything else."

I'm a writer too! I was wondering where you pull your inspiration from. I'm in a bit of writer's block and I'm looking for something to get me through. What do you do?

My inspiration comes from everywhere! The strangest little things might set off an idea for a story. I'm often inspired by other people's words. Whether it's a snippet of conversation overheard at Starbucks or the lyrics to a song or even the headline in a newspaper, my imagination is sparked by words. The next time you feel blocked, try listening to music or just going out in public. You might be surprised what you'll hear that might inspire you.

Having said that, I think every writer has a different process for getting past those obstacles that keep us from writing and it's important to find yours.

LicentiouslyYours (host): "I find this to be true as well. When blocked, it's often because I am thinking too hard about what I need to do. It's not an easy task to completely let go and try to focus on something else to get the brain working creatively again, but it's usually the only thing that works for me."

Is there any one aspect of writing Erotica that you find more challenging? Like, certain things that you may not be into but were trying to fit within an anthologies guidelines? How do you overcome challenges like that?

Honestly, the most challenging part of writing any kind of fiction is making it ring true. Even the most "out there" stories need to feel real enough to draw the reader in and make her believe. My story "Thief of Hearts" in

Dream Lover

is about a fallen angel-- hardly the kind of guy you're going to find hanging out in the line at the supermarket (I wish!), but I still tried to create a sense of realism in the human female protagonist, from the fact she wears glasses to her career as a reproductive endocrinologist. Hopefully, the fact that she is so grounded in the real world will allow readers to suspend their disbelief on the paranormal elements and get sucked in to the story.

When it comes to writing erotica, if an anthology theme appeals to me, even if it's not something I'm personally into, I'm going to tap into my creativity and give it my best shot. I've written gay male erotica and I'm not a man.

I've written about fetishes that I've only read about, just as I've written about places I've never been. It basically comes down to doing enough research and being willing to stretch my creative muscles outside my comfort zone. Truthfully, some of my best and favorite stories are the ones that are worlds away from my real experiences.

Thanks for a great question!

LicentiouslyYours (host): "Wow, I'm not sure I'd be up to the task of writing gay male erotica. I'd be worried that gay men would immediately know I had no idea what I was talking about. :)"

How long does it typically take to write a story? Is it a sit down and write at once whats on your mind, or is it more of a write so much, come back to it later, edit what you have and then continue writing from there?

Oh wow... it really depends on the story! I've written stories in as quickly as 2 hours or taken as long as weeks or months of writing a bit, coming back to it, changing some stuff, coming back to it, etc... I prefer the 2-hour stories, of course.

The quickly-written stories are the ones that seem to pop fully-formed into my head and it's really just a matter of me putting the words on the page as fast as my fingers can type them. Other times, I'll think I have a great idea and realize I haven't worked it out in my head before I started writing. Then it's a matter of walking away from it for awhile, often to work on other projects, and then coming back to it.

LicentiouslyYours (host): "The 2 hour stories are my favorites too."

Wow, I love all these questions so much -- can't wait to hear the answers! Can you talk a little bit about how you organize your anthologies once you've made the initial decisions on what goes in? Do you hope to give readers an overall experience if they read the book from front to back (like a novel), or do you find yourself putting your favorites first, or something entirely different?

Hi Shanna! Well, I'm still a bit of a novice at this editing gig, but I'll try to answer this.

Once I've chosen the stories to be included in an anthology, I write the titles down on Post-It notes, along with any pertinent information about the story (first v. third person, lighter/darker content, shorter/longer story). Then I slap all those Post-Its up on a wall and start arranging them. I want the first story to be a strong lead in for the collection-- setting the tone from the first page. In

Fairy Tale Lust

I chose Delilah Devlin's "The Obedient Wife" (a wicked twist on Beauty and the Beast) to lead the collection because not only was it a wonderfully written story, it had a lovely fairy tale cadence that readers would find familiar with the realm of it being very sexy erotica. Even though the rest of the stories in the collection vary in setting from medieval fairy tale castles to contemporary office buildings, Delilah's story gives the reader for the flavor of what's to come.

After choosing the first story, it's a matter of finding a rhythm that works for the collection. Varying the stories so the reader is always surprised by the next tale. Erotica and erotic romance anthologies are sweet indulgences and each story is like a delicious piece of chocolate, each one slightly different from the next, flavored or filled with some special ingredient.

Mmm... what was I saying?

Oh yes, the Post-It

Dream Lover

stayed on the wall for about 3 weeks as I shifted and moved and rearranged stories or groups of stories. Ultimately, I settled on the current table of contents. Once I was happy with the order of the stories, I printed out a hard copy of the manuscript and read it cover to cover. I was delighted to see my instincts were right and not only did the stories flow well from one to another, many of the stories picked up on elements in the story that came before. For example, one story is about a shapeshifting bird man and tress play an important role in the story. The following story is about a demon and is set in the woods, with vivd descriptions of the scenery that seem to have evolved from the previous bird man story. There were numerous instances of that sort of organic development of the anthology, where elements would repeat from one story to the next, giving the anthology a sense of cohesion even though the stories are wildly different.

Thanks for a great questions. I rarely think about the mechanics of my choices, so it's been an interesting experience writing it down.

LicentiouslyYours (host): "It's fascinating to read about the process you go through in putting together an anthology. I wonder what other methods are used by other editors."

Hi Kristina,

I've so much respect for you as a writer and editor. Well done for answering all these questions!

I'd like to know (probably by dint of being a bit knackered myself!): What non verbal activity replenishes you? What do you do when you need a break? In fact, what *would* you do if you weren't a writer or involved in writing in any way? Do you have an alternate dream job, or way of life?

Cheers!

Hi NIkki and thanks for your kind words!

Despite a husband and baby, I'm a solitary creature by nature. Few people who know me would consider me an introvert because I can be "on" when I'm around people. I do spend my work time alone, but that's WORK, right? Hardly a replenishing act (though it can be, when I haven't written in awhile). When I feel myself getting overwhelmed by life and circumstances, I have to escape. Sometimes all it takes is an hour or two to sitting in Starbucks with a book and a coffee to replenish the well. Even if the book never gets opened and all I do is curl up in a comfortable chair and listen to music and daydream, that solitary experience seems to give me what I need to keep going.

Time and money permitting, I plan longer escapes-- a weekend getaway by myself or even an overnight in a local hotel, both of which I've done in the past 6 months. It really helps keep me in tune with myself and appeases my solitary nature.

Alternate dream job... if I had any musical ability at all, I'd want to be a rock star. I love live music and the energy of the audience. To have thousands of people in front of me, to be able to feed off all that energy... what a rush! Of course, I would be booed off the stage if I ever attempted to sing.

Truly, writing has been my dream job my entire life... so I'm either really boring or very lucky to be following my dream. I like to think the latter.

I love the life I have, but if I existed in parallel universes, I would probably be single and living in a major city like London or Portland, writing in coffee shops and traveling as often as I possibly could with my boyfriend and/or girlfriend... (note the "writing in coffee shops" is the same in both my universes!). But I think I would ultimately get bored or lonely with that life and desire to put down roots and my universes would merge back into the life I have now. I think.

LicentiouslyYours (host): "I discovered the joy and need for solitary time shortly after my daughter was born. After 6 months of being "on duty" 24/7, grandma took the baby for a weekend and the husband was out of town for work. What a joyous luxury it was to have a weekend to myself!"

Hi Kristina! How did you get your start in writing and editing erotica? Did you start writing in another genre and fall into erotica? Was this a lifelong interest or something you stumbled in to?

I stumbled into writing erotica while I was writing romance. I'd had my first romantic suspense novel published by SIlhouette Intimate Moments and was playing around with writing short fiction. I wrote my first erotic short story ("Service Entrance") more as a writing exercise than anything else. I submitted it on a whim and sold it within days, first to a now-defunct ezine, then to Marcy Sheiner for Best Women's Erotica.

In retrospect, it doesn't seem all that odd that I ended up in erotica and erotic romance. My senior year of high school, I wrote my A.P. Psychology term paper on sex. Seriously. The title was "Behind Closed Doors: Women's Sexual Fantasies" and I referenced Nancy Friday and Sigmund Freud, among others. I got an A.

(Those were the days... I doubt a high school student could write that paper today!)

What is your preferred genre to write as erotica? I think if I had the talent to write any kind of erotica, it'd be a mystery or something with mythological beings. Something that could not possibly happen in real life. The thrill of imagining it being possible would be enough to keep me reading. How do you feel about things like this?

I love paranormal erotica, which is why I edited the forthcoming collection

Dream Lover: Paranormal Tales of Erotic Romance

. I love the mashup of paranormal creatures and hot, hot sex! I'm particularly fond of vampires, but shapeshifters also interest me.

LicentiouslyYours (host): "I can't wait for this one to come out, it sounds like its full of great possibilities for new erotic stories!"

what is on the slate for the new year?

I have two anthologies coming out in 2011! First up is

Dream Lover: Paranormal Tales of Erotic Romance

, due out May 1. Then in the fall, I have

Corsets and Clockworks

, a steampunk erotic romance collection. In the winter (probably early 2012),

Best Erotic Romance 2012

comes out, the first in an annual collection I'll be editing for Cleis Press. So... a busy year!

I'll also be writing my own stories this year and I'd like to write a novel length erotic romance. And,of course, I'll be pitching new anthology ideas to Cleis Press! (Hint, hint all of you writers!)

LicentiouslyYours (host): "I keep thinking of making a submission, I need to get to it!"

What is your favorite genre of story if there was no erotica in it?

Oh, that's a hard one! I enjoy most genres, from pop fiction to literary. I guess I'd have to say paranormal or mystery-- perhaps a combination of the two? I tend to gravitate to authors who blend several genres. I like variety.

Do you write better on a full or empty stomach?

Ha! What an interesting question! I guess I'd say on an empty stomach, as I generally skip breakfast and will write for hours before eating. On the other hand, I can stay up until 2 AM writing after I've had a big dinner, so I guess I'm flexible.

One thing I do know for sure: I write better with COFFEE!

LicentiouslyYours (host): "I do everything better with COFFEE! :D"

What other writers do you enjoy? Was there any particular writer that inspired you along the way?

I am inspired by any good storyteller. I've had a crush on Stephen King since I was 13 and I still love paranormal/fantasy/horror because of him.I grew up reading Nancy Drew and The Hardy Boys and wanted to be Carolyn Keene! Then I wanted to be Judy Blume... I came of age reading the gothic romances of Barbara Michaels, Victoria Holt and Mary Stewart. I love Virginia Woolf and Mary Shelley. My favorite poets include Pablo Neruda, Nikki Giovanni and Robert Frost. I've love all of Austen novels and everything by the Bronte sisters. And what English major doesn't love Shakespeare?

I love Laurell K. Hamilton and Charlaine Harris's vampires, as well Angela Knight's paranormal novels. Obviously I'm a big fan of erotic romance by authors like Megan Hart, Lauren Dane, Kate Pearce and Delilah Devlin. Saskia Walker is one of my favorite erotic romance authors because she blends erotica, romance and paranormal elements so brilliantly.

I love being able to call some of my favorite authors my friends-- Shanna Germain, Nikki Magennis, Rachel Kramer Bussel, Saskia, Alana Noel Voth-- these women inspire me with their fiction, as well as their personalities.

There are probably another 50 authors I could add to this list of writers I enjoy and who inspire me! I know as soon as I post this I'm going to kick myself for some glaring omissions... but hopefully this gives you an idea of my eclectic interests!

Oh! Here's a list of the books currently sitting on my bedside table:

--Hand Wash Cold: Care Instructions for an Ordinary Life by Karen Maezen Miller (I love, love, loved her book Momma Zen)
--Best Bondage Erotica edited by Rachel Kramer Bussel (I aspire to be as fabulous an editor as RKB!)
--Love Poems by Pablo Neruda
--Beyond My Control: Forbidden Fantasies in an Uncensored Age by Nancy Friday
--The Mammoth Book of Paranormal Romance edited by Tricia Telep
--Secrets of the Baby Whisperer for Toddlers by Tracy Hogg (her books are a must read for new parents)
--Demon Hunts by C.E. Murphy (the 5th in her Walker Papers series-- I love it!)
--The Iron Duke by Meljean Brook (a FABULOUS steampunk romance novel!)

--Plus a Victoria's Secret catalog, a guide to Portland, OR where I visited for the first time in October and my Barnes & Noble NOOK, loaded with another half a dozen books!


LicentiouslyYours (host): "See, look what you've done..just extended my TO READ list by several dozen inches!"

As a writer, how do you deal with rejection (from editors, publishers, companies etc)? How has that affected your life, if at all? Kindly share with us your craziest freak out rejection moment.

At this point, it's rare for rejection to phase me for more than a day or two. This business requires a thick skin and self-motivation to keep writing in the face of rejection. If I get a form rejection, I just chalk it up to my work wasn't what they were looking for. If I get a detailed rejection, I try to take to comments to heart-- especially if I've heard similar things from another editor. An editor who takes the time to give you a personal rejection is helping you-- and I try to remember that, no matter how much the rejection might sting.

I don't know if I've ever had a crazy freak out rejection moment. I tend to stew quietly, plotting the demise of whomever rejected me... or I'll bitch to a friend, preferably a writer friend who understands my angst.

I do have a worst rejection ever moment and it was from an agent I'd queried seeking representation. In my self-addressed stamped envelope was my beautifully written query... and at the bottom of the letter, beneath my signature were the words "No thanks." The worst part? It was a rubber STAMP. She couldn't even be bothered to write the words!

My second worst rejection was well over a decade ago from a popular science fiction/fantasy magazine. The editor gave me a detailed rejection, shredding my fledgling attempts at writing science fiction. He said it was cliched, predictable, "was an original idea-- a decade ago," and a few other lovely phrases. To add insult to injury, there was a lovely coffee cup ring on the note.

I can laugh about those rejections now, but believe me, I was plotting a murder mystery at the time!

LicentiouslyYours (host): "You are normally such a kind person, imagining you plotting the demise of someone makes me giggle. :) Still I think people who so cavalierly reject your work forget how personal writing can be and are needlessly cruel, like that last guy. Let's knock him out with that coffee cup he left on your letter!"

What was it like winning the Golden Heart Award for Romantic Suspense from RWA? Were you nervous? Excited? Surprised? All of the above?

LOL... all of the above?

It was an honor to be nominated and winning was a thrill. I don't remember anything about my acceptance speech except a smattering of laughter here and there (hopefully I was being witty and not babbling like a fool). I know it was recorded, but I never got to see the tape. I'm not sure I want to at this point!

And oh my word where did that weird red mutant head picture come from?

What a fright!

I rather like it, Nikki. Very punk.

Do any of your friends or family read your writing and do they ever comment on it?

I have friends who would rather not read my stories because they don't want to "know" me like that. I also have friends who are curious but then uncomfortable once they've read my work. I respect everyone's comfort zone. I've had friends read a story and then ask who it's about or try to guess if I've actually done what I've written about. I have to laugh at that, since I'm a fiction writer. (See above about there being some truth in all fiction, but not always in the way you might think.)

There are a few friends and a couple of my husband's relatives who've read

Fairy Tale Lust

and said they enjoyed it. That gives me the warm fuzzies.

Just for fun, what kind of stories did you write about when you started out in first grade?

I wrote a story about a shapeshifting witch (she turned into a crow) who was seeking revenge on the children who had thrown rocks on her. I also wrote a story about a little girl (um... me?) stopping a bank robbery with the assistance of her trusty dog. My first novel (all 120 pages of it) was about two best friends and a haunted house.

I've always been interested in the paranormal stuff-- and crime solving. (Thanks, Nancy Drew!)

LicentiouslyYours (host): "I wanted to be Nancy Drew for years! It was so frustrating to never have any mysterious things happen to people I knew, so i could step in and save the day!"

When do you do your writing? I imagine in the night time as you are a mother during the day, but how do you balance your life enough to keep writing . As a mother of 2 I'm bushed after supper and after sending them to bed a cleaning up, I'm ready for bed myself, I can't imagine sitting down and writing a story, let alone an erotica.

I have a babysitter 3-4 days a week during the day and baby goes to sleep around 6:30, so I"m able to carve out some chunks of writing most days. Balance is something I'm constantly striving to maintain, but when I feel balanced-- good home life with hubby and baby, productive writing/editing career, social and alone time-- I'm happy.

how do you work around writing and having your hands full with a family?

Hi Kristina! what I want to know is how you balance everything? I'm a military spouse living over seas who's husband is deployed and have a 4 year old son who goes to school and who's too into sports, top that off with his school and my volunteer work and I feel like breaking down at the end of every day. I wanna know what drives you. What pushes you to be the best you can be at everything you do. Most importantly I want to know if you ever get those moments where you break down too, and if so, how you handle them.

As per the above question, How do you get enough time to write and edit with small children?

I should have read through all the questions! There seems to be a theme here about how I balance family and my writing career.

P'Gell-- the honest answer is, I DON'T have enough time to write and edit with a baby. I have a full-time job with part-time hours and I do the best I can.

I try to prioritize my activities based on what's due, what I'm most interested in and what is best for the long-term. I have an amazing and supportive husband who does what he can to help me carve out extra time. For instance, the week

Dream Lover

was due to my publisher, I put in three 12-14 hour days to finish the editing, write my introduction and polish the manuscript. Which meant I worked from around 11 AM to 4 or 5 PM, (seeing baby in the morning and having a couple of hours of family time in evening), then from 7 PM to 2 or 3 AM. I couldn't do that every week, I'd break down! But I can go at that pace for a few days or a couple of weeks if I have to.

There are absolutely times when I break down, feeling like I'm lousy at everything I'm trying to do, both personally and professionally. But I don't have a lot of time to feel sorry for myself, because there's always something due or interview questions to answer or stories to write or pitch... I just have to do the best I can.

One surprising thing motherhood has taught me is to be more patient and forgiving with myself. I've missed anthology deadlines this week because I wanted to take a little holiday break with my family because the fall was so jam packed with work. I know I'll be kicking myself with those anthologies come out and I don't have stories in them, but I also know there will be more opportunities to submit to anthologies, while this time with my baby can never be repeated.

What drives me to write now with this very full life I have is the same thing that's always driven me-- I HAVE to write. Writing isn't just about being published or making money (ha!) or becoming famous (ha ha ha!), it's a very basic need in me. When I don't write, I'm unhappy. My husband will tell you that! I get cranky and sad and moody when I don't carve out time to write. I HAVE to do it, even if I don't have as much time as I would like.

When my baby was born and my husband went back on deployment for 5 months and I had to take care of a newborn (with absolutely zero experience) by myself, everyone asked, "How do you do it?" (Usually followed by, "I couldn't do it!) I did it alone-- getting up every 2-3 hours around the clock, taking baby everywhere, getting sick and taking care of myself and an infant (and several pets!), and I still managed to find time to write. Granted, it wasn't very much at all-- I think I managed 4 short stories in five months, but I did write.

The truth is this: if there is something you HAVE to do, you find a way to do it. I HAD to take care of a baby by myself-- it wasn't my choice, but that was my reality. I HAVE to write. Period.

You are also a scholar of mythology and classics, right? How does that inform your erotic writing and editing?

And, what a cool combo!

Yes, I'm an academic geek.

I have a strong liberal arts background and my academic interests have always been eclectic-- everything from feminist authors and gender studies to popular culture and film and media. My writing is informed by my academic background often in a rather organic way-- all of those classic tales of love and passion inspire my imagination and find their way into my own stories. Having a background in humanities, history, feminism, American and English literature, mythology and popular culture give me a framework with which to build my fiction.

What did you do for New Year's?

My husband and I went out to dinner and saw Tron (his choice), then came home and hung out on the couch until after midnight.

Not quite a wild and exciting New Year's Eve, but since he was deployed last year it was perfect. Maybe we'll have a party next year...

LicentiouslyYours (host): "I find my most enjoyable NYE moments have been the quieter ones with close friends."

What was your first sex toy?

Good grief, I don't even remember! Something I mail ordered from a catalog because we're going waaaaay back to pre-internet days!

LicentiouslyYours (host): "Heh. I actually had to find the courage to walk into a sex-toy shop when I got my first toy.... which was actually kind of thrilling!"

Whats your favorite story you have written so far and why is it your favorite? What is the inspiration behind it?

If you could pick your favorite, or top few favorite stories that you've written, what would you say they are?

What's your favorite story that you've written?

I have several favorite stories, all inspired by various things. My first story, "Service Entrance" (Best Women's Erotica 2000) is a favorite. As is "Skin Deep" (originally published on cleansheets.com, then by Maxim Jakubowski for Mammoth Book of Best New Erotica). I love my demon-like story "In the Dark Woods" in

Fairy Tale Lust

and my fallen angel story in

Dream Lover

. Oh, and "At Midnight, In the Month of June" was inspired by both a poem and a painting, so I'm fond of that one for literary reasons (another Clean Sheets/Mammoth Book sale). I've written three or four vampire stories and I love those, though my favorite is "Cutter," which appeared in D.L. King's The Sweetest Kiss.

Honestly, my favorite story is whatever I'm working on at the moment-- I fall in love with my characters and my story and I just want to roll around in bed with them until it's a perfect little tale!

Also, what advice would you give to someone starting out in writing erotica? What should writers keep in mind? Is there any set of guidelines to follow, and what/where are good places to start?

The best writing advice for any genre is read, read, read. And then read some more.

(I think you have that covered!) Know the market! I receive stories that are clearly written by writers who have never read a piece of erotic short fiction.

Writers should respect the genre. New writers should keep in mind that erotica is not just a matter of dashing off a story with a lot of hot sex. All of the elements of good fiction are important in erotic fiction, too: strong plot, three dimensional characters, believable conflict and motivation, realistic dialogue. PLUS there should be a believable erotic component.

The

Erotica Readers and Writers Association

is a treasure trove of resources for any erotica writer, with articles and columns and calls for submissions. It's where I started over a decade ago and it's still one of my bookmarked favorites for everything from writing advice to the latest in market trends.

Good luck and I hope to see something from you soon!

LicentiouslyYours (host): "The Erotic Writer's site is really good, I've been there a couple times in effort to nudge myself into submitting to somewhere and it's a great resource!"

I noticed that you are 43 years young, how has your viewpoint on sex and your musings changed as you get older, do you think as you get older your erotica will change?

Interesting question. There is the notion that as we age, we become more conservative and cautious, at least politically and fiscally. I haven't found this to be true of myself in any regard including my attitudes toward sex. The older I get, the more open-minded I become about sexuality.

I think my erotica has already changed in the past decade-- I tend to write about older female characters, in part because I can identify with them, but also because I think it's a demographic that's terribly underrepresented in erotic fiction. (Spare me the MILFs and cougars, I'm talking real women with real personalities and sex lives, not cliches and caricatures.) I'm also writing more often about committed couples or characters at a crossroads in their lives, because I feel that life-changing events are not only good for developing conflict, but provide another facet to one's sexuality.



LicentiouslyYours (host): "Such a great question. It's shocking to me how much my views of sex and sexual relationships have changed in the last 15-20 years. I too have become more open-minded about sexuality."

I would LOVE to read your book Fairy Tale Lust. The link takes me to amazon.com and I am in Canada. Has it been released in any stores here in Canada/other countries or can I only buy it online?

Fairy Tale Lust

is also available here on EdenFantasys and should be available in Canadian bookstores, as well as the Amazon Canada website!

What do you miss about South Florida, and what do you like better about Virginia?

I miss the wildlife (alligators, chameleons, tropical birds) of South Florida and some of the plants, like hibiscus and bougainvillea that grows wild and huge. I miss the diversity of Latin American and South American cultures and I miss authentic Cuban sandwiches! I even have nostalgic feelings about "love bugs," though I would hate to have to deal with them again. (Love bugs are these hideous little black bugs that mate in midair and fly in frighteningly huge swarms, leaving sticky black goo all over the front of your car and destroying your paint. Their mating season is brief, but they are a horrible nuisance!)

I love the seasons of Virginia and the proximity to other places, like the Outer Banks, Baltimore and DC. Mostly I like Virginia better because it's home. I'm a big believer in the saying that home is where the heart is. Plus, Virginia is for lovers!

I live in Virginia too, what all have you found around here to do for fun?

I'm not sure if my idea of fun is the same of yours, but I like to spend time outdoors, and enjoy the variety of wildlife refuges (beach, woods and swamp), as well as minor league sporting events (we have baseball and hockey in my part of the state). I also like theater and concerts. Washington DC is about a 3 hour drive and the Outer Banks are close, as well, so there are a variety of things to do within a short driving distance.

When or if you get stuck in a story you are writing, how do you get your muse back?

I will usually take a break from the story that's causing me fits and go work on something else. That usually seems to do the trick!

Anatomy words can be awkward/not aesthetically pleasing. What are your favorite terms for male and female genitalia?

Honestly, it's not about my favorite terms, it's about the characters. There may be words I personally dislike or find obnoxious, but if it suits the character and makes sense in context, it's in the story. Erotica writing is not about my sex life, it's about the sex life of the characters.

Do you vote? Do you think that it is important to vote?

I do vote. I think it's an important privilege that too many people ignore. Don't vote? Don't complain about the politicians who are elected to represent you.

Also, I love getting my "I Voted" sticker.

LicentiouslyYours (host): "Oh this couldn't BE more true! Someone once said we get the government we deserve, if not the government we want. To change it, you must go out and get the people you want to lead you ....

I love my "I Voted" sticker too!"

How do your parents feel about your career choice? Did they always accept that you wanted to be a writer, or did you struggle with convincing them this was what you wanted to do?

My parents always knew I wanted to be a writer, though they didn't understand it because neither of them was much of a reader. I was a bit of a strange child, living in my own little imaginary world of books and writing. I've always been a free spirit, determined to make my own path. It was never a matter of struggling against them-- I just did what I wanted to do. Still do.

Hi Kristina. Since you write fairy tale erotic stories, I wonder what type of setting interest you the most for your sexual fantasies? I'm referring to what era like Modern, Renaissance, Ancient Greece, etc. Why do you like that setting?

I personally like a Romeo and Juliet type of fantasy because of the women's fashion in that time and how forbidden their love was.

I'm very much grounded in reality when it comes to my own fantasies.

I haven't written much historical fiction, but I do like to read stories set during the Renaissance or Medieval (historical erotic romance makes me swoon!). And now I'm editing a steampunk erotica collection and loving the descriptions of Victorian England and costume details. Delicious!

you must have some characters that you will go back to from time to time. if you do have them, why did you chose them?

I don't know that I have specific characters I go back to, but certainly there are personality types I gravitate toward. Not surprisingly, I'm writing older female protagonists these days, women at a crossroads in their lives and in their sexuality. I think with age comes not only wisdom and maturity, but a stronger and more complex sense of self and those are characters I find fascinating to write.

I do have one character I'm drawn toward, and it's my protagonist in my vampire story "Cutter," which appeared in D.L. King's The Sweetest Kiss. She is a very troubled young woman and she works as a dealer in a Vegas casino. She's an emotional cutter, very self-destructive. I don't know why I find her so intriguing, but I'd love to expand her story into a novel.

I noticed the title of your latest project, "Corsets and Clockworks: Steampunk Erotic Romance". How did you become interested in steampunk?

Well, as I said earlier, I love mashups of genres. Steampunk is this awesome blend of Victorian or Edwardian culture and mores (though, truly, steampunk can be just about any era) with futuristic technology, often with paranormal and fantasy elements. What's not to love?

Steampunk is limited only by the author's imagination! Combine that with romance and erotica and it makes me swoon! (My favorite recent steampunky film was Sherlock Holmes with Robert Downey, Jr. Drool... )

LicentiouslyYours (host): "I've become more and more intrigued by Steampunk lately, when I'd previously had little interest at all. I blame you and D.L. King for making me anticipate your Steampunk anthologies!"

I'm wondering about your sons birthday. My youngest son was born December 7th, 2009 and it seems your son was born around the same time. He just learned how to walk and is getting quite a vocabulary from his older brother. How are you handling the milestones your son is also making or close to making at this point? I find it so mesmerizing sometimes lol.

Oh, I love this age! He's learning things on practically a daily basis. He's walking pretty well now and into everything. Though he's not really talking yet, he mimics animals sounds, which cracks me up. Honestly, I'm not a baby person (or even a kid person), but it's different when it's your own, isn't it? I like just watching him play and discover new things. And we've been really lucky because he is a remarkably good-natured child.

I will admit that I sometimes miss the "little baby" sometimes. Having a child is a bit like having a lot of different children and having to say goodbye to them as they pass from one stage to the next. I miss holding that little 9 pound bundle and watching him sleep, but I do love this new child who is so engaging and curious about the world.

How did you lose your virginity and why?? Why that particular moment??

It was Halloween, I was dressed as a sexy witch and I was drunk on white zinfandel.

H he was cute, charming and very intelligent and I'd had a crush on him for months. Too many romance novels as a teenager had convinced me I should wait for Mr. Right, so I was practically ancient-- a 21 year old virgin who believed she was in love. He wasn't Mr. Right and it didn't last, but I still have fond memories of the night. I think I may still even have the witch's hat...

Whats your inspiration for your erotica? Is it something you may have fantasized about yourself. an interest you may have had, or is it just something you do for fun?

Motivation and inspiration are similar, aren't they?

I don't know if there is an easy answer to what inspires or motivates my writing. As I said, writing is something I've always done and always wanted to do. When it comes to erotica, I'm motivated by people-- whether it's people I know or strangers on the street, I love watching the way people interact. It sparks my imagination to see a look or touch exchanged. I'm motivated to explore the human experience-- and what is more human than our basic sexual and emotional needs?

What made you turn to writing erotica in the first place?

I used to read my mom's HUGE stacks of romance novels when I was a kid. I noticed a formula in all the books - love interests meet, get pissed at each other (conflict), deal with a huge issue (pirates, pregnancy, he's a cad, more conflict), it gets them hot for each other (sex!), and they live happily ever after (unlike the person reading the book). I haven't read your work. Did you get hot and bothered reading romance novels as a kid, too? How has it influenced your writing? How are you doing it better?

My interest in erotica came from my roots in reading and writing romance fiction. I read voraciously as a pre-teen and teenager, devouring the "sweet" Harlequin romances that closed the bedroom door before anything happened, then moving on to the "bodice-rippers of the late 70s and 80s. For a long time, romance and erotica were to very clearly defined and separate genres (despite the fact that the authors of both were lumped under the derisive label "smut writers"). Now, the lines have blurred and erotica and romance have blended into erotic romance, romantic erotica, romantica-- whatever label you want to put on a story that combines both the emotional and physical components of a relationship.

What would you consider to be your biggest writing achievement so far?

Hmm. That's hard to say. My biggest writing award was the Golden Heart Award from Romance Writers of America, but I don't know if I consider that my biggest achievement. I could say signing contracts to edit three new anthologies in the same year I had a baby is a pretty big achievement, but that's an editing achievement and not a writing achievement.

I think any time I break into a new market, it's a major achievement. My first nonfiction piece was published in a book a little over a year ago and that was huge for me-- up until that point, I'd only published fiction. Then there are the "big" sales-- selling my first novel to Silhouette Intimate Moments or being included in a Harlequin anthology like Alison Tyler's With This Ring I Thee Bed (due out in May, I believe). Or the achievement of having over 85 stories published in anthologies-- at least half of them Cleis Press anthologies.

I think every year I keep writing and publishing is my biggest writing achievement. This isn't an easy business to get into and it's even harder to say in it, but I'm still here and grateful for the opportunity to share my storeis.

Thanks for the question!

How often do you find yourself scrapping story ideas and moving on? Are you the type to give up a story if it doesn't seem to pan out, or do you prefer to be stubborn and make a story work?

Rarely to I give up on an idea entirely. If it's not working, I'll save the draft and move on to something else. But at some point, I usually pull it out again and rework it. For instance, I just finished and submitted a story that I first started in 2005, went back to in 2008 and finally figured out how to make it work last week! I hate giving up on an idea.

Do your students in your classes know what you write in your free time? Have any of them mistakenly come across your book? (Soon to be "books)

I suppose if they've ever visited my website, they know what I write. I include my URL with my contact information and let them know I'm a published author. Some have asked me about my writing, but most don't-- pretty much like most people in my life. An amazing number of people aren't readers (so sad!) and books don't interest them, so I might as well say I'm a tax accountant for all the interest it holds!

(However, my tax accountant was very interested to discover what I write. Go figure!)

I have had a couple of students come to me a semester or so after they took a class with me and say they found something I wrote and enjoyed it. That's always nice to hear.

How do you develop the characters in your erotica? Do you just use your imagination? Or do you get inspired by people in your own life?

Both! I'm absolutely inspired by real people, though by the time I'm done creating them on the page they are so far removed from my original inspiration no one would ever recognize them! I love people watching and eavesdropping on conversations and being out in the public for a little while (especially places like airports or major cities) really helps me develop my characters.

What's your favorite kind of sex toy?

Oh wow, I don't know! One that has fresh batteries, I suppose.

LicentiouslyYours (host): "no... one that's rechargeable! those never run out of batteries! ;)"

What is your favorite kind of erotica to write? (BDSM, Bondage, Triads, Sudden Sex, Relationship and Love, Girl on Girl, Voyeur etc) Conversely, is there any type of consensual sex that you simply are not interested in writing about or won't write about?

Hmm... I've written all of those and enjoyed writing them! I really don't have a favorite, though I do have a preference for genre blends-- erotic romance, paranormal erotica, erotic horror, etc.

As for subgenres I'm not interested in writing-- there was a foot fetish antho I just couldn't get inspired about because feet just don't do it for me.

I also haven't written transgendered erotica because I don't feel like I could write it authentically. I don't know why, when I've written gay male erotica, but I don't know if I could do justice to the complexities of the transgendered experience. Having said that, I wouldn't rule out attempting it and turning to friends and resources to make sure I got it right.

As an editor, are you the cut throat, cold-hearted-bitch type or the motherly, nurturing type? How do you break the good/bad news to writers? Do your editing decisions affect you in any way or is it just part of your job?

Eek, I have to choose one?

Honestly, I try to be the supportive, encouraging type of editor. (I only have enough "motherly nurturing" in me for my own child!)

All authors get a personal note from me. It might be short, but it will address them directly. If I feel like I can offer any feedback, I will. If I liked the story but it just wasn't right for my anthology, I will tell them. If I liked the story and can suggest a better market, I will. (And I am happy to say my advice has been taken and sales have been made that way.)

I wear the hat of editor with a great deal of respect for any writer who takes the time to send me a thoughtfully crafted submission. I treat writers as I like to be treated as a writer (and believe me, I've had plenty of rejections to know what I like and don't like in an editorial response!).

I see you waited until later in life to start having children. Was this a conscious thing that you decided, like now being the right time for you to have children, or did it just happen unexpectedly?

It was mostly a conscious thing to wait. I had miscarriages at 23 and 30 after accidental pregnancies, then another miscarriage at 41 before having a successful pregnancy and a beautiful baby at 42. I've been married 20 years and my husband is in the Navy, so we postponed things for years at a time because of moves and sea duty. Then I went back to school (twice) and wanted to finish my degrees... it just seems like life kept getting in the way of actually planning a family. Then I hit 40 and realized I should probably get serious about it if we were going to have a child.

Luckily, it worked out beautifully for us!

Which of your 5 senses is your favorite? Which do you think contributes most to the details of your writing?

I think all of the senses come into play in my writing, though obviously touch might be the most obvious one for erotica! Sometimes it's an exercise to make sure I am using all the senses to convey my characters' experiences.

Greetings Ms. Wright and thank you for taking the time to respond to these bevy of questions here for Eden Fantasys. When skeptics approach you with respect to your newly discovered profession and lobby against eroticsm, claiming it is no different or better than porn what is your response? Are you offended and as our society become more liberated do you feel erotica and porn are beginning to eclipse one another more and more?

Honestly, I've never had anybody seriously broach that topic with me! I've gotten the typical "smut writer" comments and I tend to give them my very serious teacher look that says I'm not amused and the topic quickly changes to something else... If asked respectfully, I will explain the difference between erotica, porn, erotic romance, romance, etc. I've found that treating my writing seriously tends to make other people treat it seriously, as well. I don't titter on about my personal sex life with acquaintances, I don't dress like a dominatrix, I don't use a pen name that invites ridicule. (Not that there is anything wrong with any of those things, but I've found that when an author blurs the lines between who they are and what they write, it opens them up for unwanted comments and criticism.)


Lol Just a random curiosity, how does it feel answering some of these questions? I know some of mine are a bit personal (sorry if they are offensive) but I just wonder if you read the list and then think about them for awhile to answer later.

I'd be lying if I said it didn't make me a little uncomfortable.

I'm used to writing fiction and I hate being in the spotlight. But you all have been so lovely and welcoming, this has been a pleasant experience! I do think about some questions longer than others, wanting to give you as thoughtful an answer as I can. Since you've taken the time to write such thoughtful questions, I want to return the favor!

Thanks for taking the time to join me here.

How do you manage to create these wonderful novels while still managing to balance out life? Or better yet differentiating realistic and idealistic expectations?

I mostly write short fiction these days (and edit anthologies), but it's still very much a balancing act. Honestly, I set my expectations extremely, ridiculously high and then I try to cut myself some slack when reality intrudes.

Writing is such a living, breathing part of me, it would be hard to neglect it entirely. Much like having a large, rambunctious dog running around the house and somehow forgetting to feed him-- it's impossible!

You say that coffee is one of your passions. What is your favorite blend?

I'm actually a coffee wimp-- I can't drink regular coffee or espresso. I drink the ridiculously expensive chocolaty mochas, usually iced. My favorite beverage is a venti quad shot black and white mocha, 3 pumps each, no whip. Thankfully, I've been going to the same Starbucks almost daily for 4 years, so I almost never have to actually *say* that!

You say that you have a nook. Do you think that digital novels will take over the market in the next fifty years? Would you expect to see paper books disappear in your life time?

I think we're at least a generation or two from print books disappearing, though I honestly think there will always be print books. I love the Nook, but I still buy print books. I think which version you prefer depends on your needs as a reader. Books are a bit like art to me and I will buy print books that I think I might want to have around (books with photos, books that are beautifully bound, books in a series because I simply like the look of a collection of books). Most books, I'm fine reading on the Nook.

I think digital is more practical for textbooks and would love to see students carrying around a lightweight e-reader rather than a backpack full of heavy textbooks.

LicentiouslyYours (host): "I am desperately clinging to my print books. There is just something about the physical book, with pages, in your hands that appeals to me so much more than even a Nook with 1,000 books inside it. The exception to that would be textbooks... I am in complete agreement that students should all have e-readers and get rid of the giant textbooks."

Who is your biggest role model?

I'm inspired by women who are doing what I aspire to do-- balance family, friends, career and interests with grace and good humor. The list is long and certainly not exclusive, as on any given day I might hear a story that inspires me. I don't subscribe to the notion of putting famous people, living or dead, on pedestals. My role models are all around me, in my day-to-day life, in my email, in the books and blogs I read, in the coffee shop I hang out in.

LicentiouslyYours (host): "This is definitely a great philosophy. Everyday people making it work and doing it well have so much more to teach us than people whose greatest accomplishment is being famous. :)"

Do you have a favorite actor or director?

I'm a bit of a film slut-- I love sitting in a dark theater and getting lost in a movie. I don't really have a favorite actor or director, but I gravitate to independent films with quirky characters and clever writing. Of course, I also like Hollywood blockbusters, too. There's room in my life for all kinds of movies!

Which do you find to be the most challenging... writing, editing, or teaching?

Teaching is the most challenging, by far. Writing is probably the easiest, because it's the most personal. Editing comes second, because I do make choices about which stories I'm going to accept and reject and those decisions influence people's lives in both positive and negative ways, if only temporarily. But teaching can have a long-reaching impact on someone's life. I'm the "expert" that is supposed to make sure they finish the class with an adequate level of knowledge about the subject. When I succeed, it's a wonderful feeling. When a student fails, it means I've somehow failed him.

I never thought I'd say writing is the easiest thing I do.

Are you generally interested in politics? Do you identify with a particular party?

I am generally very interested in politics, though I will confess to a certain apathy in the past couple of years which seems to be the result of pregnancy and having a baby. I don't keep up with politics (or the news) at the same level I used to, mostly for a lack of time.

I'm very much a liberal and a registered Democrat.

LicentiouslyYours (host): "It can be exhausting, just trying to keep up with politics, never mind doing it with a full-time job and kids!"

Does your husband like your stories? I'm sure he is supporting you in your decision to write them, but does he enjoy reading them? Or do you perhaps like to make your stories a little more real by acting them out? Or is he the inspiration for your stories? I am always curious about how erotica are written. I imagine a lot of it is a fantasy on paper, but I wonder if some stories should be more like a diary entry.

I'd say he's read most of my stories, though some years I've had so many stories out he couldn't keep track of what he'd read and what he hadn't. As I've said, my inspiration comes from everywhere and certainly from my own experiences, but no, I don't write specifically about my own sex life and I wouldn't call any story I've written a diary entry. That would be nonfiction, right?

I try to keep my persona life separate from my writing life for the simple fact that I'm the one who is the writer and in the public eye-- my husband is not. It wouldn't be fair to him to be penning stories about our personal lives. So I don't.

LicentiouslyYours (host): "This makes me wonder if anything he's read has inspired him to .... make a story you've written come true. If art isn't imitating life, maybe life occasionally imitates your art. ;)"

As a writer myself, I often find it difficult to gauge how arousing my own sex scenes are because I fuss with the language when reading them, rather than just enjoying them. Do you ever have this problem? How do you over come it?

Usually a little distance from a story will help me gauge if I'm hitting the mark with the sensuality. So I'll step away from it for a day or two (or longer, if I have time) and then read it with clear eyes. I do spend more time on the sex scenes in my stories than anything else, mostly to be sure my writing is fresh and unique and not a boring blow-by-blow of a sex scene. I don't know that I always succeed, but I try!

Good luck to you in your writing.

LicentiouslyYours (host): "I've been re-reading and re-editing a group of stories I wrote over a year ago and it's been interesting to see where my head was at the time and it really has been like reading someone else's work after all this time."

Here's a question to answer, will this question be picked as a winner?

Ha! The angelic smiley made me laugh. Thanks for all your questions, even this one!

How did you get up becoming the moderator for Naked Reader club meetings? Do you enjoy it? Is it one of those things that your husband laughs at (like mine does)? "I have to go on the internet for a meeting!"

I was invited to be the moderator by my publisher and EF and I jumped at the chance. I love books, I love book clubs, it seemed like a perfect match!

My husband is a big gamer (Final Fantasy), so he knows better than to laugh at anything I do online. It's all work or research, I remind him! And my purchases on EdenFantasys is tax deductible.

LicentiouslyYours (host): "Such a great interview! Thanks to everybody who joined us and especially Kristina for coming back in to make sure all the questions were answered!"