Leatherbeaten makes a myriad of high quality leather goods. What's life really like at the sharp end of the international leather fetish industry? What separates one whip from the next? How does a hands-on small company like this survive? Has Billy always been so damn affable?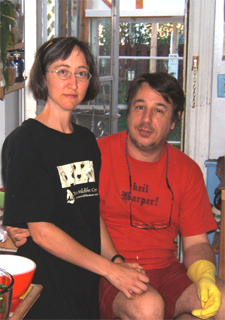 Leatherbeaten is a small Canadian company that has had two distinct, but overlapping, phases in its 11 years. First, as a premium whip maker dealing almost exclusively with high end fetish stores. Once the famed whip makers' curses (carpal tunnel, tendonitis) began to kick in, they decided on a change of direction and have since greatly expanded their line to include many more mainstream pieces. Fortunately, this shift came as BDSM itself was becoming more mainstream, and Leatherbeaten has been working ever since to help raise the standard of gear. They set the bar by using the best leathers and hardware, and offering an unconditional warranty. We've even heard that Billy and his partner Kristina rode down to the US from Canada on a motorcycle stocked with his wares, selling to shops in person. He's got an unconventional business style. Surely, there are some stories to be told about those early days!

Billy and his staff are passionate about the aesthetics and functionality of their gear; he values the autonomy of his employees; and they all strive to work ethically and in environmentally responsible ways. What are some of the ways leatherworking impacts the environment? Just how labor-intensive are some of these pieces? Leatherbeaten has no sales people, minimal customer service and no marketing. Are they a testament to how a good product sells itself? Perhaps. Can Billy tell us more about the accomplishments under his belt, some of the problems he's had to whip and future plans he might collar? Definitely!

What's involved in your decision to sell through a particular shop or retailer?


That's a good question. Generally I'm happy to sell to anyone who wants to buy our stuff, though there have been times we've come away from a sales visit having already decided not to do business with them.

One time the owner of a good sized fetish store in Quebec spent a little too much time boasting about how a local crafter had come in to show him a flogger he'd made, using a ball bearing rotating head, and he'd bought this guy's sample and sent it off to one of his existing suppliers and asked them to make it for him. We didn't have warm fuzzy feelings about that, so we didn't pursue a relationship, shall we say. Another time in Florida we were trying to meet up with a storeowner who was expecting us, but once we were there (this was one of the legendarier motorcycle trips!), she just couldn't find the time to meet with us, so we were hanging around West Palm Beach till we decided she could finish the well known sentence ending in "off".

If we consistently have a hard time getting paid by a store, that also makes me tend to leave their orders on our board till the tape goes hard and falls off. Currently the situation with a well known webtailer on the west coast....

If we get a good feel from a store owner or buyer, that they have some enthusiasm for the business, an interest in engaging with their customers and get the whole idea of improving the level of sex toys, rather than simply trying to buy the cheapest things they can, I feel good about working with them. The stores I really like dealing with are the newer sex positive, female friendly (often female owned) places. I think these stores have really done the world a favour by opening the windows and turning the lights on in sex stores, and making them places where women feel comfortable shopping.

Is Leatherbeaten planning on coming out with a line of vegan products? Also, have you received much interest in vegan products from customers?

I don't think it's likely. Not everything we make is leather; we do have a bunch of floggers made with synthetic rubber, but the rationale behind that is more to do with the quality of the sensation you get from that material, rather than to present a vegan line. We also have a couple of beginner restraints made with webbing and fleece and a webbing and vinyl harness, but our main focus will always be on leather.

We do get enquiries from time to time about non leather gear, and where it's feasible we'll do it, but I tend to alienate the enquirer pretty quickly by being incapable of holding off on my petroleum products rant. Which I'll spare you here, though I think it's on the forum somewhere!

How did you end up in Peterburough?

I had been living in London with my ex (a Canadian; oddly all of my wives have been Canadian!). We had a young child and another on the way. I was working for British Gas, she worked for the council. We lived on a street with eighteen hour a day gridlock. It took me over an hour to get to work. Our apartment was overrrun with giant Mediterranean cockroaches. We had to tape around the baseboards before we went to sleep; it didn't help. One scuttled across my face one night. I knew because it woke me up (strangely feathery, since you ask), and it was staring at me with its antennae, inches away on the pillow. There were bombs on the tube and syringes in the sand pit at the park. And London feels like this enormous concrete pit that goes on forever. I'd always lived in cities, but I guess I'd got bored with them, so when she suggested moving over to Canada, I had no objections at all. Peterborough, to finally answer the question, was the place she'd been to University. I had actually visited here in 1980, so I kind of knew the place. I always liked it, and I still do.

What is it like traveling across the US and Canada on a motorcycle stocked with leather gear? Do you ever get stopped at customs?

It is insane but great, is the easy answer. It's not something we've done for a while, but these are a couple of the things that spring to mind when I think back.

Riding a 1978 KZ400 that topped out at 80k on some interstate late at night in the middle of nowhere, upstate New York. A car slides up alongside us, slows, and keeps pace. Every so often, it kind of weaves over into our lane, then weaves back. There's nobody else on the road. I slow right down, they slow down. I slow even more and eventually the car takes off. It has Quebec plates.

Also had the slowing down keeping pace thing happening in Florida a few years later ('77 KZ650, much faster); all these sleek things with tinted windows, checking us out and zooming off on the far side of 160k. Ran into a hurricane warning in Forsyth GA, of the "get off the road now you fools" kind. Forsyth is omewhere near Vidalia, home of the worlds most fabulous onion. Luckily we were able to find a $12 a night motel, and we brought the bike in the room with us! I remember people in Georgia looking at us, looking at the bike and going "Yall goanna Florida? Oooweee..." Then crossing the Suwanee into Florida and looking down to see a sign saying "Welcome to Sheffields 24 Hour All You Can Eat Catfish Where Jesus is Lord".

On a different occasion we were going to Chicago to drop off orders and (more importantly) pick up money on my partner Kristina's piece of shit Honda 500 Four. We knew it had clutch issues, and had called ahead to a bike shop in Chicago to order a cable. In Kalamazoo we noticed it was dripping gas onto the engine, which was a bit dodgy. We were looking it over in a carpark and trying to figure out what to do when an older couple turned up, one on a bright pink Harley three wheeler. They took us off to their place where the guy disassembled, cleaned and reassembled our carbs. When we left, amidst profuse thanks, he gave us his phone number and said to give him a call if we had any more trouble. So halfway around Lake Mich we snapped the clutch cable. We got to a service station - I think it was Stevensville - and called Roger, who wasn't thrilled, but said he'd come a give us a hand the next day. We pitched a tent behind some outbuilding, and when we crawled out around seven the next morning, Roger already had Kristina's piece of shit bike on a trailer, and he drove us into Chicago. Years later, he and his wife turned up in Peterborough, having woken up and decided to go for a ride.

We met a guy in Connecticut riding a 380 Yamaha he had attached an ashtray and cupholder to. He had also fixed up some kind of reflective heat retaining bubble around the engine that he claimed kept him warm in the winter, and showed us pictures of him breaking fresh snow riding into New York city on this thing.

I love travelling by bike. You're so much more in the landscape than you are with a car, and people notice you. Sometimes that can be a bad thing, but much more often it's not. We've met some brilliant people we would never had run into if it wasn't for the bike.

Coming back from Atlanta one time, Trying to get to a 7.50 a night hostel in Kentucky we ran into a blizzard going over the Smokies. I was driving, trying to keep a straight line, out of the way of the trucks and wiping thick flakes of snow off my helmet so I could see. We pulled into the Holiday Inn at, I think Asheville, and were phoning around to see if we could find somewhere a bit, how shall I put it - cheaper, when a woman who had noticed us (hard not to; we kind of stood out in our road rags and gargantuan saddle bags!) came up and asked if we were looking for a room. We said we were, and she offered to share her room with us. Not only that, but she gave us her room lock card, told us she was going out for dinner and to make ourselves at home. It's truly staggering how amazingly kind people can be.

I think the craziest thing we ever did was with the Z650, so we could get to New Jersey and New York, drop off orders with Dressing for Pleasure, Purple Passion and the Leather Man, and get paid. Recurring theme? There were undiagnosed electrical faults, and the bike was blowing fuses like crazy. We'd set anyway off with a bunch of spares to try and get us through, but by the time we got to Scranton they were gone, so I hardwired the fuse with a paperclip. Turned on the engine, started to move, noticed the smoke beginning to billow out from under the gas tank, and stopped quickly. We started hitching. Kristina made a sign that said "New Jersey - With Bike", thinking people might just be prepared to load up a 700lb motorcycle. She's the optimist. Eventually we got a lift (left the bike by the side of the road - very emotional), made it into Montclair NJ, and called Constance, the owner of DFP, and, luckily, a friend, who was by that time used to our impoverished escapades. In a second hand bikeshop in Montclair, we were able to pick up, miraculously, for $40, a complete wiring harness for a 1977 Kawasaki KS650. Seriously, what are the odds? They only had one... We did our business, hitched back up to Scranton, and spent the weekend at a wreckers where we'd had the bike towed, painstakingly replacing the wiring harness. Kristina did that, as I would have melted down at the daunting finickitiness of it. She is amazing with detail. We slept in an old cargo van, finished the wiring on Sunday, turned the bike on and it started. Amazing feeling. It got us up to Kingston Ontario, where as the light faded, we realised the alternator was screwed. But it was easy from there...

Customs have been good and bad at various times. when we first started we would bring US orders across the border and mail them at Watertown NY. We got screwed around a few times till they got to know us, tehn it was okay. They called Kristina "The Whip Lady". That was where we were on the morning of September 11, 2001.



Victoria (host): "This is one the craziest, most dedicated stories I've heard these days - no one seems to be so seriously committed to their craft and livelihood! I agree that there is nothing quite like riding. Although, the parts with the bike breaking down remind me of my own troubles with my Honda CB750A...those are the worst!"

So. Turtles. I feel like a bit of an ass but I'm going to go ahead an admit that I was not aware that there were Canadian turtles - I just brought myself up to speed, a little bit, and its somewhat excusable as I'm out on the west coast and they seem to be a mostly east coast thing. ANYWAYS. Any particular reason you're into saving turtles - cottage memories/SCUBA diving moments/spirit animal/just cause?

What's your favorite type of turtle? And do you have a favorite teenage mutant ninja turtle?

I noticed you help with fundraising with the Turtle Trauma Centre. I am so curious to know how you got started in that and if you do other types of volunteer work as well.

I'm glad somebody asked about that, cause it leads into a whole bunch of stuff... so, I'll get the actual questions out of the way and then start blabbing on about the rest of it.

The Turtle Trauma Centre is mostly staffed and funded by the Ontario Ministry of Natural Resources; both are located here in Ptbo. A few old friends have been in the Centre since the beginning, and over the years, we have been as supportive as we can. Right now they are in the process of setting up an online store to sell tee shirts, calendars, bumper stickers and so on, and we (Leatherbeaten) will be running the store, stocking the products and shipping the orders. They do some amazing work of treating injured turtles and releasing them back into the wild, which can be tricky. Turtles are very territorial, and if not released on their own turf, may not survive. As well as the TTC, we have volunteered dong renovations work at Sciensational Ssnakes (http://www.scisnake.com/), a very cool educational organisation in Orillia, Ontario.

People are boneheads about turtles, or they are around here, anyway. You see these incredible creatures trying to cross the road, and cars are just whizzing by them. Some people will stop and help them across, but most don't seem to care if they hit them.

Two years ago, Kristina and I were heading down to her parents place on Lake Erie, and passed a turtle that had made it 3/4 way across the road. We stopped and backed up to try and help it over, but by the time we'd got back someone had run over it, and its back had a long deep gouge in it. We managed to pack it into a cardboard box; it was a big snapper, so we had to be careful, and the next day drove it into the Toronto Wildlife Centre, where they were able to fix its shell and give it time to heal.

I do like turtles; I don't have a favourite (okay, maybe the spiny softshell!). I feel really sorry for them. They're prehistoric creatures that coexisted with dinosaurs, for flips sake, and the thought of them continuing for millions of years, surviving everything, essentially unchanged; perfectly adapted to their environment, till we blunder along, draining wetlands, building roads across streambeds, poisoning the water etc etc, just makes me think we have a real responsibility to them.

So Red, I don't have a favourite TMNT. I was a bit old for that, but I do have a favourite Magic Roundabout character. Ermintrude. Although I kind of liked Zebedee's erotic directness...

So, now you're all going to think we are complete freaks, but the turtle thing is part of a larger project that Kristina and I have been trying to put together, which is an alternative religion, which we've called Coresain. Aha, you think - another religion, just what the world needs, and I have to say, many of our friends have had the same reaction. The central premise of Coresain is that the root and ground of being is not some old geezer with a beard, but the earth, fed by the sun. That's where we all come from, that's where we're all going, and it requires the interplay of an awful lot of species, of all sizes, to be viable.

Even rugged individualists like we humans are composed of 25% - 30% completely alien creatures - mitochondria and organelles - without which we couldn't survive. Mitochondria convert sugars into adenosine triphosphate which is what fuels our muscles. There's even a little beastie called an acrosome which coats a gentleman's sperm with an enzyme that allows it to break down the lining of a lady's ovum. Pretty basic to our survival, but these are not human cells. They are creatures with completely separate DNA, with their own genomes. The interconectedness of all things is so much more than just a catchphrase.

Kristina felt that the only force across human history that has ever been able to convince humans to act consistently contrary to their own perceived self interest has been religion, and that's where Coresain came in. It's tricky to put it together, though, because we're trying to make it encompassing, like a traditional religion, with the rituals you get born into, married with, buried to, as well as rites of passage, coming of age, and celebratory days. When we got married last year, we wrote our own ceremony - which featured a lot more compost than is traditional in wedding ceremonies - and made all our guests (including Kristina's rather astonished parents) sing our hymn, "Space is Huge" which I'll drop in at the bottom of this answer, for anyone interested. It covers a bit of our philosophy... and if anyone is interested in hearing more about Coresain, he proselytised badly, drop me a line!

So, and I'm really going to answer they why question here, a major part of the Coresandrian faith is a commitment to try to improve some aspect of the environment; just to try and do what you can to make things even slightly better. The whole ball of wax of environmental degradation is too much for anyone to try and deal with, unless you're Stephen Hawking, and he doesn't seem too bothered about Earth, so we thought, break it down into something smaller. So it's not so overwhelming. The idea is that you take your task with you wherever you go, and you do what you can. It's called your opus vitae, and Kristina and I have herptiles. No, that's not an embarrassing but curable disease. It's the group of animals that include reptiles and amphibians.

I hope that lot has answered your questions. Probably eh? And then some… I have to go and do some work now, but I'll be back later in the day.

Here's that hymn:

Space is huge and vast and endless
Earth is just a tiny speck that's
Spinning in the cold and darkness
Coresain oh Coresain

Here upon the earth, our mother,
We're all sisters, we're all brothers
Milkweed Tree Frog Herring Plover
Virus Gecko Kangaroo

Half of all the world's oxygen
Is produced by phytoplankton
In the warm and shallow oceans
Coresain oh Coresain

We can not be separated
Everything is integrated
Earth Sea Air are all related
Phytoplankton we need you!

Wetlands house a host of creatures
(Also they're our water filters)
Shopping malls should not be built there!
Coresain oh Coresain

Clean the air and clean the waters
Clean the earth oh sons and daughters
Help prevent amphibian slaughter!
Save the Salamanders too!

Can we say that we're alone
When creatures with their own genomes
Have made our cells their home sweet homes?
Coresain oh Coresain

One fourth of our human cells
Are beasties we call organelles
They synthesise the chemicals
That we burn as energy

Clearly we're just part of nature
We're not better we're not greater
Let's not make our home a wasteland
Coresain oh Coresain

Rivers Forests Grasslands Seas -
These self sustaining entities
Are threatened by humanity
Sacrificed to Industry

We believe the planet's health
Is more important than the wealth
Of cryptoindividuals
Coresain oh Coresain

Humans are insanely clever -
Look what we've done to the weather!
Now its time that we endeavour
To acquire wisdom, too

Out here on this ball in space
We're one of many in this place
Live with life and love with grace
Coresain oh Coresain

Let's reclaim that sparkling jewel
Let's use wind and wave as fuels
Sun, shine bright on our renewal!
Coresain oh Coresain


YAY! I'm first!

You mentioned a while ago that you get your leather from Mennonites. Have they ever asked what you do with it?

We get hardware and leather from the Mennonites in Ontario and Ohio, respectively. Generally they are pretty cool about it; we're called Leatherbeaten, and they're quite capable of putting two and two together... The only problem we're ever had with them was when we asked a Mennonite harness shop for a quote on stitching the Imp and Spanker paddles. They hummed and hawed and finally told us they didn't want to do it. If that had been Weaver in Ohio, I don't think they would have had a problem with it, but it was the local guys, and while they're quite happy to sell us stuff (that we can damn our souls with), they didn't want to take the risk of doing the devil's work themselves.

I am curious about how the leather gets to you? Where does the sourcing come from before you create your beautiful products. Is it difficult in this modern day of machines and factories to find quality authentic leather to work with? How much of the process are you involved with?

We get our leather for a couple of different suppliers; harness and strap leathers from Weaver Leather, a Mennonite outfit in Ohio; the rest, the garment leathers, split, bullhide, elk and deer come from the Hide House in California. It's not taht difficult to find good quality leather these days. The main problem we have, and it's primarily because of our diminutive size, is to find consistent leather. If we were able to buy huge quantities, we would be able to dictate this this and that. As it stands, we are limited to what the suppliers carry on a regular basis, and we have no influence on whether they decide to keep or drop a line of leather that may be just what we'd been looking for. We are not really involved in the leather tanning process at all, for that reason.

I know Leatherbeaten is a small company, and that is so great; do you think that the size of the company is directly related to the quality of products you produce?

Could we survive as a small company with a line of cheap nasty products? Possibly, but I don't think a small company would be able to compete with all the the bigger companies with the capacity to produce even cheaper nastier products, *and* established distribution networks reaching into all the stores that would buy those cheap nasty products.

Cheap nasty products almost by definition have to be produced on the kind of scale, and supported by the kind of marketing, that puts them out of the reach of most small companies. So, yes, I think to be able so survive as a small business in this industry, you have to be better than the big guys; at least at what you do.

How we got established initially was with the type of braided whip you see on our badly neglected and in need of an urgent update website. These were how we got into the fetish store market, and later, as we moved more midmarket, they were the pieces that got us respect for our work from more mainstream customers.

How many times have you designed a piece at thought "No way I want to sell that! I'm keeping it!"
Any particular faves?

Not very often. Generally, if we make something we like, we will try to make it so that we can wholesale it. Sometimes it's not possible. We had a very nice little black snakewhip, designed for human scale, that we couldn't produce cheaply enough to be able to sell it to stores. We did for a while till we figured out how much money it was costing us! We do have a couple of prototypes kicking around though; one is a pair of red nylon webbing garterbelts, each with 4 rubber tipped clothes pegs attached to it, pointing upward. Very grabby. We like that one, and may at some point produce it for wholesale.

Can we expect any headgear from the Leatherbeaten line?

Hi Juliettia
Headgear? We have silicone ball gags and a bunch of blindfolds, including the Blind Jockey, which I think, in my unbiased way, is the best blindfold in existence. We likely won't be making hoods, head harnesses or pony gear.

Billy

Ok, it needs to be asked. I am so grateful to have been able to test two amazing Leatherbeaten products, so my question is...

Do you have an in house tester, or would that be those of you making the products. I know you send some out via EF, and believe me we all LOVE that, but who does the testing and inspecting of brand new products for you in house (and where can I apply for that job!?!?)?

Also, although I am sure it's rare, what do you do with the products that don't meet your standards, do you scrap it and start over or try to fix the issue?

Testing is usually done by Kristina and me, or by our pet employee Kris and her partner, or both. We're quite happy with that arrangement, so you can put a resume in, if you wish, but you're probably going to be better off sticking with EF!

Items we decide not to go ahead with tend to lie around the shop indefinitely. I'm looking at a huge 8mm burgundy Torquemada at the moment that someone thought may be a good idea.



Does Leatherbeaten plan on moving to any sort of bigger BDSM equipment? Like slings, under-the-bed systems, etc.?

Items like slings we will make as special orders, but it doesn't make sense for us to offer them at wholesale. They use huge quantities of leather, and tend not to be quick sellers in stores, because of the price.

We do have an under the bed restraint system, which I think, again in my impartial opinion, is an improvement on pretty much everything previously available. It was originally a request from a customer in Vancouver who were concerned about durability of their existing supply. We use nylon webbing with heavy duty hardware, and no stitching on it anywhere, which I think is pretty clever.

Larger dungeon furniture is not in our future either. It's not really our forte, and the cost of shipping bulky heavy stuff like that would be prohibitive. Most BDSM communities tend to have at least one crafter who can put furniture together, and it's local, so even better!

Do people around you, friends and family and such, know what exactly you make? If so what were their reactions?

Yep, everyone knows. My two kids are all growed up now, and they don't really seem to be fazed by it. When they were little they thought we made stuff for the circus (we kind of do...), then we led them to believe we made theatrical supplies (see above). Since they've been spending 78% of their lives online, they've figured it out. My mum died in 1998, but she knew what we did. I suspect she wasn't thrilled, but she was also 4000 miles away, so I don't think it traumatised her. My dad asks me the same question, every time I talk to him. "Aryeh still mekkin that porn?" And I say, "Yeah, dad, still making the porn." Kristina surprised her dad with a metal gates of hell a couple of birthdays ago. Her mum took her aside recently, and quietly asked if she would just take it away. Kristina's attitude is that they should be trying new things so as not to become stale and boring, and tells them so. They are actually quite proud of her. Friends all know; we've never tried to hide what we do. Our little workshop though is tucked away in the back of a building on a side street downtown, so we're kind of Peterborough's best kept secret. We do have a little sign outside, but we don't advertise, so very few people manage to find their way here, and those that do tend to know what to expect.

Victoria (host): "The quotes from your dad had me laughing. As well as Kristina's dad with the gates of hell. It's great that you are both so forthright and tolerant. I am continually impressed by this interview and how truly comfortable in your own skin you and Kristina both are."

I've noted that many of your products carry a human name - why is that? Are they named after anyone in particular? If there was a "Billy", what would it be? How about a "Kristina"?

Because they're our children! Not really. Children are way more painful than anything we make... (joke)

The first whip we made commercially was the Nikita, named by Kristina after the Anne Parillaud's character in the film La Femme Nikita.

Some others - Eve was named after the woman who effectively commissioned it, an Australian pro-domme called Eve Andre Slavedriver. She'd seen our Venial in New York and wanted us to scale it up for full on whipping. It made the Venial a very different piece.

Rita and Bessie were just names I like.

The Glow used to be called Aunt Matilda, because the corset stitched handle made me think of some straitlaced Victorian aunt, with a secret taste for the bizarre.

We had a customer in Toronto who collected every flagellator we made, and came to us with some custom designs as well. He also gave all of his whips female names. The new Scourge design was one his sub came up with, and he named it Baby Jane, as in "Whatever Happened to ... "

If there was a Kristina, it would be the Nikita, no question. Don't know what I would be. Either the elk or Therapy, depending on the day.

How did you learn your craft? Did you apprentice?

Nope. Trial. Error. Error. Trial. Books from the library. There is a whole lot of leatherwork that I am completely ignorant of, and likely to remain so, particularly everything to do with moulding and carving. I can certainly braid though, for which I'm grateful to the little book Leather Braiding, by Bruce Grant, and tie knots, which the Grant is good for, though Clifford Ashley's Book of Knots is the last word on the subject. We have a little book called Whipmaking, by a guy called Denis someone or other which we used early on, and which was useful for methods of whipstitching and bindings that allow you to build very secure whips.



So, you've won the 'Zucchini Poet Laureate of Millbrook' and I even found an article (see link on lower right) about how you officiate the poetry contest - care to share a excerpt of one of your poems with us? What inspires you to write? Do you write often?

I love writing, but I find it hard to do without an empty head, and as that happens so rarely these days I find I don't write as much as I should, or would like to. It's not even as if my head is filled with anything useful. I'm actually working on a BDSM based bodice ripper at the moment that I'm dreaming of selling to Harlequin. I'm about 22,000 words in. It's working title is "Enter the Realtor" (pretty hot huh?), and it's setting is a shameless rip off and romanticisation of a certain leather company. I figure if you're going to write a novel you can do some product placement, right?

I first came across Kristina, my partner, when she was producing radio drama for our local community station and was looking for writers. We produced quite a lot of stuff, including a short story by the French writer Boris Vian (who I completely adore), which I translated and adapted for radio, the entire process taking less than two weeks from concept to broadcast. The story concerns a small town that suddenly finds itself engulfed and cut off from the world by a strange fog: warm, nutritious and aphrodisiac. Within days, the whole town is naked and fornicating in this opaque fog. Age, physique and looks become immaterial. Everything goes swimmingly, until one day the fog starts to lift.....*

Zucchini Fest is an absolute blast; a real community festival for nothing at all except to celebrate the zucchini. There's no fundraising, no permission is sought, it's just a load of local people taking over their little village and doing weird things with vegetables. Every year there are zucchini boat races, carving contests, gigantic zucchini slingshooting down the green. This year there was tilting at a home made quintain in a wheelbarrow horse with a zucchini lance. I guess you had to be there. And of course the Poet Laureate contest. Since you're kind enough to ask, Victoria, here's an extract from one of my zucchini poems, and I think I'll be onto the next question:

it's like world war one in the garden
all hell in the vegetable beds.

the zucchinis are going bananas -
twenty nine cucumbers dead!
the string beans all got strangled
the eggplants all got fried
parsley sage and rosemary
were cut down before their time

the tomatoes and onions were refugees
(with garlic and basil of course)
but the zucchinis brought bazookas
and made a mess of tomato sauce

the trouble (come on over here,
let's have a bit of hush!)
is that one of the damn zucchinis
thinks it's george double you bush
and even for a zucchini
that's spectacularly dumb
he claimed the peas
had wmds
and the beans
wanted nucular bombs
he overrode the UV
(the united vegetations)
and his carrot-troops
made vichysoisse soup
of the potato and leek plantation...

...meanwhile,
the sweetcorns full of snipers
the tomato juice will blind
the sugarsnap peas are IEDs
the potato patch is mined

the young zucchinis (and their moms)
just want the war to stop
but the idiotic statements
keep on coming from the top...

...Down in the vegetable kingdom
it's just the way that life is
one day a drab disaster
the next a crummy crisis
and its hard to see the end of it
unless something intervenes
a hidden hand of destiny
behind the sorry scenes
to show that we and everything
are simply minor parts
in an overarching drama
of subtlety and art.

At last the human population,
alerted by the United Vegetations,
agreed to get involved
and the problem was soon solved.

all the zucchinis were collected
from the worst up to the best
and the worst of the worst, the very worst
were condemned to zucchini fest!

The people threw them in a truck
drove them here to old Millbrook
and transformed them into jam
and relish for their ham,
or carved them into cartoon freaks
or shipwrecked them, in Baxter Creek,
or hurled them way, way down the green
in a humongous zucchini hurling machine...

...and I can think of several
human leaders of today
I'd be glad to load in a slingshot
and fire far away,
or pack into precarious boats,
carved from yellow zucchinis,
and let them take their chances on
the hurricane lashed seas.

* and the townspeople all meet up in the square and poke their eyes in!


Victoria (host): "You should add a page for your writing and links to Leatherbeaten.com! It's be great to be able to read them somewhere."

Which Leatherbeaten piece are you proudest of? Which has historically been the most successful/popular? Any glorious flops/"what was I thinking"s you feel like sharing?

This is going to sound sickening, but I'm proud of all of them. Okay, that is sickening. But it is true. I'll admit to getting a bit fighty if I see say, a bad review, and I have to sit myself down and tell myself everyone has a right to their opinion, however wrong it is! That's another way in which smaller companies differ from our larger brethren. We nurture and raise our offspring very attentively. They spawn thousand of new products on the same day every year and leave them to fend for themselves from day one, trusting that the sheer numbers principle will ensure that at least some of them survive.

I do get a little charge though, everytime we finish off one of the premium floggers, esp the bull or elk. They are just so gorgeous you want to bury your face in them and go blubble blubble blubble. We recently did an order for RoB of London, and it was something like 25 premium floggers, and they were lying there on the table... I resisted the temptation, but it was a close thing.

The pieces I'm most proud of, I guess, are the Carmelita, Cardinal, Venial and Torquemada penitents, not just because they look so gorgeous, but because I think they express something about people, about who and what we are, that in some way goes to the root of BDSM play. They're based on Catholic flagellation devices, which themselves were doubtless based on earlier punishment cults, which it doesn't take a great imagination to suspect were themselves . . . and so on and on, who knows how far back. The point of the original penitents of course was that they were designed specifically to be used on humans, by humans. They could be very beautiful, with an almost insanely detailed intricacy; and they could be very cruel, even dangerous. Hey - just like us!

I think the relationships of dominance and submission, of guilt and punishment that are integral to BDSM are pretty much hardwired into the human psyche, and you can see them everywhere in every sphere of human interactions. The thing that I love about BDSM is that it brings these threads to the surface and effectively satirises them. I'm no psychologist, but I know abuse victims who have been able to exorcise some demons through BDSM, and I wonder whether that process of caricaturing an unbalanced and unhealthy power relationship is able to diminish the fear of it in later life.

So that's where thinking about the penitent series gets me!

I'm also quite proud of the braided work we used to do. Some of it I think acieved the status of art; which they were called many times. The Boutonniere had a delightful six lace double flatbraid lash, finished with a nice hard button knot; the Forkbeard had a really neat eight lace double flatbraid, giving it loads of weight in a compact space. I've never seen anyone do the types of braid we did.

Catastrophes, we've had a few, but then again, too few to mention. I think in retrospect that the Pom Poms d'Amour weren't our greatest idea, though they did look good in the narrow window between getting them twirling and carpal tunnel setting in. That an dthe fact that every time they made impact, they were knocked out of whack. So to speak. But seriously, how could we resist that name?

A long time back we made a gentleman's sleeve that we called Dentata, which was a tube of latigo leather, 4 or 5 inches long festooned with pretty sharp spikes on the inside, and with a corset style fastening. A shop owner we showed it to just handed it back saying "Lawsuits." But who knows? Maybe it's something whose time has come... and we can always do the novelty disclaimer!

First let me say, I have two collars from you guys now, and I LOVE them. I never knew I'd be crazy about leather collars. Then, I have a couple of questions.

When you decided to get started with your own line of products, and take the leap into the business of sexy stuff, what were your goals? What was your inspiration? And what can we look forward to seeing from you guys in the (hopefully) near future? What are you're future goals for Leatherbeaten?

Thanks very much! What were our goals at the beginning? We wanted to be rich, gorgeous international fetish icons living the vida loca of the cosmopolitan jetset. And if that wasn't going to happen, we would have settled for making a decent living producing gear we believed in and doing our part to help a) bring them what was still a very misunderstood hobby/practice/lifestyle more into the mainstream of society, and b) expand the collective sexual repertoire of a nation or two. In the end, the second part has been largely effected by the spread (pun intended)and direction of the internet, and we have certainly managed to produce gear we believe in. We really haven't made a whole lot of money, but I'm not complaining about that. We have had really understanding bosses and a positive work space, which counts for a lot.

What's next for us? No idea! We're currently producing around a hundred different items, and I'm not anticipating any major change in direction. We'll likely tweak what we have, bring in the odd new thing. There's a thigh harness being tested, some new restraints, and a redesign of the premium floggers (not to replace them, but to add a less expensive option). For the future, we'll potter along and continue to keep our ears open for any good offers to buy us!

So, do you top/bottom/switch? Are you a big bad Dom or a sub at heart? (Or are you not very kinky at all?) How much, if anything, do your personal likes/dislikes with impact play and restraint influence the designs you come up with/push forward?

I don't think I'm a born dom or sub. I posted somewhere here, god knows where, how I got into this whole area, back in the day, and the main motivation was Kristina's whiplust. So it's very much an acquired behaviour for me. Having said that, I do like to play, and I tend to top. In normal time, I would say Kristina has a more dominant personality than I do (she'd likely disagree), but in play she likes to sub. In the beginning, I had a hard time with that; domestic violence was routine in my family when I was growing up, and it was hard to shake those memories off. But I'm glad I did! I think this world functions best as play; I find the hard and fast old guard protocol people anachronistic. And many of them find the newer, switch tendency "nothing more than foreplay".

I guess what I'm trying to say is that if you buy into the rigidity of roleplay, you are in danger of missing the great subversive power of knowing what you're doing, which for me is taking those parts of ourselves that respond to our (possibly genetic) programming to either serve or be served, and turn them inside out, upside down or back to front. It's an escape from that, for me.

I can be a pretty bad sub, and I particularly don't go for stinginess, though I do like the Venial, Eve and even the Scourge (especially in certain areas...) I think it's the lightness; they don't fit neatly into that thud sting continuum. But then, having said that, I am the bondage fan and love to be immobilised and interfered with. Kristina says immobilisation gives her the creeps, though she loves a nice snug karada.

Our personal likes and dislikes do have a lot to do with what we decide to make, though we don't only make what we like. It would be a dull world, etc. For example, neither of us are particularly into rubber, but we'd be crazy not to make rubber floggers. Or liquid canes for that matter. They bring so much joy into the world!

Does that help clear things up?

Victoria (host): "So very well-put. Thank you for being so down to earth about your thoughts, beliefs, preferences and even your childhood - it's a really honest yet practical answer you've given; but it helps to address 'play perceptions', as well as preferences and comfort zones in general."

Since you're now partnered with Edenfantasys, are you hoping that your popularity among customers will increase? Also, when would be your ideal date for them to start carrying your products? Or do you already know? (I've loved all of the products that I've gotten for review from you, and definitely want to purchase a flogger. I'm personally hoping for Christmas.)

I've been really enjoying working with EF and the community here. I certainly wouldn't be upset if our popularity among customers increased, though you guys have been so welcoming that I couldn't complain if it stayed right where it is.

As for EF broadening the range of our gear available on the site, all I've heard is that it's being considered, and the timeframe mentioned was "in the future."

So, no, I've no idea, though obviously, you know, we're in business here....

Fingers crossed for Christmas, eh?



Have the tools of your craft changed much since you started working in leather? What kind of new ideas, advancements, techniques have you seen or developed over the years? What kind of new exciting ideas do you have for the future?

We started with scissors, box cutters (can I still say box cutter on the internet?) and the odd hammer. For a while we worked out of our front room using a 180lb granite gravestone (that we got for free from a monument place - they'd carved the wrong date on Mr Codreanu's headstone), as a pounding surface. From there we moved up to basic hand tools, punches, mallets, leather knife, but still cutting leather on the kitchen tabletop. Later we moved the business out of the house altogether, picked up a couple of kick presses, and now we have those kick presses still, plus another one adapted to run off a compressor, a nice big click press (which is what really changed our lives) and a bar tacker, a big honking sewing machine that's virutally foolproof. It only does one thing, sews a bar tack, but it does it in 2.4 seconds including cutting the thread.

All of these tools have been around for a while. We have created a number of items to fit specifically what we do, so we have a couple of braiding stations that give us access to the front and back of flogger handles so that we can keep the braid even on all faces, and we modified a drafting table so as to be able to cut thin strips of light leather in straight lines with a knife. That is a trickier operation than it may sound! That has been mostly superseded by the click press these days though.

You are so amazingly active in the forums here at EF and you have even commented on reviews. So my question is, have you always been so friendly with people, and open as well. Or has your job opened you up more to people?

As far as that goes, are you just as friendly in person, or are you more of a shy guy until you get to know people?

Are you anything close to what you thought you'd be like when you were in high school? Did you ever, in you wildest dreams imagine you would be doing leather work on sex toys when you were younger? What brought you into this particular line of work?

And what were you like before you did this? Especially in younger days like high school, are you pretty much the same person, or completely different?

Okay, first question. My review commenting is likely a kind of information control thing; it's me thinking, oh I should tell them this, or maybe this would be useful,or something. I think the internet makes communication easier in some ways. There's no waiting to get into the conversation, little or no stammering and you don't have to pass (or fail!) a cool contest to be invited in. I do like the egalitarian way this seem to work. Obviously, easy communication has its drawbacks too. It's hard to nuance what you write,so it's easy to misunderstand/be misunderstood.

In person, I'd say it depends on the day. In general, I'm pretty shy till I get to know people. I've probably missed getting to know lots of interesting people like that. But I'll admit I can be pretty charming if the moon is in the seventh house,and you know, Jupiter is aligned with Mars. I feel pretty comfortable on the board here, because I have a place, if that makes sense? Even if I tend not to stay there.

I really don't think I've changed much since high school, though I never imagined I'd be doing this. Maybe 15 year olds these days dream of running international sex leather fetish houses, but they definitely did not back in 73. I had a bit of a rebellious streak as a kid. I ran away from home several times, was taken off a cross channel ferry and sent home once, made it across another time and hitch hiked to the Italian alps with a school friend (who'd also run away from home). I was eventually repatriated from Bavaria, and my friend was deported from the border area between Italy and Austria where he'd been stuck for several days, neither side being prepared to let a penniless foreigner in.

From the late seventies to the early eighties I lived in a lot of squats in central London with many different kinds of people ranging from heirs to fairly large fortunes to alcoholic Scottish father and son burglar teams. Okay, just one of those. I lost a few friends, saw a bit of life, kept my head straight and eventually went back to school and did a degree in French and Spanish. For a couple of summers I'd had the best job ever - working on the beaches in the south of France selling doughnuts, ices creams and drinks; just walking along with me wares, often naked (helped sales in those days!) and piling into the sea on a whim. Certainly beat making foam rubber toes separators in Dr Scholl's factory in east London.

So I don't know. I've had some utterly crap jobs, some really good ones,but never anything as completely permeating as this one. And I've really never had a plan. I think I'm one of the worst, most unlikely, businesspeople ever. Kristina is way better than me. I'm almost phobic about paperwork, which doesn't impress the government, I can tell you, though I'm trying to force myself to change. Oh, and I don't really like phones either.

What am I like?

If you were able to sell something handmade by you that didn't have anything to do with sex or sex toys, what would they be?

What made you start to work with leather to begin with? Did you ever dream you'd have what you have now (company director, etc) when you were younger?

It's nice to have you here, you're an awesome "master" with leather! =)

Hi Sephy, thanks for the question.

No, I never dreamed I'd be here, in all senses of the word. My life has mostly been a long series of surprises, with some recurring themes. The company director title, while I enjoy its resonance, doesn't mean very much. I basically have a job, with no employment insurance! I've never really wanted a lot (fortunately, or I might have got it!), and I've always lived pretty lightly. So, my car, for example is a bit of a wreck, and even though I love it, I don't know how much longer it's going to last. I bike to work, which is really close by, anyway. Kristina and I live in a house with three other people, which is a choice we make, for company, and effiency. It's kind of a step up for me; back in my squatter days I lived in a one bedroom apartment with ten other people. Cosy.

The leather thing was largely accidental, and the progression, from my side, went like this: I moved to Canada, my marriage broke up, I met this woman. She was a bit of a pervert; I had had no real exposure to that world. She was a student, trying to make ends meet, and experimenting with whipmaking. I was just helping out till I lost my job working in wholesale sales, selling coffeemakers and irons to hotels across the continent. She had been trying to put together a mail order catalogue business, which wasn't working. I had experience of wholesale and suggested we try that as a business. So, what made me start to work with leather in the first place isn't a what, it's s who! For the last two and a half years, Kristina has been back at school studying environmental technology, so she hasn't been as directly involved in the business. We spent over a decade living and working together, which is pretty difficult at the best of times, and we were very often operating in really stressful and difficult personal and business/financial circumstances. I'm really impressed that we were able to do that without falling apart. She is an amazing, strong minded, inspiration and easily the biggest single influence in my adult life.

If there were something handmade other than sex toys? Would beer count? Or is that kind of a sex toy? I make some pretty tasty beer... last batch is an ale mead that I'm trying to keep my hands off till the middle of next year. Help! Early reports suggest it's going to be amazing. I made it with a light amber malt, 9 pounds of honey and hops. It tastes like something from the twelfth century. And while I'm making beer (a relatively quick simple process), Kristina of course is making meads, metheglins and cysers, which are consistently fabulous. She ferments maple syrup into one of the most sublime drinks it's ever been my pleasure to sip. We could definitely sell that.

Victoria (host): "This answer really makes me think that Leatherbeaten is actually a love story. This is very touching, in my opinion. And there's something about the idea of love, partnership and working with your hands, having to learn to work and live together while learning and honing a skilled trade and art - that is quite poetic and moving."

Your passion as an artist really shows when you talk about making your products, especially the leather gear. The very personal relationship you have with your designs is great. It's wonderful and inspiring! (both your attitude and your pieces)

If someone with no leather-working experience wanted to try their hand at learning to make some of their own impact toys, where would you suggest they start? What kind of project would be a good starting point, what material(s), what techniques? You mentioned Grant's "Leather Braiding" and Ashley's "Book of Knots" as books you learned a great deal from; what others would you recommend for the interested?

Thanks Lily!

I'd start at the Leather Factory, a chain of retail shops in the US and Canada, and they would stock everything you need. Paddles or floggers would likely be the simplest place to start. For tools you would need a sharp knife - a box cutter is perfect - and a surface you can cut on. We use dressmakers mats when we're handcutting, and it's extremely resilient. You could make a quick easy paddle by cutting two pieces of latigo, punching holes around the edges with an awl, or small hole punch, and handsewing it together with waxed nylon thread. For a little fancier, the Bruce Grant book gives examples of how to join leather together with leather lace applique designs. You would need a thinner lace for that, either flat or round, but the results look good. You would need to take care that the holes you make, either for sewing or appliques are evenly spaced. I've suggested latigo because it has the weight you need for a paddle, but it's not as hard to punch as vegtan.

For a flogger, you can pick your leather. LF has loads, belting, garment, splits, pigskin, lamb, deer, elk, goat. The process is reasonably simple, if you're not looking to create something truly elaborate. You basically cut it in straight lines, for your lash; depending on what you're looking for, they'll be thinner or wider. Thinner will generally tilt you toward the sting end of the spectrum, wider to the thuddy section. Leave yourself an inch and a half of tab at one end,not cut. Then cut yourself a length for a keeper loop, and glue the lash and th ekeeper to a stick. How easy is that? The best glue is Barge, but use it in a ventilated area and follow the instructions. For added security, bind the lashes and keeper with waxed nylon thread. You may then like to cover the result with lovely Turk's Head knots, which you will find plenty of in the Grant book, but be warned! There's an error in the five part three bight on page 105. (My rather amazing partner Kristina actually found it and corrected it in our book). I wouldn't use that for something like this, probably a seven part six bight would be big enough, using maybe quarter inch lace. If you're going to get into Turk's Heads (it's an incredible feeling when you successfully manage one!) you should get some threaded brass needles. You can screw the leather into the needle and just pull it through. Otherwise the knots are really awkward to tie. This is essentially the technique I used to make

this

little puppy, though I did leather wrap the handle first. That's a half inch delrin handle, with 20 half inch by twelve inch elk tails, and two nine part eight bight turk's heads.

For more serious would be whipmakers, I'd recommend Denis Rush's Whipmaking and Ron Edwards' book

How to make Whips

. Leather Factory often have a series of small booklets on the subject of whipmaking, handle braiding and so on as well that are useful.

Be careful, though - it's addictive!

You've kind of answered around this question, so without being redundant I am wondering how you got started into crafting beating implements out of leather. Or actually, maybe you started with cuffs, who knows? Jumping from British Gas to leather floggers just doesn't seem like a natural transition...

British Gas after privatisation was a Malthusian catastrophe in the making. It had initially been sold off really really cheap, because that nice Mrs Thatcher wanted the little people to be able to have a stake in the new shareholders democracy that she was hoping would lay the groundwork for the eradication of Socialism in the UK. (In the event the Labour party have done that, but that's another story.) But of course the little people sold their undervalued shares really quickly at a great profit and the larger institutional and corporate shareholders came in. When I was there, consultants were prowling the corridors looking for departments to dissolve, merge or cut, and it was rumoured they were going to reduce staff by 40%. Department heads were desperately trying to appear worthy of continued existence. In some ways it was a real life exercise in dominance and submission, some SM and a whole whack of humiliation thrown in for colour.

But you're right of course; it's not really a natural career progression, but I've never had one of them. The jobs I've had have been ridiculously unconnected. I have been a postman, translated medical research documents from French to English, worked as a shift labourer for British Steel, been assistant to the Committee of Management of a large insurance company, worked in a hospital pharmacy, made foam rubber toe separators, taught English as a foreign language in Spain, been in the Royal Navy and sold ice creams and doughnuts naked on the beaches of the south of France. And likely a whole bunch of other stuff I've forgotten, or just won't remember.

I think I kind of covered how Leatherbeaten came about in

this

forum topic, but in a nutshell, it was my partner Kristina's doing. She is the one whose inspiration this company is; I was just able to help get it moving because of my experience in yet another crappy job doing wholesale sales here in Peterborough.

I have been very deeply involved with the business from day one, at all levels, but it took over ten years of sleeping with the boss to become an official presence on the "board". This has got me into a bit of trouble today, because Kristina and I were reading the interview this morning, and she kept saying "President?" "President?" She was always president of the company, until a year or so ago, when we amended our articles of incorporation to put me on as a director. The lawyer asked what title I would like to have, and I said I didn't care, since I didn't. But when the papers came back, he had listed me as president, and Kristina as secretary. So the subject is a little frosty, and I have had to ask Victoria to change the heading on the interview to more correctly address me as co-owner and co-president. THAT WILL BE HAPPENING VERY SOON, WON'T IT?

Does that help?

Victoria (host): "Hey, hey, hey - you emailed me on Thanksgiving, when we weren't working! I changed it first thing this morning. Although, now I hope you get the paddle for it! hahaha."

As a kid, what were your dreams for the future? Were any of those dreams realized, or did they change as time went by? Do you have a bucket list (a list of things you want to do before you "kick the bucket")? If so, what are the top three things on that list?

I distinctly remember dreaming that England would win the World Cup in 1966, and they did, so I've been having that same dream every four years, but sadly it hasn't happened again. Maybe next year - but having seen how Brazil toyed with us recently, I suspect not. I remember also thinking that I always wanted to remember what it was like being a kid; I used to say to myself, "I'm going to remember this", mostly when I was p'd off with my parents for not being allowed to light my sister on fire or something, and I've remembered the act (of thinking) in colour, but the feeling itself is more grey. I lived in a small world as a kid, and looking back it seems very long ago. we lived in a neighbourhood not dissimilar from Coronation St, back to back terraced housing, no gardens, lots of people, lots of small shops. I didn't read newspapers, I didn't see the news on our black and white tv, so my dreams were things like hoping I'd get to school without meeting local thug Bimbo Meggason, or the terrifying Kaney's dog.

I love the idea of a bucket list - I've never heard of that before. What would be on my bucket list? I would love the chance to go back to live in Spain, though I think I'd settle for Uruguay. I would also love to be able to make a living from writing. And I would love to see Coresain become a strong, thriving religion.

There. Now it will all happen!

I loved reading "Space is Huge", and even sang it to myself, but it came out sounding like something I'd sing to a child before bedtime. Is there a set melody to the hymn, and are there more hymns that you've written? Is there a CD?

Also, how do you pronounce "Coresain"? Where does the word come from? What does it mean? What was the religion in your household growing up, and how do family members feel about the religion that you and Kristina are putting together?

Lastly, how is your work at Leatherbeaten affected by your faith?

We did borrow a melody, from a Ukrainian folk song called "You Deceived Me Indeed" recorded by a group called Rushnichok. iTunes have it as a download for 99 cents. More hymns are on the cards; I have been trying to write one about the hydrological cycle (that should be a showstopper!) and the idea of a CD is brilliant! Hmmm....

Coresain, I pronounce Co - ress - ane, with the stress on the last syllable. I made it up, and it's kind of a compound word, made up of the Spanish word for heart, corazon, out of the English "Core", (itself derived from the French coeur), and the French word "sain', meaning healthy, clean, and the root of our word sane. So the idea is of a healthy, balanced, sane heart and mind. The latin root of sane, sanitas, also had the connotation of rationality, which I kind of like as well. I really really really like the idea of compost as a sacrament, because it absolutely deserves to be. Its the transformational stage of chaos between order and order. Plants (ordered molecules) are mangled together in the compost heap where they ostensibly become a chaotic stinky blob for a while as they break down, then you spread it back on the garden and it releases its biochemical magic into the soil where its taken up and reordered into plants again. It's lovely.

We had no religion in my house as I was growing up, and I never acquired one; you know, one of the "real" ones. I have been a complete atheist as long as I can remember. We never went to church, and my mother was not really what you would call tolerant of the beliefs of others. She used to shout at priests in the street. "There he goes!" she'd shriek, "Father Fakey!". I never knew what the Roman Catholic church had done to her. And if the occasional Mormon or Jehovah's Witness came to the door, she would listen for a couple of seconds and ask "It is religion?" She would add a quick "Piss off", and close the door. She was equally ferociously anti-Monarchist. I remember being a really small child, watching the Queen's Speech on TV at Christmas, and my mum saying to me, "That's the queen. Someone should shoot her". She was a small but indomitable force of nature.

Out of our family members, I don't really have much to do with the family back in England since my mum died, so they don't know anything about it. My ex in Toronto thinks I'm a bit cracked; my two kids who also live in Toronto are split, the older one thinks there are too many religions already, and that any religion that becomes established will inevitably be corrupt so it's pointless to start one. The younger one likes the sound of it, but finds the idea of being religious a tad embarrassing. Kristina's family think we are odd. I think her mum gets the sense of what it's about, but her dad less so; his attitude is more along the lines of "It's nice to have a hobby", kind of thing. Her three brothers are all what I call pinknecks, two have done well for themselves, one is an executive at Chrysler (that company's so successful), one's an electrical engineer who does jobs for Ontario Hydro. I think the other one's working at Toyota. Strangely for people involved in the power generation and automobile industries, they don't buy the climate change thing and think it's just a scam to get at their tax dollars. They don't care if a quarter of amphibians become extinct; though they should. Frogs and tadpoles eat a ludicrously huge quantity of mosquitoes and their larvae.

The integration of Coresandrian principles into the work environment is imperfect, and in the economy we inhabit, I'm not sure how we can change that. The globalised, perpetual growth, low cost, low wage, high volume model traps everyone who works for a living in a situation where what we can afford depends on what we get paid, and the less we get paid, paradoxically, the more affordable whatever we produce - if anything - becomes; to everyone except us! And as jobs move offshore in search of cheaper labour, goods get cheaper but jobs get scarcer, and we all move down a level in terms of our economic expectation. What am I trying to say with all this? That even if I could buy perfectly environmentally friendly supplies, the finished goods would end up being so expensive that we wouldn't be able to support ourselves selling them. Coresain, if we ever get it going, will be a generational thing.

Personally, I think there will be lots and lots of extreme changes in the next 50 - 100 years, on every front; social, political, economic, demographic, meteorological, agricultural and atmospheric. Maybe even military. who knows? But I try to remain optimistic! (Smiley!)

I know that Sinvention (also Ontario-based), another fine BDSM leather manufacturer, sells some of your products as well as their own. Tell me about the BDSM leather manufacturing community both within, and outside of Canada. Is there a cooperative or a cut-throat attitude amongst you?

I think it's pretty benign. I get along quite well with Carrie at Aslan, and we've met up at a bunch of shows over the years. I've recommended her gear to some of our wholesale customers and she once made Patricia Marsh buy one of our Josephine paddles. Sinvention I haven't met in person, but I've talked to Julie on the phone a few times.

They decided to set up their own retail website after they got their designs ripped off by one of their big customers in the States, but they wanted to offer a variety of gear from a range of manufacturers, so they contacted us. They only buy our floggers; I think they have the bondage end pretty well covered. She's seems like a really decent person, and they make excellent gear. Thing is, we all make different stuff, and we all try to sell it on its merits. I don't think any of us really has the ethos that if we can just force all of the others our of business the market will be ours all ours, evil laugh.

Also the smaller crafters I've met have been without exception, easy to get along with. We were vending at the Church St Fetish Fair in Toronto last year. Tom Polarbear was across the street from us, and we chatted and exchanged ideas throughout the day. Right next to us was a guy from Quebec, Master Andre, who makes some pretty nice whips and floggers; I think we both did okay, we spent some time talking about business and knots and so on. He did try to cut my throat a couple of times, but I sensed his heart wasn't in it.

I really think there's a difference between the community crafters and the major corporate businesses. We've been to shows featuring both kinds; the atmosphere and relationship between the exhibitors couldn't be more different. Not to say there aren't boneheads among the smaller folks, of course there are. But they aren't the majority.

Victoria (host): "I think people often speculate that all the world is business as usual - but I too have primarily found real camaraderie amongst others in this industry. It makes me truly happy to hear that it is the same for you!"

There's a perception out there that the sex industry is one that has little to no troubles weathering an economic storm, but I know that some feel that is simply a myth, and that any business in any industry faces the same challenges brought upon by the winds of economic change. I remember that last year, there were stats being thrown around about the growth of the premium sex toy market that were being credited to "its cheaper to stay home and play". I also have a friend with a rope company who has had a great year, but he credits a lot of hard work and luck, not the immunity of the sexy times industry. What are your thoughts on this, in general or in regards to Leatherbeaten?

I'm not really sure about this one, Red. I think our sales are slightly down on last year, but not a whole lot. Nothing EF couldn't put right, at any rate... But I think we're exceptional, you'll be surprised to hear. Why? Because we don't have any sales staff, and we do virtually no customer service. We're spectacularly hopeless in that whole area. A couple of years ago, we were approached by a US based sales agent offering to represent us along with his seven other lines. We worked out the details, and he was off. this guy was one of the old school travelling salesman breed; he actually covered the US personally, and in the year we worked with him, he increased our sales by over 30%, before deciding to shut down his agency after his major supplier went out of business. I have tried contacting all of the stores that were happy to buy our gear from Alden, but with very limited success. My telephone technique (I don't like phones) is somewhere between catastrophic and kamikazi.

So my point is, I have no idea how much we *could* be selling, so I can't tell if sales would be higher in a more favourable economic climate. Do you know what I mean? My gut reaction, notoriously untrustworthy and likely more to do with the garlic bread, says the sex industry should always do well. I think - oh wait - analysis - that what we're witnessing is a more systemic trend toward sexual experimentation and toy-temptation among a much broader section of the population than ever before, and just that huge increase in potential customers as recreational, accoutrement enhanced sexplay invades the suburbs will tend to overshadow such fleeting ephemera as global economic downturns. Sorry for the length of that sentence, but I didn't want to lose the thought in punctuation.

I'm glad your friend has had a good year. My Chinese aunt always says, luck will write the cheque, but only hard work can cash it.

And before I forget, you were thinking about singletails a whle back, and I inexcusably forgot about master Andre in Quebec. He does some lovely, quite affordable work. Google master andre floggers and up he pops.

I'd love to know more about the religion you were talking about: Coresain. Seems very much along the lines of environmentalism, but rather than making it an idea, making it into an internal want to live with the environment, and I'm wondering...is that where your want to make well-made, high-quality leather products came from?

It comes out of the realisation that the way we inhabit the planet is extremely deleterious, both to ourselves and virtually every other creature that lives here. Given that ecosystems are multi-dimensional

jenga

, which can only tolerate so many pieces being removed before they collapse in a big heap, it follows that the relentless expansion and exploitation that characterises the human experiment has very real limitations.

So it is environmentalism, but more than that, it's sensiblism. It's the conscious understanding that we can get away with how we are living, up to a point. And beyond that point our lifestyle is catastrophic. The idea of a religion, rather than a movement, is that religions are generational institutions. People are born into them, they embody ethics, codes of behaviour and taboos - the do's and don't of the eternal verities.

Religions at their most effective are (and I'm going to use a bad word here) totalitarian. They affect every part of the adherents' lives, and over time, they determine the way that particular faith community interacts with each other, outsiders and the world in general. Unfortunately, many of the major religions teach that this world doesn't matter; the afterlife, that's where it's all happening. Or they teach that everything on earth is here for us to do what we want with, because we are the greatest creations in the Universe. They have this rather alarming tendency to champion unrestricted reproduction, which for me is the real, underlying cause of almost all of our problems. That and our trademark combination of simian cleverness and ovine wisdom. None of them seem to teach that we need to take a place at the table, not eat the entire dining room!

The desire to make durable high quality goods is kind of a personal aesthetic, together with the knowledge that that's a niche where we can be relatively successful, be able to earn a living, look at ourselves in the mirror, and live in this town that I really like, but where real jobs are thin on the ground.

Does that help? I'll be happy to talk about it further. We are trying to put together a little googlesite website to house a collection of Coresandrian parables, hymns, tenets and so on. I can post a link when(ever) it's functional.

As silly as it seems to bring up politics, much less Canadian politics, I noticed your Heil Harper shirt (which is quite funny) and I'm wondering if you've been affected professionally by the change from Liberal to Conservative or if it's just a personal beef?

Ha, well spotted Red. We made up those shirts back when same sex marriages were being debated here and the conservatives were were making their typical thoughtful, caring pronouncements about the allocation / denial of basic human rights to groups based on whether or not God considers them abominations.

Professionally, I'd say yes and no. The conservative anti-sex mania that swept the US (and which is hopefully over), has been hard on a number of our customers. Local ordinances have been passed barring sex shops, or renewal of a lease for a sex shop located within, I think it's 500 metres of a church or school. That can effectively run them out of town. That was what happened to Dressing for Pleasure; and the then owner Constance ended up selling the store, because she couldn't find another spot in Upper Montclair NJ she could move to. It's something to do with protecting the children. News from Ireland this week suggests children need more protection from churches than they do from the odd fetish store.

Within Canada, the Tories have done their best to cut my tax bill; which I'm kind of ambivalent about. I don't mind paying tax, even a fairly high rate of tax, (which this isn't here), as long as it's going to do some good. I'm happy to help build social infrastructure like schools, medical facilities, welfare and housing. Our little town here, like probably everyone's in the country (and beyond), has been devastated by unemployment and homelessness, and the creation of the shadow economy of drugs; to my mind, a lot of that stems from the collapse of the social contract that was in place till the late seventies. Now my reduced taxes are being spent on prisons at home and unwinnable, indefensible wars far away. I don't see a whole lot of difference between the Libs and the Tories on that score.

Wondering if you have any 'sage advice' for someone who's thinking "Hey, I made a pretty nice flogger/paddle/pair of cuffs/bondage rack/whatever for my partner, and people seem to want to buy it off of me...maybe I should look into doing this for a living..."?

Well, "run away", springs to mind. Seriously though, ho ho... If you decide to operate a retail business, selling to endusers, be legit. Register a business, it's pretty cheap, keep records and file taxes. For a small operation register it as a sole proprietorship. It's the simplest level of business and you files your taxes pretty much as normal - oh, this is all Canadian info, by the way, but may be generally appliable to how things go in the State. Having a business is very handy, because there are all kinds of writeoffs. If you're doing a reasonable volume of sales, consider working with an accountant to do your books. They know it all, and a good accountant should save you money.

Be legit, even if your focus is local sales, cash sales, working craft shows and the like. I've seen provincial tax inspectors turn up at shows in Canada and it can get awkward if you don't have the documentation they want to see. They can make up a dollar amount, call it your sales figure and hit you with a tax bill for all of it. You have no defence.

Value your time. Lots of crafters don't do this, and it doesn't really matter too much if it's just a hobby and you have another source of income. Those people who make floggers sitting in front of the TV, and then sell them to shops for the cost of materials plus 5'% drive me bonkers. I support their right to live and so on, but honestly. I don't come to your workplace and offer to do your job for next to nothing, do I?

So if your intention is to try and make a living, do your math. How many hours do you want to work? How much money do you need to make? Allocate your productive/creative/travelling time a dollar value based on that. Cost your materials accurately and figure out how much profit they need to return to give you the income you need. I just tried doing some sample calculations here, but my brain exploded, so I won't. Anyone who's thinking of taking this road will have to learn how to do this anyway, so I'll leave it at that...

Don't be sentimental; if you find you are making items that you love, but which take so long to construct that you can't actually make money on them, drop them, or raise your price. You can trade off more profitable items against less profitable ones, but be warned. People will home in on the ones you lose money on and you will spend all your time making them. I can tell you all about that!


Everyone has heroes - who would you name as yours? As a follow up, whom, alive or dead, would you choose to have a one on one no-holds-barred chat with over a beer (or a pepsi...?) and why?

I think that's one question, Red, isn't it? So here you go; these are the people that spring to mind today, but it's been a busy day with our overwhelming Christmas rush and I have probably overlooked a bunch.

Top of the list, not a writer, Tony Benn. For those who don't know Tony Benn, and there's no reason why you should, he is a British MP, one of the last members of the real Labour Party. He was born into the aristocracy, and fought a long legal battle to renounce his title, which was hereditary, so he could run for election to the House of Commons instead of just taking up the seat that was allocated to hm from birth, in the House of Lords. He's in his eighties now, and he's still out there protesting for peace issues, campaigning against nuclear weapons, for renewable energy and so on. He's a wise, witty and clever guy who gets it.

Second

Boris Vian

, a dead French intellectual/writer/musician. Boris Vian was one of those amazing characters who attained ludicrous heights in a very short life. At the age of 12 he was diagnosed with a heart condition that meant he would not live very long, and he just got on with it. He was a well respected novelist, poet, philosopher, playwright, trumpeter, and songwriter, as well as being a grand satrap of the College of 'Pataphysics, the science of imaginary solutions. His books are full of playful wordplay and crazy, impossible things - eg the pianocktail machine, which is a piano, that analyses the music you're playing on it, and produces a perfectly matched cocktail - but they're all layered over a real, deep sadness. He is one of the best writers I think I've ever read. In 'L'Ecume des Jours', one of the characters who begins with apparently limitless amounts of money nevertheless manages to spend it all on his philosophy addicted friend (who blows it all buying the books and going to the sold out concerts of a certain Jean-Sol Partre, who is like a huge rock star), and on trying to cure his girlfriend who is sweet and beautiful and innocent and has a lily growing inside her lung. When he runs out of money and - horror - has to get a job, the only work he can find that he's qualified to do involves lying on a cold earth floor to germinate rifle seeds. He describes the little rifles pushing their way out of the ground as Colin lays there, getting colder and colder... it's creepy and poignant at the same time. An amazingly talented human being who didn't even make it to 40.

There are lots people I would love to have a beer and a bit of a chat with...

Milton Friedman - that could get nasty

Dr Johnson - the man invented some incredible drinks

Doris Lessing - how can you understand people so well and still like them?

Fritz Haber - the man who invented mustard gas, but more significantly, who also figured out how to artificially fix nitrogen in soil, thus causing huge huge problems

Diego Maradona - for the hand of god thing

Fidel Castro - how does it feel to survive 500 assassination attempts?

Justin Sullivan (of New Model Army) - just to shoot the breeze

My mum - cause she always did outrageous things when she drank anything remotely alcoholic

TS Eliot - for the true story of Prufrock, the Waste Land and the Four Quartets

Jane Austen - because her satirical eye is as sharp now as ever. We cold peoplewatch in some pretentious Toronto spot of the week. Oh, and I think she's hot (I can say that because she looks like Kristina. A bit)

Will that do?

Your hands are obviously your livelihood- with all the work, intricacy, and soul you put into your products are you fearful of arthritis? How do you think it will impact your artistry? Or is it something you are already experiencing? Or something you dare not to think about?

Braiding is a real killer for joints and tendons, and I braided for a long time. In order to get the tightness you want, you end up puling really hard with the very tips of the fingers. Over time, this takes it's toll all the way up the line, over the top and down the back. Knotting can be pretty bad, but not as bad as braiding, and the worst are the tight round braids.

I'm not crippled, by any means, but I do have issues with arthritis and tendinitis. Fingers, wrists, elbows, shoulders, neck, upper and lower back are all affected. My partner Kristina has chronic back problems from years of cutting leather by hand, which (the way we did it) involved maintaining tension and pressure on her upper body while in an unergonomic position.

We were thick, we didn't know what we were doing to ourselves, and now we both have problems with it. Once we realised, we changed what we make and how we work. So all the lovely braided gear on our website that we used to supply by the dozen to fetish stores, is now only available for retail.

To replace that income stream, though now I'm a little bit wiser, I actually question how much of an income stream they really were, we started making a whole different line of products that we could put together without so much emphasis on the actual input of our physical health. We've tried to ergonomise the workshop, and that has helped too.

There are still a number of pieces that I knot and braid, but it's way down from what it used to be. If we were still doing all the braided stuff I doubt I'd be able to hold a cup of tea. Which is redundant, since if I were unable to hold a cup of tea, I doubt I'd be able to do all the braided stuff.

So, we potter along, we get regular massages, take epsom salt baths and try to uncross our fingers...



When writing a review for the Tingle I looked into delrin, the plastic used for the handle. I absolutely love what I've been able to find it (used in bagpipes, guitar picks, Irish flutes, and even the plectra in harpsichords *the musician in me is impressed*) but how did you go about finding this wonderfully durable material? Is the fact it's used in diving gear have any connection at all to your work with turtles? Or am I overreaching?

Makes good canes too! It's quite whippy and effectively unbreakable. You can bend an 18" length of it in half and it bounces (most of the way) back.

I came across it while I was looking for fibre glass rod, and I'm quite glad I did. We had been using wooden dowelling for flogger handles and painstakingly sanding them, painting them black, and so on, but the wood is brittle. A friend of ours had her Cat snapped in half by an enthusiastic friend showing off his strength, and that was the last straw; we moved to delrin for any handles you can see, and metal tube or rod for anything you can't. Oh I'm a liar, not the penitents, they are still wooden handled. Some of them.

Nope - nothing to do with turtles!



You've mentioned the Church of Sinvention and Master Andre (thank you, will look) and such - do you know of any other Canadian sex toy/product manufactures that are - perhaps - not on the radar of the average Eden Fantasys interview reader?

I'm not really that sure what all is out there, Red. People come and go really quickly in this business, especially if they haven't done their pricing homework. Most of the smaller crafters I've seen are of the "wrapping coaxial cable in electrical tape and selling it for ten bucks" school. You'd really do better making your own gear. Having said that, a couple do spring to mind. Halfway Creations in Nova Scotia make some decent floggers - they use excellent materials, but I think their knotwork isn't so great, Master Rs Dungeons in Toronto used to do very nice dungeon furniture, though I think they've knocked that on the head, by the look of things. They still make some pretty nice paddles, and it looks like they carry Sinvention... Out west, there's Noir Luna in Alberta - I haven't seen their gear in person, so I can't say too much about it, except that it looks okay online. And you guys should know Happy Valley, right?

Not sure how I managed to forget Valentina at Isis Essentials in of all places Nelson BC. Really really really nice organic water based lube. You may know of her Red, because of the geographic location; I know she does shows in the area. She's also one of the very few people I'll still make wholesale cats for.

This is more of a curiosity question (they are my faves)...if you could have any one thing in the whole world given to you as a gift, what would that be?

Also, if you could accomplish anything, what would your dream accomplishment be?

Good grief! To paraphrase Eve, that's a difficult one. Do you know how many things there are in the world? How am I supposed to choose between a couple of Picassos and JK Rowling's PIN number?

I remember giving my kids a large piece of brown paper each one Christmas, and telling them it was the greatest gift of all. The gift of the imagination. They nearly beat me senseless with it, because I think they felt it wasn't true. To be fair though, neither of them had any trouble imagining the other's brown paper was somehow bigger, and browner, than their own.

So that's what I'd like, I think. The gift of the imagination. I already have *an* imagination. But I want *the* imagination.

My dream accomplishment would be to become world president and encourage everyone to act sensibly. As president, I would institute lotteries offering huge prizes, open only to those people who had voluntarily undergone non-reversible birth control procedures. I can't help thinking that if we don't take care of that ourselves, the laws of nature are likely to do it for us...

What would your gift / accomplishment be?



Your responses have fit nicely into the "kick ass" category so far...how about for this one:

What are the differences you've seen between different types of leather? Do calves feel better than old bulls? Are Lambs better than Elk? Is there nothing better than getting spanked by a Moose?

Thanks very much Mr Sauce; nice of you to say so. I do tend to go on a bit though, don't I?

Well, I can tell you right off that personally I hate lamb. It's got a beautiful feel to it, soft and kind of rich, but it has no strength. Braiding with this stuff is really tricky cause you can't pull it, it's too teary. Lamb's used a lot for clothing, because of the feel of it, but it's not something you'd want to be wearing it if it was, say, a bit snug, and you had to bend down to pick up a ladies handkerchief or something.

Probably my favourite leather to work with is goat. It is just lovely. It has all kinds of tensile strength, which means yo ucan cut it really thin and pull it really tight, if you're braiding. This is what we make our Scourges and Nikitas with, and we also use it to braid handles and tie knots. Very versatile. We've never made floggers with it, only whips, but it would be akin to a deerskin flogger, light, with a bit of bite. Goat is also a brilliant garment leather. It has a really nicely defined grain pattern and is ridiculously strong. Makes me wish I could sew.

Deer is a leather that richly repays fondling; honestly, you can get stuck for quite a long time just stroking it. It has a warm matte surface and soft, thick, slightly squishy consistency. Elk though is the deer's larger sibling in many ways. The various qualities of deer are magnified in elk, and it makes the most unimaginably luxurious floggers. It's pretty heavy, slightly stretchy and so soft you just want to crawl into it and hibernate. My ideal garment would be goat on the outside, elk on the inside; probably a nice lounging pajama..

I wouldn't say calves felt better than old bulls. I've certainly felt some very lovely old bulls, and I'll probably be feeling another one when I get into work tomorrow.

All of the leathers we use come from farmed animals, so we don't use moose, though I've seen lots of it. It's obviously a nice leather, heavier than elk, with many of the same properties, but the quality of the hide is usually really bad. Primarily because most moose skins come from hunters, the quality of skinning is often very dubious, and as a result, the thickness of the hide can vary widely from one spot to another. There are usually lots of scratches, from living in the wild, and they also tend to have, you know, holes in them.


Victoria (host): "What a totally bizarre but appropriate question and answer! Love the idea of Elk pajamas - how very rustic, indeed ;)"

So we (at the Women's Clinic at my university) FINALLY were able to get your package out of customs/mailrooms/etc. For those that don't remember, Billy donated a bunch of AWESOME stuff for us to raffle at an event aimed to raise awareness for our clinic. Anyway, Billy alerted me one day that the package seemed to be stuck somewhere in transit. For the record I'm convinced customs are just a bunch of pervs hanging out flogging one another with OTHER people's whips, but that's beside the point.

Anyway! We had a box full of WAY more floggers than we knew what to do with, and wanted to keep with the spirit of the original raffle plan, so today we stood on a bench and offered these wonderful items to those who could make themselves appear "most eager". Well, needless to say, people were eager. VERY eager. I'm talking members of our dance conservatory doing numbers right there on the pavement just to get a collar. It was the coolest thing ever. Almost as cool as it would have been had customs not been tardy and we could have raffled these off properly. It was great though. We felt like really naughty Santas.

Which leads me finally to my question for you: if you could get ONE naughty gift of your choosing this holiday, no matter what the price, what would it be?

Thanks again for your help with everything. I took a video of the kid dancing and permitting he'll let me send it to you, I'll hopefully show it to ya. Pretty damn funny.

Wow! You just got that box? That's incredible. Customs must have been working overtime to screw that up so badly. Still, better late than never, hopefully, it sounds like you were able to raise awareness for the clinic, at least. I'd love to see the video, if you can get clearance!

I totally agree with you about the Customs guys, by the way. I remember one time crossing the border at Gananoque, Ontario into Alexandria Bay, NY. They'd got us to bring our gear into the building, and we were having to write "Made in Canada" on all the tags and everything was spread out all over the place. One of the personnel came over and picked up a little Josephine paddle, and asked me what it was, so I told him. He asked me if it was leather, and I said it was; he wandered off with it. When we got finished writing on the tags, I asked him for it back, and he gave me a level stare and said, and I quote, "I already gave it back to you. Don't you remember?". And I said, "Oh, yes, now you mention it I do remember". I offered him one of our catalogues, which he declined.

Naughty gift? Anatomically correct pantomime horse suit, every time. Now will someone please get off their ass and make one?

We have a little tradition around here, given our sex magazine is called SexIs... Billy, could you kindly finish the sentence?: "Sex is..."

driving off a cliff at 150 mph in the tiny red sports car you just stole from a mafia boss and arcing out into the open sky before diving 600 feet head first and still shrieking in ecstasy as you hit the pounding waves


how was it for you?

Victoria (host): "It was over too fast...hahaha! I mean the driving over the cliff, of course ;)"

Billy, i've had the pleasure of being at the end of some of your finest work.
If there is a desire to move beyond "Baby Jane" a.k.a. Scourge what do you recommend from your collection that's sharp and stingly for pushing one harder?

Scourge is a close-up toy, so while it's pretty excellent in localised areas, a more full body version would be the Mortal, seven lashes of 18" deerskin round braided over a core o 2mm vegtan lace, on a flexible handle. This is a pretty ferocious piece, though gorgeous. You'll find it at the bottom of

this

page, accompanied by my trademark impartial yet slightly inaccurate text. (The Mortal was initially built using 1mm lace, but we decided to beef it up; the 2mm is a lot sturdier).

Somewhat less intense than the Mortal but still pretty intense, is the Nikita, five tail, braided goatskin lash, very stingy, though lacking the added bite of the round vegtan lace. Although, since the Nikita is a special order piece these days, we could certainly build that in if desired. Our Asp is essentially the Nikita, mounted on a flexible handle, which makes it a little lighter in the hand and adds a bit more whippiness to the stroke.

I think anybody with a functioning nervous system and a taste for the bizarre would find either of those interesting.

Another option you may like to consider is the Eve, in the

penitent series

. This is another stand up piece that's light and sharp and pointy; eight flat goatskin tails each with four triangular bloodknots, that land like tiny pieces of hail. Eve has a broad range from gentle to outrageous, and while I'd be reluctant to say it's *more* than the Scourge - that would be very dependent on how you play - it definitely provides greater stroke coverage.

Thanks for the question - would I be correct in thinking you are from the KW / Guelph area?

What does the future hold for Leatherbeaten? Any new areas you're considering expanding into (like slings, paddles, clothing, dildos....whatever!) or new wave ideas on old designs (neon floggers...?)

As a follow up, how do you end up with the designs you end up with. Like, for example, Josephine - that's a tad unusual of a shape, where's it from? Or the flexi handle whips - perhaps I'm naive, but I don't feel lie that's a standard design...

I think a part of our future is going to involve a step back into the past, and bringing back a couple of designs, modifying a few existing ones, and introducing some new ones. So, there's a new set of restraints coming out, using the Lazy O collar ring and dee hardware, a 5oz leather pad and 8 oz strap. So, pretty sturdy. I realised a little while back that our restraints have gone all soft, so maybe it's time to bring a bit of beef back. So to speak.

Similarly, I think we'll be redoing the BotBeater which is a really nice, fairly cunning paddle design. We've rejigged a couple of the premium floggers, giving them a backbraided eight lace handle, which means we can get away with only knot, at the pommel, which means in turn we can reduce the price. Neon floggers we have done, but the stores we deal with tend to be really quite conservative, with an almost-invisible-to-the-human-eye 'c', and typically if it's not one of the bruise colours, they aren't interested, so those things have a limited chance of survival. We have some lovely metallics in stock, bright shrieking red and shimmering chocolate box purple, and stores pointedly ask us not to send them, in mix packs of floggerellas, for example. It's a crime, is what it is, but there's no-one I can report it to.

When I was a kid, my mum had a Josephine carpet beater, made out of what I now recognise to have been rattan, and she used it for battering the snot (and dust) out of rugs in our backyard. We've done a couple of special orders over the years for rattan Josies, and they seem to work quite nicely, though they're a bit of a pain to deal with; you really need a steam box to make them easily. The actual shape is called a Josephine knot in macrame (we have a few macrame books in our design / inspiration pile; also one called, endearingly, "Fun with String"), a Carrick Bend to sailors (who use it to join two cables together), and a three part four bight turks head in decorative knotting. It's a pretty sweet knot.

The flex handle thing came about for a couple of reasons. I was looking for a way to reduce weight in the handle of the whips, and it seemed the logical thing to do. My wrists,tragically, are no longer the solid bundle of tree roots they used to be, and we had a bunch of customers with the same issues. So, with our characteristic forward thinkingness, we brought out a whole bunch of flex handle whips, just before we discontinued them for wholesale. I don't think it is a standard design, but it works really well. It's very light in the hand - you just hold it from the pommel, right at the end - and it gives the lash a real extra kick. I've thought about doing something similar with the bigger floggers, because I know they're really heavy, but I haven't done up a prototype and I'm having trouble predicting how it will work out, since the combined weight of the flogger lashes is a lot more than the whip lashes. Maybe I should just do it and find out.

Our little Rubberella is on a flexy handle, and I really love that piece. It's just so damn twirly! riginally the rubber Bessie and Rita were also on flexy handles, but once again, the stores we deal with found it a bit weird, and kept specifying solid handles, so we gave up. I don't get that. What's wrong with weird?

Sorry Red, I posted this then realised I hadn't addressed some of your questions, so here goes quickly...
Slings we will make special order, but there's no point making them wholesale. Clothing - clothing - no. The very few occasions I have tried sewing anything, it hasn't been a good experience. Kristina is worse than me. We have two industrial sewing machines and a bar tacker. I love the bar tacker. I think clothing requires a whole section of brain that we don't have. Paddles, we have a few, but then again... and dildos, no. We have friends just outside of town here who make silicone dils - Happy Valley, available right here at Eden Fantasys - and I know what kind of learning curve they had to go through to get that off the ground. Susan is a potter, which helped, but Kristina and I are not potters. We're more weasleys, and, no, dils would not be a good idea on so many levels!

Victoria (host): "Beefy cuffs and collars sound yummy. As well as the cool carpet-beater style pieces. Sounds like a practical plan!"

So, do you have like a giant flogger cabinet in your bedroom? Blindfolds peaking out of drawers all around home? In other words - what's your "toy cabinet" look like, either inside or outside or both - however much you feel like sharing.

We do have a certain quantity of flagellation tools hanging around. There's a very cute little triple wrap floggerella with turks heads top and bottom, a couple of vintage Radiances, and a Cascade soft touch. We seem to have three Nikitas, one ancient pink pigskin, one black goat and one black and yellow goat, which is really sharp and nippy. There's a matching black and yellow Scourge to go with it. There's also a lovely purple deerskin cat, (with a tasteful plaid handle), couple of paddles, a small but oh so sensuous little elk flogger, a bunch of sintillators, which are ridiculously good fun, if you can get over the fact they're cheap and they look it, a riding crop which was a bit ugly till I decorated it (hurray!) and an evil looking (no, just evil) delrin cane with a crooked end and grapevine braid handle.

The next drawer in our little white plastic unit is full of mixed and jumbled silicone, mostly from Happy Valley. When they were first starting out we did a bunch of product testing for them, so we have acquired a decent collection of odd looking things. We've tried to keep up with them, and their little Hottie Xtra and Zone are a couple of recent arrivals. Also in there are a couple of harnesses, one light webbing, one older 5oz latigo Venus harness, as well as my rather charming DP harness (that Avery D did such a nice review of). I got one of our extreme cleverness certificates for that design, specifically the innovative notion of using the manly member itself as a third anchor point to keep the whole thing aligned and synchronised. And a Hitachi magic wand. You could make mayonnaise with that thing. Also in there is a snake bite kit, the sort you can buy at camping and outdoors-y shops, which is very nice for providing suction to small sensitive areas, and if you have any class at all, you can scotchtape a mini-bullet to it for a little buzz.

There's a drawer filled with clothes pegs, various clamps, and an ingenious little one off piece, which is a pair of (red, oddly enough), webbing straps that go round a lady's upper thigh. Attached to them, pointing up, are a row of four rubber tipped clothes pegs, which grab the labia majora in a vice like grip. Those are good fun, but we've only ever made one pair of those.

Another drawer has rope, restraints and CBT stuff. I've lost a lot of my initial squeamishness about CBT, but when I think of the section in Trevor Jacques' book, "On the Safe Edge", where he talks about testicular piercings, I realise my taste is on the lighter side of what's out there. There's a blind jockey blindfold, which seriously is the best blidfold design I've ever come across. We completely stole it from a jockey mask we picked up at Keeneland racetrack in Lexington KY. Then there's some of our old (ten years or more) "Double Buckle" style latigo restraints and some more recent vintage black bullhide. Hidden away under the mattress is a bedspreader, but don't tell anybody or they'll all want one.

And then there are various things at work that may very well make their way home for the holidays...


What is "vegan friendly" in the leather world? Last time I checked, leather was made from the hides of real and/or fake cows.

There is no 'Vegan friendly' in leather. Leather is made from the skins of animals; usually real animals. I am not aware of any leather made from fake cows. Do fake cows look like pantomime horses? With horns and udders?

Fake leather, or 'faux', as people like to call it, is made from oil. Given the vast amount of suffering the oil industry - whether it be the exploration, extraction, processing or waste disposal phase - causes wildlife all over the world, I am at a loss to comprehend how it can be seen as animal friendly.

For my money the primary requirement for a product to be labelled 'vegan' should be at least some vegetable content Most 'vegan friendly' products, however, contain nothing of the sort, and an awful lot are nothing but polyvinyl chlorides, a product so toxic that there are jurisdictions in the US where you can neither put it in a landfill nor incinerate it, because it's loaded with dioxins.

Hemp, linen, cotton, reed, wood - these can make serious claims to be vegan friendly, but petro products? I don't think so.

I have several friends who are vegan, and we discuss these issues. Regularly! I respect their decision not to use leather - hey, you don't have to if you don't want to! It's not complusory. But to promote a whack of seriously quite appalling synthetic materials as pro-animal welfare, simply because they are not leather, just does not follow. At all.

Oh, and I almost made it through the entire interview without my (highly abridged) petro products rant!

You bad Mr Sauce you!

Victoria (host): "I think we were all waiting for the rant! Yay! I wish you'd talk more about underlying issues like these - how something can seem so good on the surface yet be more harmful in reality."

If you could choose any mythological creature to skin, and work with their hides, which would you choose and why?

I think Yeti might be nice to work with. It's vaguely hominid, and I'm imagining it would have some of the properties of pig; as in the 'long pig' our cannibal brethren are reputed to call human meat. Pigskin is a great leather, though you hardly ever see any with any weight to it. I think the shoe folk grab it all.

Anyway, if an average Yeti were seven to eight feet tall with a 60 inch chest, you'd have something like thirty five square feet to play with. You could cut restraints from the wrists, ankles and thighs, belts from the belly, though it might be a bit stretchy, collars from the neck, floggers down the back. You could shave the flogger area, but leave it a bit stubbly, for a touch of abrasion, or splash it with cheap aftershave, for that stranger at a club vibe.

I could probably lower the tone several notches, but I'll leave it there before I do myself any more damage!

Victoria (host): "Keep your mitts off *my* Yeti, Billy ;)"

Have you ever made custom leather onstage apparel for a metal band? Or any other performers outside the BDSM community?

We're totally intimidated by clothing. People come by our workplace every so often and want us to make clothes for them. We kind of shuffle them out, saying, 'no, no you don't'. So no, we've never made apparel for anyone, if by apparel you mean things shaped vaguely like clothes, held together with stitchery.

We have bashed quite a few items together with rivets for the SCA type people, made gauntlets and vambraces (which are not the same thing, you know), archery shields, hand guards for a guy into some ancient British stick based fighting game (sorry, SPORT!), made forearm guards and modified poi swingers for fire dancers, and god knows what else. Kristina has made several pairs of mukluks, improving each time. The last couple of pairs looked really really good!

Why do you ask, Gary? Not in a metal band are ye?

I have to ask, were you a class clown or a funny kid growing up? Surely this quick-wit has been honed over many years. And (uh oh, a two-parter), do you have any comedians and satire/comic writers you liked or currently follow?

Yes, I suppose I was a bit hilarious as a kid. I usually had a cheeky answer in class, and I like to think several teachers went prematurely bald on my account. I don't think I was malicious though, just incredibly funny. example : exasperated teacher "You think you're pretty special don't you Ditchburn?" Me "well, I try not to fly in the face of public opinion Sir." Or in English class: " who can tell me what 'impregnable' means?" Me: "what Mrs Luckhurst wasn't"

My favourite comedies would be "On the Hour", an almost painfully funny spoof of BBC news with all of its quirks lovingly parodied, and possibly the most surreal 'news' stories ever. I have found torrents for OTH, and they are definitely worth checking out if you like that sort of thing. An offshoot of On the Hour, currently on BBC radio seven, for your listening pleasure is

Knowing Me, Knowing You

, a sort of chat show vehicle for the sexist, ignorant, hopelessly insensitive, yet somehow innocent sports reporter, Alan Partridge, created by Steve Coogan, who is getting a bit famous these days.

Most of what I 'follow' these days is on the radio, since I don't 'use' television, and most of my life seems to be spent at work. So I listen to the BBC A LOT, and they have some brilliant comedies / satires. I love

The News Quiz

, hosted by Sandi Toksvig, and am hopelessly in thrall to Jeremy Hardy, who is a regular on that show. He's also often on "I'm Sorry I Haven't a Clue", which is an absolute institution on the radio, having gone for almost forty years with the same host, Humphrey Lyttelton. He just died, aged 86, but he was hilarious.

He had this imaginary assistant, Samantha who was always going off to meet her new gentlemen friends to do innocent things that sound totally obscene. Or she'd be down in the basement getting records with the help of the kindly old archivists, with the same results. eg "Record researcher Samantha has made one of her customary visits to the gramophone library, where she runs errands for the kindly old archivists, such as nipping out to fetch their sandwiches. Their favourite treat is cheese with homemade chutney, but they never object when she palms them off with relish." You get the picture.

Just general favourite comics would include Jack Dee, Eddie Izzard, Ross Noble, Sue Perkins, Jennie Eclair, Steve Wright.

Best poets, John Hegley and, by a mile, John Cooper Clarke, the Bard of Salford.

If a big group of us from EF were to make it up to the Peterborough area would you give us a tour of the workshop and show us how some of your products are made? If so I vote we organize a big trip!

You would be very welcome, and yes, you could have a tour of our little workshop. I may even tidy up. And be reassured that there is a very nice brewpub about five minutes walk away.

Is that a plan?

Do you think you'll ever go back to languages? Did you ever teach ESL, and was it to children or adults, or both? If both, which did you find more challenging?

I'm definitely considering it. I've been in Canada since 1993, and I'm kind of missing travel. It would be nice to do something a bit less intense for a bit. This business is hard on the body. After Kristina graduates, we'll be considering our options quite seriously, which is why I took the TEFL course a while back.

I have taught English to both kids and adults. They are both challenging in their way. Adults are more likely to stretch your knowledge of grammatical structures. I was once asked in a university class when to use the imperfect subjunctive in English and I didn't have an easy answer. Actually I didn't have any answer, so I set it as homework.

I have only ever taught private classes with kids, and they can be a handful. One pair of little girls would just try and tie my shoelaces together under the desk. Another one, called Paola, told me her name was pronounced 'Poy-a' in the local Galician dialect. It wasn't until speaking with her rather shocked mother that I found out 'poy-a' is slang for a gentleman's reproductive package.

Ideally, I'd have a situation like I did in Santiago de Compostela, where I was teaching adults and kids. The main preference I have is for informal teaching, rather than in a school setting.

All these questions and answers have been so great, I am hard pressed to think of anything more to ask! And yet...

I have two questions.

First, what do you use to dye your leather products?

Second, what would you choose as a gift, from your line, for a couple who has all the basic bondage and play gear (cuffs, floggers, paddles etc., etc., etc.)?

Hi Laurel, nice to hear from you.
We do not dye the leather ourselves, it's something that's best done at the tannery. Any garment and most strap hides are drum dyed as part of the finishing process. Drum dying is literally that; the hides are rotated in large drums, think hamster wheel shape, and dye is applied as they spin. This allows the dye to permeate the leather and the resultant leather is more colourfast. Virtually all, if not in fact all, of the non-coloured hides you see are vegtans destined for tooling and carving, and are often painted, dyed or stained afterward.

Second question, and this will sound like a cop out, but it seriously depends on the couple and how they like to play. I'd like to get them something they are not likely to have, and that brings them something a little out of the ordinary. If they have good basic paddles, they are likely set up; I don't usually think of paddles as pieces that offer a huge range of sensations.

Our line is strongest on the whp/flogger front, but there is a world of difference between, say, the Liquid Cane and the Elk! So, to break that down a bit I would be thinking, if they liked light stingy sensations, a Scourge or Eve; for heavy, thuddy sensations, an Elk or Bull, and for heavy and sharp, maybe a belting. Total pain sluts would get a delrin or liquid cane or truncheon.

Bondage bunnies might appreciate finding the Tethercuffs (and they are actually available at EF!) in their stockings, and I know I've said it before, but it can't be overstated, the Blind Jockey is the best blindfold ever!